The New York Knicks Need to Fix Their Embarrassing Offseason Mistake by Constructing a Blockbuster Deal for An Overpaid Star
The New York Knicks have officially removed Kemba Walker from their rotation after the point guard has failed to produce despite being the team's prized free-agent acquisition this past offseason. A trade sending Kemba away isn't out of the question — the question is who would deal for an aging, overpaid, undersized guard?
Maybe the answer is a team with an overpaid guard of its own with a history of injuries — say, the Houston Rockets and guard John Wall?
Kemba Walker has been a bust for the Knicks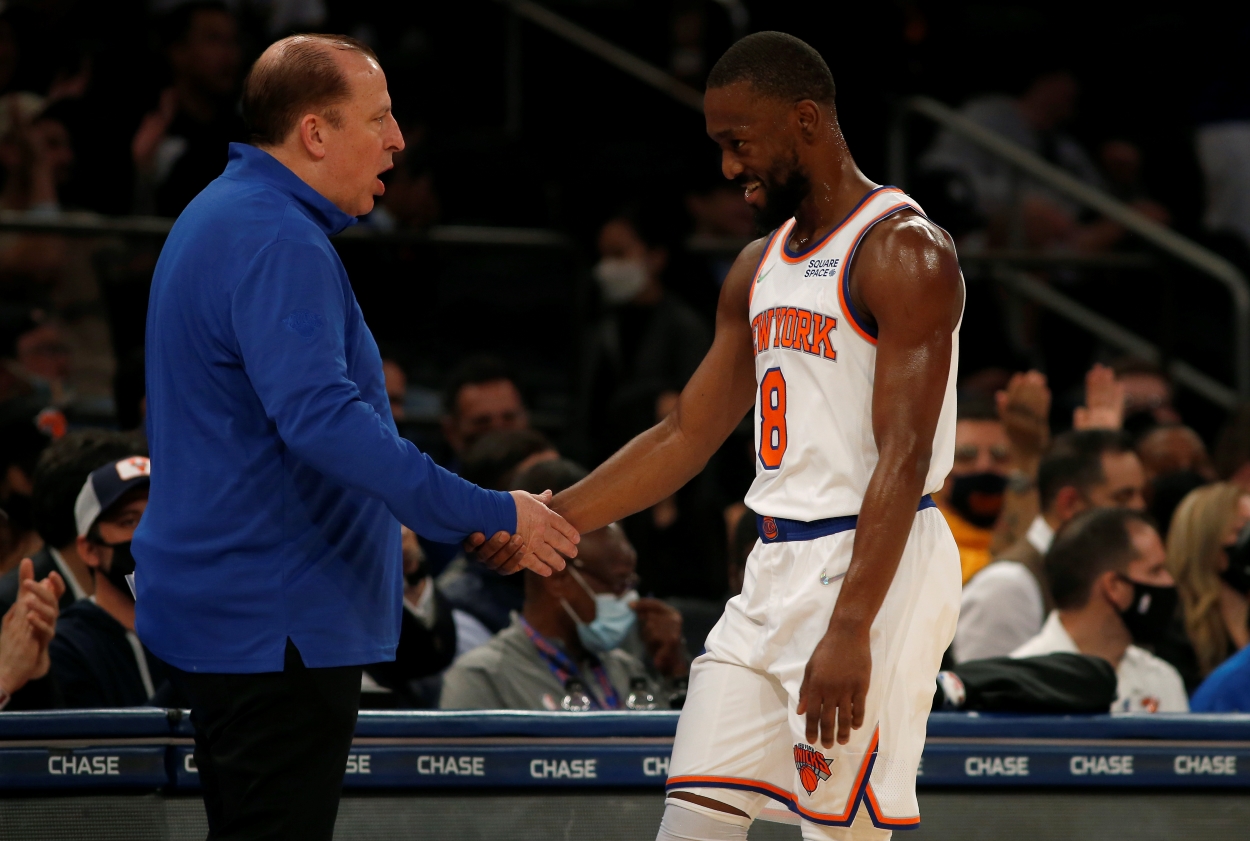 Despite returning to Madison Square Garden, where he's had some of the most brilliant moments of his basketball career, Kemba just hasn't been good through the first quarter of the season.
The former UConn star has averaged just 11.7 points, 2.6 rebounds, and 3.1 assists in 18 games. All three are career lows. He's a minus-6.8 on average, which, if it stands, would be his worst plus-minus since his rookie season.
Walker, on his new two-year, $17.9 million contract, was supposed to step in and be the Knicks' starting point guard — and perhaps return to form after two injury-plagued seasons in Boston. That's been far from the reality, though, and now New York head coach Tom Thibodeau has removed Kemba from the team's rotation altogether.
"It's a tough decision to make, but you always have to do what you think is best for the team," Thibodeau said via Bleacher Report.
The question now is where the Knicks go from here. Well, maybe the answer lies in Houston, where the Rockets are dealing with their own point guard issues.
A Walker-John Wall swap could cure the ills of both New York and Houston
The initial reaction to the idea might be: "Why would either team want to do this?" And that's fair.
But digging deeper into the ramifications of the trade, things begin to make sense.
First of all, neither player has much trade value. Walker appears to be washed — two-plus years of evidence are now showing that age and injuries may have simply caught up with him. And Wall hasn't even taken the court this season.
Second, there's already a precedent for "untradeable" point guard contracts being swapped. In 2019, Russell Westbrook and his five-year, $206.7 million contract, according to Spotrac, was traded from Oklahoma City to Houston for Chris Paul and his four-year, $160 million deal.
Westbrook was then dealt again, this time from Houston to Washington in return for Wall and his four-year, $171 million contract.
The Wizards even somehow found another taker for Russ when he was traded to the Los Angeles Lakers.
According to ESPN, Wall is ready to get back on the court, and the Knicks could use the help. Derrick Rose is the only true point guard in the rotation. Without Walker, that spot is left to the trio of Alec Burks, Evan Fournier, and Immanuel Quickley, all of whom are more scorers than distributors.
Splitting those point guard minutes between Rose and Wall would be an upgrade, even with the No. 1 pick in the 2010 draft having played only 113 games in the past four-plus seasons due to injuries.
The Rockets are going as young as possible and are tanking for another top pick. Walker may not see much time on the floor, but his presence in the locker room would at least be helpful to such a young roster. And maybe Houston would end up bringing in some more draft capital in the deal.
Wall's contract also expires after the 2022-23 season (he has a player option for that year, which he will likely exercise). His nearly $50 million salary would come off the books at the same time RJ Barrett's likely extension would be kicking in.
The swap, though New York would have to attach more salary and wait until trading restrictions on offseason signings clear on Dec. 15, just makes sense for both sides.
New York and Houston both need to move on
At this point, Walker's lack of production and the injuries Wall has racked up — along with his massive contract — are counterproductive to what their respective teams are trying to accomplish.
A clean split for everyone involved is the best solution.
The two former college stars aren't the players they once were, and they're never getting back to that level again. At least a(nother) change of scenery could benefit both.
More importantly, both franchises would be able to move forward without any distractions. This trade just makes sense, and it's the best option for both teams, on and off the court.
All statistics courtesy of NBA.com.