The New York Knicks Are Secretly Developing Their First NBA Superstar Since Patrick Ewing: 'That's Just What I Was Born to Be'
It's been a long road for the New York Knicks. Last year was the first time the franchise made a playoff appearance since the 2012-13 season. The Knicks have won just one playoff series this century. But hope has arrived in the form of 2019 first-round pick RJ Barrett.
Barrett has been secretly working, developing. He showed glimpses of what could be during his rookie year and made improvements heading into his sophomore campaign.
This year, though, Barrett is proving he's on his way to superstardom, something that hasn't been seen in the Empire State since Hall of Famer Patrick Ewing.
RJ Barrett was the No. 3 pick in the 2019 draft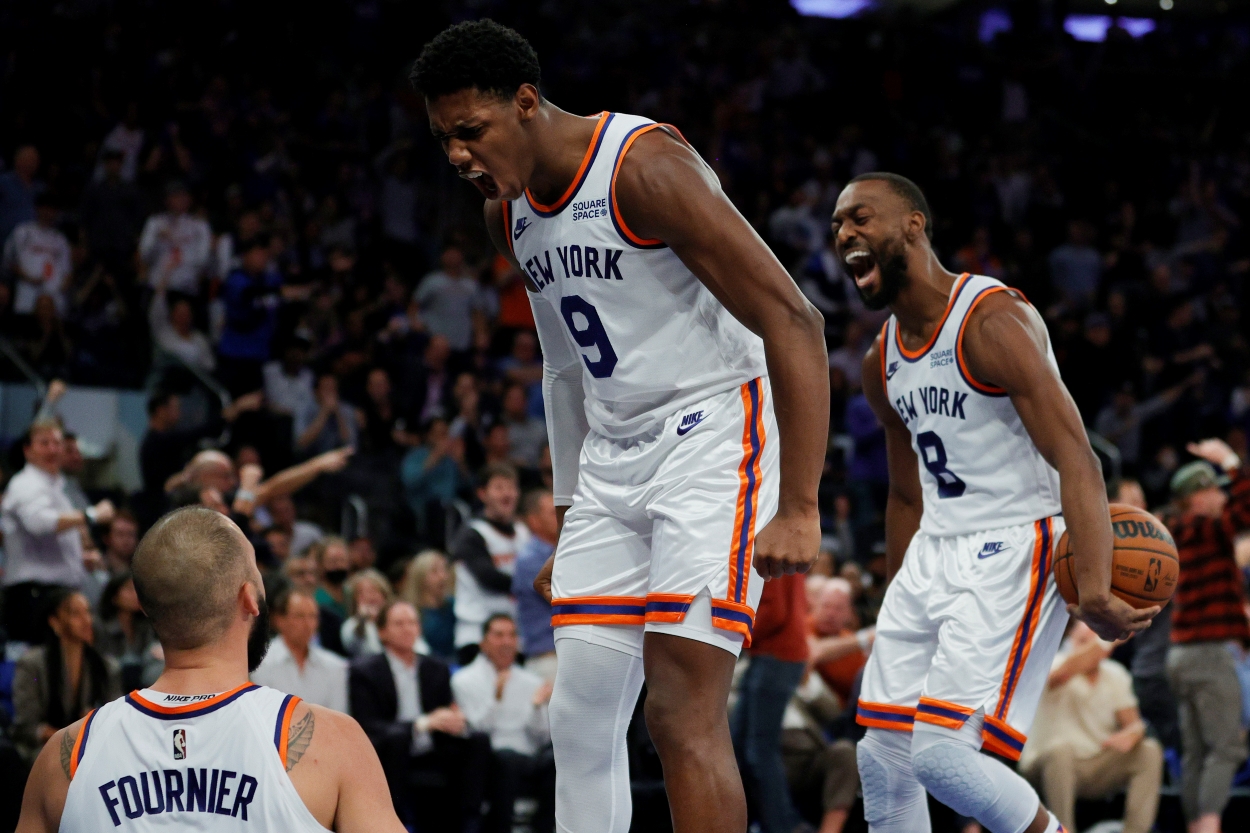 It appeared the Knickerbockers' poor draft luck had continued in 2019. Zion Williamson and Ja Morant were considered the top two prospects in that class by a wide margin, but New York ended up third in the lottery, because of course they did.
The team settled for Barrett, the most promising prospect in the next tier of players.
During his rookie campaign, RJ was average at best. Barrett had a stat line of 14.3 points, 5.0 rebounds, and 2.6 assists per game. He shot 40.2% from the floor and 32.0% from 3-point range.
According to ESPN's Real Plus-Minus (h/t FiveThirtyEight), the 6-foot-6 wing was 255th out of 259 qualifiers in scoring efficiency.
In 2020-21, though, Barrett's stats jumped to 17.6 points, 5.8 rebounds, and 3.0 assists per night. His efficiency also took a leap despite an increased number of shot attempts.
He shot 44.1% from the floor on nearly two more shots per game and 40.1% from deep on 4.3 attempts per game, compared to 3.5 his rookie year.
Madison Square Garden finally hosted a playoff game for the first time since Carmelo Anthony, Andrea Bargnani, Amare Stoudemire, and Jason Kidd were on the floor together, and Barrett was a significant part of it.
This season, though, the former Blue Devil has taken another leap — one that's gone under the radar but is leading him toward superstar status.
The Maple Mamba is continuing his path toward superstardom
New York is 6-3 through the season's first nine games. Julius Randle is leading the Knicks statistically, but Barrett is showing his true ceiling, and it's much higher than the seven-year vet's.
The Duke of York is expanding his game exponentially. His catch-and-shoot jumpers have become off-the-bounce opportunities, and they're falling. Barrett dropped 35 points in a win over New Orleans and showed a wide array of offensive abilities, several of which he had yet to put on display at the NBA level.
Knicks head coach Tom Thibodeau — notoriously difficult on young players — has been raving about the former Blue Devil's work ethic and desire to be great. According to Yahoo, Thibodeau said of Barrett, "RJ has great work capacity. He wants to be good, it's important to him, he's very coachable, he's a great teammate.
"When you see how he approaches things, he has toughness, he has basketball IQ, and he has competitiveness. When you have those three things to go along with your talent, you can really improve."
To hear it straight from the mouth of the 21-year-old himself, he has always been destined for greatness. In a Q&A session with the New York Post, Barrett said:
"I think that's just what I was born to be. There's something inside me that I know that I'm destined for greatness, I know that I'm destined for more. I think the work ethic that my family has instilled in me, it's always gonna give me a chance to get better, it's always gonna give me a chance to prove and show who I am. I'm very competitive, so I think all those things together, somehow, some way I just know that I'm gonna make it."

RJ Barrett on his potential for greatness
Barrett is becoming New York's biggest star since Patrick Ewing
Brooklyn Nets head coach and fellow Canadian Steve Nash is RJ's godfather. He's witnessed the Toronto native's development first hand.
In a 2020 story on NorthJersey.com, Nash told the world what Barrett could become:
"He just needs to keep his head down and work to develop himself. He can't allow losing to deter him from continually pushing to be the best player he can be. And fortunately, that's the type of character and kid he is."

Steve Nash on RJ Barrett
Losing hasn't been a recent issue for New York (finally). Barrett's doing precisely what Nash has long expected, and he's playing a huge part in that team success.
Barrett is in this third season in the league and has made real jumps. And he's still only 21 years old.
RJ was the Knicks' highest first-round pick since Ewing in 1985. And now it looks like the franchise has its brightest superstar since the Hall of Fame center as well.
All statistics, unless otherwise noted, are courtesy of Basketball Reference.