New York Knicks Star Julius Randle Is Leaving Over $80 Million on the Table With His New Contract Extension
The New York Knicks have spent the last 20 years in pursuit of a superstar. They tried and failed to sign LeBron James, Kevin Durant, Kyrie Irving, and countless others. Even this offseason did not yield the superstar talent they were hoping for.
In the summer of 2019, after the Knicks struck out on their dream scenario of acquiring Durant, Irving, and Zion Williamson, they turned their attention to 24-year-old Julius Randle. Randle signed a three-year deal worth just over $62 million after four years with the Los Angeles Lakers and a season with the New Orleans Pelicans.
Randle, now 26, was exactly what the Knicks needed. The 6-foot-8 forward set multiple career highs in 2020-21, leading New York to its first postseason appearance in eight years. Randle's breakout helped earn him a contract extension worth up to $117 million over the next four years.
But while his bank account won't exactly be empty over the next several years, signing an extension now might have cost Randle a whole lot of cash.
Julius Randle could have made over $200 million if he signed next year instead
Last season, Randle set career highs with 24.2 points and 6.0 rebounds per game, while also tying a career-high 10.2 rebounds. He also became an elite three-point shooter, hitting 41.1 percent of his attempts from beyond the arc. As a result, the 26-year-old earned All-NBA Second Team honors, made his All-Star Game debut, and won the NBA Most Improved Player Award.
His breakout season came at an opportune time, to say the least. Before signing his extension, Randle had just one year remaining on his original contract with the Knicks before he would become an unrestricted free agent.
But had Randle waited until he hit free agency before re-signing with the Knicks, he could have made upwards of $200 million.
Next summer, the young star would have been eligible to sign a max deal, which for him would start at $34.7 million. Factoring in the eight percent annual raises, the five-year max deal he'd be signing would've netted Randle just over $201 million, as explained by ESPN's Brian Windhorst.
The potential $201 million total looks even worse if Randle fails to reach his contract bonuses. Should he not make the All-Star team, earn All-NBA Defensive team honors, or register any playoff appearances, Randle's current extension would only net him around $106 million.
Randle chose security over a potentially larger payday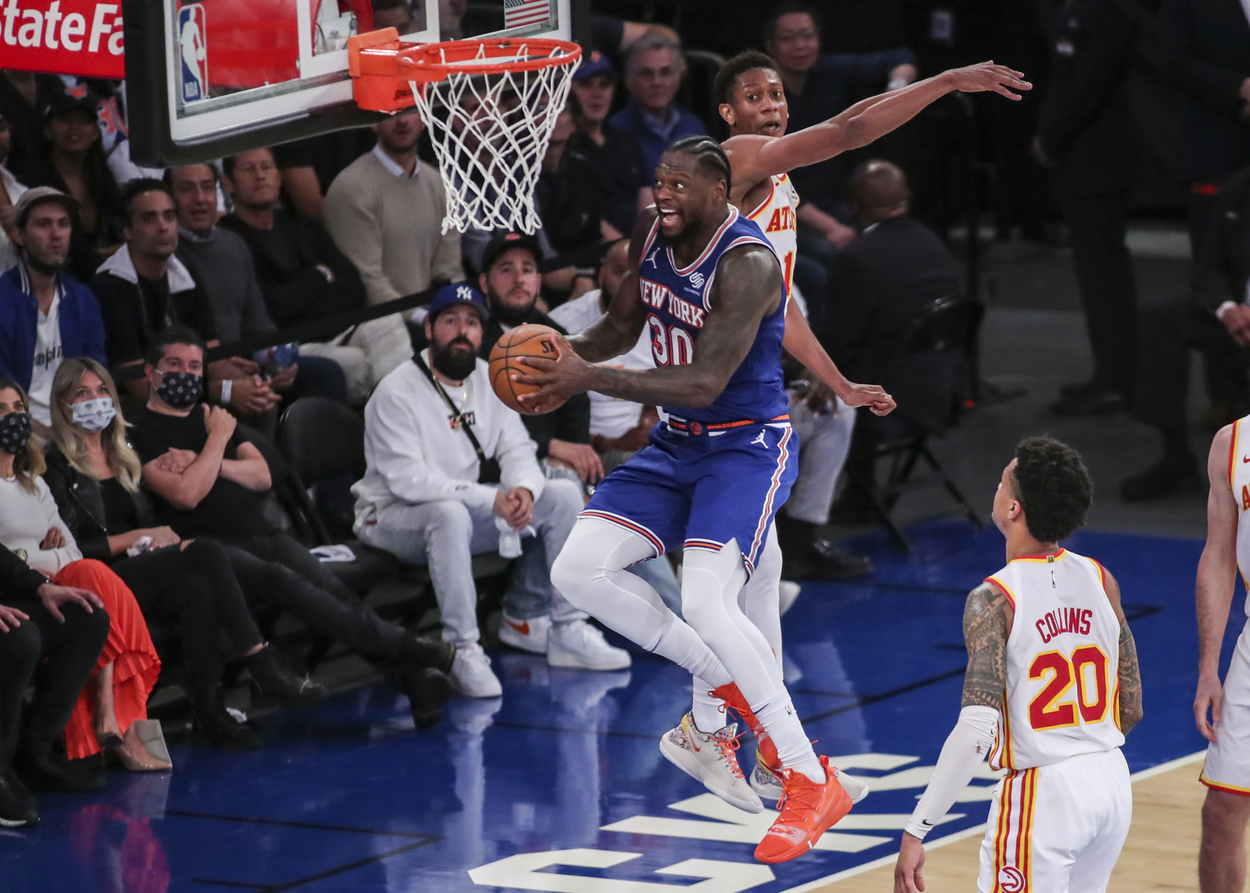 Randle may get criticized by some for leaving money on the table, but stability was a key factor in his decision to sign now.
"The money was one thing, but for me, it was more about the situation as far as my happiness, the basketball situation, my family, just being stable and being in New York and really just continuing to build this thing up," Randle told ESPN's Andrew Lopez. "When I signed here two years ago, this was my vision, to be able to lock in something long term and build something from the ground up. That's what we're doing. All hands on deck."
In addition to securing his spot in New York for the foreseeable future, Randle also protected himself in the event of a major injury. Randle broke his leg in his NBA debut in 2014 with the Lakers, but has missed only 22 games from his second year in the league onward.
While he has proven durable, Randle now has well over $100 million to fall back on should disaster strike.
Randle also took less to help the New York Knicks win now
Randle's contract means the Knicks will keep their best player for at least the next five seasons. But it also allows them more flexibility to build a championship contender.
"I don't think there's a better place to win a championship than here," Randle said. "I wanted to be a part of that, and I felt like I could help be a part of that. And I thought with me signing that extension, it could help [Knicks president Leon Rose] and those other guys get pieces and continue to build the team so we could have that opportunity."
We've seen some of the pieces already fall into place. New York made headlines with a two-year, $18 million deal for point guard Kemba Walker and a four-year, $73 million pact with shooting guard Evan Fournier. Additionally, they brought sixth man Derrick Rose back for $43 million over the next three years.
Only time will tell whether the Knicks can win a title with that core in place. But Randle's new extension should ultimately be a positive for them, even if it means a lot less money for him.
All statistics courtesy of Basketball Reference and contract figures courtesy of Spotrac.
RELATED: Evan Fournier Adds Wood to Knicks and Nets Crosstown Rivalry Fire by Hilariously Shading Kevin Durant: 'He Needs a Barber Too'