New York City Mayor Bill de Blasio's Trae Young Video Begs the Question: Should Politicians Just Shut up and Govern?
You can forgive New York City Mayor Bill de Blasio for trying to come off as one of the ordinary folks. Talking sports is one of those things people do, right? But for the second time in recent days, Hizzoner has missed the mark when discussing his city's entries in the NBA Playoffs. He's not the first New Yorker to have issues with Atlanta Hawks star Trae Young. But the last guy didn't do it in front of the city flag. Neither is de Blasio the first to fumble when trying to mix politics with sports.
Last week, de Blasio donned Brooklyn Nets garb because it's a popular bandwagon upon which to jump right now. After Young torched the New York Knicks for 32 points and a game-winner in Game 1 of their series, de Blasio once again took to his official post to talk some hoops. And, yeah, once again, it was cringeworthy.
Mayor advises Trae Young to 'stop hunting for fouls'
Wearing a New York Knicks cap and sitting in front of American and New York City flags as if making some official city policy, de Blasio aimed at Trae Young.
Yes, the same mayor who wore the jersey of James Harden, of all people, called out Young for "hunting for fouls." Then he invoked Nets coach Steve Nash, who called out Young's style of play earlier this season.
Given that Harden is the acknowledged Jedi master of referee manipulation, and Young is at best a Padawan at this point, de Blasio's message fell flat. It even drew the attention of Young's father.
The video de Blasio's office released even had the official sign language interpreter. It looked like it was actual city business. Maybe it's the best a term-limited mayor can do for relevance when his city's politics have roughly 72,000 announced candidates (this may only be a slight exaggeration) to take his job.
In fairness, politicians routinely drop the ball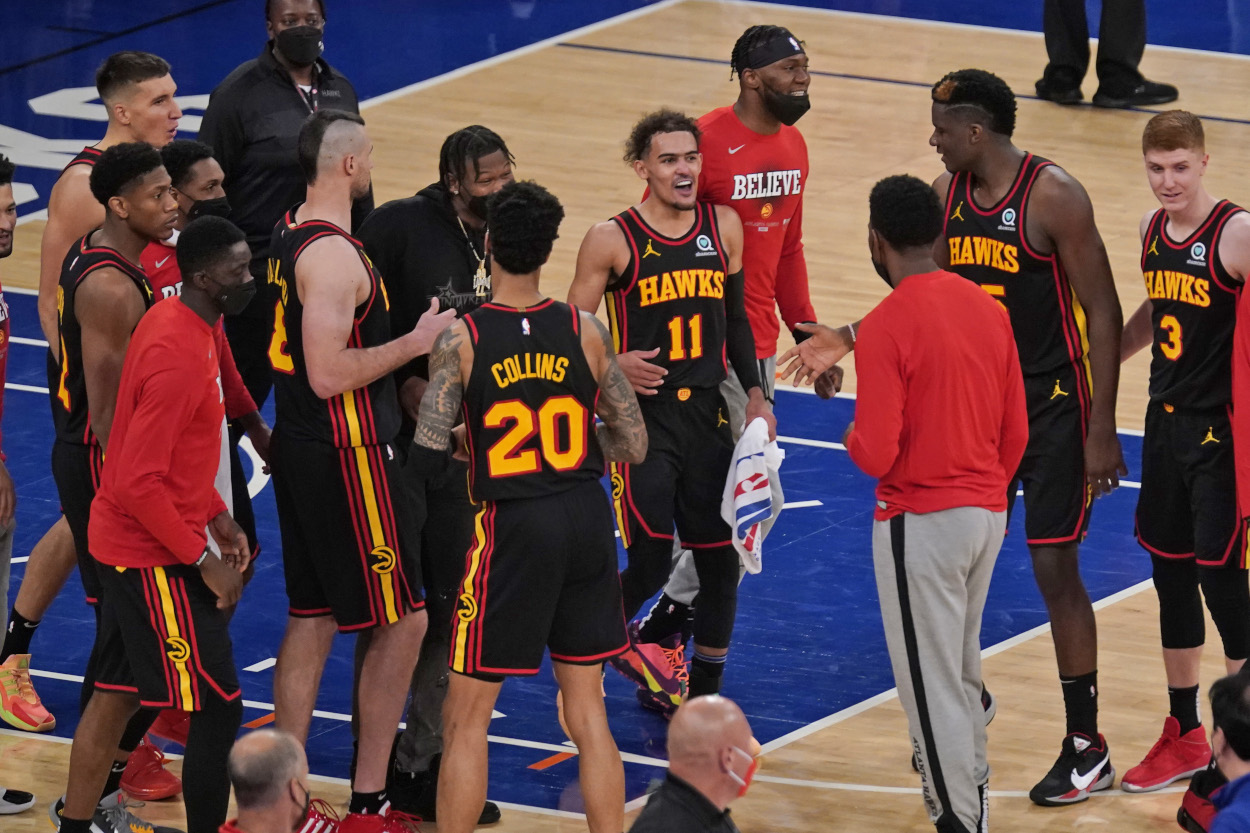 As long as there have been sports and politics, politicians have attempted to resemble regular people and failed epically. One of the most recent was on May 6, when Speaker of the House Nancy Pelosi took to social media to wish baseball legend Willie Mays a happy 90th birthday. The tweet was complete with a photo of Willie … McCovey. Also a San Francisco Giants legend, also a Hall of Famer, not the right Willie.
In 2004, then-Democratic presidential nominee John Kerry referenced historic "Lambert" Field in Green Bay while campaigning in Wisconsin. As one might expect, it went over quite well. Or not.
Massachusetts has been home to some doozies over the years. Besides Kerry, former Boston Mayor Tom Menino was an equal opportunity blunderer. He once referred to Boston Celtics stars Kevin Garnett and Rajon Rondo as "KJ and Hondo. The mayor also once acknowledged New England Patriots wide receiver "Wes Weckler." For the record, Garnett was known as KG. Rajon Rondo is not John Havlicek, the Celtics legend nicknamed Hondo. As for Wes Welker, not everyone in Boston knows your name after all.
Even the venerable Kennedy political dynasty wasn't immune. While Sammy Sosa and Mark McGuire were juicing balls out of stadiums, Ted Kennedy got into the action. Kennedy introduced "Mike McGuire" and "Sammy Sooser." So close, yet just another 0-for-2 day at the plate for Ted.
It's not a partisan issue. Mitt Romney, a former Massachusetts governor and presidential nominee, didn't recognize "Dirty Water," a familiar Boston Red Sox anthem by The Standells.
Trae Young just the latest prop used in politics
The crossover of politics and sports has been a hot-button issue for years, particularly over the past several years. Athletes advocating for political causes are targets for criticism, accused of not staying in their respective lanes. That has included criticism of superstar quarterback Tom Brady and former pitching standout Curt Schilling. But it hasn't just been for voicing conservative views. Colin Kaepernick and LeBron James have also taken heat for championing liberal causes.
One political commentator once went so far as to suggest James should just "shut up and dribble."
Could it be, dare say, time to advise politicians to shut up and govern? Just a thought.