The New York Yankees' 15 Top Prospects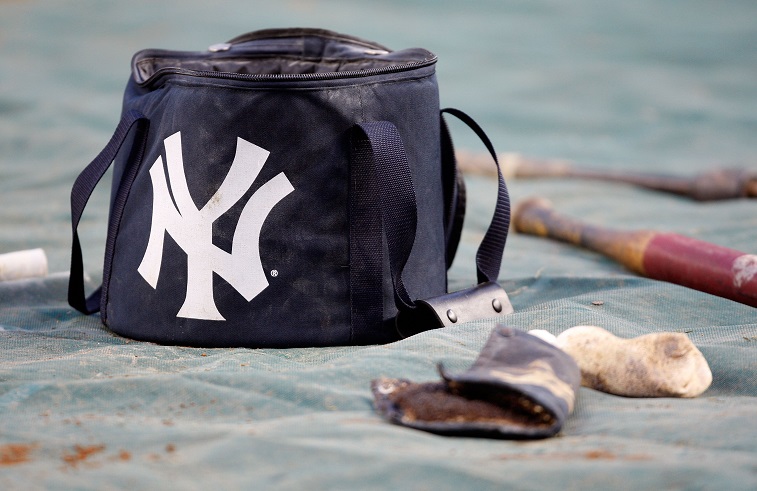 The New York Yankees have gone from middle of the pack to one of the best farm systems in all of baseball in the blink of an eye. That's thanks in large part to a mediocre season on the field and the recognition from management and ownership that the right thing to do was to sell at the trade deadline and begin a rebuilding process — never a sure thing when Steinbrenners are involved. New York has stocked up on young talent, both at the big league level and in the minors, and come into the baseball season with an incredibly bright future. Here are the Yankees' top 15 prospects heading into 2017.
15. Billy McKinney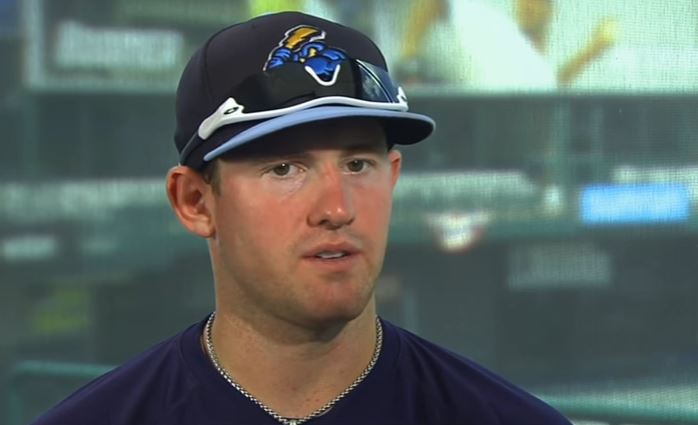 MLB ETA: 2018
Outfielder Billy McKinney might've been quite a bit further up on this list just a year ago. In 2015, when he was with the Chicago Cubs, McKinney split the season between High-A and Double-A at the tender age of 20. In 433 plate appearances he hit .300/.371/.454, and Baseball Prospectus ranked him as the No. 74 prospect prior to 2016. But he had a down year last year with a .680 OPS, which got even worse after he was traded to the Yankees. He's a solid hitter but he doesn't have blazing speed, big time power, or great defensive skills. In the end, McKinney might end up being a solid extra outfielder.
14. Dustin Fowler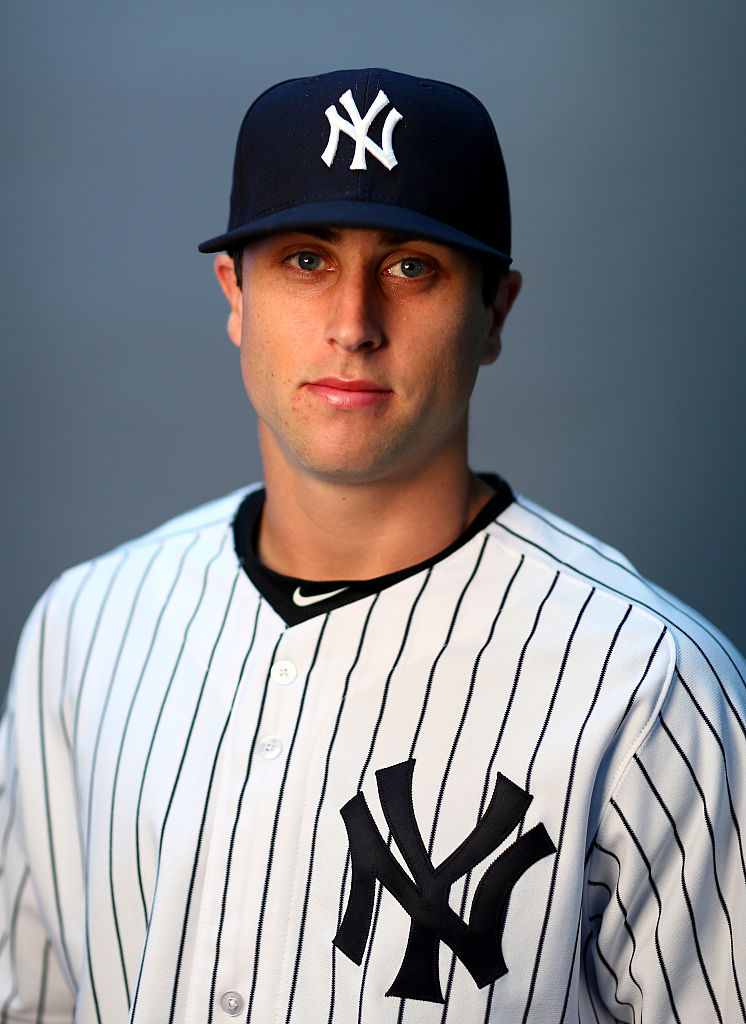 MLB ETA: late 2017/early 2018
Outfielder Dustin Fowler was actually higher up on the Yankees prospect list last season, and through no fault of his own has found himself much further down this year. Through trades of Carlos Beltran, Andrew Miller, and Aroldis Chapman, the Yanks have totally restocked their system. The overlooked Fowler had a decent year in Double-A last year, hitting .281/.311/.458 at the age of 21. He has above average speed and a little power, but he doesn't walk nearly enough to have a chance at being a regular.
13. Miguel Andujar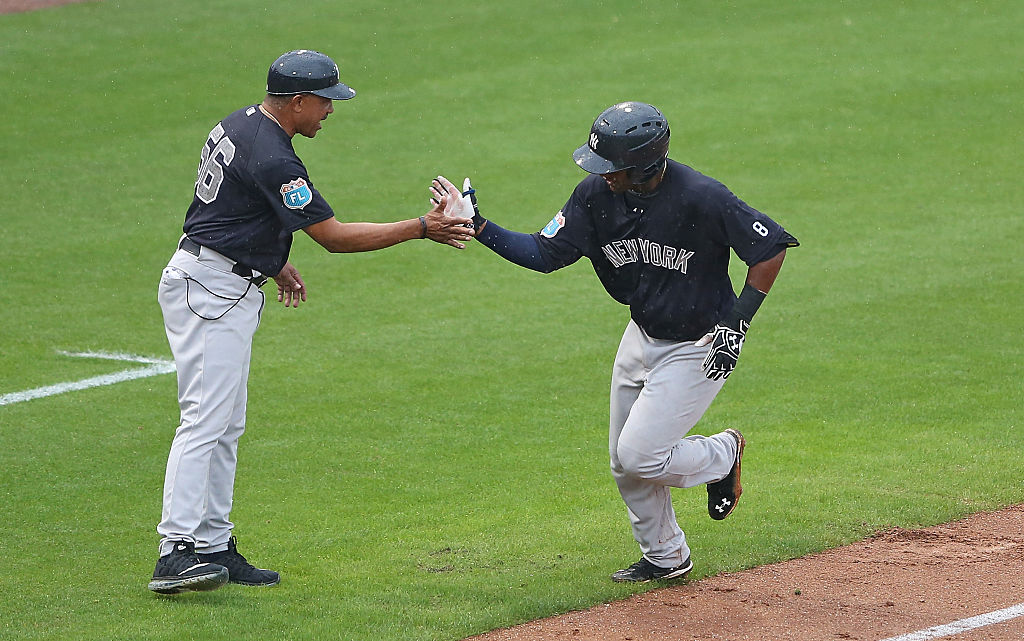 MLB ETA: late 2018
Third base prospect Miguel Andujar had a great start to the season in 2016, hitting .283/.343/.474 through 58 games. The Yankees moved Andujar up to Double-A and he struggled after an initial hot stretch. Andujar is likely to develop into a decent power hitter if he can ever stop swinging at, frankly, everything pitchers throw to him. Strikeouts aren't currently the problem, but the fact that he swings at and makes contact with a lot of pitches he shouldn't won't help him as he faces more and more intelligent pitching. Andujar should head back to Double-A to work on these issues next season.
12. Domingo Acevedo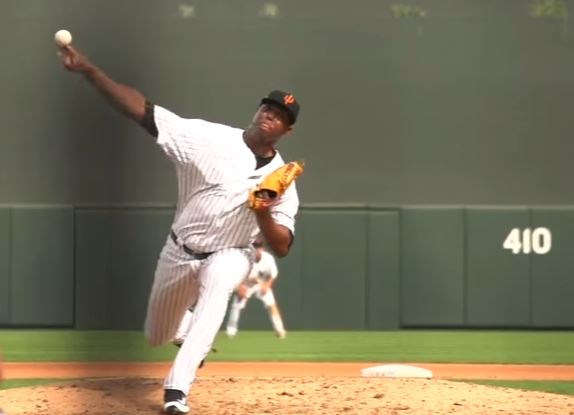 MLB ETA: late 2017
The numbers that starting pitcher Domingo Acevedo has put up during his time in the Yankees farm system are really good. In four seasons, Acevedo has thrown 199 innings with a 2.53 ERA, 9.9 K/9, and 2.5 BB/9. The fact that he's going to be 23 this season and probably just taking his first step into Double-A is less than inspiring. It might have to do with the fact that he has a fastball that regularly hits the high-90s and even 100, but no great secondary or tertiary pitches as of yet. Acevedo may end up being in the late innings in New York's bullpen, which could help him move through the system faster.
11. Tyler Wade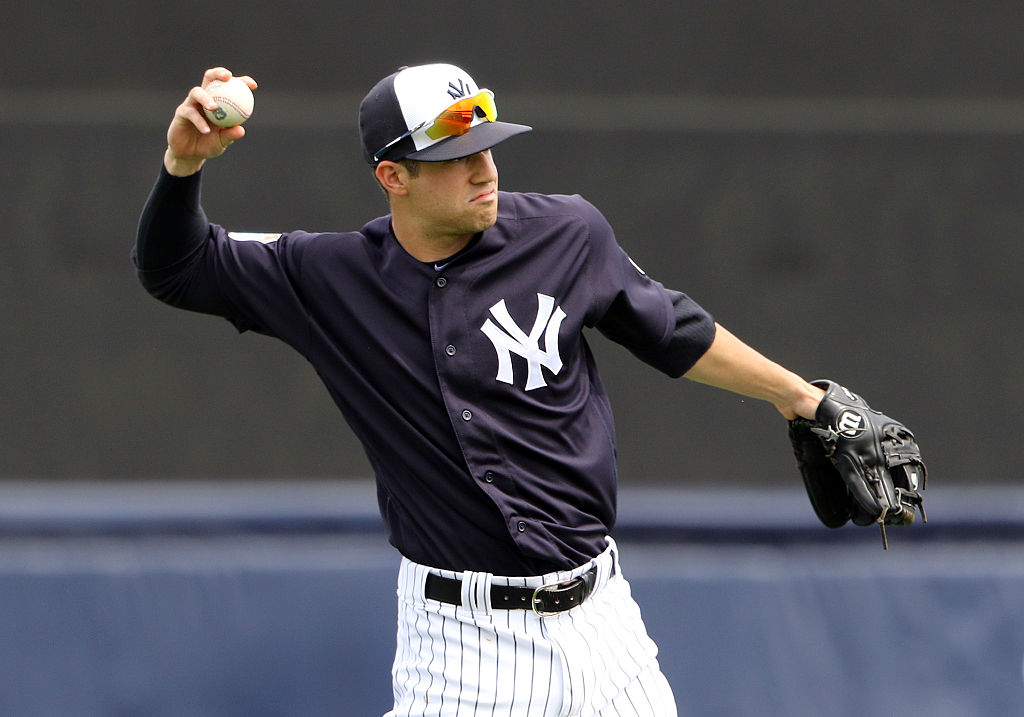 MLB ETA: late 2017/2018
Middle infielder Tyler Wade is a serious prospect to end up with a role in the big leagues, but he doesn't come without flaws. He's a speedster, but has extremely little power and probably won't be able to play shortstop in the big leagues. In fact, the Yanks have given him progressively more and more time at second base. He doesn't strike out an enormous rate and he has learned how to work a patient at-bat. At worst, Wade should be a utility infielder that pinch-runs late in games.
10. Dillon Tate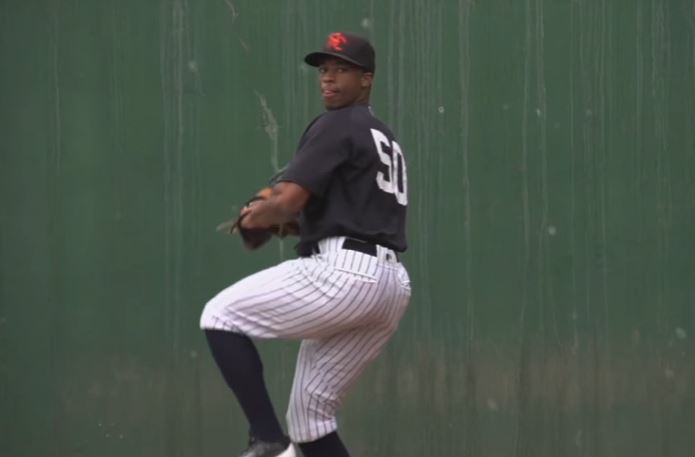 MLB ETA: 2019
The No. 4 overall pick in the 2015 draft and the No. 59 prospect heading into 2016, starting pitcher Dillon Tate was dealt to the Yankees from the Texas Rangers in the deal for Carlos Beltran. He has a fastball that can hit as high as 98 miles per hour to go along with a solid slider, an improving changeup, and a curveball. Tate had an ugly start to the season last year with the Rangers, with a 5.12 ERA in 65 innings with 55 strikeouts and 27 walks. He only made seven appearances out of the bullpen once arriving with New York. He'll be 23 this season and he has a lot of changes to make before he can start moving through the minors.
9. James Kaprielian
MLB ETA: 2019
The good news for starting pitcher James Kaprielian is that he was a first-round pick in 2015 and has looked impressive when he's been on the mound in his professional career. The bad news is that he's been limited to just 29 innings since being drafted due to injuries, with a strained flexor tendon in his pitching elbow representing his latest setback. Before he can move too much further up this list, we're going to need to see more from the young right-hander. He's likely to head back to High-A again this season at the age of 23 with the opportunity to move up quickly if he pitches well and stays healthy.
8. Chance Adams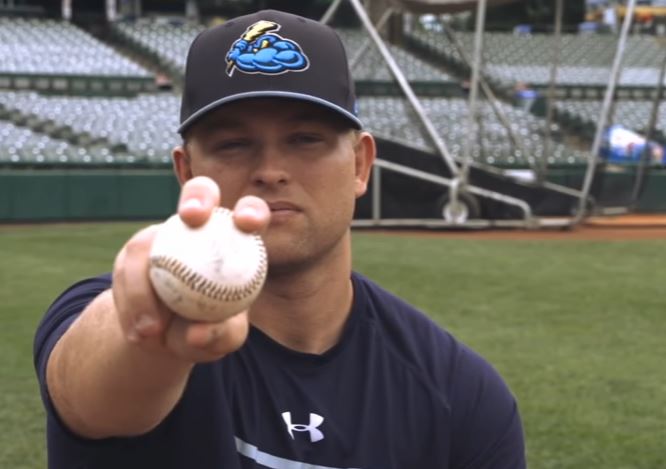 MLB ETA: late 2017/early 2018
A fifth-round draft pick in 2015, starting pitcher Chance Adams really broke out in 2016. He advanced from High-A to Double-A at the age of 21, finishing the season combining for 127 1/3 innings, 144 strikeouts, and a 2.33 ERA. A big part of his jump in production was a jump in velocity on his fastball and the development of a true secondary pitch. Adams could go to Triple-A to either start the 2017 season or sometime in the middle of the year. With the rebuild in full swing, don't be too shocked to see him in the big leagues by the end of the year and in the starting rotation by 2018.
7. Albert Abreu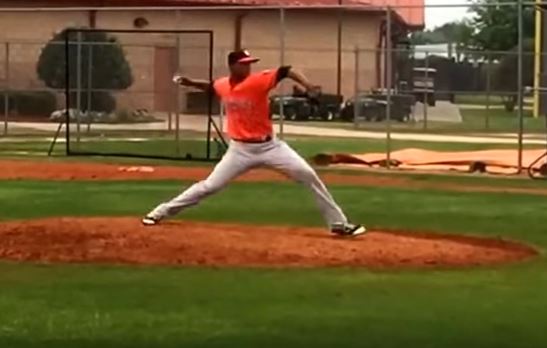 MLB ETA: 2019
For 21-year-old pitching prospect Albert Abreu, the only thing standing between him and quickly rising to the big leagues is his command. In 216 1/3 innings in his professional career, Abreu has a 4.5 BB/9 to go along with an excellent 9.2 K/9. Like so many pitching prospects, the impressive thing about him is his fastball that can touch 99 miles per hour. He rose as high as High-A with the Houston Astros last year, making three appearances at the level late in the season. It's impressive, considering his age. The Yankees acquired Abreu in the deal that sent catcher Brian McCann to the Astros, and he should be back at High-A to start the season again in 2017.
6. Justus Sheffield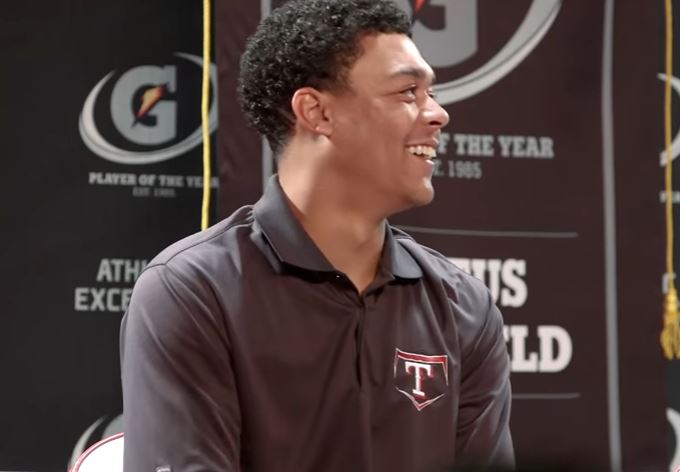 MLB ETA: mid 2018
The starting pitching prospect was part of the deal that sent Andrew Miller to the Cleveland Indians. As a 20-year-old in High-A and Double-A last year, Justus Sheffield pitched 125 1/3 innings with 129 strikeouts and a 3.09 ERA. It's pretty impressive for a guy that was traded and later promoted to a new league where he was nearly five years younger than the average age by the end of the season. Sheffield is a serious starting pitching prospect and will likely be back at Double-A in 2017, with a chance to move to Triple-A before the end of the season.
5. Aaron Judge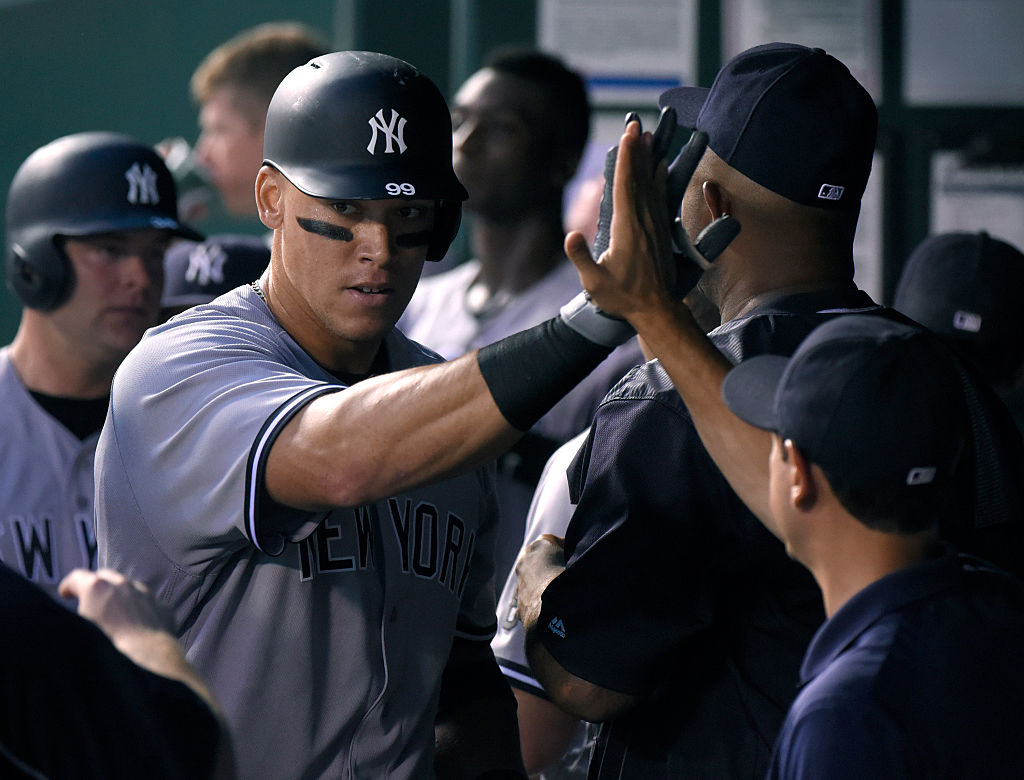 MLB ETA: 2017
A massive hulk of a man, outfielder Aaron Judge made his big league debut and took his boomstick to the Bronx in 2016. The 6-foot-7 24-year-old struggled a bit, hitting four home runs and posting a .608 OPS in 95 plate appearances. But Judge is a powerful slugger, hitting 19 home runs at Triple-A in just 410 plate appearances before being called up to New York. His slash line of .270/.366/.489 showcased why BP had him listed as the 18th best prospect in the game before the season. Judge should have the upper hand on a job with the Yankees out of spring training next year, as well.
4. Jorge Mateo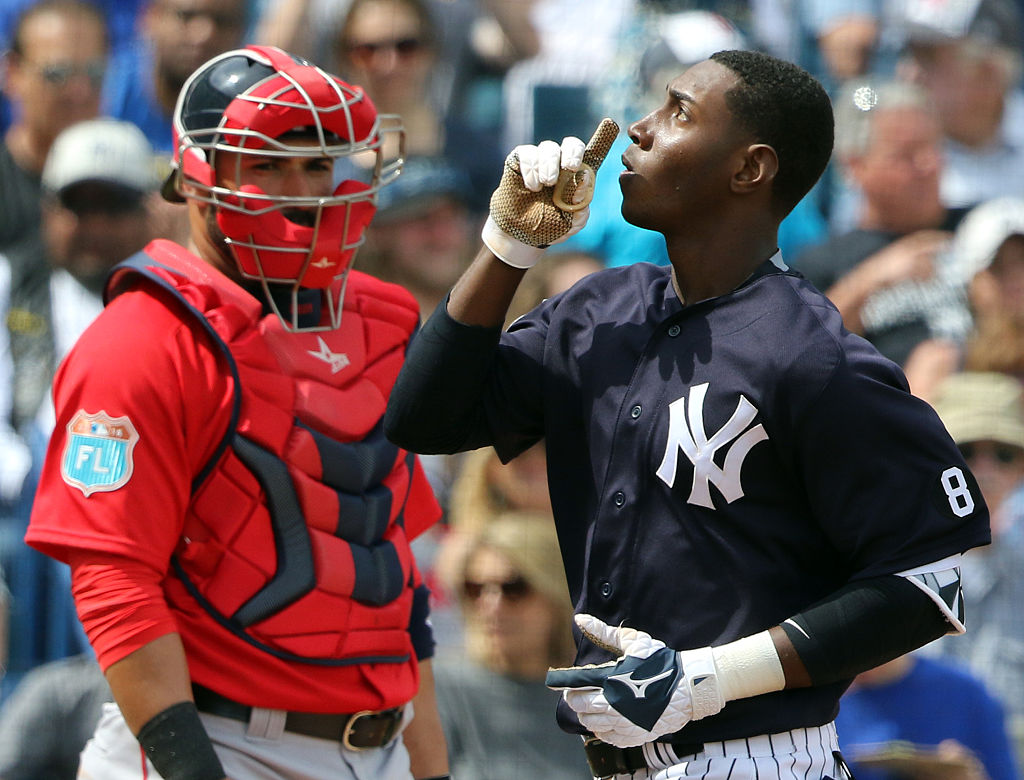 MLB ETA: 2019
Rated the No. 65 prospect heading into 2016, middle infielder Jorge Mateo struggled a bit and has seen his stock fall some in response. After hitting 11 triples and stealing 82 bases (17 caught stealing) in 2015, including hitting .321/.374/.452 in High-A. He was back at High-A this year, but his stats fell off a cliff. He hit for a slash line of .254/.306/.379 with 36 stolen bases (15 caught stealing). He strikes out at a slightly above average rate while walking at a below average rate, but there's no getting around the fact that he's a burner. The Yankees moved him to second base pretty much full time by the end of the season.
3. Blake Rutherford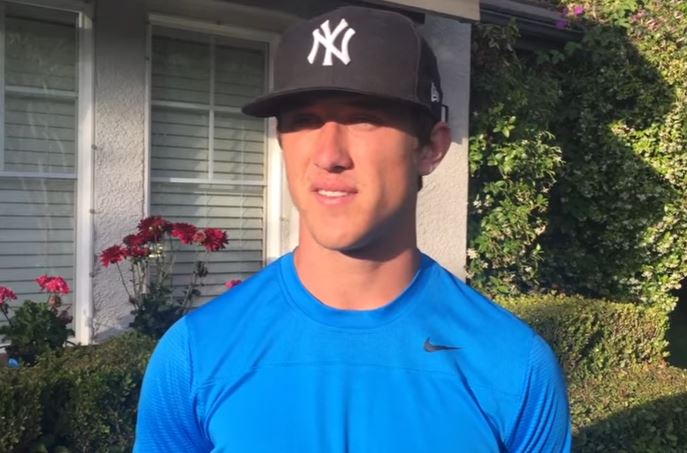 MLB ETA: 2020
We haven't seen much of the 19-year-old outfielder that the Yankees drafted in the first-round last year, but so far it's all good for Blake Rutherford. He's hit .351/.415/.570 with three home runs, eight doubles, and four triples in 130 plate appearances in his professional career. According to MLB.com, "Rutherford has the chance to be an above-average hitter with above-average raw power. He'll record average to plus run times, and his speed helps him on the basepaths and in the outfield. Rutherford is a solid defender in the outfield, though most feel he'll move to right field in the future." Rutherford is a long way off for Yankees fans, but he's a prospect to keep an eye on.
2. Clint Frazier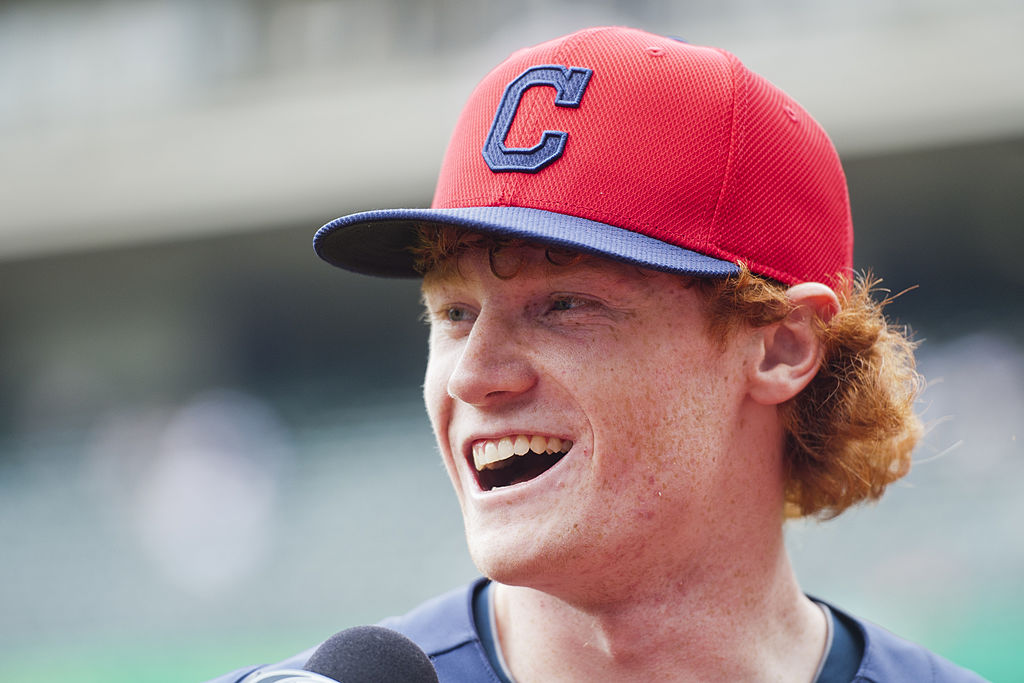 MLB ETA: late 2017
The Yankees acquired outfielder Clint Frazier, along with Sheffield, in the deal involving Andrew Miller. A former top draft pick of the Indians, Frazier is not only the second-best prospect in the Yankees' farm system but also one of the best in the game. We have him ranked No. 16 overall based on the stats he's putting up. He posted a .782 OPS with 16 home runs and 13 stolen bases in total last year and also boasts some tremendous bat speed. Frazier is likely to go to Triple-A to start the 2017 season and has a chance to be in the big leagues later in the year, if all goes as planned.
1. Gleyber Torres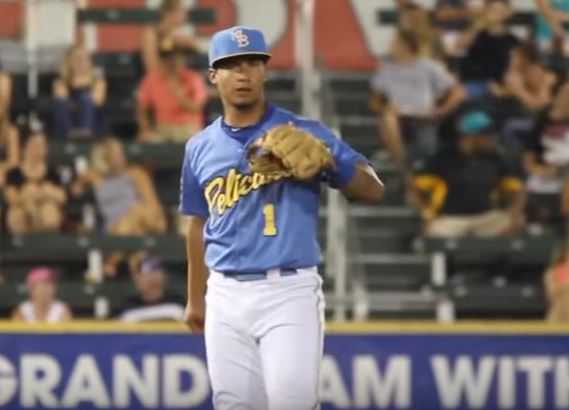 MLB ETA: late 2018
As a 19-year-old shortstop in High-A, which makes him nearly four years younger than the average age of his league, Gleyber Torres posted an impressive .775 OPS in 547 plate appearances in 2016. Acquired from the Cubs in the Chapman trade, Torres is a major haul for the Yankees to get in exchange for just a few months of a single relief pitcher. Torres is a special hitter that's athletic enough that he may be able to stick at shortstop long term, making him one of the better prospects in the game, which is why we ranked him as the No. 11 overall prospect in the MLB. Torres will probably head to Double-A to start the season.
All stats and information via baseball-reference.com and baseballprospectus.com.