New York Yankees Fans Unleash Pent-up Frustration at Visiting Houston Astros
It was a production 563 days in the making. When the Houston Astros played Tuesday night at Yankee Stadium, it was their first visit to the Bronx since Game 5 of the 2019 American League Championship Series. To say a lot has happened since then would be a high-quality understatement. The Astros paid at least some price for a sign-stealing scandal during the 2017 and 2018 seasons. Penalties included the suspensions of general manager Jeff Luhnow and manager AJ Hinch for the entire 2020 season.
But their World Series title in 2017 wasn't vacated by Major League Baseball, a title they won by beating the Boston Red Sox, Yankees, and Los Angeles Dodgers in the postseason. Because there were no fans allowed at Yankee Stadium in 2020 (and the fact the Astros and Yankees didn't meet during the truncated 60-game season), Tuesday was the first chance Yankee fans had to let loose.
Houston Astros star Jose Altuve bore the brunt of the wrath
Yankee fans were hard on many of the Houston Astros, even though only five players remain on the roster from the 2017 club. New York lost the 2017 ALCS in six games before Houston went on to top the Dodgers in a seven-game World Series. But it's Jose Altuve who has been the target of much of the backlash from the scandal. Altuve hit .346/.410/.547 with 24 home runs, 81 RBI, and an American League-high 204 hits en route to winning the MVP award.
Altuve hasn't helped his case by playing less than All-Star baseball since the scandal broke in 2020. Last season, he hit a career-worst .219/.286/.344 in 48 games, and this season he's off to a .247/.291/.338 start through his first 19 games. But he excelled after taking an 0-for-7 collar in the wild-card round against the Minnesota Twins last year, hitting five homers in 11 games against the Oakland Athletics and Tampa Bay Rays.
He hit two home runs with four RBI in the Astros' 2017 win over the Yankees in the playoffs. His ALCS MVP award in leading Houston to a seven-game victory over New York in the 2019 postseason didn't help his popularity in the Bronx, either. Yankees fans went home happy on Tuesday. Not only did they get to vent at Altuve and his teammates, but the Bronx Bombers claimed a 7–3 victory.
Several Astros were in the crosshairs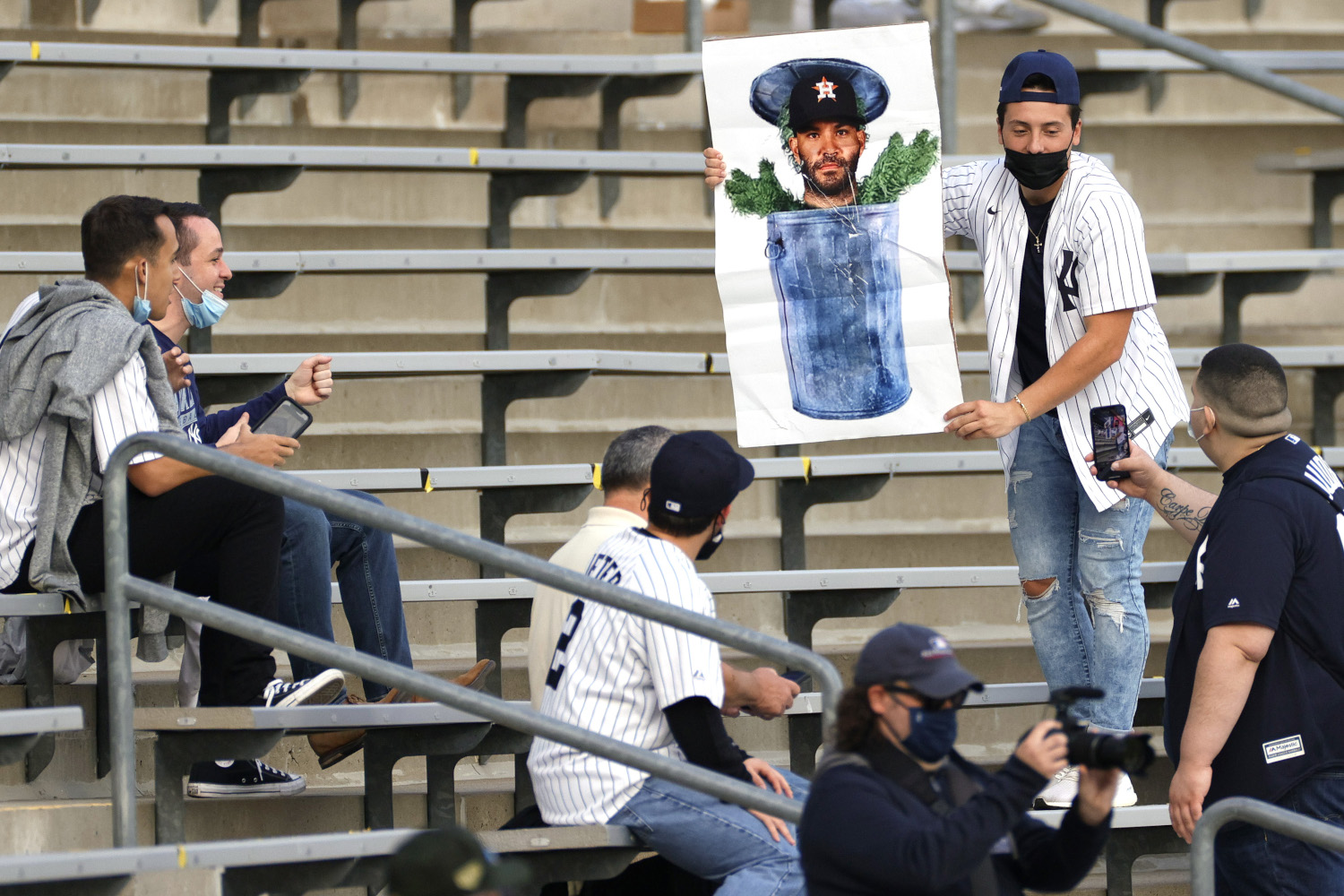 Besides the chants at Altuve, Yankee fans also targeted Houston Astros third baseman Alex Bregman with some venom. Shortstop Carlos Correa also got some love from the crowd. Correa was Houston's leading hitter in the 2017 ALCS at 9-for-27 with three doubles and a homer. Astros' manager Dusty Baker, in his second season with the club, was not surprised.
"At least there wasn't any violence," Baker told ESPN. "They can say whatever they want. It sounded like a packed house (Tuesday) even though it wasn't. We expected that reception, so we'll get more of the same (Wednesday) and the next day. The fans were extremely hard on Altuve (Tuesday). He's exerting a lot of effort, maybe too much effort."
Baker's counterpart, Yankees' manager Aaron Boone, said the crowd was refreshing.
"The energy that was created, we haven't seen that since 2019, so it was a fun game to be a part of," Boone said.
Fans got creative with their Houston Astros hate
At least one fan was disappointed when he arrived at the ballpark Tuesday night. David Taub came in an elaborate costume featuring Oscar the Grouch of Sesame Street fame. The outfit also had a jersey emblazoned with the word "Trashtros." Taub couldn't wear it inside the stadium.
"It was about $90, and I ordered it, and it was three weeks in backorder, so I made sure to order it early," Taub told ESPN. "I had this game penciled in for a long time since the schedule came out. I have been waiting to go to this game for over a year and a half, waiting for the Astros to come."
Vendors outside the park came prepared as well. Some were selling the classic "We're No. 1"-style foam fingers, only with a different finger raised and the message "Steal this sign." Throw in that it was May 4 (Star Wars Day), and there were also some rips from that genre.
In the end, it was New York fans giving a Bronx cheer to the Houston Astros. It's almost like the fans believe the Astros stole something.
Statistics courtesy of Baseball Reference.