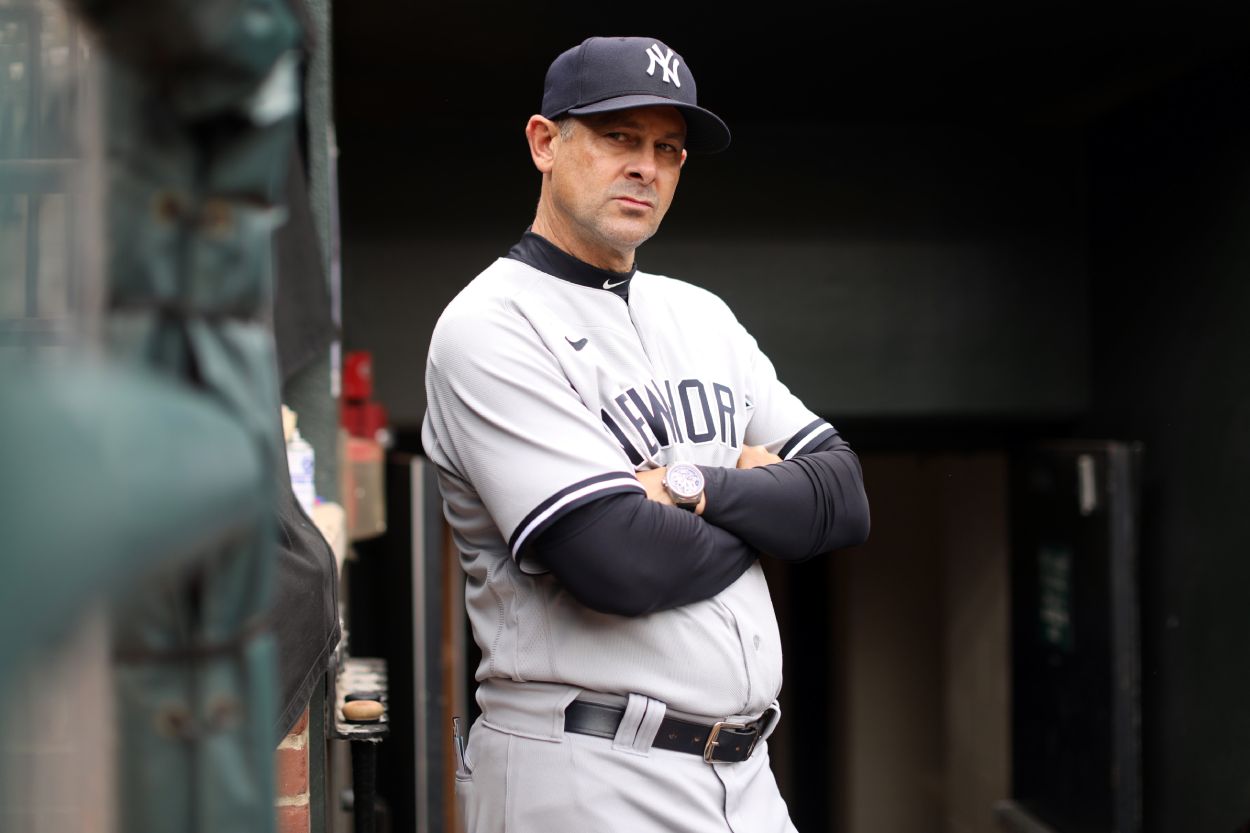 New York Yankees: Ranking the Best Fits for Aaron Boone's Possible Replacement as Manager
The New York Yankees need to consider moving on from Aaron Boone, and there are some high-profile candidates they need to go after.
Midnight could soon strike for New York Yankees manager Aaron Boone.
A Yankees team expected to dominate the American League ended Memorial Day with a disappointing 29-25 record. Injuries have decimated the Bronx Bombers again, and Boone, in his fourth season as the manager, has earned the ire of fans for using the same tired excuses and a hesitation to criticize or bench under-performing players.
If the Yankees do eventually part ways with Boone, who did not reach the World Series in any of his first three seasons, who should they try to hire as his replacement? When considering age, culture, and overall resumes, the best candidates rank as follows:
5. Will Venable, Boston Red Sox bench coach
The idea of a Boston Red Sox coach managing the Yankees does sound strange. But Venable, a nine-year MLB veteran, is a fast-riser in the coaching world who interviewed for the Red Sox's and Detroit Tigers' managerial vacancies last year. He also applied for the Chicago Cubs and San Francisco Giants openings after the 2019 season.
Venable, who played his most recent MLB game in 2016, turns 39 in October 2021. He's already held several coaching roles in the major leagues and fits baseball's current desire for younger managerial candidates with a diverse resume. If he's not managing the Yankees next year, don't be surprised to see him leading another team.
4. Buck Showalter, former Baltimore Orioles manager
Although Showalter is perhaps best known for his recent time with the Baltimore Orioles, don't forget he managed the Yankees to a 313-268 record from 1992-95. Showalter even served as Derek Jeter's first MLB manager.
Showalter, now an MLB Network analyst, turned 65 in May 2021, and he'd be among the sport's oldest managers if he returned to the dugout in 2021.
But maybe the Yankees need an elder statesman who has managed parts of 20 seasons in the majors. Boone hadn't managed before he joined the Yankees, and his flaws, ranging from bullpen management to how he addresses the media, are still evident in his fourth season.
3. Don Kelly, Pittsburgh Pirates bench coach
Yankees fans will remember Kelly as the plucky utility player who spent six seasons with the Detroit Tigers. Like Venable, the 41-year-old Kelly interviewed for the Red Sox and Tigers jobs last offseason.
Also like Venable, Kelly is on pace to have a managerial job in the coming years. If the Yankees give him that opportunity, they'd be hiring someone who spent five seasons playing under Jim Leyland, the former World Series-winning manager who won three total pennants.
2. Rick Renteria, former Chicago White Sox manager
Renteria would likely be a divisive hire given his 309-398 career record, his age (he turns 59 in December 2021), and his one playoff appearance in five seasons as a manager. However, he led the White Sox to the postseason last year and finished second in American League Manager of the Year voting.
Renteria earned the respect of his players in Chicago, and several publicly shared their frustrations when the White Sox let him go after last season.
As he nears 60, would he want to be a manager again, and would he want to hold that role for one of the most celebrated franchises in sports? If Renteria is open to accepting that challenge, he would instantly jump ahead of Kelly and Venable because of his experience.
1. Skip Schumaker, San Diego Padres associate manager
In 11 MLB seasons as a utility player, Schumaker hit .278 and won a World Series ring with the St. Louis Cardinals in 2011. He's another fast-riser in the coaching world who has played a significant role in the Padres' return to relevancy. He interviewed with the Mets in 2019 and the Red Sox last year.
Schumaker fits what the Yankees need. He's young (he turns 42 next February), and he has zero ties to the organization as either a player or a coach. In fact, he only played one career game against the Yankees. The Padres' offense is built around plate discipline, which the Yankees have sorely lacked in the Boone era.
If the Yankees fire Boone during the 2021 season, they almost certainly wouldn't hire any of these five as a mid-season replacement. However, anything is possible when the offseason begins.
Like Sportscasting on Facebook. Follow us on Twitter @sportscasting19.