Which NFL Players Have 100 Career Touchdown Receptions?
It often feels like the moment something starts, all folks want to do is talk about how it will end. In this particular instance, we're referring to the 2016 NFL season and the possibility that it ends up being the last in the unbelievable career of Arizona Cardinals wide receiver Larry Fitzgerald.
At the end of last year, we saw plenty of greats opt for retirement over another season of physical punishment on the gridiron. While Fitzgerald is 33 years old and reportedly told people close to him that this would be his last go around, it's hard for us to believe that he's ready to hang up his cleats. Fortunately for us, in the postgame press conference following Arizona's 23-21 loss to the New England Patriots, Fitzgerald appeared to sing a different tune:
You know, I don't talk about the future. I don't even know what I'm having for dinner tonight, let alone what I'm doing next year. I signed another year for a reason. I believe in what we're doing here. I believe in the guys that I have in this room, the head coach [Bruce Arians], his staff. Obviously, [Cardinals president] Michael Bidwill is doing everything he can to put us in a position to win.

That's where my mindset is at. What I'm doing next year is of no importance. This is the year. And I want to make sure we make it great.
Although the Cards fell just short (a missed field goal, to be exact) of making their opening-week game "great," the same cannot be said for Fitzgerald, who joined an exclusive list after hauling in the 100th touchdown catch of his career. Talk about impressive (Fitzgerald current sits at 104). How many others throughout NFL history have snagged 100 career touchdown receptions? See for yourself.
8. (tie) Steve Largent
Career touchdown receptions: 100
The average football fan may not be familiar with Steve Largent, but that doesn't change the fact that the former Seattle Seahawks great remains one of the top wideouts in the history of the game. During his 14-year NFL career, Largent earned First-Team All-Pro honors in 1985, made seven trips to the Pro Bowl, and caught 819 passes for 13,089 receiving yards and 100 touchdown receptions. To the surprise of no one, he was inducted into the Hall of Fame in 1995. Not bad for a guy who wasn't selected until the fourth round (No. 117 overall) of the 1976 NFL Draft.
8. (tie) Tim Brown
Career touchdown receptions: 100
Despite suiting up for the Tampa Bay Buccaneers in his 17th and final NFL season, Tim Brown will always be recognized for the outstanding career he put together as a member of the Raiders organization. In the end, however, numbers are numbers — and Brown's are some of the best the National Football League has ever seen. He finished with 1,094 receptions (No. 5 all time), 14,934 receiving yards (No. 6 all time), and 100 touchdown receptions. For his efforts, Brown made nine Pro Bowl teams and secured a bust in Canton in 2015.
7. Antonio Gates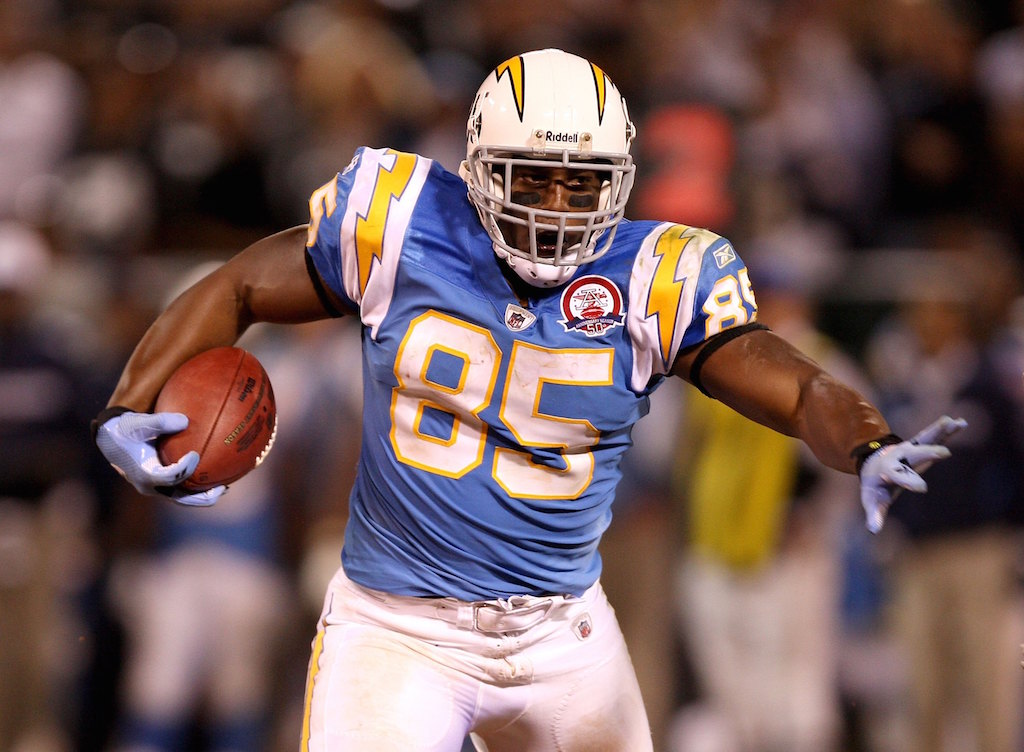 Career touchdown receptions: 106
At 36 years old, tight end and future Hall of Famer Antonio Gates not only continues to suit up on Sundays, but he consistently shows that he can still hang with the best of them, too. During his 14-year career (all with the San Diego Chargers), Gates has amassed 856 receptions, 10,725 receiving yards, and 106 touchdown catches. Considering the fact that we're only through Week 6 of the 2016 season, we expect these figures to continue rising — even as Gates  deals with a hamstring injury.
6. Tony Gonzalez
Career touchdown receptions: 111
Tony Gonzalez is easily among the best tight ends in NFL history. During his 17-year career as a member of both the Kansas City Chiefs and Atlanta Falcons, the 14-time Pro Bowler caught 1,325 passes (No. 2 all time), amassed 15,127 receiving yards, hauled in 111 touchdown receptions, and earned First-Team All-Pro honors six times. It's safe to say that it's only a matter of time before he joins the rest of the all-time greats in the Hall of Fame.
5. Marvin Harrison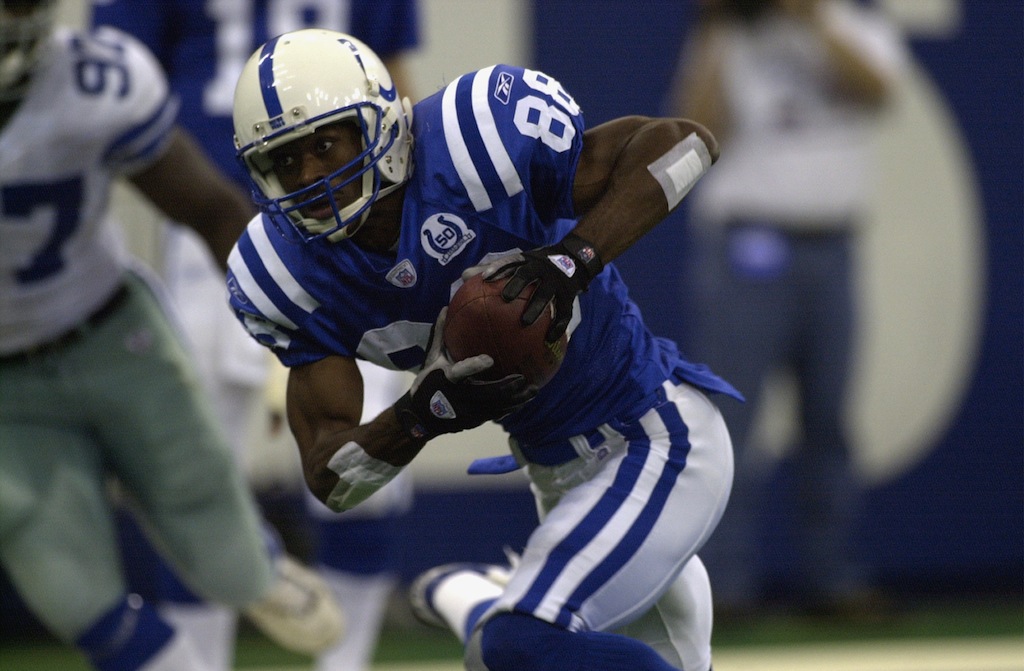 Career touchdown receptions: 128
Marvin Harrison was fortunate enough to spend the bulk of his playing days catching passes from Peyton Manning — an opportunity most players can only dream of. Suffice to say, he didn't squander it, hauling in 1,102 receptions for 14,580 receiving yards and 128 receiving touchdowns during his 13-year stint with the Indianapolis Colts. No wonder the eight-time Pro Bowler and three-time First-Team All-Pro has a reserved spot in Canton, Ohio.
4. Cris Carter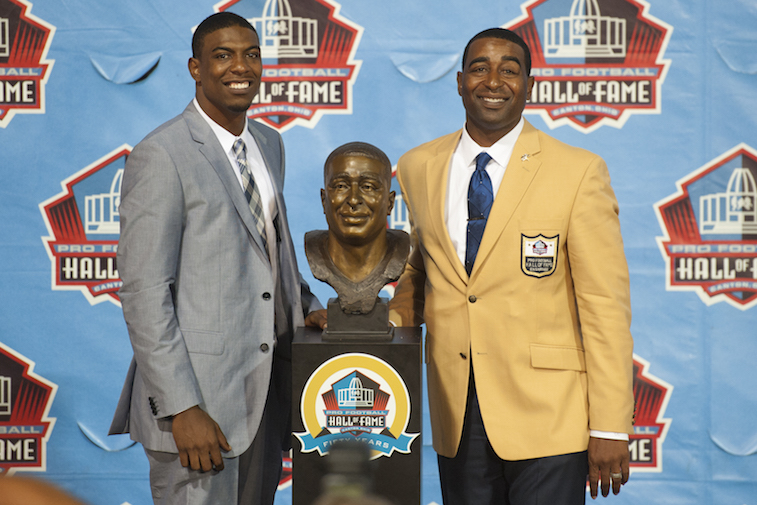 Career touchdown receptions: 130
This picture pretty much says it all; Cris Carter (above right) is more than deserving of his yellow jacket. During Carter's 16 years in the NFL, the eight-time Pro Bowler compiled 13,899 receiving yards, pulled in 1,101 receptions, and hauled in 130 touchdown receptions. Pretty good.
3. Terrell Owens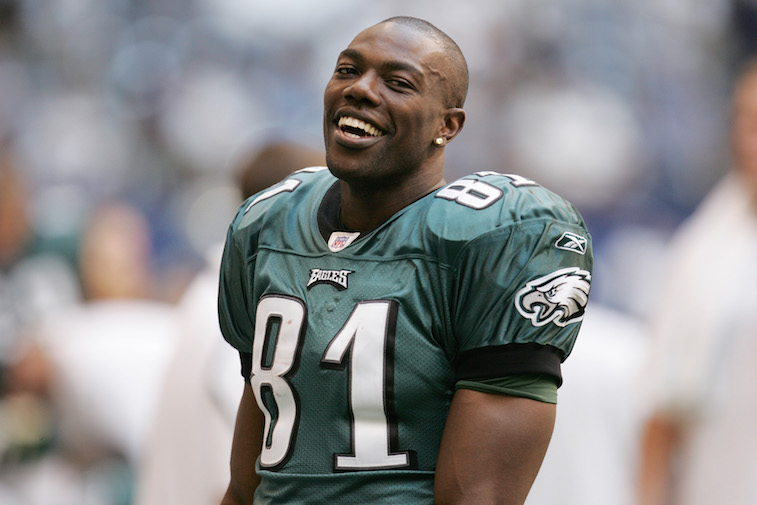 Career touchdown receptions: 153
Love him or hate him, Terrell Owens remains the sort of physical specimen who doesn't come around often. While he was known to tear apart a locker room (or two), T.O. was also among the most dominant football players we've ever seen. During his 15 years in the NFL, Owens made six Pro Bowls, was named First-Team All-Pro five times, and amassed 1,078 receptions, 15,934 receiving yards, and 153 touchdown receptions. Although these numbers are Hall of Fame-worthy, should Owens find himself locked out of Canton, he'll only have one person to blame: the man in the mirror.
2. Randy Moss
Career touchdown receptions: 156
With his speed, stride, and ability to stretch the field, Randy Moss solidified himself as one game's ultimate deep threats. Aside from making six trips to the Pro Bowl and earning four First-Team All-Pro honors in his 14 NFL seasons, Moss also led the league in touchdown catches on five separate occasions, eventually calling it a career with total of 156 touchdown receptions; the second-most in the history of the game. That's why they called him "The Freak."
1. Jerry Rice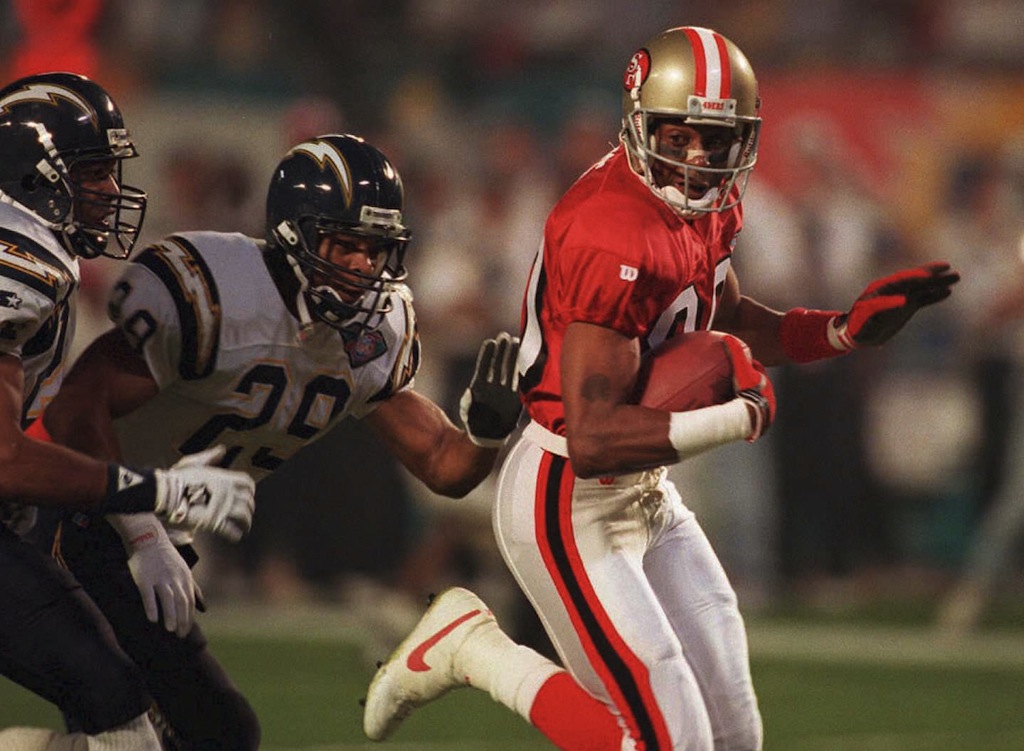 Career touchdown receptions: 197
Jerry Rice is "The G.O.A.T." It's really that simple. Only the greatest receiver in the history of the National Football League could possibly finish his career with 1,549 receptions (No. 1 all time), 22,895 receiving yards (No. 1 all time), and 197 touchdown receptions (No. 1 all time). Although many will try, there will never again be another Jerry Rice — and that's a guarantee.
Statistics courtesy of Pro-Football-Reference, ESPN, and ESPN Stats & Info.