NFL: 2015 Midseason Awards Predictions
We've officially reached the midway point of the 2015 National Football League season, and needless to say, we've certainly seen our fair share of surprising performances thus far. With that being said, here is a look at our midseason predictions for each of the NFL's major individual awards in 2015.
Most Valuable Player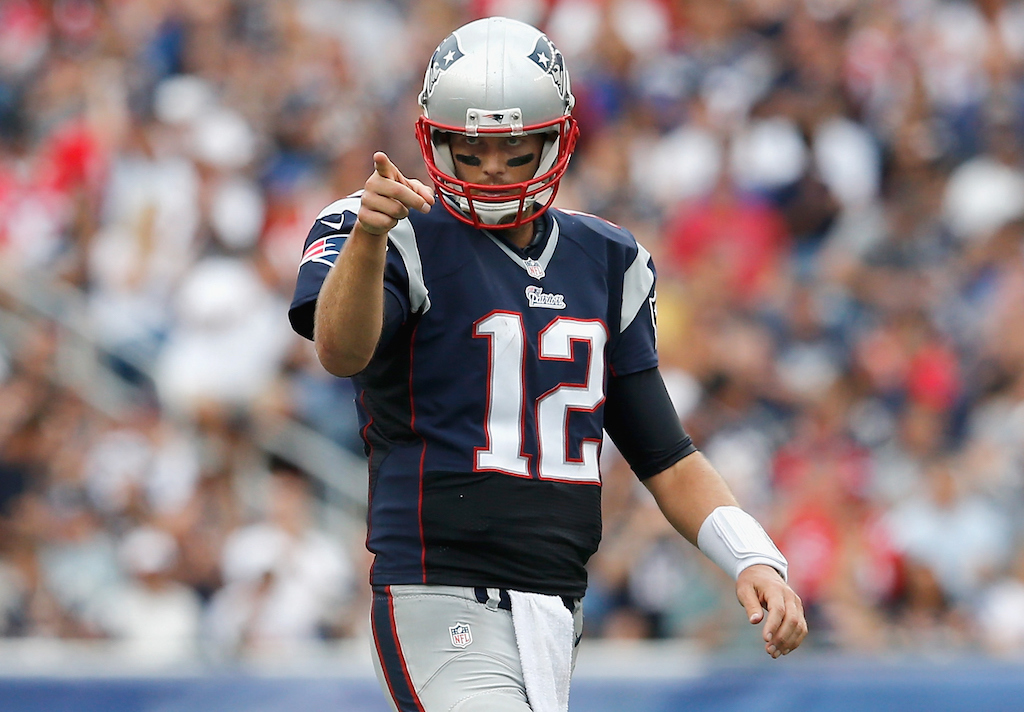 New England Patriots quarterback Tom Brady (pictured above) has the Patriots off to a 7-0 start and is on pace to throw for a league record 5,509 yards, 46 touchdown passes, and three interceptions. At this point in the season, he is a no-brainer pick for this award. His chief competition for the award as of now is Arizona Cardinals quarterback Carson Palmer (20 touchdown passes, six interceptions), and Green Bay Packers quarterback Aaron Rodgers (15 touchdown passes, two interceptions). Two dark horse candidates to keep an eye on are Cincinnati Bengals quarterback Andy Dalton and Carolina Panthers quarterback Cam Newton.
Rankings:
1.  Tom Brady, quarterback, New England Patriots
2.  Carson Palmer, quarterback, Arizona Cardinals
3.  Aaron Rodgers, quarterback, Green Bay Packers
4.  Andy Dalton, quarterback, Cincinnati Bengals
5.  Cam Newton, quarterback, Carolina Panthers
Offensive Player of the Year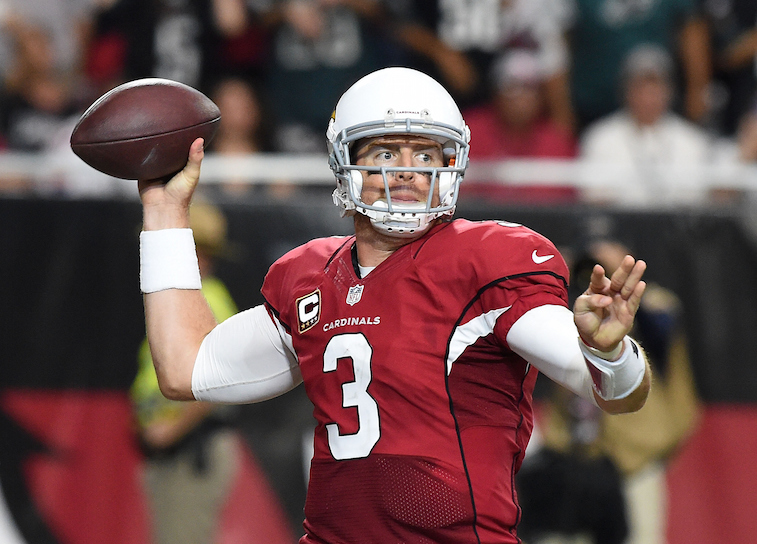 The race for this award likely won't be decided until the final weeks of the regular season, but for now, we are giving the nod to Arizona Cardinals quarterback Carson Palmer (pictured above). After tearing his ACL in 2014, Palmer is playing the best football of his professional career and is tied for the league lead in touchdown passes with 20 in his first eight games.
Palmer will be competing for this honor with a pair of Atlanta Falcons in wide receiver Julio Jones and running back Devonta Freeman, who lead the league in receiving yards and rushing yards, respectively, the best tight end in the game in Rob Gronkowski of the New England Patriots, and Houston Texans wide receiver DeAndre Hopkins, who has been one of the league's biggest surprise superstars in 2015.
Rankings:
1.  Carson Palmer, quarterback, Arizona Cardinals
2.  Julio Jones, wide receiver, Atlanta Falcons
3.  Rob Gronkowski, tight end, New England Patriots
4.  Devonta Freeman, running back, Atlanta Falcons
5.  DeAndre Hopkins, wide receiver, Houston Texans
Note:  New England Patriots quarterback Tom Brady would be the choice here if he wasn't out top choice for the league MVP award.
Defensive Player of the Year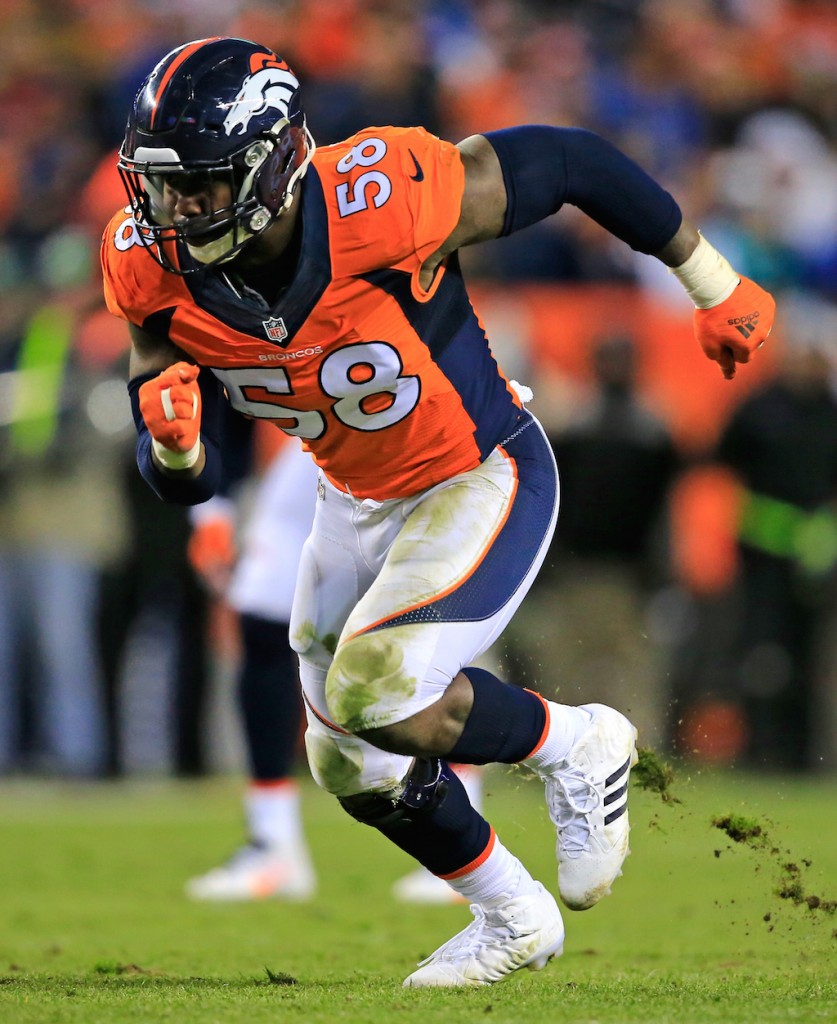 A lot can change with this award by the end of the season, but today we are giving the nod to Denver Broncos outside linebacker Von Miller (pictured above), who is the best defensive player on the best defensive team in the league.
Of course, Miller will have his work cut out for him to hold off Houston Texans defensive end J.J. Watt, who currently leads the league in sacks with 8.5. In addition to Watt, Miller will have to outperform cornerback Aqib Talib, a teammate of his in Denver, St. Louis Rams defensive tackle Aaron Donald, who has emerged as the best player in the league at his position, and defensive end Chandler Jones, who is having a career year for the New England Patriots.
Rankings:
1.  Von Miller, outside linebacker, Denver Broncos
2.  J.J. Watt, defensive end, Houston Texans
3.  Aqib Talib, cornerback, Denver Broncos
4.  Aaron Donald, defensive tackle, St. Louis Rams
5.  Chandler Jones, defensive end, New England Patriots
Offensive Rookie of the Year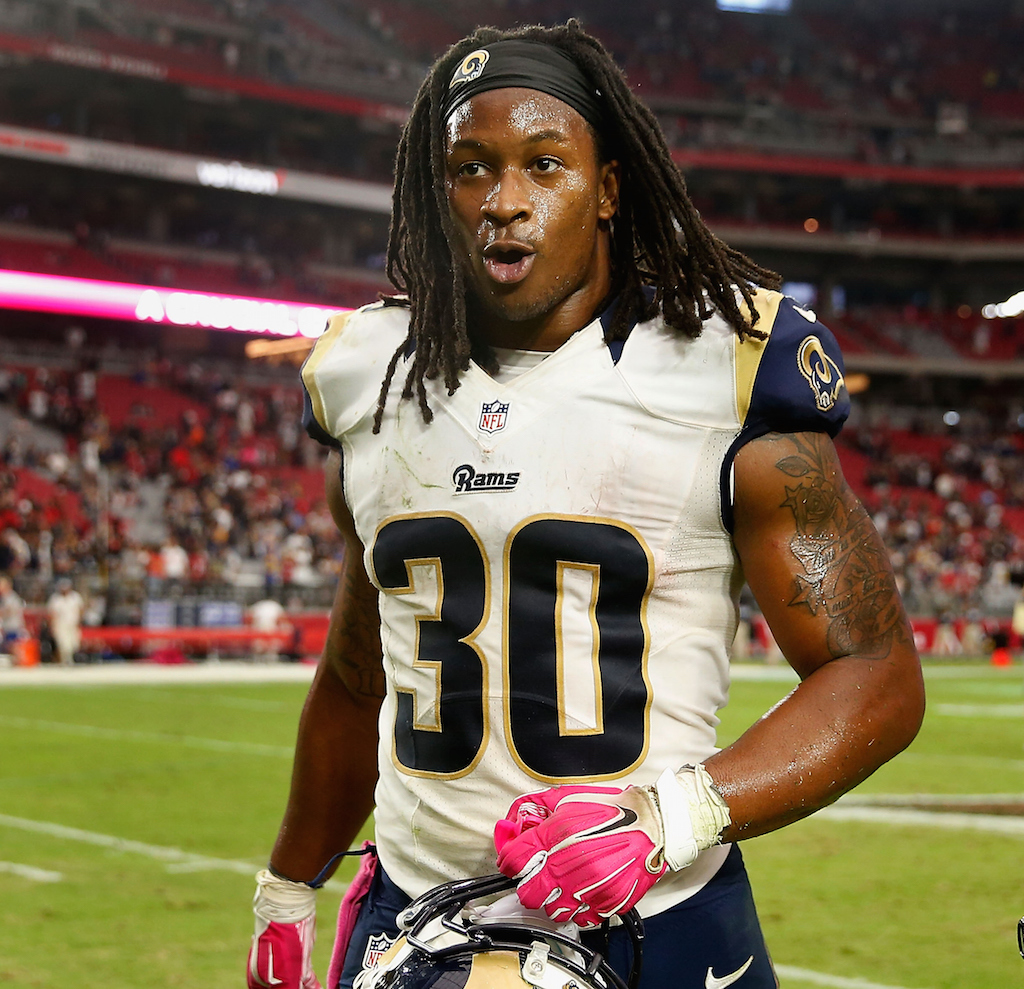 At this point in time, this award appears to be down to two players — St. Louis Rams running back Todd Gurley (pictured above) and Oakland Raiders wide receiver Amari Cooper. And we are giving the advantage to Gurley, who has been arguably the best running back in the league this year. That said, we are fully expecting both players to develop into perennial Pro Bowlers.
Quarterbacks Jameis Winston of the Tampa Bay Buccaneers and Marcus Mariota of the Tennessee Titans, and wide receiver Stefon Diggs of the Minnesota Vikings all have an outside shot at this award, but all three have a lot of ground to make up during the second half of the season.
Rankings:
1.  Todd Gurley, running back, St. Louis Rams
2.  Amari Cooper, wide receiver, Oakland Raiders
3.  Jameis Winston, quarterback, Tampa Bay Buccaneers
4.  Marcus Mariota, quarterback, Tennessee Titans
5.  Stefon Diggs, wide receiver, Minnesota Vikings
Defensive Rookie of the Year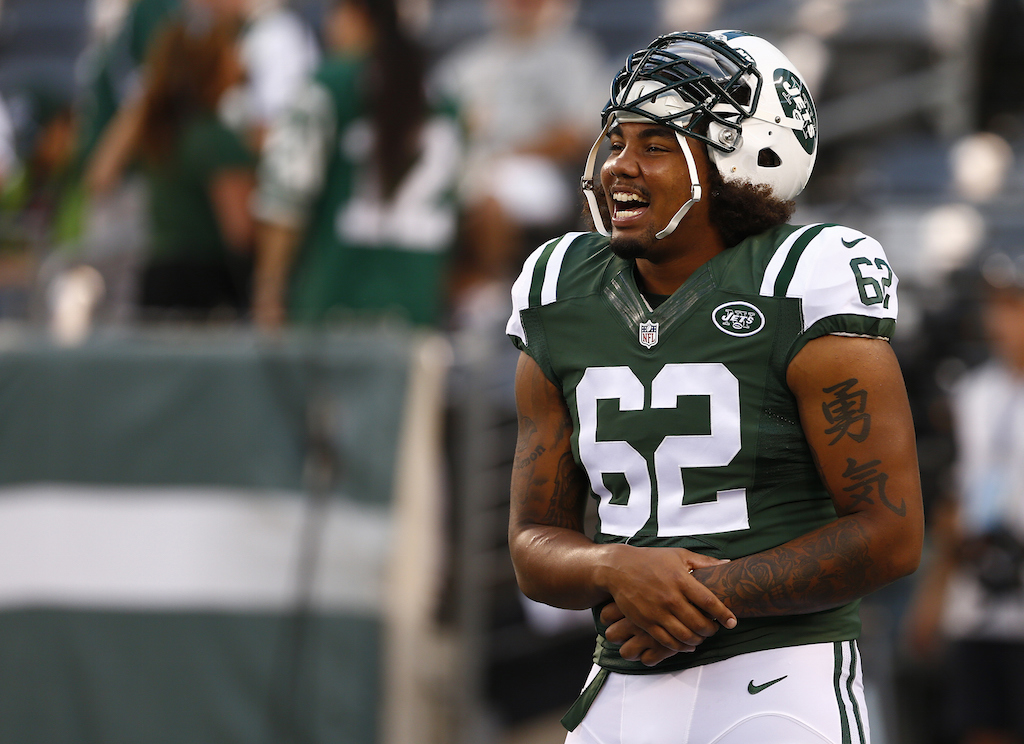 As of now, New York Jets defensive end Leonard Williams (pictured above) is the clear-cut choice for this award. He has played at a Pro Bowl level all season and looks like a player who will anchor the Jets' defensive line for several years to come.
After Williams, things aren't quite as clear. Several players, such as Pittsburgh Steelers outside linebacker Bud Dupree, Minnesota Vikings inside linebacker Eric Kendricks, Buffalo Bills cornerback Ronald Darby, and Philadelphia Eagles inside linebacker Jordan Hicks have all made strong cases, but will have to play at an extremely high level to catch up to Williams during the second half of the season.
Rankings:
1.  Leonard Williams, defensive end, New York Jets
2.  Bud Dupree, outside linebacker, Pittsburgh Steelers
3.  Eric Kendricks, inside linebacker, Minnesota Vikings
4.  Ronald Darby, cornerback, Buffalo Bills
5.  Jordan Hicks, inside linebacker, Philadelphia Eagles
Note:  New Orleans Saints cornerback Delvin Breaux was excluded from consideration, as the league considers him a 1st-year player rather than a rookie due to his time spent playing in other professional football leagues.
Comeback Player of the Year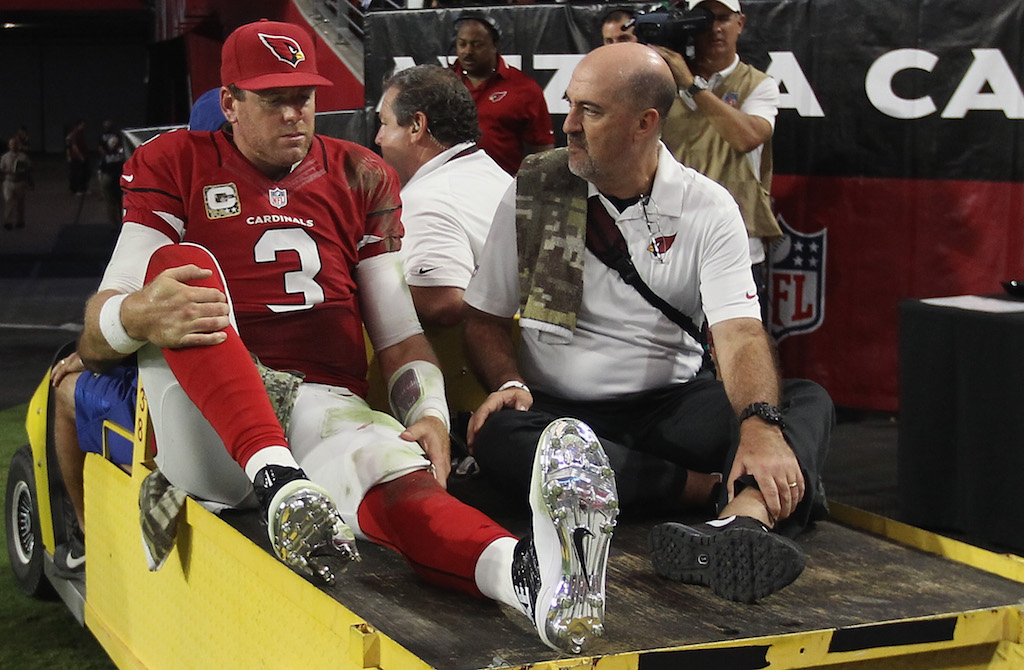 With all due respect to guys like Kansas City Chiefs safety Eric Berry, we would be utterly shocked if anybody other than Arizona Cardinals quarterback Carson Palmer (pictured above) wins this award. What he has done after suffering a torn ACL in 2014 has been nothing short of amazing. End of story.
Rankings:
1.  Carson Palmer, quarterback, Arizona Cardinals
2.  Adrian Peterson, running back, Minnesota Vikings
3.  Chris Johnson, running back, Arizona Cardinals
4.  Jadeveon Clowney, outside linebacker, Houston Texans
5.  Eric Berry, safety, Kansas City Chiefs
Coach of the Year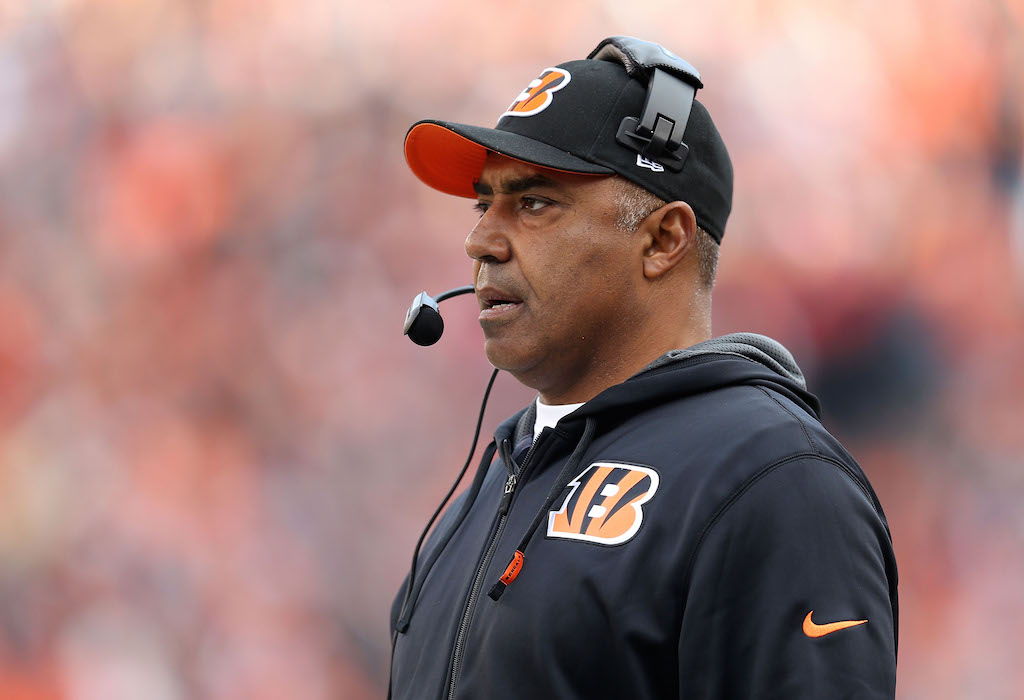 We can make a strong argument for each of the following coaches to win this award, but in our eyes, the most deserving coach in the league is Marvin Lewis of Cincinnati Bengals. Lewis has led the Bengals to a 7-0 start to the season with wins over several quality teams, and his quarterback, Andy Dalton, is a legitimate MVP candidate. If the Bengals can land one of the top two seeds for the AFC Playoffs, we believe Lewis will walk away with this award in 2015.
Rankings:
1.  Marvin Lewis, Cincinnati Bengals
2.  Ron Rivera, Carolina Panthers
3.  Dan Quinn, Atlanta Falcons
4.  Bill Belichick, New England Patriots
5.  Gary Kubiak, Denver Broncos
All statistics courtesy of Pro-Football-Reference.