NFL: 3 Bold Predictions for New York Giants vs. Dallas Cowboys
The NFL season is finally here, which means it's time for upsets, bold predictions and those incredibly dominating single-game performances from players.  All of it, is officially underway. Let's start the action off with some bold predictions for one of the biggest rivalries in all of football, the New York Giants against the Dallas Cowboys.
This one is a prime time matchup, and will be played at AT&T Stadium in Arlington, Texas. The Cowboys, who are fresh off an NFC East title and were one questionable call away from the NFC Championship Game, are looking to start their push for a repeat off with a big home win. As for the Giants and incredible second-year receiver Odell Beckham Jr., they are hoping to get back into the mix of the NFC East right out of the gate. What better way to do that than by beating the defending division champions on their home field?
Let's take a look at three bold predictions for the Sunday Night Football matchup.
1. Cole Beasley Leads the Dallas Cowboys in Receptions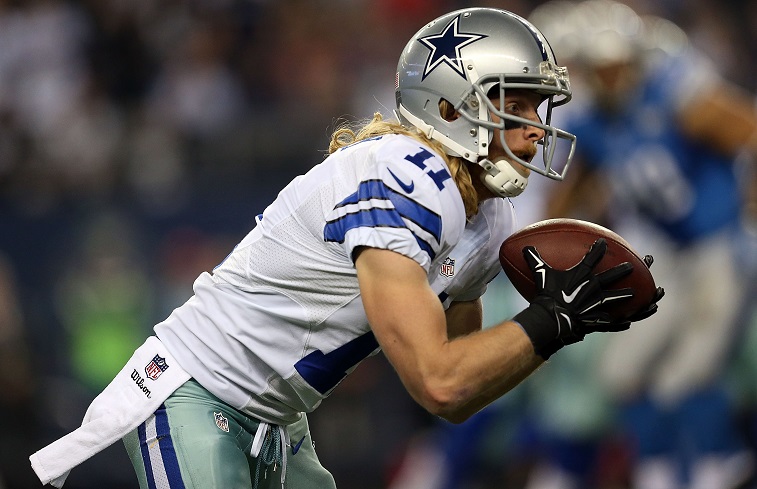 While it's likely that one of the other two talented receivers (either Dez Bryant or Terrance Williams) will lead the team in receiving yards, we believe Beasley will lead the way in receptions. At the end of 2015, the talented slot receiver became a go-to option for quarterback Tony Romo, especially in key situations. If it becomes a third down, look for the ball to either go in the direction of tight end Jason Witten, or Beasley.
Either way, Beasley is going to get his fair share of looks, especially after reports were coming out that he was nearly unstoppable in multiple situations this offseason. As FOX Sports reported, during a joint practice between the Cowboys and St. Louis Rams, Beasley was essentially doing whatever he wanted on the field.
There's an obvious reason why Romo has grown to trust Beasley so much, as he tallied exactly zero drops throughout the 2014 season, according to SportingCharts.com. After a coming out party in 2014 where Beasley caught 37 balls for 420 yards and four touchdowns, we should expect him to start 2015 off with a bang.
2. Odell Beckham Jr. Doesn't Lead the Giants in Receiving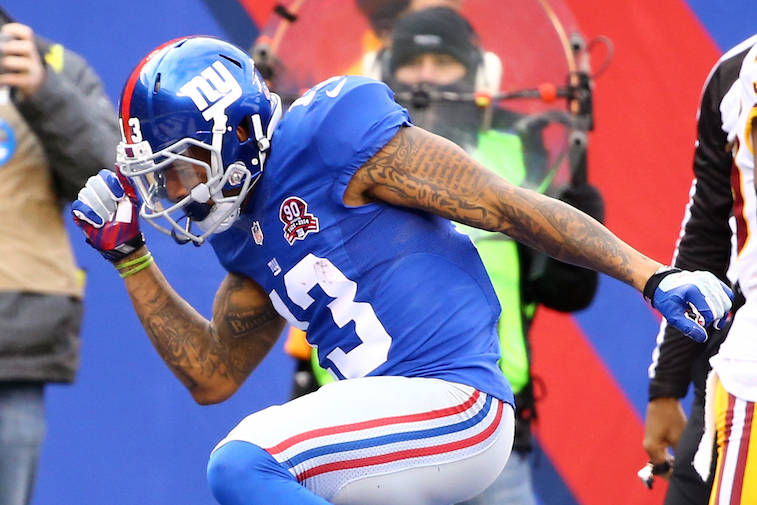 After cornerback Brandon Carr was completely embarrassed by Beckham Jr. last season with that incredible one-handed catch, it's safe to say the Cowboys will be keyed in on the second-year receiver. With the Cowboys locked in on Beckham, and Victor Cruz unlikely to play, expect Rueben Randle to make his presence felt.
Randle, who's still flying under the radar a bit, caught 71 balls for 938 yards and three touchdowns last season. I think he'll be the one who benefits from the Cowboys attempting to lock down Beckham. Randle showed a ton of potential last season, and the fact that Cruz will likely be out just makes him an even more intriguing option in the passing game for the Giants.
Expect quarterback Eli Manning to do his all to get Beckham the ball, but eventually, he's going to have to look away and find other strong options like Randle. The Giants passing game will be a key to success for them on Sunday night, which means Manning will need to find the open receiver on a consistent basis, which likely won't be Beckham.
3. Dallas Sees the Run Game Pick up Where It Left Off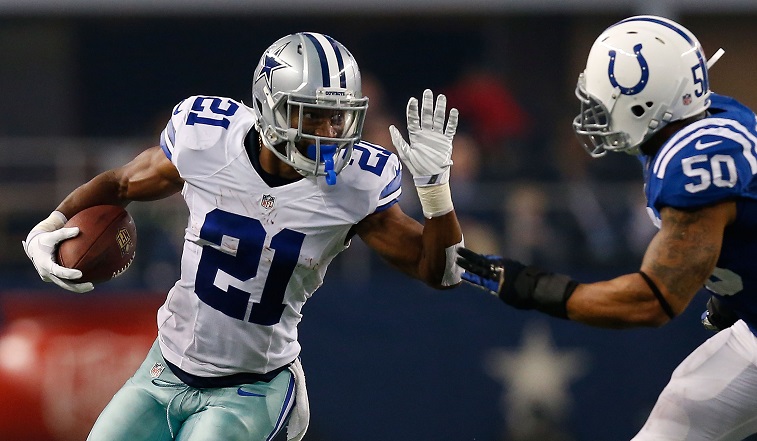 Whether it's Joseph Randle, Darren McFadden or even Lance Dunbar, the Cowboys are going to find a way to run the ball. While DeMarco Murray absolutely exploded in 2014, rushing for 1,845 yards and 13 touchdowns, his loss means there's a lot of yards and carries to be passed around. The early prediction is that Randle and McFadden are going to split the work, but don't be surprised to see Dunbar get in on the action as well.
Replacing Murray is going to be a tough task, but the fact that quarterback Tony Romo is at 100 percent, while wide receiver Dez Bryant is ready to roll with a new contract, will make life easier. Romo's ability to pick apart defenses on a consistent basis is going to play a huge role, but it may be a switch from last season.
In 2014, the Cowboys used the run game to ease the pressure on the passing game. Could Romo and the Cowboys use the passing game to ease the pressure in the run game, in turn allowing them to still manage the game how they like? Regardless, expect Dallas' run game to keep producing right out of the gate in 2015.
Follow Jeff Smith on Twitter @JSM8ith