NFL: 3 Bold Predictions for Tennessee Titans vs. Tampa Bay Buccaneers
It's finally time for the opening week of NFL action, as well as the first regular season game for two intriguing rookie quarterbacks in Marcus Mariota and Jameis Winston. To make things even more interesting for these two quarterbacks, their teams, the Tennessee Titans and Tampa Bay Buccaneers will square off right out of the gate. The debate between who should go No. 1 overall in the 2015 NFL draft went on for months, before the Buccaneers chose to go with Winston with the top pick. The Titans quickly turned down multiple reported offers for Mariota, including a massive offer from the Philadelphia Eagles and Chip Kelly, per Danny Cox of the Inquisitr.
In the end, both the Buccaneers and Titans got their future at quarterback, and it's safe to assume that the play of both rookies will be compared side-by-side throughout the entire NFL season. It starts in Week 1, so let's take a look at a few bold predictions on the game, which you can bet will include both Winston and Mariota in some capacity.
1. Mariota vs. Winston Part One Goes to Mariota, by a Long Shot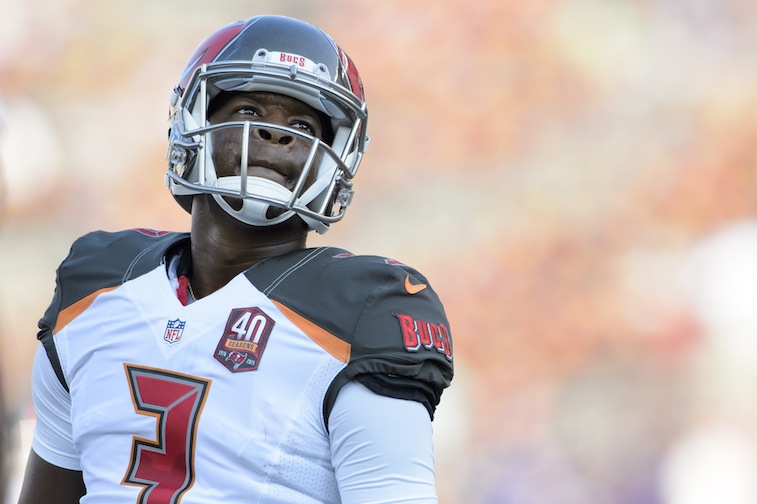 While this isn't a massively bold prediction, the way that we see this playing out probably is in the eyes of most. There's plenty of reason to believe that both Winston and Mariota have great NFL careers. But in Week 1? The stronger play of the two will go to "Magic Marcus."
Ready for an interesting stat? According to Charley Casserly of NFL.com, Titans assistant Dick LeBeau has an incredible 19-2 record against rookie QBs in his coaching career. Essentially, he and the Titans are going to look to throw anything and everything they have at Winston to make his life impossible.
While we do believe that Winston will struggle to some extent in his opener, don't expect it to be all roses for Mariota. In the end, though, Mariota simply does an excellent job of remaining poised and avoiding turning the ball over, something that will play a massive role in his success right out of the gate in the NFL.
Expect the stat lines to finish somewhere around the following:
Winston: 20/34 200 yards, one touchdown, one interception, three rushes for 20 yards
Mariota 25/37 245 yards, two touchdowns, no interceptions, six rushes for 55 yards, one touchdown
Mariota's ability to take off and run is obviously a bit better than Winston's, although both can do it. We think Mariota will look to use his legs to open up the field in the passing game Sunday.
2. Doug Martin Posts a Top-5 Highest Yardage Total in Week 1
Yes, top five in the entire NFL. Martin is back and ready to silence the critics who have hounded him over the past two years. There's plenty of reason to believe that Martin will be back to his rookie form. After the Buccaneers chose to decline his fifth-year option, he's looked like a motivated man.
If Martin's 118 yards in the preseason on a 5.9-yard-per-carry average is any indication, he's ready to go to work and help ease the pressure off Winston and this offense. The most important part of Martin's success is that he'll allow the defense to get some time on the sidelines resting, which should not only help out the Bucs this week, but all season long.
Martin has some making up to do after the last two seasons, and we fully expect him to hit the ground running in 2015. Martin's ability to make plays with his legs, as well as catching balls out of the backfield, makes him one of the most dangerous weapons out there. Expect him to post a massive Week 1 stat line, one that places him in the top five for the week.
3. The Rebirth of Kendall Wright
Just a single season after catching 94 balls for 1,079 yards, Wright's numbers dropped dramatically to 57 catches for 715 yards in 2014. Over the final seven games of last season, Wright scored exactly two touchdowns, while topping 75 yards only one time. He also had a game with two catches for nine yards (where he actually caught a touchdown), as well as a game with one catch for 28 yards.
The inconsistency at the quarterback position for the Titans obviously hurt Wright last season, but Mariota will make his life a whole lot easier this year. Expect Wright to go back to 2013 form, and potentially even surpass his yardage total and score seven or more touchdowns this season.
The incredible 2015 campaign of Wright will begin with an opening act that blows fans away. The talented receiver will replicate his lone 100-plus yard game from 2014, where he caught seven balls for 132 yards and a touchdown. Don't be surprised if we winds up tossing in another touchdown just for good measure either.
Follow Jeff on Twitter @JSM8ith