NFL: 3 Bold Predictions for the Green Bay Packers in 2016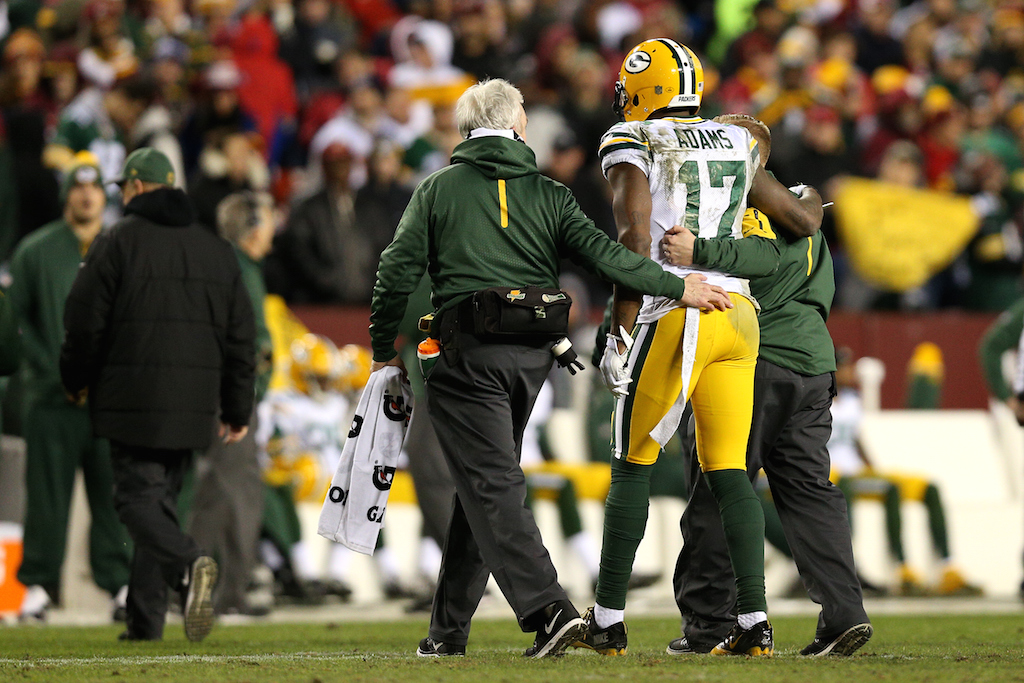 To say that the Green Bay Packers' 2015-16 season came to a close with a flurry of emotions would be a massive understatement. After making the playoffs with a 10-6 record, the Packers rolled over the Washington Redskins 35-18 in the first round. Then came that infamous game against the Arizona Cardinals, with a chance to go to the NFC championship on the line. We all know how that one ended, as a Hail Mary sent the game to overtime for the Packers, but it just wasn't enough.
Larry Fitzgerald got through Green Bay's defense for 75 yards to start overtime, and then two plays later, Fitzgerald crossed the goal line and sent his Cardinals to the next round. It was heartbreak hotel for Aaron Rodgers and the Packers, but it was still a strong season for a team who lost their top wide receiver, Jordy Nelson, while also getting little production from their running game.
Their leading rusher, Eddie Lacy, had just 758 yards and three touchdowns, and running backs in total (including fullback John Kuhn) totaled just seven rushing scores all season. So, it's time for Green Bay fans to look toward 2016. We'll start things off with Lacy himself, who basically saw the law get laid down for him by head coach Mike McCarthy.
1. Eddie Lacy will have the best year of his career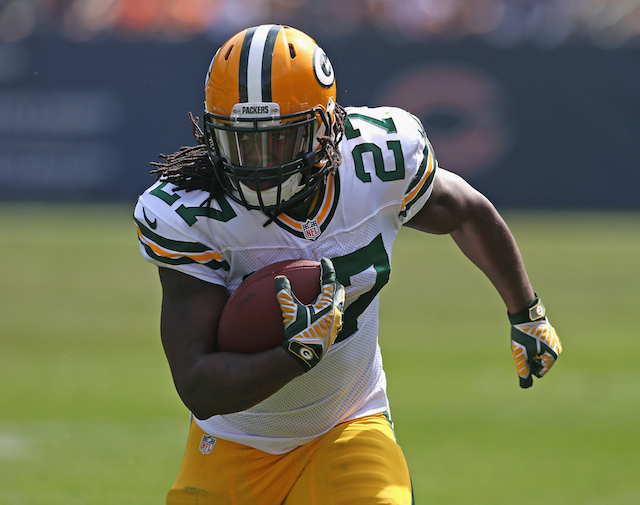 At times, Lacy's 2015 campaign was tough to watch. He was constantly stuffed by opponents' defensive fronts and had eight games with 38 or fewer rushing yards. That's brutal, especially when looking at the fact that he also had four games with 10 or fewer rushing yards. For either of those statistics to be next to the name of a starting NFL running back is just completely unacceptable.
Things got so bad at times for Lacy that the team had to turn their attention to James Starks, who finished with 39 carries and 157 yards less than Lacy. Neither back was amazing in 2015, but it's going to be Lacy who takes McCarthy's words to heart and turns things around in a big way. Not only will he become the workhorse back once again in Green Bay, but he'll be even better than he was back in his rookie season when he rushed for 1,178 yards and 11 scores.
See, the thing is, this is a contract year for Lacy now. If he can show up in a big way, it's far more likely that he can command a fairly good-sized contract on the free agent market. On the flip side, if he has a year like he did in 2015, he's not going to make much and will wind up being just a change-of-pace back somewhere else. We expect him to have about 1,200 yards, at least 11 touchdowns, and most importantly, a higher average yards-per-carry than he did during that rookie year (4.1).
2. Aaron Rodgers wins the MVP award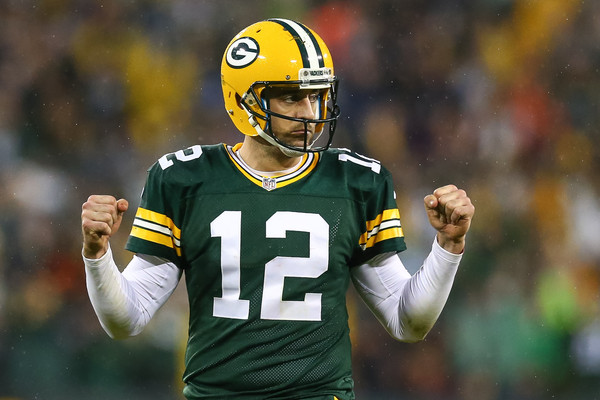 With Lacy's improved play, the return of Nelson, and a much healthier team across the board, Rodgers will take over in ways that we've seen in the past. Many people seem to overlook the fact that Rodgers was actually pretty strong last season, but he just didn't have the massive number of yards that we're used to seeing from him. Even without his top weapon and a group of wide receivers who failed to step up at times — paired with almost no running game — Rodgers still threw for 3,821 yards, 31 touchdowns, and just eight interceptions.
Concerning interceptions, he's done an excellent job of avoiding them, and this stood true once again. With a revamped run game, expect Rodgers to return to elite level. Heck, if the guy was able to throw for 31 touchdowns and avoid turning the ball over in as tough of a year as it was for the Packers last season, imagine what he could do next year. We're talking 35-plus touchdowns, 4,300 or more yards, and again, very few interceptions. Rodgers will lead the Packers to a division title and his own MVP award.
3. Jordy Nelson immediately reverts back to 2014 form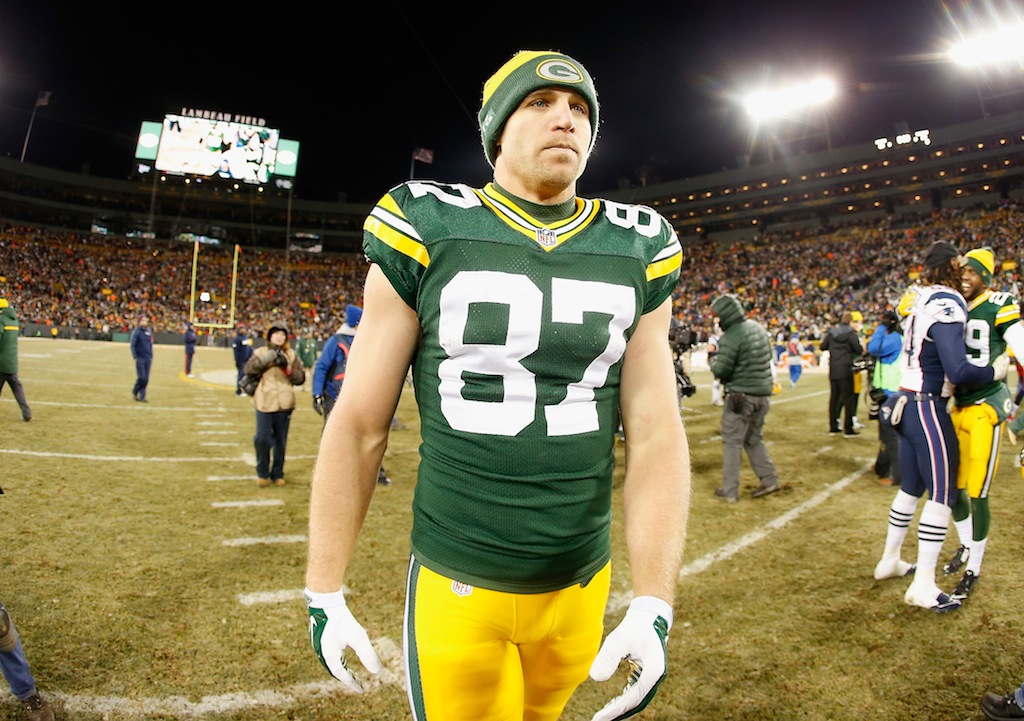 If you want to see how much Rodgers truly missed Nelson, wait until you see these two start to connect on the field in 2016. Not having Nelson obviously hurt the Packers, and it's hard to imagine how a player will bounce back from a knee injury, but expect Nelson to return to building on what he did in 2014. While he didn't have the most touchdowns of his career last season, he caught the most passes (98), had the most receiving yards (1,519), and had the second-most touchdowns with 13.
Don't be surprised to see Nelson get more targets than he'll even know what to do with, which should result in him topping 100 catches for the first time in his career while also winding up with double-digit touchdowns. Nelson is one of the most talented wide receivers in the NFL, but with players like Julio Jones and Antonio Brown being reception monsters, Nelson is getting a bit overlooked right now. Fortunately, that won't happen for much longer.
Statistics courtesy of ESPN.com.
Follow Jeff Smith on Twitter @JSM8ith