NFL: 3 Bold Predictions for the New York Jets in 2016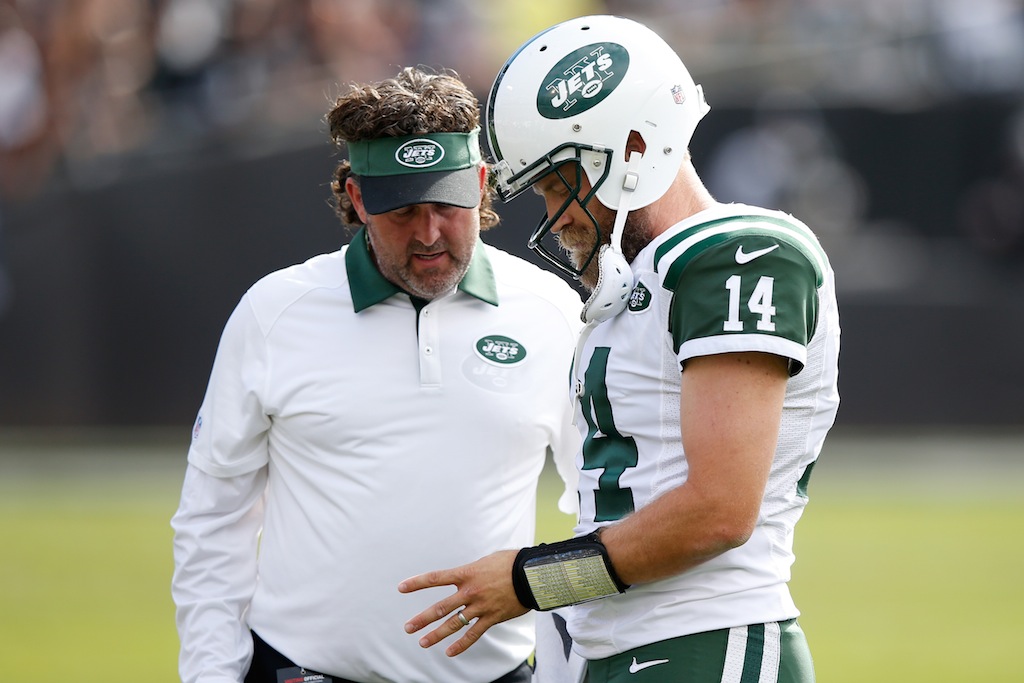 The New York Jets had a gut-wrenching end to their 2015 season, but fortunately, they're bound for big things in 2016 — at least according to these bold predictions. After finishing last season with a 10-6 record, they ranked as one of the best teams to not make the playoffs, which probably doesn't make any Jets fan feel better.
While this team still needs to figure out their quarterback situation, it's likely that they will choose to work out a new deal with veteran quarterback Ryan Fitzpatrick, who is set to become a free agent. Fitzpatrick put together the best season of his career with the Jets in 2015, throwing for 3,905 yards, 31 touchdowns, and 15 interceptions. With the hopes and expectations that Fitzpatrick is back with the Jets, we'll get right into our three bold predictions.
1. Fitzpatrick once again posts career numbers
The Jets are the sixth franchise that Fitzpatrick has played for in his career, and he's likely hoping that this becomes the last stop of his career. He is obviously comfortable in New York and loves the weapons surrounding him. While statistically, it's hard to imagine Fitzpatrick topping 3,905 yards and 31 touchdowns based on his performances from previous years, we completely throw that out the window and use the eye test for this one.
Fitzpatrick was money last season, and he built an incredible rapport with both Brandon Marshall and Eric Decker. While we saw his completion percentage drop to 59.6 last season, expect that to improve with a full season with this group now under his belt. On top of that, he'll also top the 4,000-yard mark for the first time in his career, while throwing for around 33 touchdowns. Best of all, Fitzmagic will keep his interceptions to 13 or fewer.
2. Eric Decker has more touchdown receptions than Brandon Marshall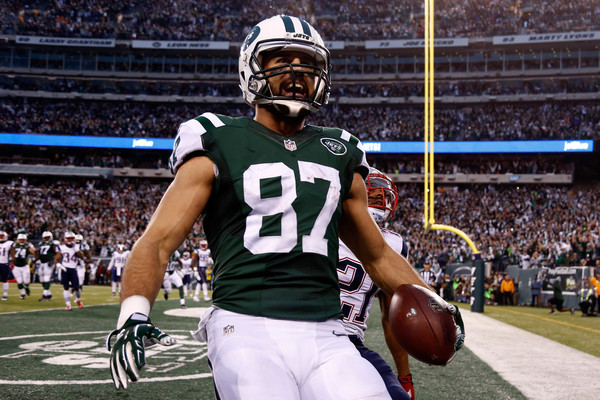 Although Marshall has firmly supplanted himself as not only the No. 1 wide receiver for the Jets, but as an elite NFL receiver as well, this year will be Decker's to find the end zone the most. There's no reason to think that the connection between Fitzpatrick and Decker will slow down next season, as the former Denver Bronco caught 80 passes for 1,027 yards and 12 touchdowns last season. Decker's ability to find open spaces in defenses is key, and it will make all the difference next year.
While Marshall will get plenty of touchdowns in 2016 and will likely top-12 himself once again, expect Decker to score one or two more than the man lined up across from him on the field. For what it's worth, Decker has always had a knack for finding the end zone, as he's scored 49 touchdowns over his past five seasons.
3. Jets make the AFC Championship Game
From just barely missing the playoffs at 10-6 to rolling to the AFC championship game, it'll be the finest moment of Fitzpatrick's career by a long shot. The Jets will officially be back on the map as one of the more intriguing teams in the NFL. Even if they don't win the division over the infamous New England Patriots, they'll still get the job done and make a run through the playoffs, before eventually losing just before the Super Bowl.
This run to the AFC championship game will set them up for big things in 2017. It'll be a combination of solid offensive play from Fitzpatrick, Marshall, and Decker, as well as stellar defense for the Jets. (This, interestingly, is something we saw from the team that went on to win the Super Bowl in 2015, the Denver Broncos.) The Fitzmagic will continue on in a big way in 2016.
Follow Jeff Smith on Twitter @JSM8ith
Statistics courtesy of ESPN.com and Pro-Football-Reference.com.