NFL: 3 Most Likely Landing Spots for Marcus Mariota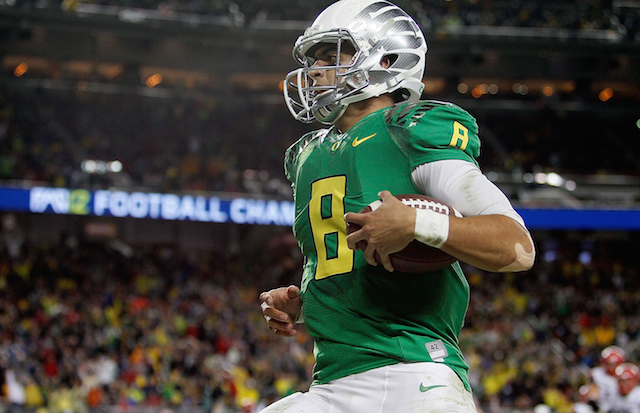 Throughout the early 2015 NFL Draft analysis, most experts believed Chip Kelly and the Philadelphia Eagles were willing to do whatever it took to move up and draft quarterback Marcus Mariota. However, during an impromptu press conference on Wednesday, Kelly went out of his way to put those rumors to bed.
"Let's dispel that right now," said Kelly. "I think that stuff's crazy. You guys have been going with that stuff all along. I think Marcus is the best quarterback in the draft. We will never mortgage our future to go all the way up to get somebody like that, because we have too many other holes we have to take care of."
You heard the man: Mariota will not be suiting up in midnight green in 2015. And yet, when it comes to Kelly, you never know what the "offensive genius" is going to do next. Perhaps this is just a smoke screen and he does intend to make a play for his former quarterback. Or maybe he really is that confident in Sam Bradford's ability to run the Eagles' offense. Only time will tell what his true intentions are.
But assuming he's telling the truth, the Heisman Trophy winner will be open for the taking. If that's the case, these are the three destinations we believe represent the most likely landing spots for Mariota.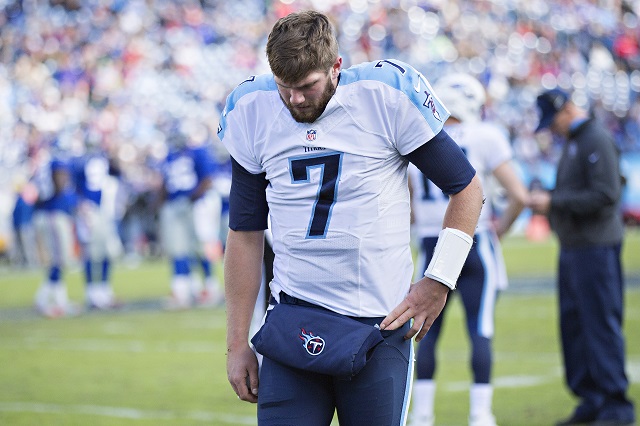 1. Tennessee Titans
By all accounts, the Tennessee Titans will probably take USC defensive end Leonard Williams with the No. 2 overall pick. Considering Williams is strong, athletic, and the top player on most draft big boards, this looks like the right play. However, this decision may also come down to how much faith the Titans have in the quarterbacks on their roster.
Right now, it would appear that going into his second NFL season, Zach Mettenberger will be the guy under center in Tennessee. The franchise seems to have a lot of faith in the sixth-round draft pick out of LSU — however, his rookie season was less than stellar. In six starts, Mettenberger threw eight touchdowns to go along with seven interceptions, and the Titans didn't win a single game.
It also doesn't help that former starting quarterback Jake Locker decided to suddenly retire from football. As a result, the Titans find themselves with a lot of question marks at quarterback, and perhaps coach Ken Whisenhunt thinks that Mariota could be the answer. We don't think this will happen, but it doesn't mean it couldn't.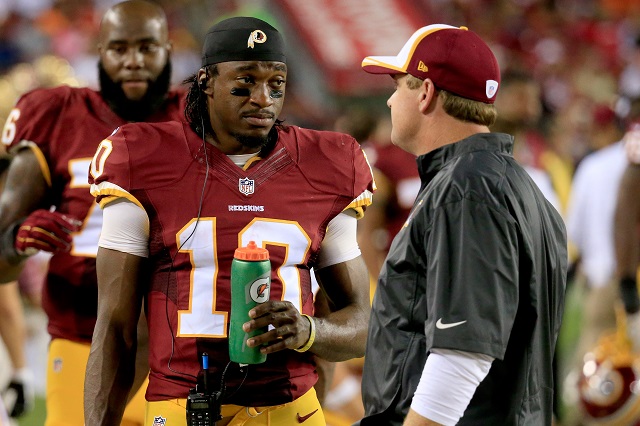 2. Washington Redskins
The Washington Redskins are choosing at pick No. 5, and there is definitely some uncertainty surrounding the quarterback position. Although second-year coach Jay Gruden has emphasized that Robert Griffin III is his QB heading into 2015, there is still doubt as to whether RGIII can actually be the Redskins' franchise quarterback. And that's exactly why ESPN's John Clayton believes the Redskins would absolutely snatch up Mariota if he fell to them at No. 5.
When Clayton spoke on ESPN Radio's Freddie Coleman Show, this is what he had to say on the matter:
The Redskins will take him at [number] five. Dan Snyder may not think there's quarterback issues; Jay Gruden and everybody else in the front office thinks there's quarterback issues. And if Marcus Mariota falls to five — now it's not a position where they're desperate enough to trade up to get him — but if he falls to five, I'm telling you this right now, they'll take him.
When Clayton speaks, we tend to listen. It's seems like Washington would be hard-pressed to pass up Mariota if he happened to fall into the Redskins' lap.
3. New York Jets
It seems as if the New York Jets are always looking for a franchise quarterback. It didn't work out with Mark Sanchez, and Geno Smith's 11-18 career record that includes 25 touchdown passes and 34 interceptions hasn't done much to warrant a lot of confidence from the organization. The Jets did just acquire Ryan Fitzpatrick in a trade with the Houston Texans, but we're not suggesting that he's the team's long-term fix at quarterback.
New head coach Todd Bowles has already made moves in the right direction. By signing cornerback Darrelle Revis, albeit at a steep cost, he's already shown thats he means business. Now he really needs to take a hard look at the quarterback position and determine if Geno really is the guy. If not, the Jets need to make Mariota their pick at No. 6.
All statistics are courtesy of Pro-Football-Reference.com and ESPN.com.