NFL: 3 Players Everyone Is Forgetting About For the MVP Award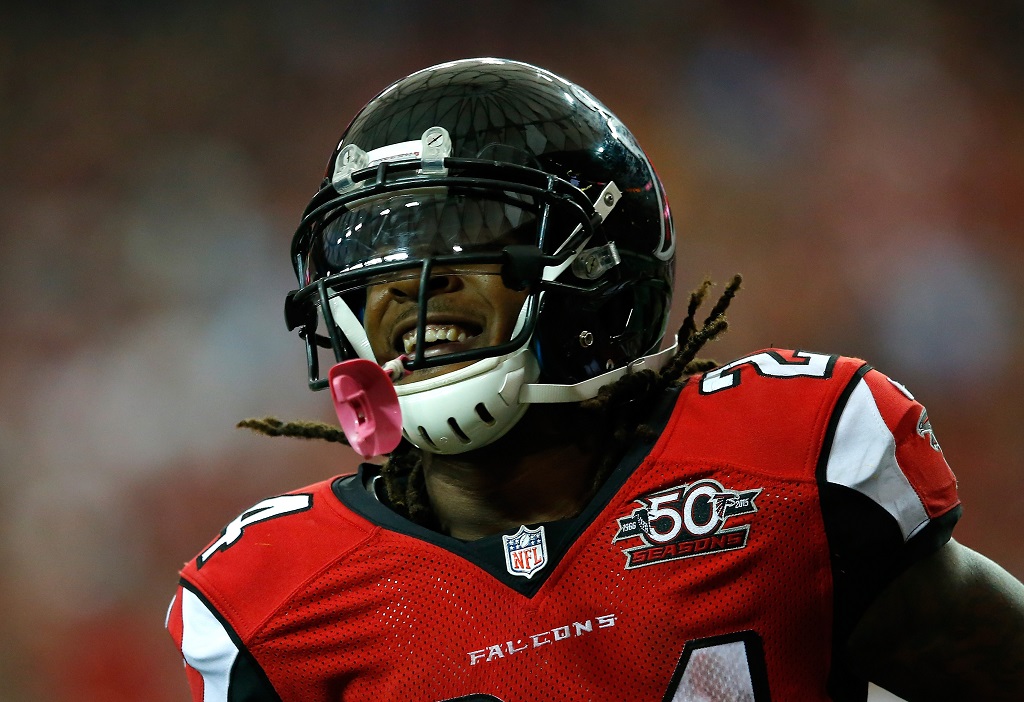 The MVP conversation in the NFL is one that goes on essentially from Week 1 of the season until the award is actually handed out. There aren't many seasons when you'll find someone run away with the award. Yes, it has happened in the past, but 2015 is a season where we have multiple players who could be in the mix. To top it off, there are players who should probably squarely in the conversation, but aren't getting nearly as much love as they should.
Now, that's not to say that these hot runs for the following three players will continue, but each of these players deserves MVP consideration as we head into Week 7 of the season. Producing the way that these players have isn't an easy task. On top of that, with the MVP award being one that goes to quarterbacks so often, these players aren't quarterbacks, but should still be in the conversation.
Let's talk about the three "sleeper" options for the award, including one player who's well on his way to breaking the NFL targets record in 2015, and is producing at an absolutely elite level. Honestly, though, all three of these players have lit the NFL on fire to this point in 2015.
1. DeAndre Hopkins, WR, Houston Texans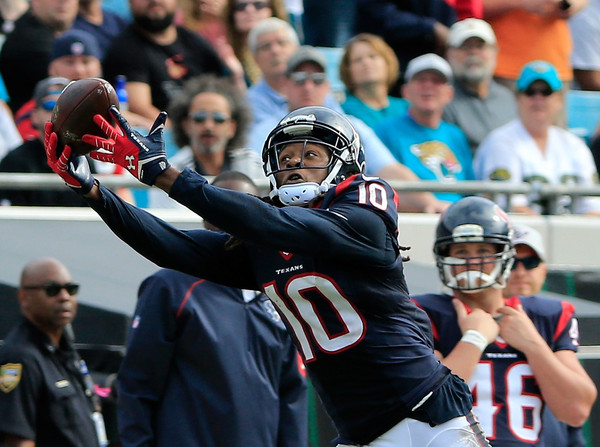 Hopkins has 90 — yes, 90 — targets through six games this season. That's simply ridiculous. In comparison, the next closest player is Demaryius Thomas with 75 targets, but Thomas has exactly 199 fewer yards than Hopkins does. Let's also not forget that Hopkins is leading the NFL in receiving yards with 726 and is second in touchdowns with five.
The facts are simple, when Brian Hoyer is in at quarterback, Hopkins is poised to do big things. Well, the good news is in for both Hopkins and the backers for him to push for an MVP award. Head coach Bill O'Brien has committed to Hoyer as the starter, according to Tania Ganguli of ESPN. Basically, this is huge news for Hopkins and the Texans.
It's obvious at this point why Hopkins isn't getting the type of MVP hype that a player like Julio Jones is (or was), which is due to the fact that his team is 2-4 currently. Even with that said, they are only one game behind the Indianapolis Colts for the top spot in the AFC South, so if the Texans can get hot, don't ignore Hopkins moving forward.
2. Devonta Freeman, RB, Atlanta Falcons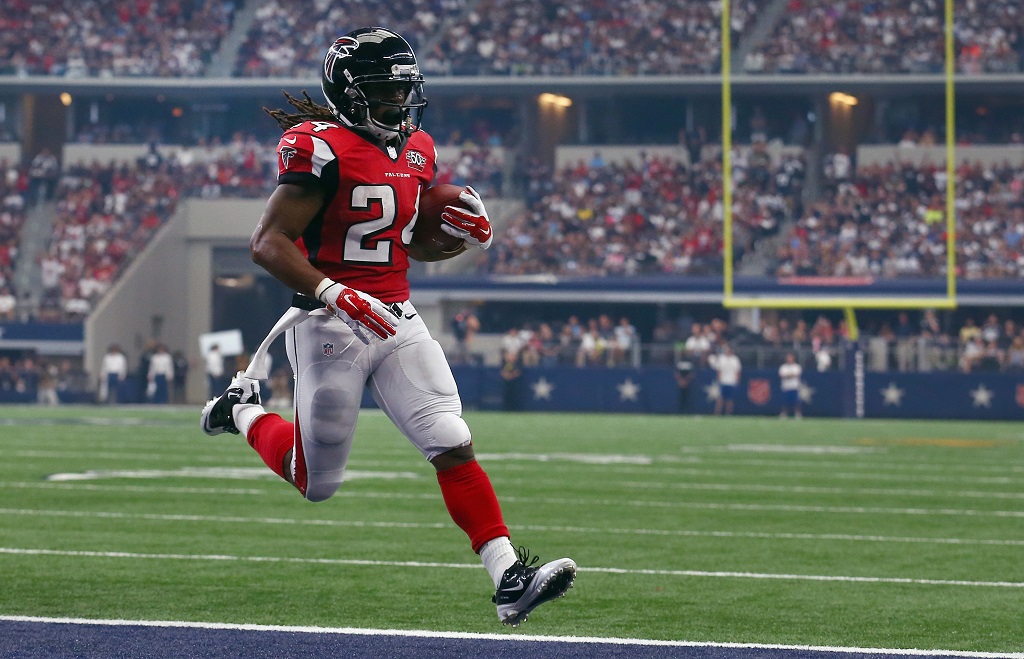 Freeman ranks No. 2 in rushing yards with 505 yards (two yards behind Matt Forte), No. 1 in rushing touchdowns with nine, and has caught 32 balls for 296 yards and a touchdown. Most impressive? He's done all of this through essentially four games. In the last four games of action, Freeman has rushed for 462 yards and eight touchdowns. Imagine if he had been named the starter for the Falcons in Week 1 over rookie Tevin Coleman?
Well, that's an argument for another day, but Freeman is on pace for a ridiculous year. Obviously, most expect him to slow down at some point, but how many rushing touchdowns can we realistically expect from Freeman? 15? 18? It's nearly impossible to predict, but if he continues on the tear he's been on over the past four weeks, there's no reason to believe the second-year back shouldn't be at the very top of the MVP conversation.
To make things even more interesting, Freeman is on a Falcons team who is 5-1 and looks bound for the postseason, at least at this point. If Atlanta makes the postseason and Freeman continues this tear, there's no way you can't put him up against any player in the NFL for the MVP award. Freeman is the real deal, and Falcons fans should be more than happy about the fact that they have a pairing like Freeman and Coleman, which could run over the NFL for years to come.
3. Chris Ivory, RB, New York Jets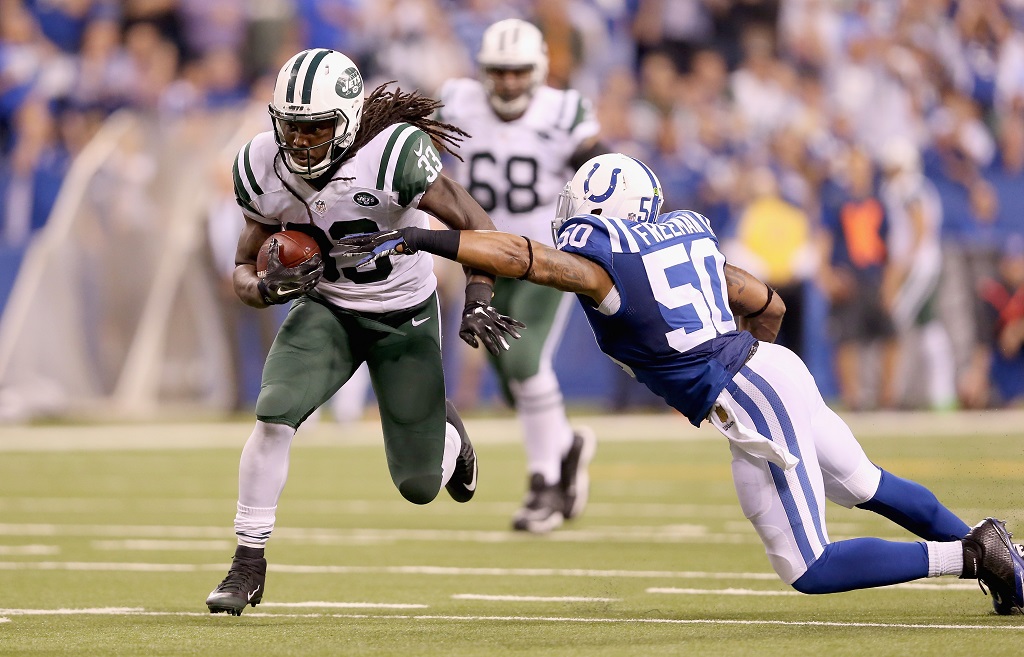 Ivory gets nowhere near the amount of attention or praise that he deserves. The Jets have played one less game than quite a few teams, as they've had their bye, and on top of that Ivory didn't even play in one game, while playing injured in another. We've seen three healthy weeks of Ivory, and in those games where he's been playing at 100%, he's rushed 69 times for 403 yards and four touchdowns.
Even through the injuries and the bye week, Ivory sits No. 3 in the NFL in rushing yards with 460 total, while being tied for No. 3 in touchdowns with four. Possibly the most impressive part of Ivory's hot start, is that he's behind only Todd Gurley, Thomas Rawls, and Giovani Bernard in terms of rushing yards per attempt at 5.5.
You can't overlook the play of Ivory, and it's a large reason why the Jets are 4-1 and ready to push the New England Patriots. Ivory's a stud, and he's finally getting his opportunity to be the lead man for the Jets, a role that he's taking full advantage of currently.
Follow Jeff Smith on Twitter @JSM8ith.