NFL: 3 Potential Landing Spots for Jimmy Graham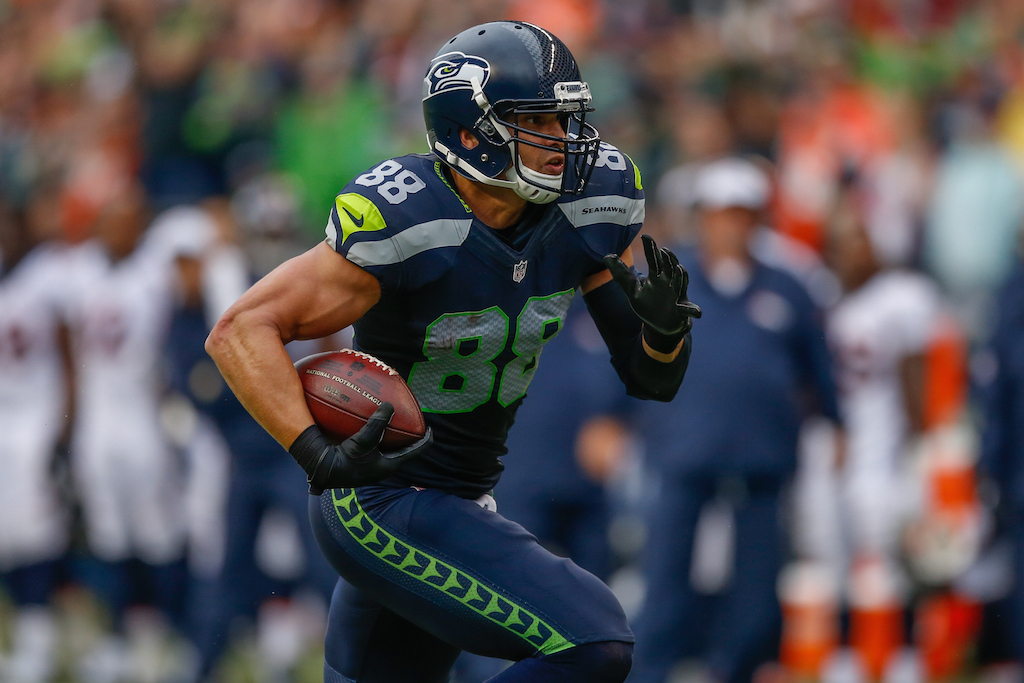 You could call it a difficult first season with Seattle Seahawks for Pro Bowl tight end Jimmy Graham, but that might be too light. To some degree, his struggles were expected, as the adjustment to Seattle's run-first philosophy after spending the first five years of his career as one of the primary options in the pass-heavy offense with the New Orleans Saints, a stint that saw him developing into one of the premier receiving tight ends in the league and posting four consecutive campaigns with at least 85 catches and 850 receiving yards, setting records for most receptions, receiving yards and receiving touchdowns for a tight end in Saints history in the process.
Graham, obviously, had hoped this production would translate over to a big role in the Seahawks' offense, but he failed to surpass 60 receiving yards in five out of his first six games. For one week, it looked like things had turned around when the Hawks played the Carolina Panthers — Graham finished with season highs in receiving yards (140) and catches (eight) — but after that he only recorded two touchdowns for the entire 2015 season, including zero in the last eight games. Another attempt at turning the corner, against the Pittsburgh Steelers in Week 12, came to complete halt after he suffered a season-ending knee injury late in the game.
In his absence, the Seahawks made a late-season surge to the playoffs, ironically behind their passing game led Russell Wilson and Doug Baldwin. While this shift toward a more balanced offense could create a better situation for Graham to excel, Seattle could just as easily consider cutting ties with him in the offseason clearing $9 million in salary cap space or look into trading the talented tight end where there will certainly be a long line of suitors lining up to acquire his services.
Although general manager John Schneider has recently stated that there's no thought within the organization about parting ways with Graham, there's always remains the possibility of that changing if the right deal were to come along. If so, here are three potential landing spots for Graham in the offseason.
1. New York Jets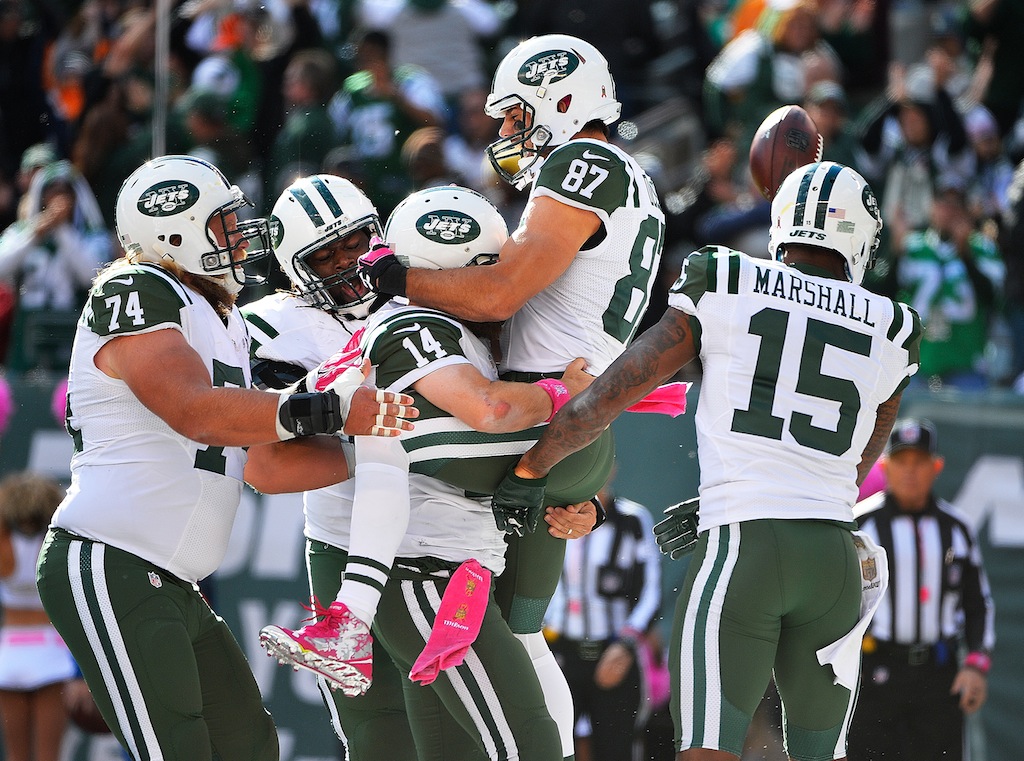 First thing's first — heading into this offseason the Jets will have several things on their agenda to address: their quarterback scenario, with Ryan Fitzpatrick set to become an unrestricted free agent following his magical first season with the team — and they will also have to look into re-signing a few of their other prominent free agents such as defensive lineman Muhammad Wilkerson, who is coming off a career-high 12.0 sacks, and running back Chris Ivory, who led the AFC with 1,070 rushing yards.
This may be tough going for the team, expected to have just over $12 million in salary cap space, but provided all this has been sorted through, the Jets could look to make a much-needed upgrade on the offensive side of the ball at tight end (last season Jeff Cumberland and Kellen Davis combined for just eight catches for 95 receiving yards, not exactly what you want from that position). Graham would be a significant upgrade at the position and give the team another legitimate red-zone threat alongside their dynamic wide receiver duo of Brandon Marshall and Eric Decker.
Yes, the offense may become a bit more crowded with three established receiving options, but this is a welcome problem to have for a team that ranked 13th in the league in passing and 11th in scoring with 24.2 points per game last season. There's no doubt Graham would immediately help make them one of the most potent passing attacks in the NFL. 
2. Atlanta Falcons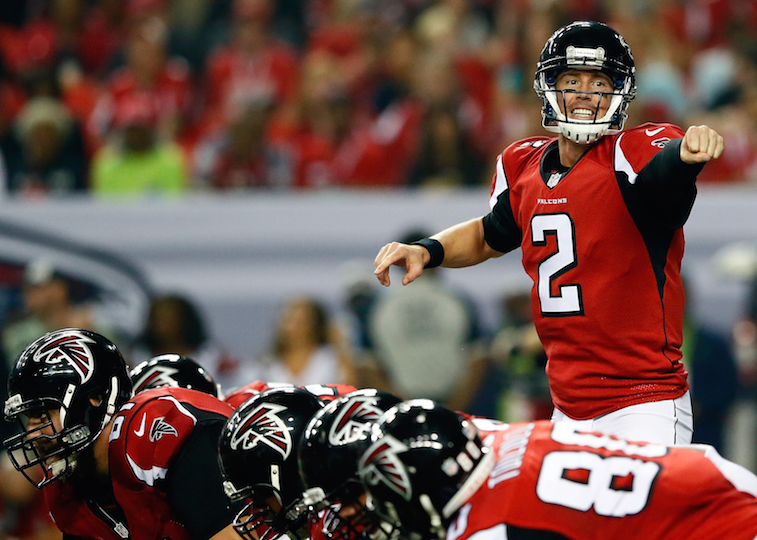 The Atlanta Falcons have been trying to fill the tight end role ever since the departure of future Hall of Fame tight end Tony Gonzalez two seasons ago. Mostly, it's been a disaster. Jacob Tamme was a serviceable option in his first season with the team in 2015 by hauling in 59 catches for 657 receiving yards, but he isn't anywhere near the caliber of player that Graham (or Gonzalez) is. Devonta Freeman may have put together an impressive rookie campaign and brought some much-needed balance to the offense, but it didn't overshadow the team's need for another receiving threat beyond Julio Jones.
The fact of the matter is that the Falcons have a passing game led mainly dependent on one legitimate receiver — Roddy White demonstrated last season that he's no longer the same explosive player he was a few seasons ago that his role in the offense decrease significantly posting his fewest catches (43) and receiving yards (506) since his second season in the league. Leonard Hankerson saw his season cut short due to persistent hamstring problems, suffice it to say the Falcons may have placed in the top 10 in passing in the league, but their offense often times became stagnant this past, season ranking 21st with just 21.2 points per game.
The addition of Graham would give Atlanta a huge boost in the red zone something they desperately need after finishing the 2015 season 18th in the league converting just 54% percent of their trips. His presence would also give Matt Ryan another viable receiving option to depend on aside from Jones in crunch time. Altogether, there's a pressing need in the passing game and Graham could be the ideal solution for the Falcons.
3. Green Bay Packers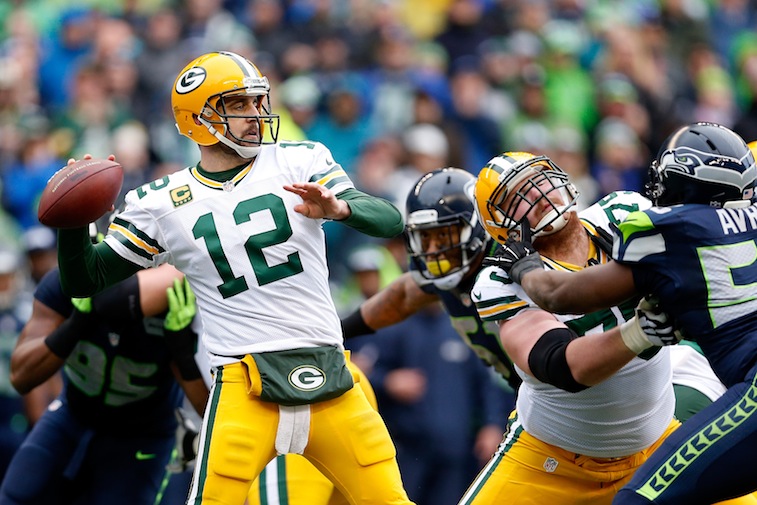 It was clearer than ever before in the 2015 season that the Green Bay Packers have an urgent need to add a legitimate receiving threat in the passing game. With Jordy Nelson out for the entire season, the Packers remaining receivers struggled to pick up the slack in the passing attack. It was hoped that Randall Cobb could be the No.1 receiving option, but he struggled for much of the season with that responsibility recording 40 or fewer receiving yards in 10 games.
Veteran wideout James Jones had a strong start in his return to the team, but disappeared during stretches of the season as he dealt with nagging injuries. Second-year receiver Davante Adams struggled with the increased role hauling in just 53.2% of his targets while dropping six balls, which was 12th worst in the league. The Packers had also lost rookie wideout Ty Montgomery in Week 6 due to season-ending ankle surgery. This all equated to unproven players in Jeff Janis and Jared Abbrederis having to take on large roles in the offense.
That said, Aaron Rodgers was able to put together a strong season despite the instability in the receiving core with 3,821 passing yards along with 31 touchdown passes to only eight interceptions while posting a 92.7 quarterback rating. Richard Rodgers did provide some reliability at tight end with a career-best season with 58 catches, 510 receiving yards, and eight touchdowns. However, Graham would immediately step in as the top threat in the passing game that easing the pressure on the rest of the team's receivers to play in more comfortable roles. All in all, it could be the move that propels them into Super Bowl contention next season and beyond.