NFL: 3 Potential Landing Spots for Mario Williams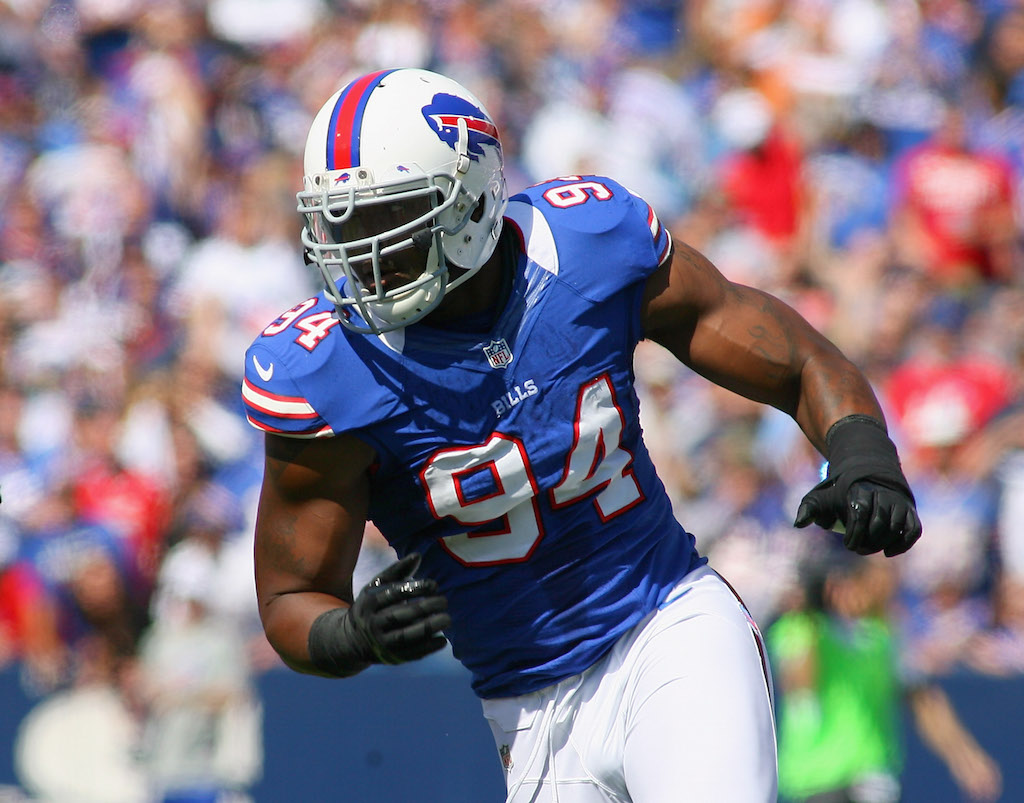 Heading into this year's free agency period, one of the most notable names to attract attention is four-time Pro Bowl defensive end Mario Williams, who was released last week by the Buffalo Bills. The 31-year-old is coming off a down year in terms of production in his first season in Rex Ryan's defensive game plan, recording just 5.0 sacks and 19 tackles (his lowest totals since his last season with the Houston Texans in 2011 when he was limited to just five games due to a torn pectoral muscle).
Prior to the 2015 season, Williams had a career rebirth in his first three campaigns with the Bills, registering at least 10.5 sacks in each year. He has become one of the best pass rushers in the league and will only be a hotter commodity in free agency due to Von Miller's standout performance in Super Bowl 50, which demonstrated how much a dominant defensive end can affect the game. This could lead Williams to potentially cash in on another lucrative deal with teams around the league looking to add a strong pass rusher. That said, here are three potential destinations for the former first overall pick.
1. Dallas Cowboys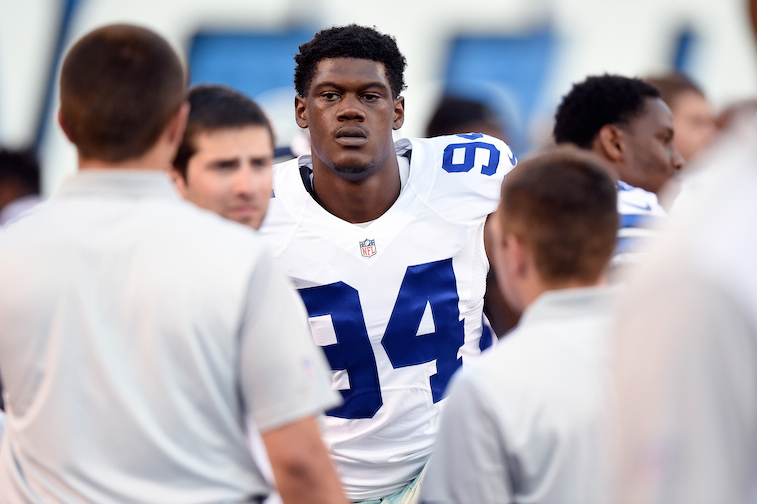 Since the Dallas Cowboys released DeMarcus Ware two seasons ago, the team has had an obvious need to find viable options for the position. There was hope that Greg Hardy could fill that need, but that experiment went up in flames after just one season with the former Pro Bowler wearing out his welcome with the team. Serious questions surrounded his work ethic as he reportedly "partied a lot" during the year and it progressively worsened his physical shape.
The Cowboys' 2015 second-round pick, Randy Gregory, was also a disappointment in his first campaign as he dealt with injuries and was ineffective in his limited time on the field, finishing with just 11 tackles and zero sacks. On top of that, Gregory will also be suspended for the first four games of next season for violating the league's substance abuse policy.
With that in mind, the Cowboys are expected to have just over $10 million in salary cap space, but this doesn't suggest that they couldn't convince Williams to return to the Lone Star state. The 31-year-old would immediately step in as their best defensive player on a team that has a strong chance of reaching the playoffs next season and beyond in the weak NFC East.
It can be argued that a healthy Tony Romo could have been all the difference in Dallas being a bottom dweller and playoff team last year. The addition of Williams would also give them a promising pairing alongside DeMarcus Lawrence, who had an encouraging second year with eight sacks, 31 quarterback pressures, and eight tackles for loss. What may hurt Dallas's chances in the possible pursuit of Williams is their limited salary cap space. However, if they are able to land him, it could be a huge step toward thrusting them back into the playoff picture next season.
2. Oakland Raiders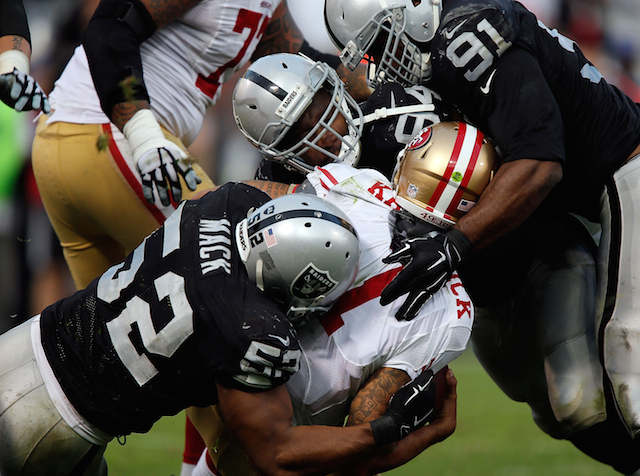 The Oakland Raiders took a significant step forward in 2015, seeing a four-win increase. They were even in contention for a playoff spot with less than a month left in the regular season. Both sides of the ball were encouraging, alluding to a bright future ahead for the franchise.
Khalil Mack led the charge defensively with a breakout season in his second year in the league, finishing second in the league with 15.0 sacks, 77 tackles, and two forced fumbles while starting all 16 games. This helped Mack become the first player in league history to be named an AP All-Pro at two different positions (defensive end and outside linebacker). The 25-year-0ld has quickly become a star who could be a dominant force in the league for years to come.
The future could be even brighter for the Raiders if the team landed Williams in free agency. Oakland will have plenty of salary cap space — currently exceeding $74 million — to allow them to be extremely active in free agency. They also need to add another defensive end with Justin Tuck deciding to retire after 11 seasons in the league. What this points to is that the Raiders have everything in place to make a serious run at Williams. If they signed him, it would give them one of the most daunting defensive-end duos in the NFL — a rival to the Denver Broncos.
3. New York Giants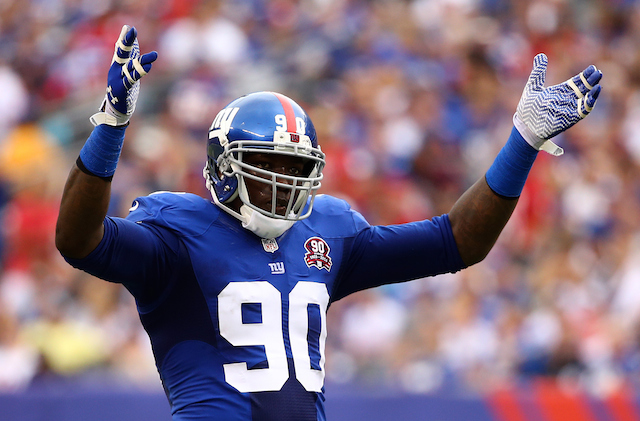 The New York Giants are one of several teams that will enter the offseason strapped with a surplus of salary cap space (more than $57 million). In that same regard, the Giants have several notable free agents, with the most prominent player being Jason Pierre-Paul. It was a rocky year for the 27-year-old, beginning with the Fourth of July firework incident that resulted in the amputation of his right index finger.
This muddled Pierre-Paul's contract situation with the team — only a few weeks prior various reports stated that New York was eyeing a multi-year deal with the former Pro Bowler. That said, Pierre-Paul played in eight games but registered just one sack with 26 tackles. New York is reportedly prepared to allow him to walk in free agency, but would like to bring him back on a one-year contract to see what kind of player he can be in a full season following the hand injury. Even if the Giants bring him back, there is a glaring need for a pass rusher following the 2015 season (after recording the third-fewest sacks, 23, in the league).
Adding Williams would be a significant upgrade, giving them a reliable option at defensive end. Among Williams' possible suitors, New York possesses the biggest need for a pass rusher, having recorded 35 or fewer sacks in three out of the last four seasons. The Giants are in the position to offer the 31-year-old a lucrative contract but what may hurt their case is that they aren't considered a contender or promising team. This is a prime opportunity for Williams to get his (likely) last lucrative contract, but at the same time, he highly values the chance to play for a Super Bowl contending team.