NFL: 3 Teams That Need to Trade for Stefon Diggs
Over the first month of the season, it has been nothing short of a bumpy start for the Minnesota Vikings offensively that has seen quarterback Kirk Cousins publicly apologize to wide receiver Adam Thielen. It has now led their other star wideout Stefon Diggs to subtly voice on Thursday that he would welcome a trade. With that in mind, here are three possible landing spots.
San Francisco 49ers
The 49ers have gotten off to a strong start to the 2019 season, winning their first three contests that have elevated them to the top spot in the NFC West.
General manager John Lynch has assembled a talented young roster, but there is still a need to add more dynamic playmakers at wide receiver. The 49ers possess some promising talent at the position with rookie Deebo Samuel, Dante Pettis, and Marquise Goodwin, but the addition of Diggs would give them a bonafide No. 1 option.
He could immediately step in as a significant part of the passing game for Jimmy Garoppolo alongside Pro Bowl tight end George Kittle. It may be the ideal spot for Diggs to get a fresh start with a young team on the rise.
Oakland Raiders
The Raiders thought that they had their next star wide receiver in place this offseason with the addition of Antonio Brown, but that situation quickly soured.
It may be a prime opportunity for Oakland to add a rising star to step in as their top receiving threat. Diggs has proven to have the big-play ability that the Raiders' offense is lacking in the passing game aside from tight end Darren Waller, who is putting together a breakout year with 33 catches for 320 receiving yards.
There is undoubtedly a glaring need to add more game-changing talent to the position. Diggs is a legitimate deep-ball threat along with being a significant factor in the red zone, which are two areas that the Raiders have struggled with over the last couple of seasons. It would also help quarterback Derek Carr get back to playing like a Pro Bowl talent.
On top of that, there have remained rumblings that the team is hoping to make a big splash move this season since Brown's departure, and this would indubitably qualify to fulfill that notion.
New York Giants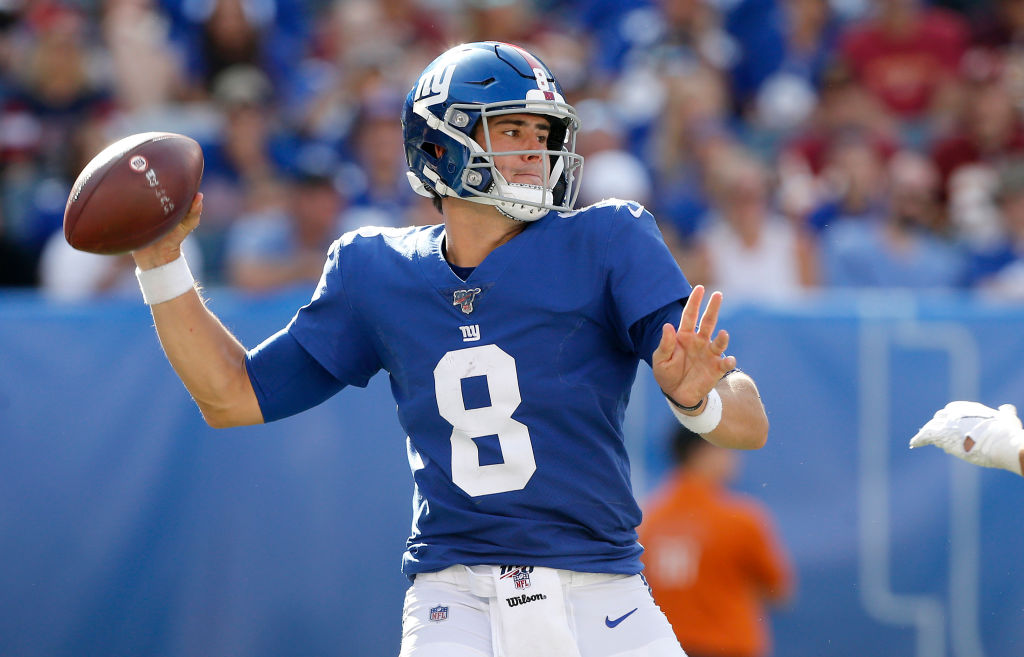 The Giants have been all-in on the Daniel Jones' hype train over the last two weeks after moving on from Eli Manning. New York is currently riding a two-game winning streak behind Jones showing much poise and potential.
The Duke product looks to be the future of the franchise under center, which effectively shifts the focus to building a talented roster around him on that side of the ball. The Giants have some promising pieces in place with running back Saquon Barkley, tight end Evan Engram and wide receiver Sterling Shepard.
New York is welcoming back former Pro Bowler Golden Tate after serving a four-game suspension, but the possible addition of Diggs would give them a potential star wideout that could help fill the void left by Odell Beckham Jr. He could become their top receiving option in the passing game for the next several years.
Next to the 49ers, the Giants are one of the more intriguing possible landing spots for Diggs. He will have the chance to not only shine bright in a major market but also showcase his talent as one of the top young wide receivers in the game.