NFL: 3 Tight Ends With Favorable Fantasy Matchups in Week 1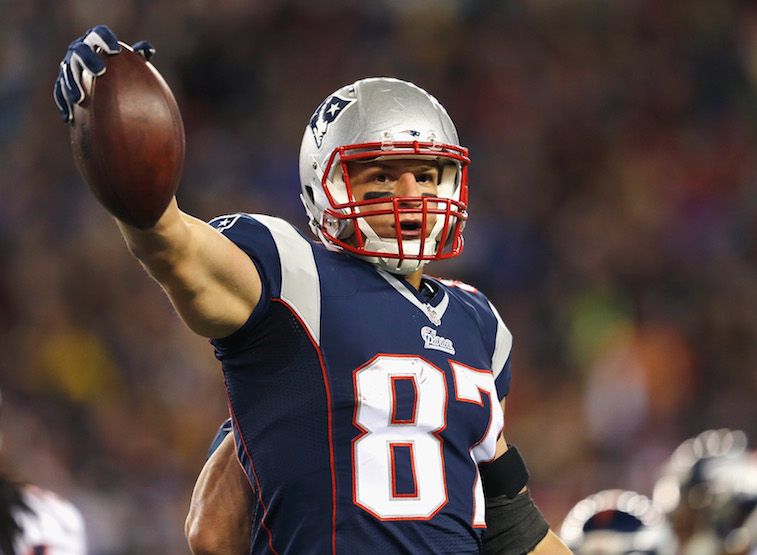 When it comes to the tight end position in the NFL, there are essentially two tiers. Tier 1 includes Rob Gronkowski, and Tier 2 features everybody else. Gronkowski is a rare talent at the position and if he keeps up his level of play for the New England Patriots, he could go down as the greatest tight end in league history. That's not an exaggeration: Gronk's just that good (and that goofy).
While that's the case, there are still plenty of players that have immense value at the position, both for their respective clubs and for your fantasy lineup. Tight end isn't necessarily the first position you think about when building a championship fantasy roster, but it also shouldn't be anywhere near the last. While they don't always score big points, these big-bodied receivers can win you a league title.
So, in case you are worried (or haven't even thought about) who to play at tight end as the opening weekend of the NFL is upon us, here are 3 players not named Rob Gronkowski with great match-ups this week:
3. Jordan Cameron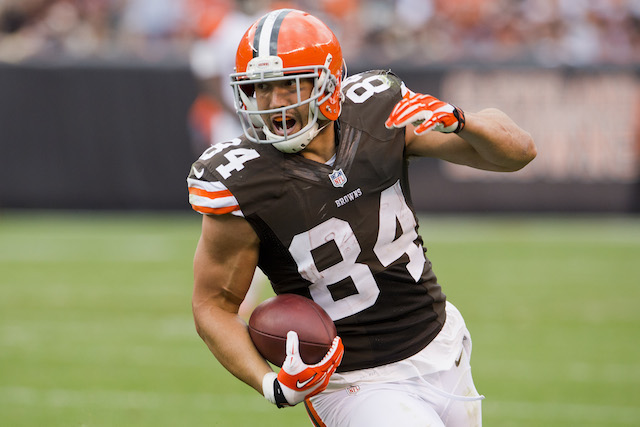 Formerly of the Cleveland Browns, Jordan Cameron is now with the Miami Dolphins and, most importantly, he's also playing alongside the best quarterback he has ever played with in rising star Ryan Tannehill. Consider this: Cameron managed to put up some pretty decent numbers with mediocre quarterbacks in Cleveland — in 2013, he accumulated 80 receptions, 917 yards, and 7 touchdowns — and there's no reason to believe he won't be even better in Miami.
While Cameron might not be the best season long option (you could do worse), his week one match-up is screaming for him to perform. The Washington Redskins are hosting the Dolphins this Sunday and boast one of the worst defenses in the league (according to last season statistics at least). Against the pass, the Redskins gave up the 9th most yards in the NFL in 2014. For a tight end, no stat could sound any better.
One thing that could hurt Cameron's potential this week is his fellow receivers. The Dolphins rebuilt their receiving corps in the offseason and now have plenty of mouths to feed. As a big body that can get open and act a security blanket for his quarterback, Cameron is still primed to be one of the best tight ends in week 1.
Expected stats: 75 yds, 1 TD
2. Jason Witten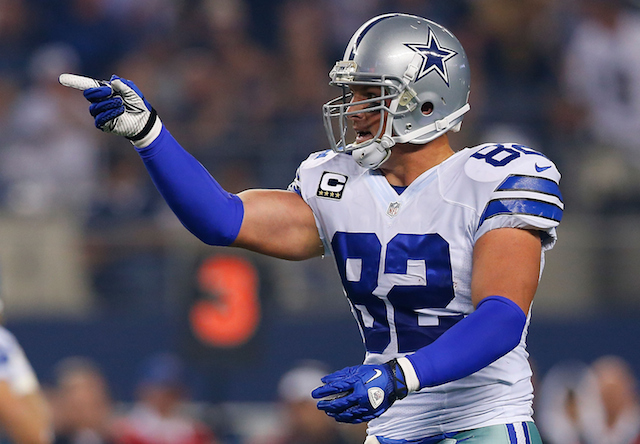 People sometimes forget that Jason Witten has been one of the most productive tight ends in the history of the NFL over the course of his 13-year career. He owns the 13th most receptions (of any player) all-time and has four 1,000 yard seasons among his impressive statistics. Of course, we are talking about how productive he can be today. For this week at least, the long time Dallas Cowboy has the opportunity to put up big numbers.
Going up against the New York Giants, Witten should be able to rack up some yards and act as one of Tony Romo's main options on Sunday. The Giants ranked in the bottom half of the league in passing yards allowed in 2014 and while new players (such as rookie Landon Collins) should help the team improve, talent is still lacking on that side of the ball in New York. Another thing in Witten's favor this week is the unknown production that the running game will provide for the Cowboys without Demarco Murray. That should force Dallas to put the ball in the air more, giving Witten more chances to produce.
While Dez Bryant is the main option for Romo when he drops back to pass, Witten is a proven and reliable receiver who can get open in the middle of that Giants defense. He should be a top-10 tight end all season long and in week 1, he could be among the leaders in fantasy points at the position.
Expected stats: 80 yds, 1 TD
1. Greg Olsen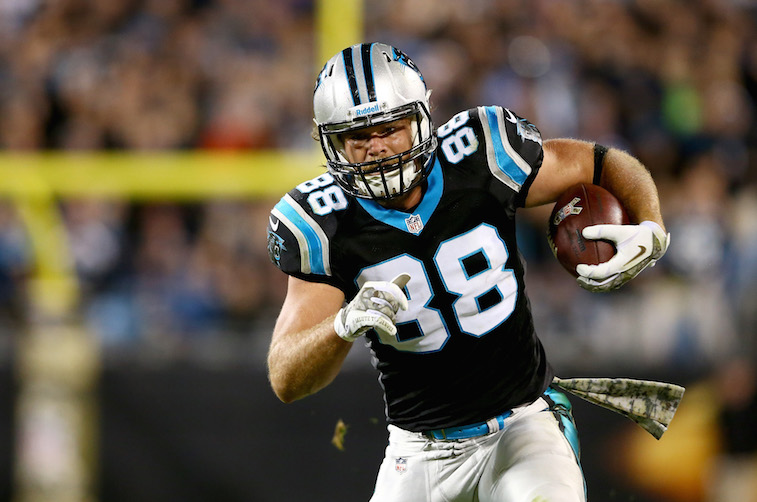 After Gronkowski and maybe Jimmy Graham, there is probably no better option than Greg Olsen when it comes to a fantasy tight end. Since coming to the Carolina Panthers, Olsen has been very consistent and very productive with three straight seasons of over 800 yards and at least 5 touchdowns. Last season, he went for over 1,00 yards as the Panthers made it to the postseason for a second straight campaign. In week 1, his match-up looks very enticing.
The Jacksonville Jaguars will host the Panthers this weekend and while they look like a team who will show improvement in 2015, they Jaguars still have a ways to go. Their defense lacks talent in many areas and gave up a bunch of passing yards a year ago. This is great news for Olsen, who will be one of Cam Newton's top targets with Kelvin Benjamin being out for the season due to injury. Olsen is going to get open in the middle of the field and cause havoc for the Jaguars' defense.
While his history of not scoring touchdowns should be a bit of a concern, Olsen's strong match-up and immense value to the Panthers should alleviate those worries. He should (at the least) be a top 3 tight end this week.
Expected stats: 105 yds, 1 TD