NFL: 3 WRs Who Earn More Money than Chris Godwin
In his third season in the NFL, Tampa Bay Buccaneers wide receiver Chris Godwin has burst onto the scene as one of the best young talents at his position. Godwin is off to a career-best pace behind his stellar production that has put him among the most explosive pass catchers this season. It has got us thinking of three notable wide receivers that are getting paid more than the Penn State product's four-year, roughly $3.3 million deal.
Chris Godwin putting together career-best year
Entering the 2019 campaign, Godwin had plenty of hype around him after his promising play in his second season.
The 23-year-old has more than lived up to the billing as he has been arguably the most productive wide receiver in the league through the first six weeks. Godwin has recorded 43 catches for a league-best 662 receiving yards and six touchdowns that him on pace to notch 115 receptions for 1,765 receiving yards and 16 touchdowns.
He has piled up more than 100 receiving yards four times, at least 10 receptions twice, and a touchdown on four occasions. He's also second with 241 yards after the catch, first with 13 plays of 20-plus yards, and first with 110.3 receiving yards per contest.
With all that in mind, here are three players that Godwin is vastly outperforming despite being significantly paid less.
1. Alshon Jeffrey
Four-year, $52 Million Deal
In his seven-plus seasons in the league, Jeffery has established himself as one of the top wide receivers in the game, but lingering injuries have limited his production on the field.
It is once again the case this year as he has recorded just 24 catches for 215 receiving yards and three touchdowns. He has continued to prove that he's still a legitimate threat in the red zone, coming off his best outing with 10 catches for 72 receiving yards and a touchdown.
However, his production in the four games that he has played in is far off the pace and level that Godwin has brought forth in the 2019 campaign.
2. Marqise Lee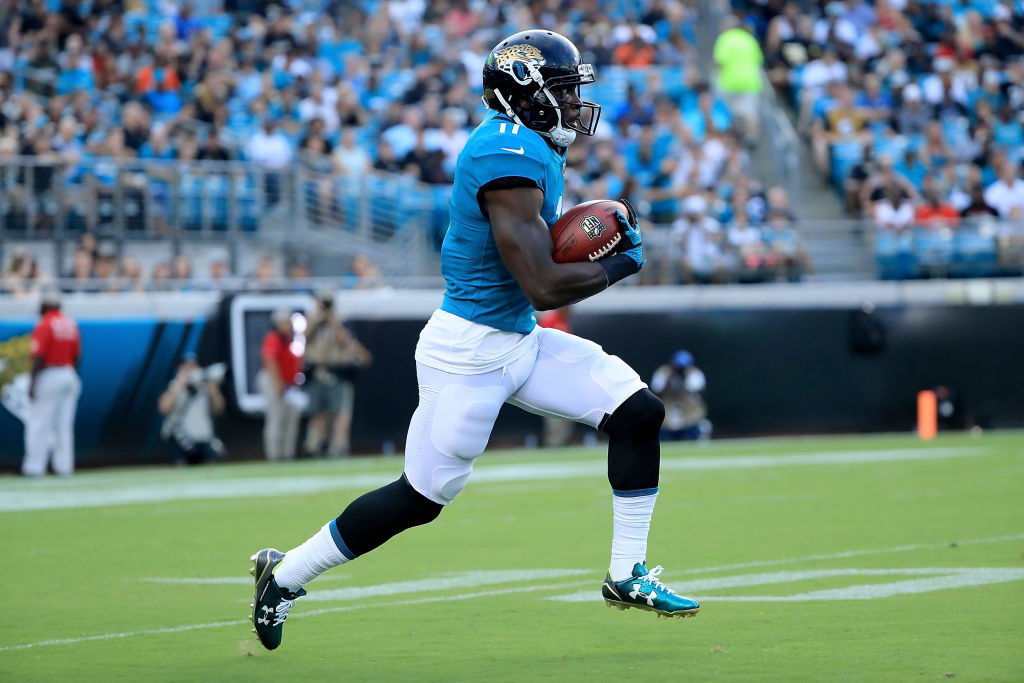 Four-year, $34 Million Deal
Since entering the NFL, Lee has never truly reached his potential that due to nagging leg injuries. He had put together a decorated collegiate career at USC that suggested he could translate towards being a highly productive player at the next level.
However, he has continued to struggle mightily to stay relatively healthy, playing just one full season in his four-plus years in the league. Lee has been bit the injury bug once again in 2019 as an ankle injury has limited his availability as he has just two catches for 10 receiving yards while going without a single catch three times.
Lee may be coming off back-to-back campaigns with more than 700 receiving yards and 55 catches, but he hasn't played anywhere the production expected from a player making $9 million this season.
3. Brandin Cooks
Five-year, $81 million Deal
There is no denying that Brandin Cooks has been one of the most productive wide receivers in the league over the last several seasons as he's the only wideout to have more than 1,000 receiving yards in three consecutive years with three different teams.
However, Cooks like the rest of the Rams' offense, has gotten off to a disappointing start in 2019. Through the first six games, Cooks has 23 catches for 343 yards with a touchdown. These are not terribly inefficient numbers, but being the fifth-highest paid wide receiver in the game certainly warrants much more production.
The Rams' struggles blocking up front on the offensive line and the presence of Cooper Kupp have had an impact on his production, but it's notably low for a player with his pay. Cooks will pick it up at some point, but at this juncture, he's been extremely outperformed by Godwin.