NFL: 4 Most Shocking Performances in Week 7
Week seven of the NFL season featured quite a few great games, and most importantly, it included some crazy performances that left fans surprised, both in a good and a bad way. Let's take a look at a few of the performances that were simply stellar, including a record-breaking game from one quarterback. To go along with that, we're going to include a quarterback and running back from the same team, both for good reasons, as this team simply dominated in every imaginable way.
1. Ryan Tannehill, QB, Miami Dolphins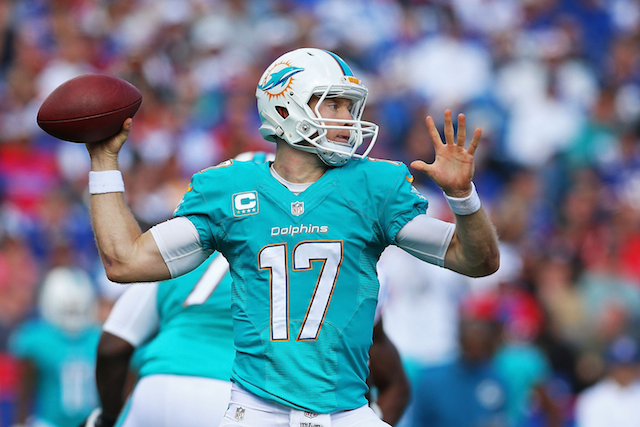 What are you going to say about the play of Ryan Tannehill in week seven? The man was simply stellar. Not only did he complete 18 of 19 passes for 282 yards and four touchdowns, but he actually broke the NFL record for most consecutive completions, according to FOX Sports. Tannehill completed 25 passes in a row dating back to week six against the Tennessee Titans.
On top of that, FOX Sports also reported that Tannehill became the first player in the last 15 years to throw three touchdown passes of 50 or more yards in a half. Basically, Tannehill came out firing as he led the Dolphins to a ridiculous 41-0 lead at halftime. His play was actually so stellar in the first half that he didn't get the opportunity in the second half to improve those numbers even more. If it wasn't such a blowout, Tannehill could have potentially set a few more records on Sunday.
2. Lamar Miller, RB, Miami Dolphins
It's a day of love for the Dolphins, but if we're going to give the credit to Tannehill, we have to throw plenty of love in the direction of Miller as well. Not only did Miller rush 14 times for 175 yards and a touchdown (12.5 yards per carry), but he also caught three balls for 61 yards and another touchdown. Basically, Miller was a fantasy stud in week seven and completely exceeded the massive potential that was surrounding him heading into the 2015 season.
Interim head coach Dan Campbell is doing something right in Miami, and specifically, he's getting the most out of two of his most talented offensive players. Miller's now showing the signs of consistent play that fans have waited to see.
Expect more outings like this from not only Miller, but Tannehill moving forward in 2015. The decision to change head coaches looks like a great one in Miami, as Campbell has found a way to get the most out of his players, at least through two games.
3. LeGarrette Blount and the Running Game in New England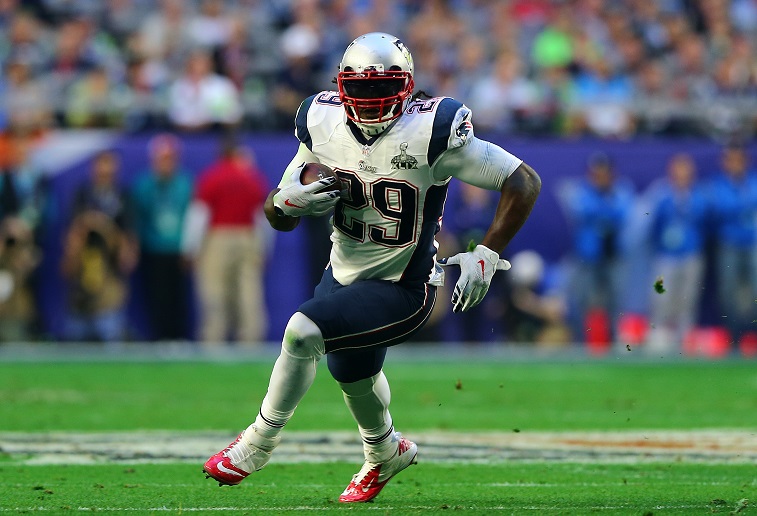 Eventually, someone is going to need to explain to me what just happened in New England. Yes, the Patriots went on to hold off the New York Jets 30-23, but they ran the ball a grand total of nine times for 16 yards. While they scored a touchdown, the one rushing touchdown came from Tom Brady on a quarterback sneak. What's even more amazing is that Brady actually led the team in rushing attempts and rushing yards in week seven.
While Brady "carried" the ball four times for 15 yards and the lone touchdown, the two running backs who got carries weren't anywhere near as productive, which is pretty amazing to think about. James White rushed twice for four yards, while LeGarrette Blount was the biggest disappointment, carrying the ball three times for negative three yards.
On top of that, the running backs didn't even really play a huge role in the passing game like we usually see from New England. White led the charge there, catching three balls for 26 yards. It's pretty incredible to see New England's run game get completely shut down, yet they still came out with an impressive victory against a very talented team.
4. Kirk Cousins, QB, Washington Redskins
Will the real Kirk Cousins please stand up? After leading the Redskins to a comeback victory against the Philadelphia Eagles three weeks ago, while completing 67.4 percent of his passes for 290 yards and a touchdown, the next two games were a complete 180. The Redskins lost to both the Atlanta Falcons and New York Jets, while Cousins threw just two touchdowns against four interceptions. It was so bad that fans were actually looking for a quarterback change after that run.
Then, Sunday came around.
Cousins led a ridiculous comeback against the Tampa Bay Buccaneers and was absolutely stellar. Not only did he complete 82.5% of his passes for 317 yards and three touchdowns, but he rushed for an additional score as well. Cousins posted a great quarterback rating of 124.7 and also didn't throw an interception in week seven.
Basically, Cousins looked like a completely different player against the Buccaneers. Can he continue this type of play (or even anything similar) moving forward in 2015? It's going to be interesting to see how it plays out for the Redskins and Cousins.