4 Past NFL Uniforms That Need to Make a Comeback
Change does not always translate when it comes to NFL uniforms. In retrospect, many uniform changes now come off as kneejerk responses to years of misery and losing. As such, legions of beleaguered fans have become well versed in the time honored "change of culture" cliché — which typically foreshadows new coaching hires, blockbuster trades, and, of course, modern uniforms.
Still, classic uniform looks will always be revered as timeless staples. For its part, retailer Mitchell & Ness built a multi-billion dollar brand of its own by after supplying vintage gear to adoring fans that have been more than willing to pony up $300 to purchase one throwback jersey. Ironically, supporters of the four following franchises might go so far as to lobby that retro uniforms be brought back, permanently.
4. New England Patriots – Pat Patriot
The long-running Patriots Dynasty has made six trips to the Super Bowl, winning four, between 2001 and 2014. In doing so, the Patriots suddenly emerged as one of the more respected franchises in all of sports, largely behind the clutch quarterback play of Tom Brady, ingenious X's and O's of Bill Belichick, and shrewd ownership decisions of Robert Kraft, who bought the team in 1994.
In 1993, the Patriots went through a major overhaul, which did ultimately lay the groundwork for today's dynasty. That season, then owner James Orthwein hired Bill Parcells, before also drastically making over the team uniforms. The refashioned Patriots then came out to play wearing navy blue and silver jerseys beneath a new helmet logo, which was then promptly mocked as a "Flying Elvis." With The Tuna stalking the sidelines, the Patriots gradually earned respect, as a tough regime that would commit to suffocating defense and running the football. Until then, the pinnacle of the franchise was established by suffering through a 46-10 Super Bowl XX blowout loss to the 1985 Chicago Bears.
Still, the classic red, white, and blue Patriots uniforms have remained a fan favorite throughout New England, despite years of losing, between 1960 and 1962. This retro look, of course, features the Pat Patriot logo snapping the football, while wearing full military regalia. Never mind the fact that football had not even been invented until at least 100 years after the end of the revolutionary war.
3. Denver Broncos – Orange Crush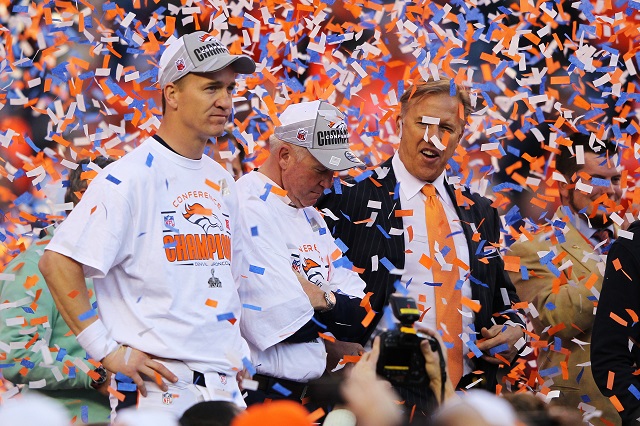 The Denver Broncos also underwent a major makeover in 1997, after years of suffering through blowout losses in the Super Bowl. At that time, the Broncos switched to a darker shade of blue, and began to wear navy jerseys at Mile High, instead of orange. The team logo then also morphed into a sleeker and more aggressive with Bronco, with a flowing orange mane.
On the field, the Broncos responded well to these changes, in immediately winning back-to-back Super Bowls, in 1997 and 1998. As a lasting image, Denver fans will always remember John Elway taking off on third down, crashing into three Packers, going helicopter, and landing flat on his backside at the one-yard line, to ultimately set up the go-ahead score, in Super Bowl XXXII.
Before Elway, the 1970's Broncos were known as the Orange Crush, for their bright uniforms and stifling defense that featured the likes of Tom Jackson, Randy Gradishar, and Lyle Alzado. The Broncos, of course, went on to trade for John Elway, as the Golden Boy of the stacked 1983 draft class. From then on, Elway and the old orange crush uniforms gave opponents fits, as the franchise savior eventually went on to rack up 51,475 passing yards and 300 touchdowns, through 16 seasons in Denver.
A young Elway on the move did appear to take on the characteristics of the classic bucking Bronco logo, which stood tall for Denver and flared smoke out of its nostrils. The bright color scheme also offered up great contrast to the often times dreary weather conditions at Mile High.
2. Philadelphia Eagles – Kelly Green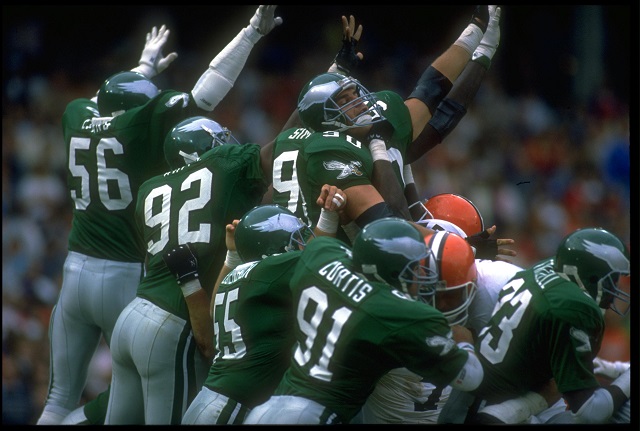 In 1996, the Philadelphia Eagles also underwent a major style overhaul, apparently to embrace a more modern look. The Eagles then took the field wearing dark forest green, black, and white. The Eagles logo also appeared more so metallic and mutant-like, as the franchise now featured the furrowed brow of an attacking bird, as its centerpiece. These new-look Eagles came to be quickly associated with the love-hate relationship between Andy Reid, Donovan McNabb, and rabid Philadelphia fans.
McNabb, of course, was at his best working out of Andy Reid's version of the West Coast offense, where he would throw quick outs and slants, off three- and five-step drops. To mix things up, Reid would also signal in QB rollouts to stretch the defense. Out on the edge, D. McNabb was free to either fire a bullet down the seam, lob a fade pass over the top, or simply take off and run to move the chains, after every other option broke down.
McNabb led the Eagles to four straight NFC Championship games, between 2001 and 2004. Still, diehard Philadelphia fans may never forgive a winded Donovan McNabb for dry heaving and eating up precious moments of clock in taking a 24-21 Super Bowl XXXIX loss against the budding Patriot Dynasty.
Philadelphia did win three NFL championships, in 1948, 1949, and 1960, with an Eagle logo gliding overhead, while en route to delivering a football. By the 1980's, team uniforms had evolved to include winged helmets, Kelly green jerseys, silver pants, and black shoes. The Eagles of the late 80's and early 90's were a likeable bunch that featured Buddy Ryan dialing up the blitz, Reggie White racking up sacks, and the high-wire act of Randall Cunningham. Before Michael Vick, only Cunningham could shake off pressure behind the line of scrimmage, high step towards daylight, set his feet, and effortlessly let the ball fly 60 yards in the air, before dropping in a deep touchdown bomb.
 1. San Diego Chargers – Powder Blue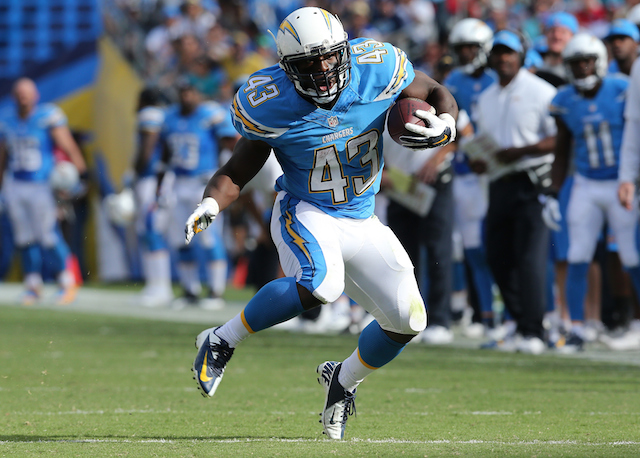 The throwback, powder blue San Diego Charger jerseys are one of the all-time best uniforms in sports. These powder blue uniforms also feature golden bolts at the shoulders, outrageously large numbers, and white trim. The white helmet is an extension of this look, as the player's uniform number is also flanked by golden bolts.
With time, these retro jerseys have largely grown to be associated with Lance Alworth. Alworth, for his part, hauled in 493 receptions for 9,584 yards (19.4 yards per reception average) and 81 touchdowns, through nine seasons (1962-1970) in San Diego.
In recent years, San Diego has reserved its powder blue jerseys for big, prime time games. To a man, Charger standouts Antonio Gates, LaDainian Tomlinson, and Philip Rivers have each admitted to playing off the electricity in the air, when the Chargers don their powder blue uniforms. These retro jerseys were first reintroduced to the field in 1994, during the NFL's 75th Anniversary year, and the team has rolled them out for two games per season ever since. In doing so, The Bolts have raced out to play .600 ball against the worthiest competition in the game.