NFL: Top 4 Players Who Will Be Hall of Fame Eligible in 2016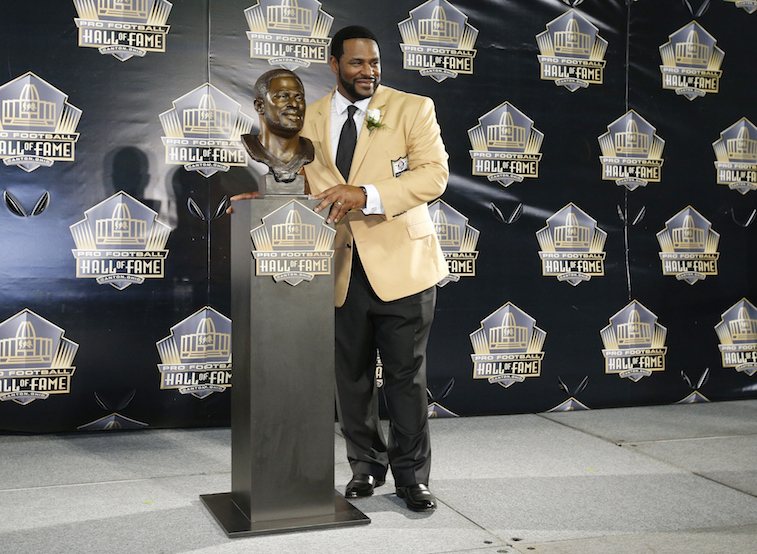 We've said this a time or two, but it bears repeating: being elected into the Pro Football Hall of Fame in Canton, Ohio is the highest honor a professional football player can receive. This past weekend we saw the late Junior Seau, a longtime San Diego Charger and one of the best linebackers to ever play the game, former Pittsburgh Steelers running back Jerome Bettis (pictured above), former Dallas Cowboys and San Francisco 49ers defensive end Charles Haley, former Kansas City Chiefs offensive guard Will Shields, and former Oakland Raiders wide receiver Tm Brown all earn football immortality by being inducted as the Pro Football Hall of Fame's Class of 2015. They were joined by longtime Minnesota Vikings center Mick Tingelhoff, who was selected by the senior committee, and former general managers Bill Polian of the Indianapolis Colts and Ron Wolf of the Green Bay Packers, who were inducted as contributors.
Soon after watching the speeches and bronze bust presentations for the eight inductees in 2015, we started thinking about which players would be Hall of Fame-eligible for the first time in 2016. Knowing the selection committee, however, there is a very real possibility that all four players will have to wait beyond 2016 for enshrinement. After all, it will be hard for the selection committee to bypass guys like Kurt Warner, Marvin Harrison, and Orlando Pace for election again this year. When it's all said and done, we would be surprised if more than one player proves to be a first ballot Hall of Famer in 2016.
Without further ado, here is a look at the top four players who will be eligible for election into the Pro Football Hall of Fame for the first time in 2016.
1.  Brett Favre, quarterback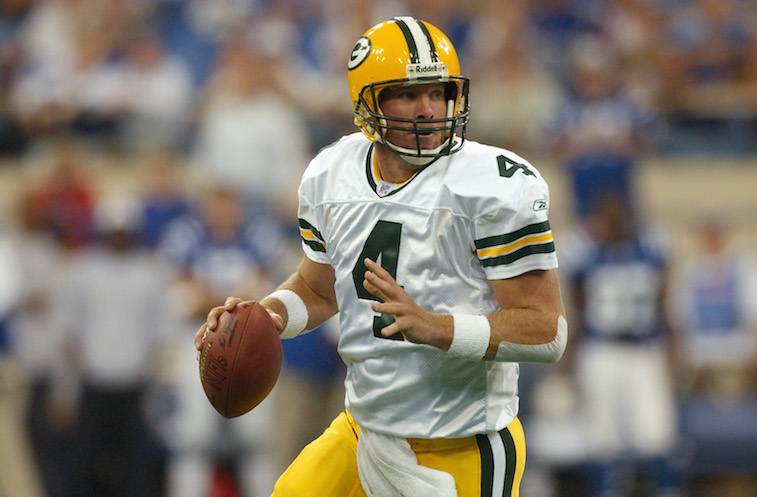 Teams:

  Atlanta Falcons, Green Bay Packers, New York Jets, Minnesota Vikings

Career Stats:

186-112 record as a starter
62% completion percentage
71,838 passing yards
508 touchdown passes
336 interceptions
86.0 quarterback rating
13-11 postseason record
60.8% postseason completion percentage
5,855 postseason passing yards
44 postseason touchdown passes
30 postseason interceptions
86.3 postseason quarterback rating
1 Super Bowl title
We would be shocked if Favre isn't a first-ballot Hall of Famer. He retired as the NFL's career leader in pass attempts, pass completions, passing yards, and passing touchdowns. Denver Broncos quarterback Peyton Manning may eventually break all of his career records, but that shouldn't detract from Favre's greatness. In addition to breaking numerous records, Favre won three NFL MVP awards, made six All-Pro teams, and was selected to 11 Pro Bowls. That said, the Gulfport, Mississippi native should be a slam-dunk first ballot Hall of Fame selection.
2.  Terrell Owens, wide receiver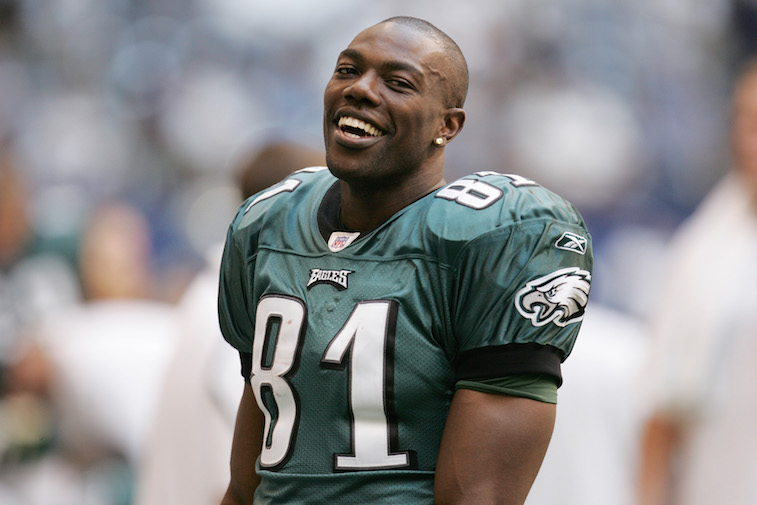 Teams:

  San Francisco 49ers, Philadelphia Eagles, Dallas Cowboys, Buffalo Bills, Cincinnati Bengals

Career Stats:

1,078 receptions
15,934 receiving yards
153 touchdown receptions
Like it or not, Owens is going to be in the Pro Football Hall of Fame some day. Although he may not be a first-ballot selection, even though his career stats would suggest that he should be, there is no arguing that he was one of the best wide receivers in NFL history. Owens currently ranks second in career receiving yards, third in career touchdown receptions, and sixth in career receptions in the NFL record book, but it may be his off the field antics that keep him from being elected in his first year of eligibility.
3.  Alan Faneca, offensive guard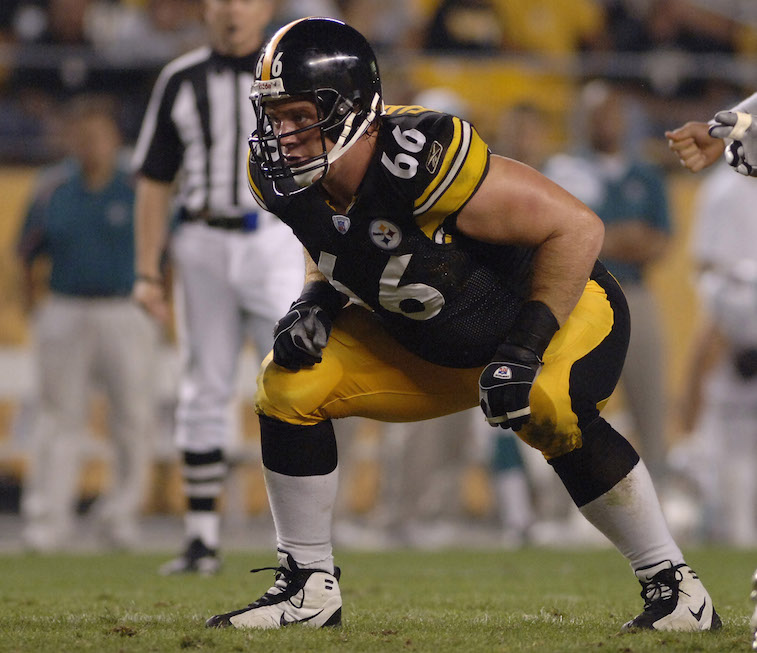 Teams:

  Pittsburgh Steelers, New York Jets, Arizona Cardinals

Career Stats:
As an offensive lineman, there are simply no statistics that can quantify how dominant Faneca was throughout his 13-year NFL career. He was selected to nine Pro Bowls, earned All-Pro honors eight times, and was a big reason why the Pittsburgh Steelers were able to win the Super Bowl XL title. While he may be worthy of being a first-ballot selection, the fact that most offensive linemen are usually forced to go through the voting process a few times before earning election means that Faneca may have to wait a year or two before he has his bronze bust in Canton, Ohio.
4.  Clinton Portis, running back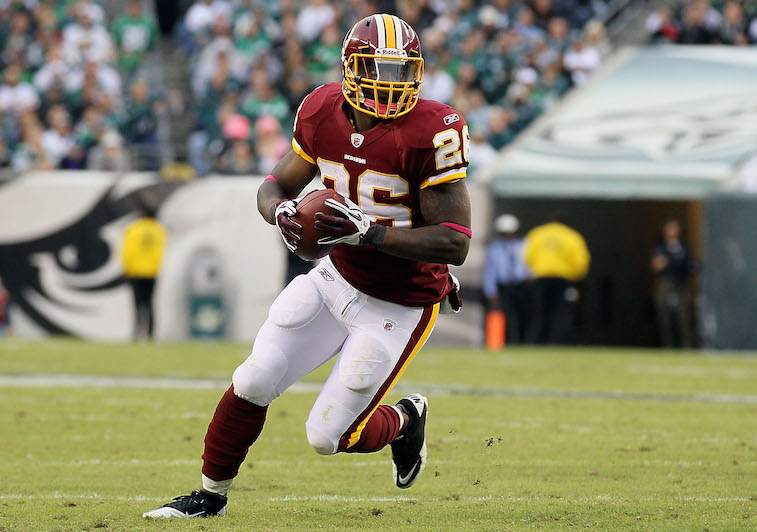 Teams:

  Denver Broncos, Washington Redskins

Career Stats:

2,230 carries
9,923 rushing yards
4.4 yards per carry
75 rushing touchdowns
8 rushing yards per game
247 receptions
2,018 receiving yards
5 touchdown receptions
Portis is the definition of borderline Hall of Famer. He finished his career just short of 10,000 career rushing yards, but Portis still put up numbers during his career that will warrant attention from the Hall of Fame selection committee. He posted six seasons with 1,200 or more rushing yards, and four seasons with double-digit rushing touchdowns. What's more impressive is Portis' numbers during his first four NFL seasons. During that stretch, he ran for 5,930 yard and 45 touchdowns. All said, we see Portis having a solid shot at being elected into the Pro Football Hall of Fame, but it won't happen for several years.
All statistics courtesy of Pro-Football-Reference.