NFL: 4 Players Who Could Be the Defensive Rookie of the Year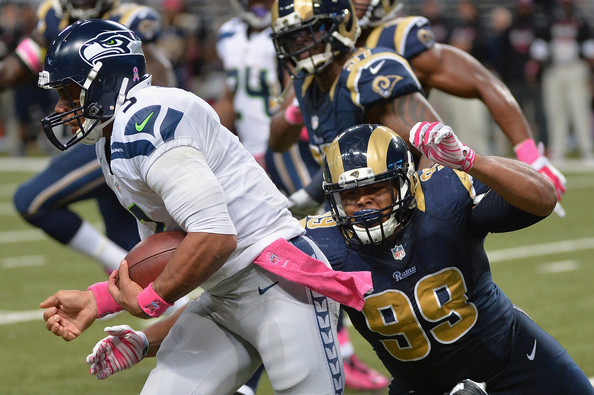 As a young defender in the NFL, it isn't uncommon to have a huge impact in your rookie campaign. On defense, it seems like if you have talent, you can be successful more easily than you can on the offensive side of the ball. Just look at past winners of the Defensive Rookie of the Year award; Von Miller, Luke Kuechly, Terrell Suggs, and Brian Urlacher leap out first. All of these players were (or are) immensely talented and have had (or had) prolonged success.
In 2015, the new crop of talent has a great chance to join the ranks of those talented and productive defenders of NFL past. Cornerbacks, defensive lineman, and linebackers alike are coming in to take some attention away from the dominant defensive force in the league that is J.J. Watt. Plenty of rookies have the capability to be major contributors to their respective teams and make a name for themselves for years to come.
With that, here are the top 4 contenders for Defensive Rookie of the Year for the NFL season, based on physical traits, collegiate stats, and other key factors:
4. Marcus Peters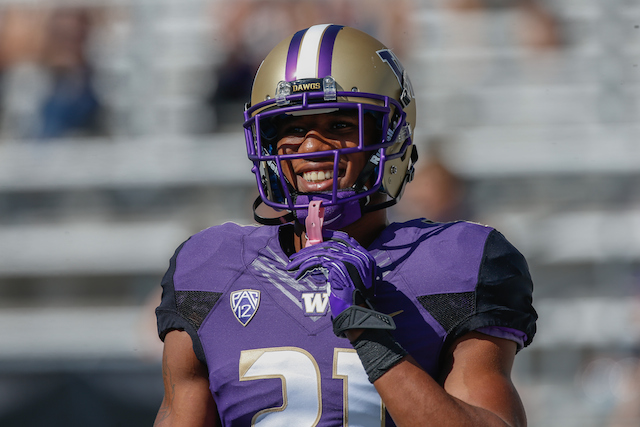 The second cornerback taken in this year's draft (Trae Waynes went first), Peters has the looks of one of the most impressive young defensive backs in seasons. Playing his college ball at the University of Washington, Peters was a dominant defender, allowing only 38.1% of passes thrown his way to be completed in 2013 and 2014 (combined). He also compiled 24 defended passes and 8 interceptions in those two seasons. Unfortunately, Peters also has had issues with his temper, which actually cost him a one-game suspension in college.
You have to love this guy's size, hands, toughness, and confidence. Those are the traits you need in a great corner. Playing in the AFC West, he will be challenged by some of the best receivers in the game in Demaryius Thomas, Emmanuel Sanders, and Amari Cooper. If Peters can emerge in those battles, he can help make this Chiefs' defense (with the likes of Justin Houston already on board) dominant and help the squad make a return to the postseason. You have to like his chances if he can keep his emotions in check.
Predicted stats: 4 TDs against, 3 interceptions, 15 passes defended
3. Leonard Williams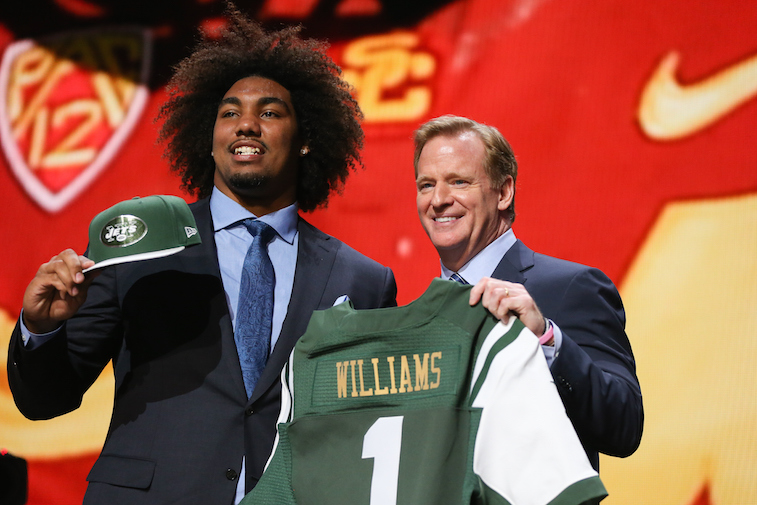 Williams may have been the best overall player in the draft this season, despite falling to the number 6 selection and the New York Jets. His situation on the Jets could very well net him the honor of the best rookie defender. Darrelle Revis and Antonio Cromartie in the defensive backfield, as well as solid linebackers in David Harris and Calvin Pace to support him, and with Sheldon Richardson out due to suspension to start the season Williams will be the man on the defensive line.
An absolute monster at 6-foot-5 and 302 pounds, Williams was outstanding in his junior season at USC, earning 80 total tackles and 7 sacks. His size and brute force will seamlessly transition to the NFL, so Williams is primed for a big rookie season. The Jets aren't going to compete in a loaded AFC East (likely), but he should still get plenty of attention for the award.
Predicted stats: 60 tackles, 5 sacks, and a whole lot of havoc caused in the backfield 
2. Landon Collins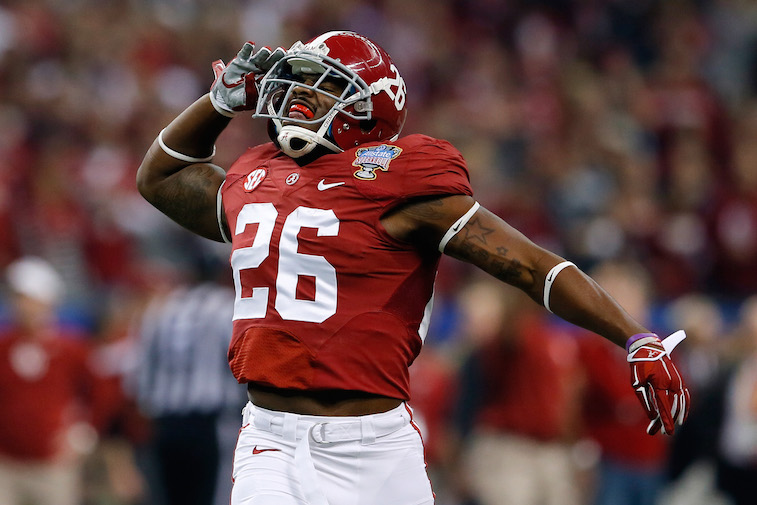 Likely the most pro-ready defensive back in this year's rookie class, Collins steps into an excellent situation with the New York Giants that will allow him to start at safety immediately. Playing for one of the best defenses in college football in Alabama, he was one of the leaders on that team. Collins accounted for 98 tackles (as a safety mind you) in 2015, as well as 3 interceptions and 1 forced fumble. He's a game changer in the defensive backfield and a natural born leader. What else do you need in a great football player?
Collins will be asked to lead a defense in New York that isn't spectacular by any means, and while they do have some pieces in the secondary with Dominique Rodgers-Cromartie and Brandon Merriweather, they are decidedly lacking at other positions. Collins seems like the type of player that can rally the troops and get this unit playing better than they have in past seasons. That alone makes him a candidate for the award and could allow the Giants to reach the postseason.
Predicted stats: 3 interceptions, 65 total tackles, 2 forced fumbles 
1. Vic Beasley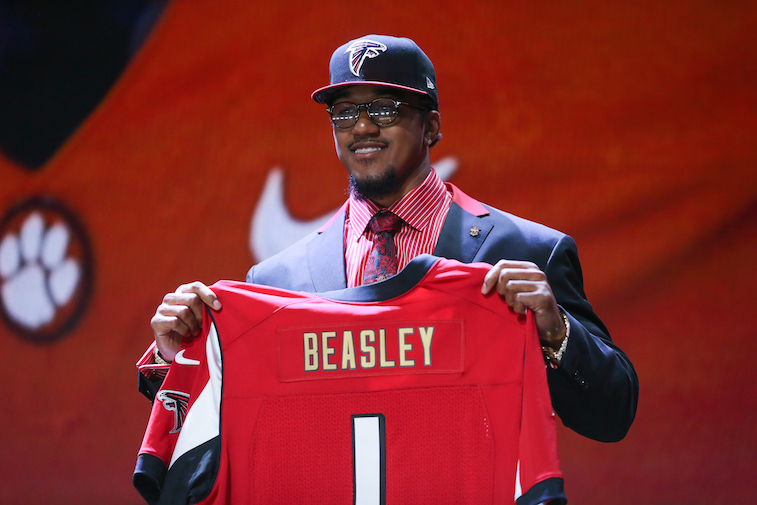 If any team needed a pass rushing specialist, it was the Atlanta Falcons. Their defense was very lackluster last season (especially in the sacks department), holding Atlanta out of the postseason for a second consecutive season despite gaudy offensive numbers. To fix their issue (or at least begin to), Atlanta got a steal in Beasley. Over his final two seasons at Clemson, he collected 25 total sacks and constantly caused havoc for opposing quarterbacks. His speed and athleticism should transition perfectly to the NFL and set Beasley up for a big rookie season.
Their will be a lot of pressure on Beasley to perform, seeing as he already the top pass rushing threat on the Falcons' roster. Expect him to rise to the challenge, however. He alone can't fix the defensive issues that haunt the Falcons. Beasley will get a bunch of opportunities to shine though, which could be enough to take home the rookie hardware in 2015.
Predicted stats: 12 sacks, 2 forced fumbles, and a bunch of disrupted plays