NFL: 4 Players Who Will Bounce Back After Struggling in 2014
The NFL is one of the toughest leagues to figure when it comes to what a player will do on a year in and year out basis. While the superstars of the league are the ones you truly can rely on to put up huge numbers consistently, with a few others being scattered in, there are always going to be "down" years for players. The 2014 season was no different, as multiple players who were expected to have solid years were either quiet, or nearly completely silent.
With that said, the four players who are listed below will not only match what they did during the 2014 season, but will revert back to being strong options for their teams. There's not any specific stipulations for who can or can't make this list, but the only players who'll qualify are the ones who entered 2014 with high expectations, yet failed to live up to their true potential.
1. Jordan Reed, TE, Washington Redskins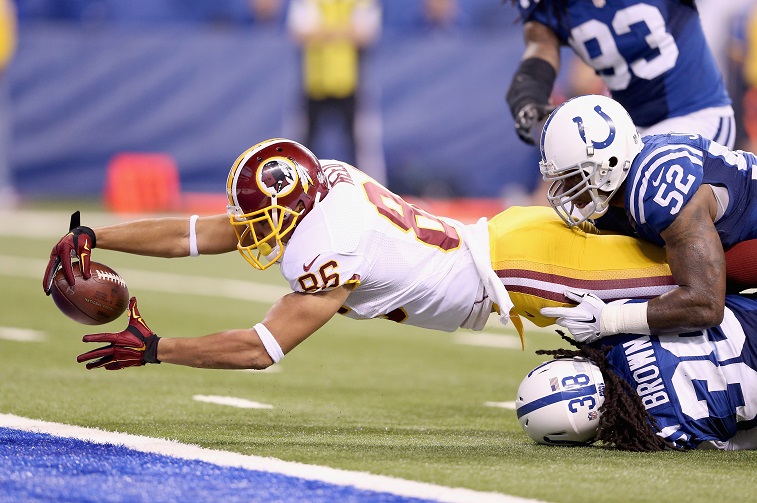 For fantasy football owners, Jordan Reed may be the most frustrating player in the NFL. Reed has missed a combined 12 games over his first two years in the NFL, but has still totaled 95 catches for 964 yards and three touchdowns. If Reed's able to stay healthy, he has the potential to be one of the top pass-catching tight ends in the NFL.
In all honesty, the reason Reed is even getting the nod as the starter, is because TE Niles Paul suffered a season-ending ankle fracture dislocation, per Chris Wesseling of NFL.com. It was a heartbreaking injury for Paul, who had been named the starter before going down. If Reed stays healthy, we believe he will finally show his true potential and win over the hearts of those Redskins fans.
2. Doug Martin, RB, Tampa Bay Buccaneers
Doug Martin is back and he's ready to make his presence felt for the Tampa Bay Buccaneers. While it was possibly one of the strangest situations with how his offseason played out, he's heading into the 2015 season as the lead man in their backfield. Tampa Bay decided to decline Martin's fifth-year option, but new offensive coordinator Dirk Koetter was a big fan of the back, according to Chris Wesseling of NFL.com.
Koetter wanted to keep Martin in town, and before long it turned into him becoming the go-to option in the backfield. Martin ranked No. 40 in the NFL in rushing yards with 494 last season, while scoring only two touchdowns and averaging just 3.7-yards-per-carry, according to ESPN's statistics.
Martin has lost 20 pounds this offseason, according to FOX Sports, while still remaining as strong as ever. Martin will not just improve in 2015, he'll become something close to the player who we saw as a rookie. During his first year in the league, Martin rushed for 1,454 yards and 11 scores, while catching 49 balls for 472 yards and a touchdown.
3. Kendall Wright, WR, Tennessee Titans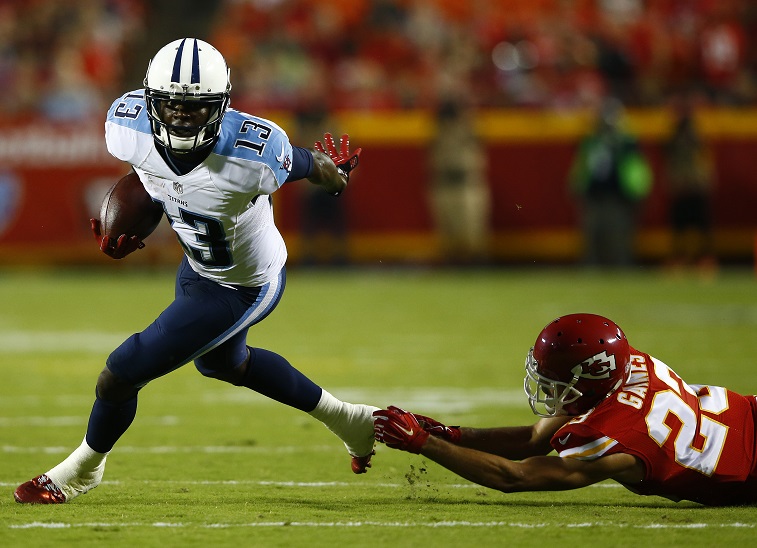 All that seemed to be missing for Kendall Wright in Tennessee was a quarterback he had a strong connection with. After catching 94 balls for 1,079 yards in 2013, the talented receiver's season was saved in 2014 by his six touchdown catches. The reason we say that, is because his receptions dropped to just 57 last year, while he managed only 715 yards.
With new quarterback Marcus Mariota now leading the charge for the Titans, and Wright sitting squarely as the No. 1 receiver, this should be a big year for the receiver. He has plenty of talent, he's shown what he's capable of doing through his first three years in the NFL, but this very well may be his best season of them all.
Don't be surprised if Wright tops 90 catches again, while tallying more yards and more scores than he has in his entire career.
4. Michael Floyd, WR, Arizona Cardinals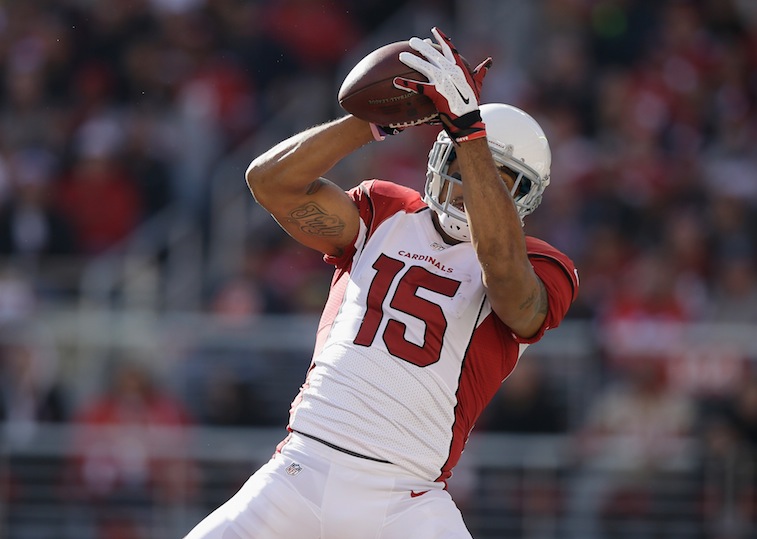 Michael Floyd seems to be getting overlooked heading into the 2015 season. In 2013 when quarterback Carson Palmer came to town, Floyd caught 65 balls for 1,041 yards and five scores. Last season, Palmer missed 10 games, leading to inconsistency in Floyd's play. He finished the year with 47 catches for 841 yards and six touchdowns.
While those numbers aren't going to blow you away, when you consider that the Cardinals essentially played musical chairs at quarterback to fill the void last season, it's impressive that Floyd even managed to finish where he did. The wide receiver's talent can't be questioned, but the fact is, having a healthy Palmer throwing him the ball can make all the difference in the world.
With Palmer back and ready to hit the ground running in 2015, expect Floyd to take his game back to not only what we saw from him in 2014, but possibly even higher than that. Floyd's ceiling is pretty high, to say the least.
Follow Jeff Smith on Twitter @JSM8ith