NFL: 4 Quarterbacks Who May Not Start Anymore This Season
Every year the pressure for a select few starting quarterbacks is always a bit more than the rest of the NFL. This year is absolutely no different, as the four quarterbacks listed below all find themselves in situations where they need to produce, or there's a good chance they'll quickly be replaced. Two of the four of these players have made a strong argument for why they belong as the starter for their respective teams, while the other two still have work to do.
Regardless, for each of these four players below, they need to not only produce by putting up big numbers, but getting wins as well. We previously broke down the four running backs who could lose their jobs in 2015, so now it's time to call out the quarterbacks who should already be feeling the early season pressure.
1. Brian Hoyer, Houston Texans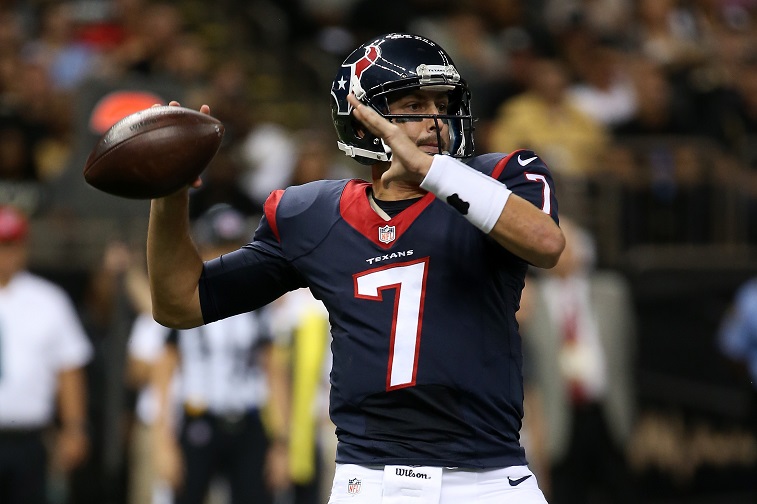 For Hoyer, the pressure is obviously on. The Cleveland Browns decided that he wasn't the answer and chose to move to current starting QB Josh McCown in 2015, with backup Johnny Manziel waiting in the wings. Regardless, Hoyer is now in Houston and has a player behind him in Ryan Mallett who's ready to improve on his limited action from last season.
The preseason battle of Hoyer vs. Mallett pitted two former backups to Tom Brady against each other, but it was Hoyer who got the job done. While he was the expected favorite, as the Texans brought him in this offseason specifically to take over the starting gig, don't think for a second that Mallett isn't waiting and ready for a chance.
Mallett may have lost the early season QB battle, but the Texans are one of the most talented teams outside of the quarterback position, which is what makes this one even more intriguing. If Hoyer gets off to a slow start or the team can't begin 2015 trending in the right direction, don't be surprised to see Mallett get handed the keys to the car.
2. Tyrod Taylor, Buffalo Bills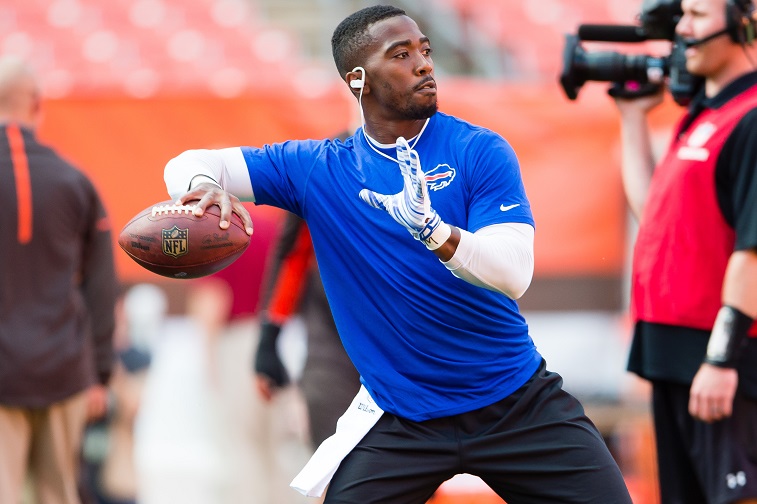 As great of a story as it is that four-year backup Tyrod Taylor won the starting quarterback job for the Buffalo Bills, it doesn't mean that his gig is all that safe. The fact of the matter is the Taylor has gone 19-of-35 passing for 199 yards, zero touchdowns and two interceptions as a reserve for the Baltimore Ravens. He has a lot to prove to the Bills and head coach Rex Ryan, but a strong preseason and the fact that he can get it done with both his arm and his legs is big for the former Raven.
Waiting in the wings? Backup QB E.J. Manuel, who's still out to prove that he can play at a high level in the NFL. If Manuel gets a shot, you can bet that he's going to do everything in his power to make sure that he doesn't give the starting role back.
For now, it's Taylor's gig to lose and he'll have all the chances in the world with a stellar defense behind him. Taylor is a name who fans across the NFL will be interested to watch as the 2015 season gets underway.
3. Geno Smith, New York Jets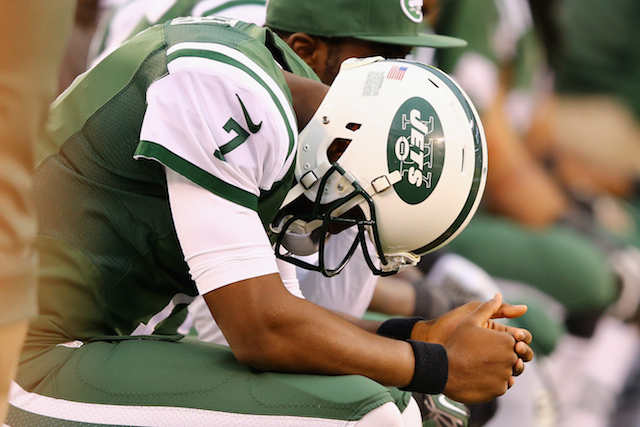 Does this one even technically count? We think it has to. QB Geno Smith is the starter, without question for the New York Jets. The reason? Well, New York isn't willing to throw in the towel on their young quarterback just yet. While he'll miss the first few weeks of the season after breaking his jaw during a fight with linebacker IK Enemkpali over a $600 debt, according to Rich Cimini and Adam Schefter of ESPN.
Smith was set to be the starter, but for the time being, it'll be Ryan Fitzpatrick who gets the nod. What makes the situation with Smith even more interesting, is that he may actually lose his starting job before he gains it back. Smith is considered the "starter," but if Fitzpatrick can come out and do some serious damage for the Jets, why would the team not stick with him?
Not only is Geno Smith in a spot where he could lose his starting job, but he's in a brutal spot from Week 1, because he doesn't actually control his own destiny.
4. Josh McCown, Cleveland Browns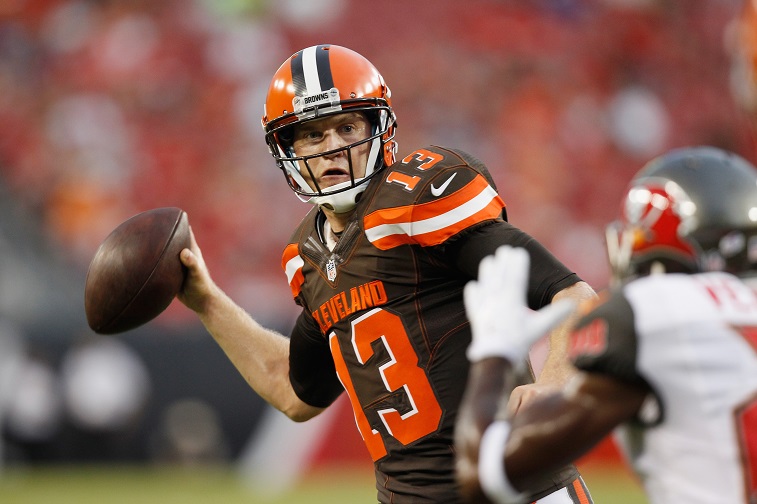 Do the Cleveland Browns believe in backup QB Johnny Manziel? Not at all, not yet at least. If they did, Manziel would be starting for the Browns in Week 1. While the edge went to Josh McCown in a situation where he was basically handed the job, don't think for a second Manziel didn't push him.
Johnny Football may have been a distraction last year and have focused far too much on his off-field fun, but we're seeing a different Manziel in 2015. He looked far better in the preseason, but he's not fully there just yet. There's obviously plenty of reason to believe that Manziel could grab the starting role early from McCown, especially if the Browns struggle, which is expected unfortunately.
McCown has an uphill climb, even as the Week 1 starter. The Browns aren't loaded with offensive weapons, and Manziel's ability to create plays with his legs could help out this offense quite a bit. For that matter, we believe there's a very strong chance Manziel sees quite a few games as the starter in 2015, probably even more than McCown.
Follow Jeff Smith on Twitter @JSM8ith