4 Reasons Why Arizona Will Win Super Bowl 50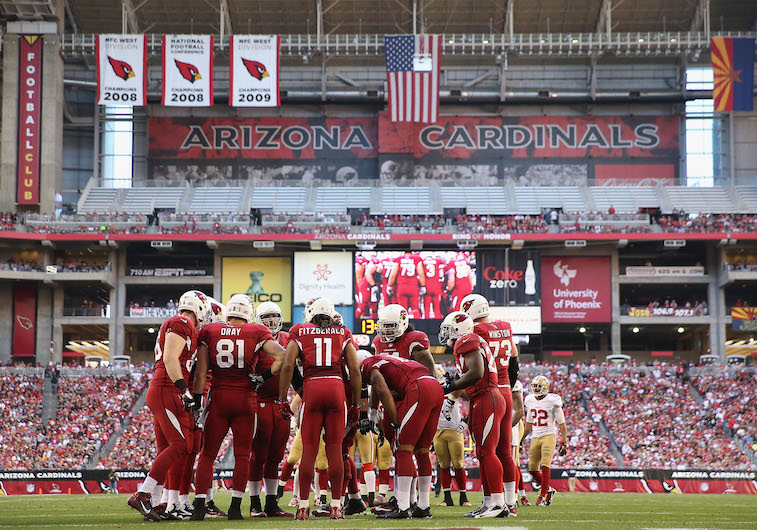 The National Football League prides itself on its parity. Sure, the New England Patriots have been the most dominant team of the 21st century, but overall, in the 16 Super Bowls since the turn of the millennium, there have been 10 different organizations named champions. More recently, the league has been on a tremendous streak as seven different teams have won the big game over the past seven campaigns.
Other than the Pats' four Super Bowl titles since 2000, you have the Pittsburgh Steelers, Baltimore Ravens, and New York Giants each with a pair of Lombardi trophies. Major League Baseball on the other hand has had only six different champions in the past decade; the National Basketball Association has seen just seven different champions in the past 16 seasons; and the National Hockey League has generated just three separate title-winners since 2010. It's no surprise then, that the race to Super Bowl 50 is wide open right now.
The AFC will field a formidable challenger, as either Peyton Manning's Broncos or the Patriots will emerge victorious from the AFC Championship game. On the NFC side, the Cardinals will look to dethrone MVP-in-waiting Cam Newton and the Carolina Panthers. Frankly,  we can see the games going a lot of different ways, but as we look forward t championship weekend, we think the Cardinals will take home the top prize. Here are four reasons why.
1. Bruce Arians
Bill Belichick, Andy Reid, Mike Tomlin, Mike McCarthy, and Pete Carroll. They all have varying degrees of Super Bowl experience and are highly-regarded coaches in the NFL — surely more well-known than Cardinals head coach, Bruce Arians. You can probably add Marvin Lewis's name to that list as well. But this is Arians' time to shine. The 63-year-old has compiled a sparkling 34-14 record through three regular seasons in Arizona and before that, he stepped in as interim head coach for the Indianapolis Colts in 2012, leading them to a 9-3 mark.
Quite simply, Arians is not a coach who is used to losing. Remarkably though, this weekend's contest will only be the New Jersey native's third career postseason game as a head coach. Having worked under famed coaches like Tomlin, Bill Cowher, and Marty Schottenheimer, though, Arians has a winning pedigree, which we believe will ultimately lead to his first Lombardi trophy in February.
2. The high-flying offense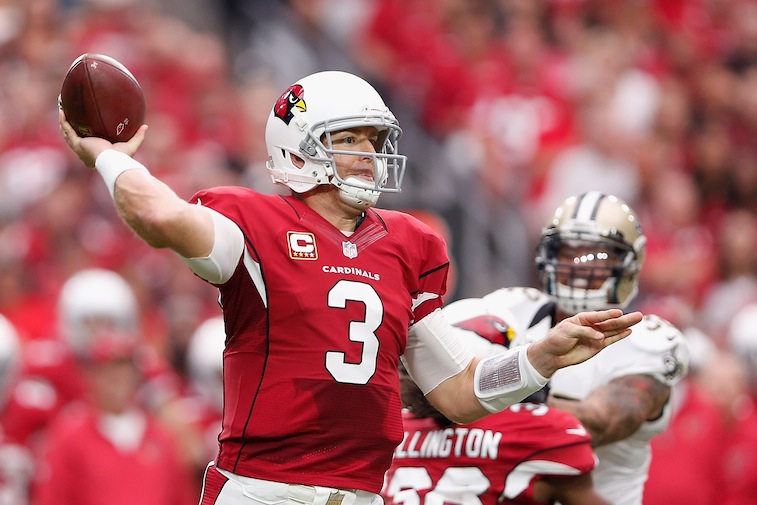 The Cardinals showcase the best offensive/defensive balance in the entire league this season. When the Cards have the ball, there are just too many weapons at veteran quarterback Carson Palmer's disposal to keep them off the scoreboard for long. Through the air, it all starts with one of the classiest wide receivers in the game, Larry Fitzgerald. After a disappointing 2014 season, many assumed that Fitz's career was coming to a close. Instead, No. 11 decided to set career-highs in catch percentage (75.2) and receptions (109), while posting a spectacular 1,215 receiving yards and nine touchdown catches.
Along with Fitzgerald (insert your Hail Larry joke here), you have the electric young talents of Michael Floyd and John Brown, as well as David Johnson leading the charge out of the backfield. From their 489 total points and the 51 offensive touchdowns in 2015, it's nearly impossible to slow down this group. We don't see a repeat of Week 17's six-point output against Seattle happening again any time soon.
3. The stifling defense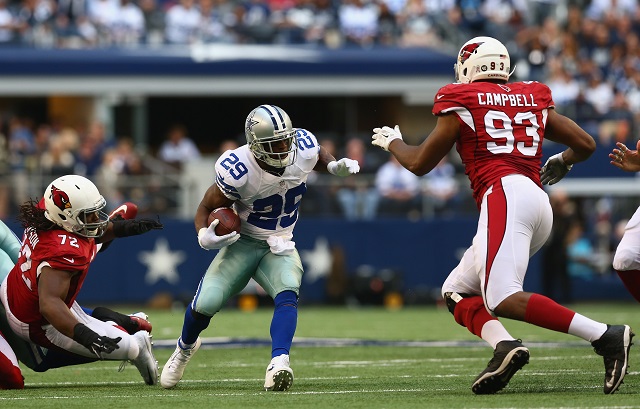 The only thing equally as dominant as Arizona's ability to put up points in bunches may be their knack for keeping their opponents off the scoreboard. At 321.7, the Cardinals allowed the fifth fewest yards per game this season. Unlike some teams, Arizona's pass defense and run defense are elite. They ranked eighth in passing yards allowed per contest at 230.4 and sixth in rushing yards, giving up a remarkable 91.3.
We know what many are thinking. What about the loss of third-year safety, Tyrann Mathieu, who will be absent for their entire playoff run? Not to fear, this squad has plenty of reinforcements who are capable of getting the job done. We're talking about veterans like Calais Campbell, Dwight Freeney, and LaMarr Woodley, as well as youthful studs such as Markus Golden, Patrick Peterson, and Alex Okafor. The list goes on and on and on.
4. The path to Santa Clara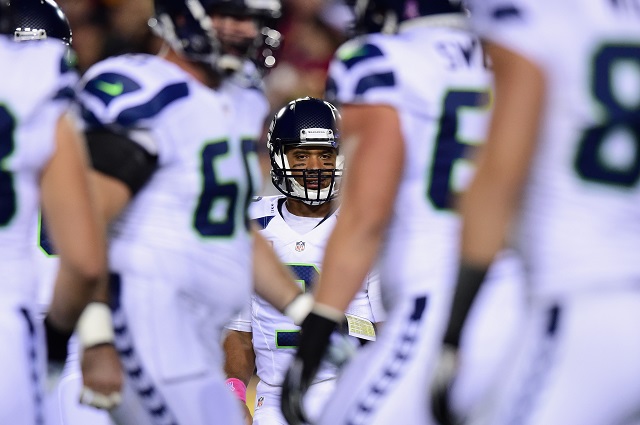 While their path to Santa Clara for Super Bowl 50 could be easier, we still feel the Cardinals are in a great position to run the table. The Cards got a huge break by not having to face Seattle  — Carolina is good, as their regular season and playoff performances have shown, but they still feel a little bit like a lucky streak, and were hardly inspiring in the second half of their game against the Seahawks.
You can never assume anything in football, but we like Arizona's chances on their home turf against any the Panthers. It's true that Cam Newton took the leap this year and the Panthers look poised to be a contending team for seasons to come (keep in mind that parity means teams rise and fall as fast as you can blink, though), but we can't help thinking it's more likely that Arians and Palmer make it to California for February's big game. Regardless of who the opponent is from the AFC (we pick the Broncos), we foresee a dominating performance from the Cardinals on the biggest stage — and their first-ever Super Bowl victory.
Statistics courtesy of Pro-Football-Reference.com and ESPN.com.
Follow Victor on Twitter @vbarbosa1127