NFL: 4 Takeaways From Week 6
Week 6 of the 2014 NFL season was full of storylines. We saw the possible resurgence of the Dallas Cowboys reach a whole new level when they went into Seattle and not only beat the Seahawks, but did so by outmuscling them. Andrew Luck continued to look like the next great NFL quarterback, and Tom Brady silenced a lot of his critics with his first 300-yard passing game of the 2014 season. Certain teams are starting to separate themselves from the pack, and certain players are emerging as postseason award candidates. With that, here is a look at four significant takeaways from Week 6 of the 2014 NFL season.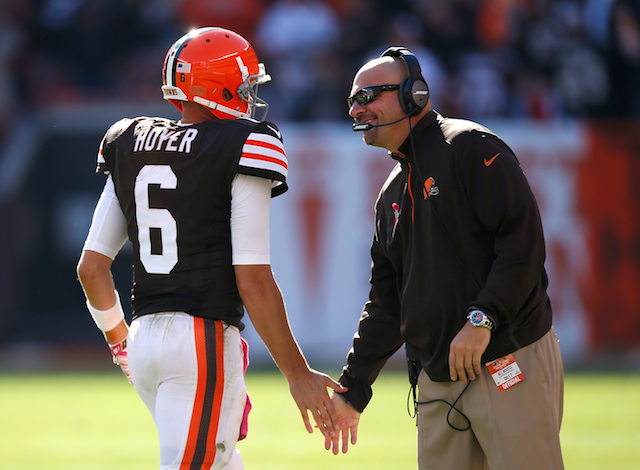 The Cleveland Browns are NFC North contenders
In a matchup of AFC North division rivals, the Browns beat the Pittsburgh Steelers, 31-10, on Sunday in dominating fashion. The win brings Cleveland's record to 3-2, putting the Browns right in the thick of the AFC North standings. The two losses on their record came by a combined five points, and both could have easily been wins. As weird as it may sound, we could easily be sitting here talking about a 5-0 Cleveland Browns team.
The Browns should win their next three games against the Jacksonville Jaguars, Oakland Raiders, and Tampa Bay Buccaneers, who have a combined record of 1-16. That would put their record at 6-2 at the halfway point of the season, setting them up nicely for a playoff push in November and December.
Brian Hoyer is playing really well — possibly well enough to earn a long-term extension despite the team drafting Johnny Manziel in the first round of the 2014 NFL Draft — and the Browns have a three-headed monster at running back that has combined to put up the third-most rushing yards per game in the league in 2014. The defense is talented and has played well enough to win, but has yet to really hit its stride in 2014. In their defense, no pun intended, they have played against Super Bowl-winning quarterbacks in four of their first five games. This team has a legitimate chance to bring playoff football back to Cleveland.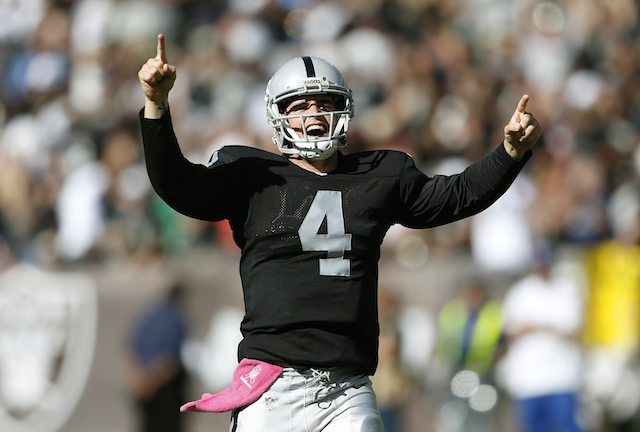 Derek Carr looks like the best of the 2014 rookie quarterbacks
Carr, the 36th pick in the 2014 NFL Draft, had his best game as a pro on Sunday in the Oakland Raiders' 31-28 loss to the San Diego Chargers. He completed 52.9% of his passes for 282 yards, four touchdown passes, and one interception. His quarterback rating for the day was a more-than-respectable 107.7. More importantly, he kept the Raiders in the game against the AFC West division-leading Chargers.
Here is a look at how Carr's statistics compare to other rookie quarterbacks starting around the NFL:
Derek Carr: Five starts, 61.1% completion rate, 1,016 yards, 6.08 yards per attempt, eight touchdowns, five interceptions, 81.8 quarterback rating
Teddy Bridgewater: Two starts, 62.1% completion rate, 655 yards, 7.53 yards per attempt, zero touchdowns, three interceptions, 70.8 quarterback rating
Blake Bortles: Three starts, 67.8% completion rate, 1,004 yards, 7.02 yards per attempt, four touchdowns, seven interceptions, 76.8 quarterback rating
None of the three rookies have very talented offenses surrounding them, but Carr has shown more statistically to this point. The rookie from Fresno State has also shown a quick release and a knack for making the back shoulder fade throw, a throw that has been critical to the success of Green Bay Packers All-Pro quarterback Aaron Rodgers throughout his career. Carr even left a lasting impression on his Sunday counterpart, Chargers quarterback Phillip Rivers.
After the game, when asked about Carr, Rivers raved about his potential, saying: "He played he really well … he showed great poise. I don't know him at all. I was just able to speak to him briefly afterwards and tell him, shoot, he's got one heck of a career ahead of him if he keeps it up like this." Hearing that has to put a glowing smile on the faces of Raiders fans everywhere.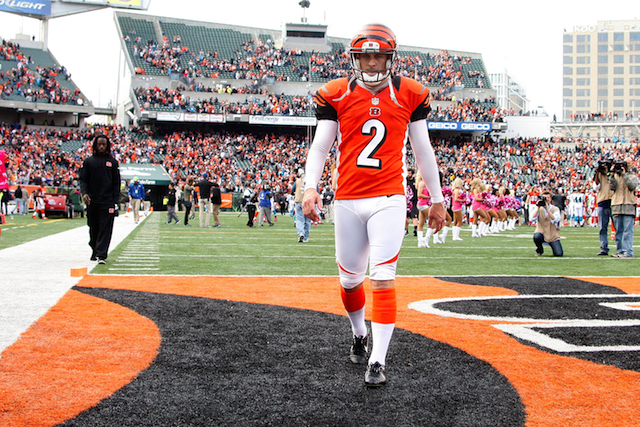 The NFL needs to seriously consider doing away with ties
The Cincinnati Bengals and Carolina Panthers played to a 37-37 tie in their game on Sunday, marking the fifth time since 2000 that a NFL game has ended in a tie. When Mike Nugent missed a potential game-winning 36-yard chip shot as time expired, many people, possibly even some players (Donovan McNabb), were gearing up for another overtime period. But no, that was it — game over.
There really is no benefit to a tie in the NFL like there is in professional hockey and professional soccer. In this case, both the Bengals and the Panthers are in tight division races, and the tie on their records could have a major effect on the NFL playoff picture. On top of that, fans of the NFL deserve better than having to settle for a tie. To me, the answer is simple: It would be incredibly easy for the NFL to implement playoff overtime rules for the regular season without skipping a beat.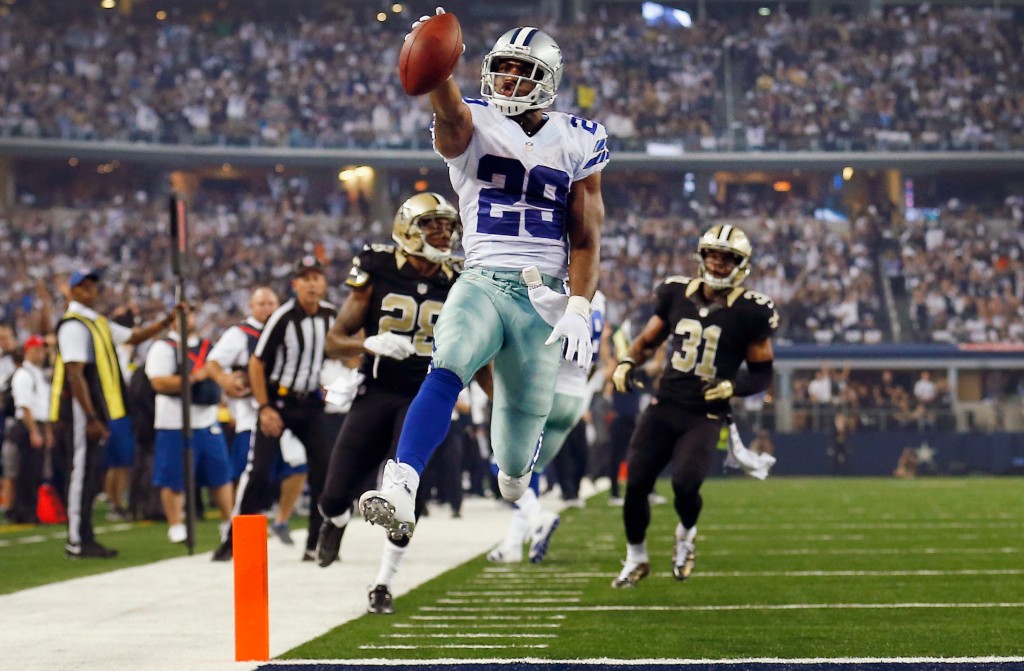 DeMarco Murray is a serious MVP contender
No running back has meant more to their team's success in 2014 than Murray. Here is a quick look at his stat line through six games in 2014: 159 carries, 785 yards, 4.9 yards per attempt, and six touchdowns rushing with 21 receptions for 155 yards.
The Dallas Cowboys are 5-1, which is good for a tie atop the NFC standings. A lot of their success has to do with the dominance of Murray. He has averaged a whopping 130.8 yards per game, which puts him on pace to become one of only eight running backs in NFL history to break the 2,000-yard mark in a single season. Murray has led the way to the Cowboys becoming the NFL leader in rushing yards per game in 2014, something that has taken a lot of the pressure off quarterback Tony Romo.
In his ultimate test, a game against the Seahawks in Seattle, Murray continued to dominate. He ran for 115 yards and a touchdown on 29 carries against a defense that had been giving up only 62 yards per game and fewer than three yards per carry up to that point in 2014. His 115-yard effort against Seattle was his sixth straight 100-yard rushing game, tying Jim Brown's record set in 1958, and setting him up to break the record against the New York Giants this Sunday. If Murray keeps up this pace and the Cowboys keep winning, he has to be considered the favorite to win the 2014 league MVP award.