NFL: 4 Teams Desperate Enough to Sign Ray Rice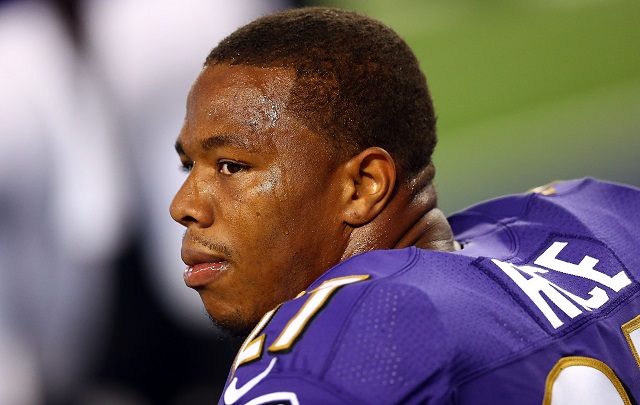 For Ray Rice, any chance to return to the NFL is a good chance, as it seems that he may be all but finished due to the domestic violence off-field issue he had. Rice was cut by the Baltimore Ravens back in September 2014 and has yet to receive another chance to play since then. Unfortunately, it seems as though he won't get another chance, unless some team with a drastic need at running back comes along, willing to deal with the backlash of signing Rice. So, who are the suitors? There has to be someone, right? Of course, and the rumors will come during the 2016 offseason. With that said, let's look at four teams that may be desperate enough to sign Rice and bring him back into the NFL.
4. Indianapolis Colts
We aren't really sure we even want to jump on board with the Colts, so they rank as a distant No. 4 on this list. While the Colts do have Frank Gore, who is set to turn 33 before the season, there's no denying he had a bit of a statistical drop-off in 2015. Gore rushed for 967 yards and six scores, but averaged just 3.7 yards per carry, the worst of his entire career. Gore will still be the man for the Colts in 2016, but there is a real chance they will look to add some depth behind Gore. Rice would actually make for a great fit. Adding him would be an excellent way to ease him back into the NFL, and he wouldn't be in the immediate spotlight, which is ideal.
3. Detroit Lions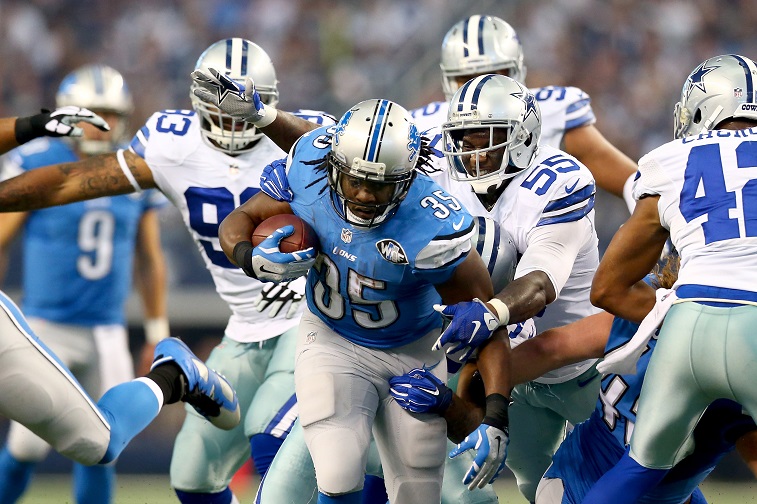 Heading into the 2015 season, everyone was ready to crown Ameer Abdullah as the future star of the NFL. Unfortunately, things didn't pan out in his rookie year. Abdullah rushed for 597 yards, caught 25 passes for 183 yards, and had three total scores. He also lost two fumbles — not the workhorse back that fans had hoped he'd become. To make things worse, when Lions running back Joique Bell wasn't hurt, he was massively unproductive, averaging 3.5 yards per carry while totaling 311 yards and four touchdowns this season.
Bell has one year left on his contract with the Lions, so there's plenty of reason to believe that some type of change could come. We still believe that Abdullah will be Detroit's running back of the future, but Rice coming in as a backup or even a short-term starter may be the best move for the organization. It may not be the most popular signing right away, but Rice can add some power to the run game in Detroit.
2. Cleveland Browns
This past season, rookie Duke Johnson Jr. was a strong option in the passing game for the Browns, catching 61 balls for 534 yards and two scores. Unfortunately, he rushed for just 379 yards with a 3.6 yard per carry average. Granted, on the depth chart, Johnson was behind Isaiah Crowell, who didn't produce all that well either, finishing up the season with 706 yards and four touchdowns on the ground.
Basically, the running game in Cleveland is still completely up in the air right now. Whether Crowell or Johnson are able to come through is unknown, and the Browns also need a quarterback, so that may be their focus during the 2016 NFL draft. So, how about a free agent option? Maybe, say, Ray Rice? Yes, there are some intriguing free agents at the running back position, but Rice would be inexpensive and could provide some power in the backfield for a team who desperately needs it.
1. Houston Texans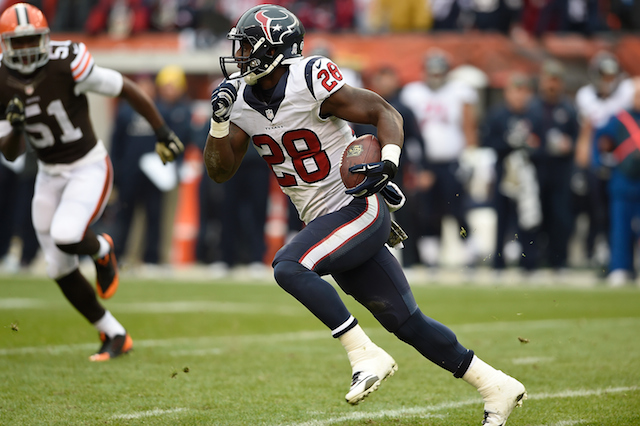 According to Sports Illustrated, Arian Foster may be on his way out the door in Houston this offseason. So, this means that the Texans will look for a new running back. With free agency loaded with options and a draft of intriguing, young talent, they wouldn't possibly look to add Rice, would they? Why not? Rice would bring experience into a backfield of young runners and help take some of the pressure off Brian Hoyer and the passing game. This is a low-risk, high-reward situation for the Texans, as Rice would be playing with a chip on his shoulder.
If/when the Texans really do part ways with Foster, it'll leave Alfred Blue and Jonathan Grimes as the two backs in town. Blue averaged 3.8 yards per carry this past season, while scoring two touchdowns on the ground and finishing with just 698 yards. Grimes was more impressive while averaging five yards per carry, but he only had 56 rushing attempts. He finished with 282 yards and two total touchdowns (one receiving). Don't count the Texans out when considering their options at running back this offseason.
Statistics courtesy of ESPN.go.com and Pro-Football-Reference.com.