NFL: Did the 49ers Sabotage Their 2019 Season in Free Agency?
The San Francisco 49ers had an awful season last year. An early-season injury to their new acquisition at QB, Jimmy Garoppolo, led the team to disappoint yet again. The team remained optimistic heading into this offseason, to see if it could improve after a full season with their new QB at the helm.

Their problems were hardly limited to the offensive side of the ball, however. The 49ers also had plenty of issues on defense. Some questionable decisions in free agency led some to believe San Francisco may have already given themselves an uphill battle in 2019. Did the 49ers sabotage their 2019 season in free agency?

What is the 49ers biggest weakness?
One of the team's biggest weak spots was at safety. Unfortunately for Niners fans, the team did little to remedy that shortcoming via free agency. Despite a free agent class of safeties that was absolutely stacked, they didn't add one big name safety to their roster. Consider the safeties on the free agent market who were available but the 49ers ignored:
Ha-Ha Clinton Dix
Landon Collins
Earl Thomas
Tyrann Mathieu
Tre Boston
Eric Weddle
Instead of pursuing defensive backs in free agency, San Francisco tried to swing a trade for wide receiver Odell Beckham. He eventually landed with the Cleveland Browns, and the 49ers were relatively quiet in free agency.

Who did San Francisco sign to address the weakness at safety?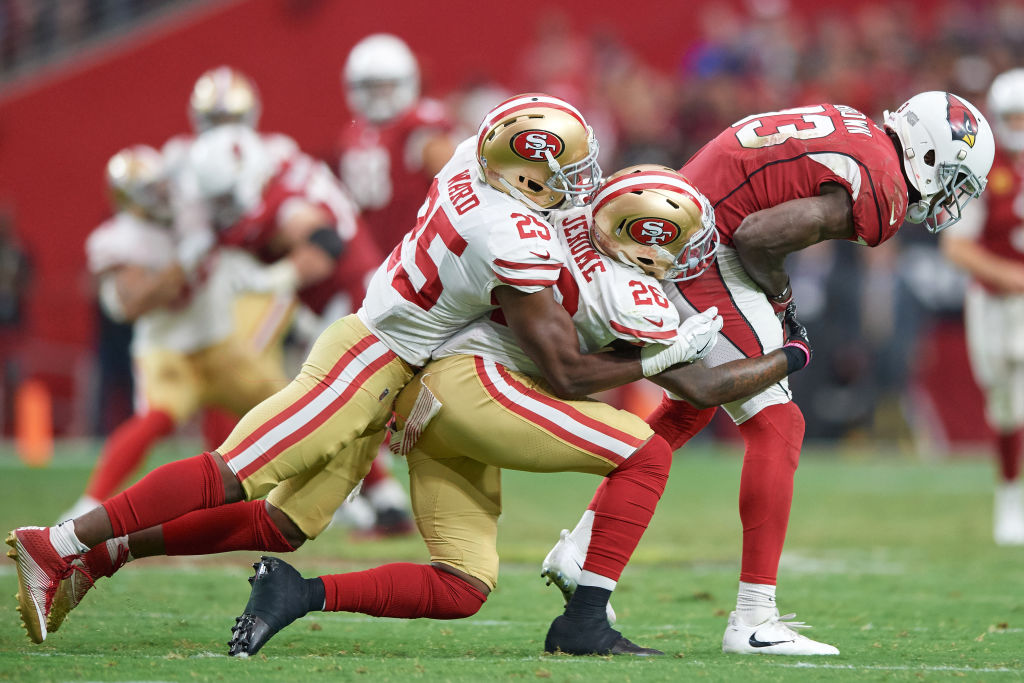 Rather than go after a big name free agent, the Niners chose to handle the problem in-house by re-signing Jimmie Ward. That move can't excite San Francisco fans who are already familiar with Ward's body of work.

Ward is a talented player, but since being drafted by the team in 2014, he has battled injury issues throughout his career in San Francisco. He's reached double digits in games played just twice in his career.

Was not signing another safety a mistake?
Defensively, the 49ers were not good last year. They surrendered 35 passing touchdowns, good for 31st overall in the NFL. They also had only two interceptions, which was the fewest in the league.
Pass defense is definitely an issue in San Francisco, and bolstering the safety position would have gone a long way in improving their secondary. Now the team must rely on the health of Ward — a player who as noted earlier, has not been able to stay on the field consistently throughout his career.
What are the team's strengths?
The 49ers are a team who have historically had good QBs, but they obviously don't yet know what they have at the position. Jimmy Garoppolo performed well in a small sample size when he arrived from New England, but a devastating injury early in 2018 ended his season. The team can give him the benefit of the doubt heading into 2019 and list QB as a position of strength.

The team also rushed for 1,902 yards last year, which was the 13th most in the league. That isn't an outstanding number, but it also shows the team is capable of being offensively competent.
What can the 49ers do to address their weakness at safety?
There have been plenty of teams with weaknesses at a particular position who have managed to field decent teams. If the 49ers are looking to improve on their 4-12 campaign and upgrade at safety, they'll need to do it one of three ways:

Hope that their in-house options can stay healthy and improve on their 2018 performances.
Swing a trade for a more accomplished safety in the remainder of the offseason.
Use one of their six draft picks to address the issue.
At this point, their best bet is to address the problem via the draft. If they find a dependable player who can start at safety anywhere from the second to the sixth round, they can upgrade the play they've seen at the position for relatively little cost. Opting for a player on a rookie contract allows them to avoid adding a significant amount to their salary cap hit in 2019.