NFL: 5 Backup Quarterbacks Who Could Start in 2016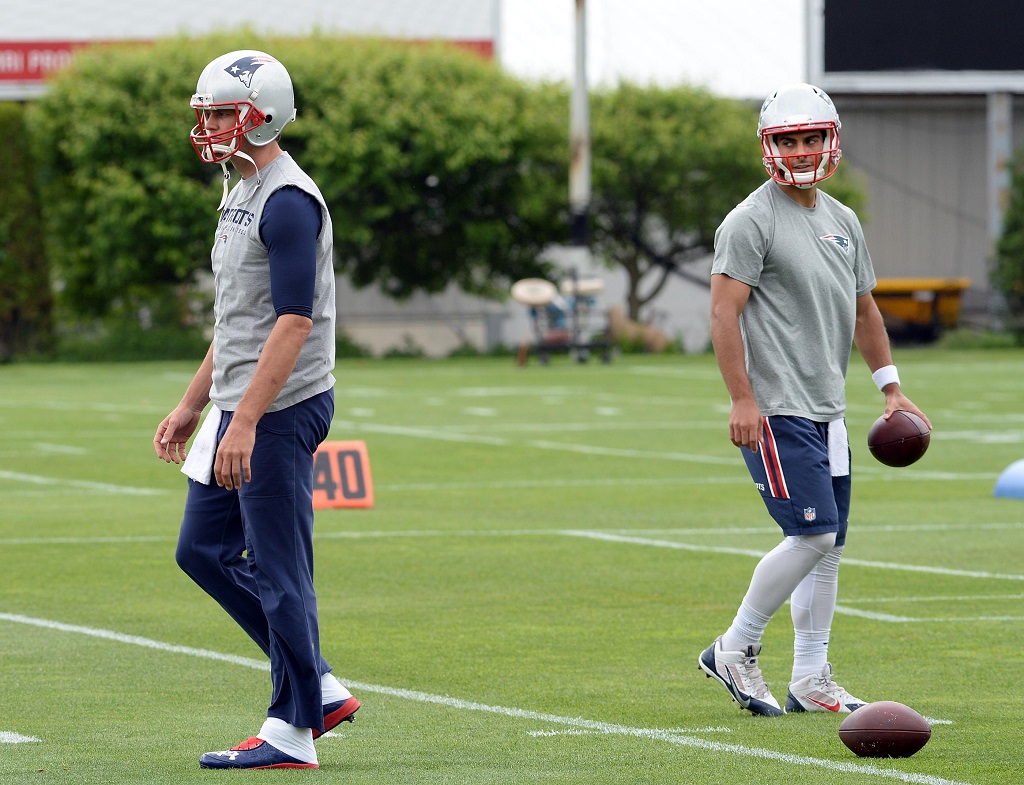 The NFL is loaded with talent, but not always loaded with the type of talent at the quarterback position that you need to find in order to succeed. Fortunately, there are a few intriguing backup quarterbacks out there who could truly step up and lead a team if called upon. For a few of the players below, we've already seen them play at the NFL level, with each having some level of success.
For others, it'd be new territory for them to start. Regardless, for any teams that are in need of a new quarterback in 2016, they may want to check out the potential of bringing in one of these five players below. Let's kick it off with two players who actually got to start for a while during the 2015-16 season, and saw things go not-too-terribly wrong during their time under center.
1. A.J. McCarron, Cincinnati Bengals
After winning the backup quarterback role for the Bengals in his second season, A.J. McCarron probably didn't expect to see a ton of playing time behind Andy Dalton. Especially after Dalton got off to that ridiculously hot start. Well, not only did McCarron start due to an injury to Dalton, but he wound up getting the nod in four regular-season games and one playoff game.
When all was said and done, he threw for 854 yards, seven touchdowns, and three interceptions last season. Two of his interceptions came in his first game as a starter, and after that point he really did a great job of controlling the game. Expect McCarron to get a chance to start somewhere outside of Cincinnati eventually.
2. Brock Osweiler, Denver Broncos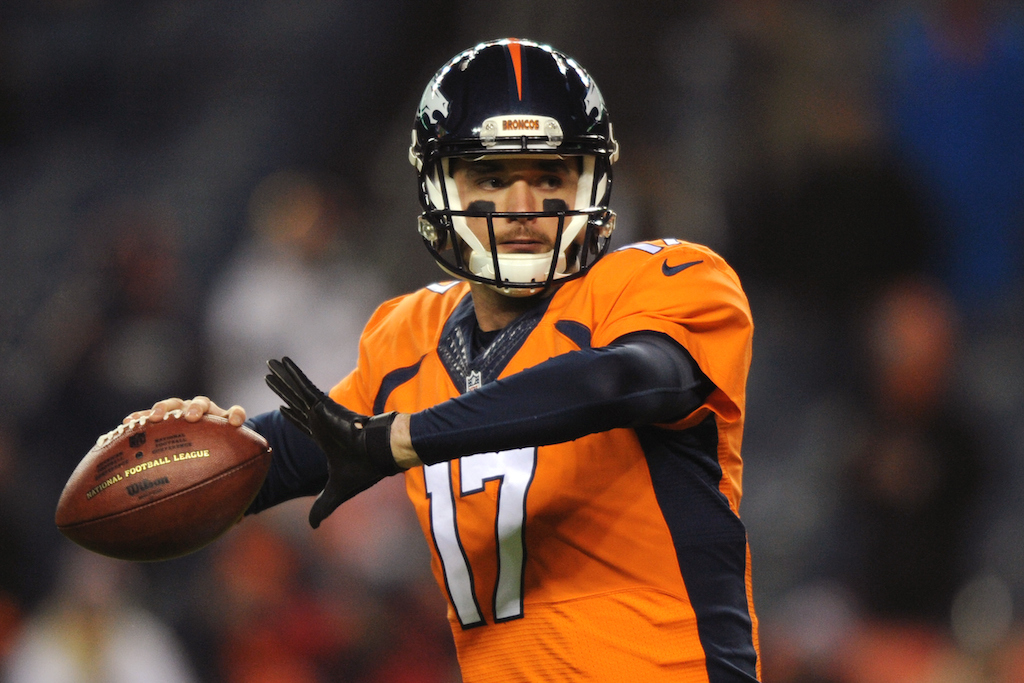 Brock Osweiler may not even technically qualify as a backup for long, as he's probably the guy who'll land a starting job the fastest on this list. Osweiler is just 25 years old and has patiently waited for his opportunity to play behind Peyton Manning in Denver. Well, when Manning was dealing with a few injuries in 2015, he was called on to lead the Broncos into the postseason, and he did just that.
As a starter last season, Osweiler led the team to a 5-2 record (although Manning was called upon to finish the last game). Osweiler didn't get another chance under center, as Manning took over and helped lead the Broncos to a Super Bowl 50 victory. Now, Osweiler is a free agent, and will either return as the likely starter in Denver (assuming Manning retires) or will head elsewhere to a team who wants a new starting quarterback.
3. Mike Glennon, Tampa Bay Buccaneers
When the Buccaneers drafted Jameis Winston with the No. 1 overall pick in the 2015 NFL draft, Mike Glennon's name immediately became a hot one on the trade market. Unfortunately for the 26-year-old quarterback from NC State, he wasn't moved out of Tampa Bay. This means he's still behind Winston on the depth chart and won't be moving ahead of him probably ever.
Glennon has played 19 total games in his career, throwing for 4,025 yards, 29 touchdowns, and 15 interceptions. Those are pretty strong numbers for a guy who was pushed to a backup role. Glennon will get another chance as a starter in the NFL, so don't overlook him moving forward.
4. Robert Griffin III, Washington Redskins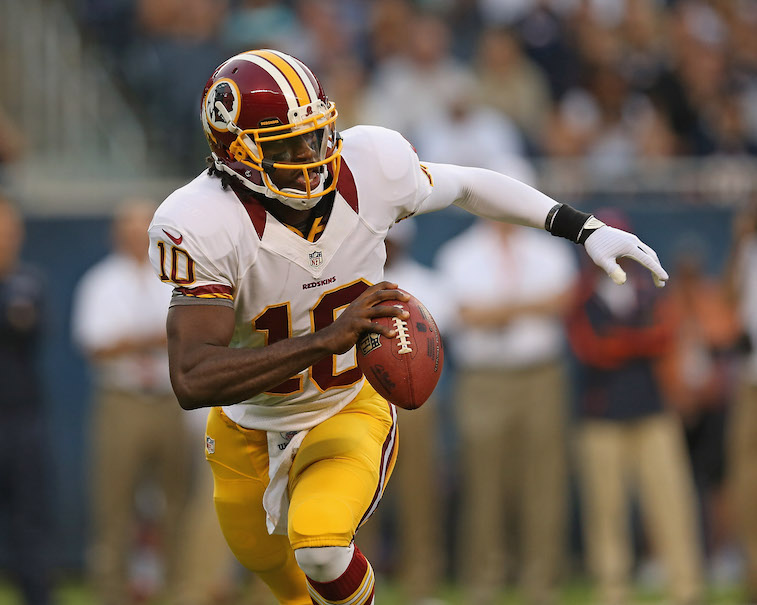 We may be able to change "Washington Redskins" to "free agent" pretty soon here for Robert Griffin III. RGIII's time in Washington is likely all but finished at this point, as Kirk Cousins has taken control of the starting job there. Whatever happens with Cousins and his contract situation, it won't really impact Griffin in the near future.
We saw Griffin start 37 games over three seasons, throwing for 8,097 yards, 40 touchdowns, and 23 interceptions. He's also rushed for 1,480 yards and eight scores as well. No, he didn't blow us away in the final two years that he played with the Redskins, but the potential is obviously still there. Griffin needs to get his confidence back, and the only way that will happen is by joining a new team who has faith in his abilities.
5. Jimmy Garoppolo, New England Patriots
Want to talk about a real dark horse here? It's Jimmy Garoppolo. The 24-year-old quarterback who's set to head into his third season is just waiting behind Tom Brady to get his chance in New England. While it's not going to happen this season, or probably next, he may wind up potentially playing somewhere else. There's obvious reasons to believe that he would be a great fit for the Patriots' offense, but only time will tell if he'll remain there for the long haul.
Brady is showing no signs of slowing, and honestly, we haven't seen a whole lot of Garoppolo, with the exception of the preseason. Jimmy G has been strong during preseason play over the past few seasons, and while he hardly played in 2015 (he threw four passes), he did get a little bit of work back in 2014. During that season, Garoppolo completed 19 of 27 passes for 182 yards and a touchdown. He's an intriguing name to watch, and based on pure talent and physical attributes, Garoppolo has all the tools to succeed as a starter in the NFL.
Honorable mentions: Derek Anderson (CAR), Chase Daniel (KC), Ryan Nassib (NYG)
Follow Jeff Smith on Twitter @JSM8ith
Statistics courtesy of ESPN.com.