NFL: 5 Greatest Individual Performances in Pro Bowl History
The Pro Bowl, more so than any other all-star game, can often rival watching paint dry in terms of excitement and action. It seems like the game is played at half-speed, and it is clear the players are doing their best to avoid injuries. With that being said, anytime you can gather the NFL's best players onto one field, there is sure to be some entertainment value.
Over the years, several players have turned in huge performances in the Pro Bowl. Here is a look at the five best individual performances (in no particular order) in Pro Bowl history.
1.  Brandon Marshall's four touchdown receptions in 2012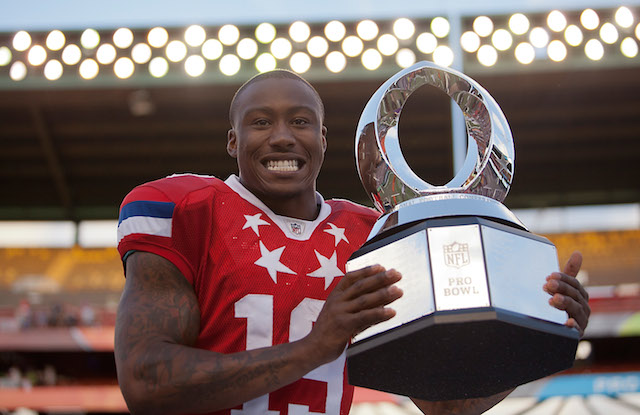 In his last game wearing a Miami Dolphins helmet, Marshall turned in a Pro Bowl performance for the ages. He hauled in six catches for 174 yards and caught a touchdown pass in every quarter of the game. His AFC team handily beat the NFC 59-41, and Marshall was named Pro Bowl MVP for his efforts. Marshall's four touchdown receptions set a new record for most touchdown catches in a single Pro Bowl game.
2.  Randy Moss' 212 receiving yards in 2000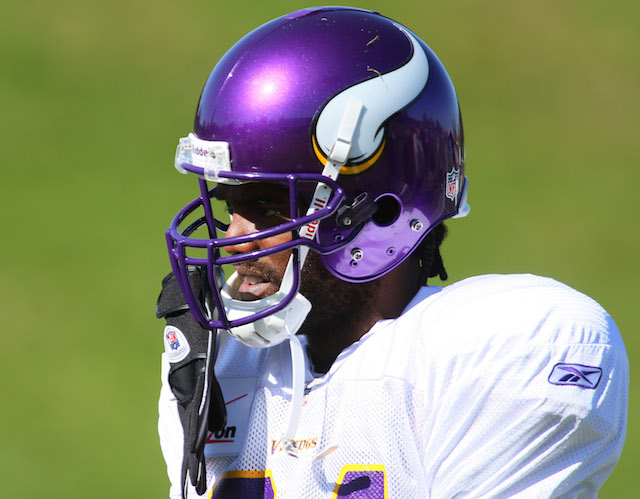 Moss was one of the best wide receivers in the game from day one of his career. Following his second professional season, he went on to break the Pro Bowl's single-game receiving yardage record in the 2000 Pro Bowl as a member of the Minnesota Vikings. He was instrumental in leading the NFC to a 51-31 win, and was named game MVP for his efforts. His 212-yard performance is a record that still stands today.
3.  Marc Bulger's four touchdown passes in 2004
Bulger was actually an alternate selection for this game, but that didn't stop him from going on to set a new Pro Bowl record for touchdown passes in a game. With the NFC trailing 38-13 in the third quarter, Bulger led a furious comeback that resulted in a 55-52 win for the NFC all-stars. Bulger, who was a member of the St. Louis Rams at the time, threw two third-quarter touchdowns, had two more scoring strikes in the fourth quarter, and was named Pro Bowl MVP for his efforts.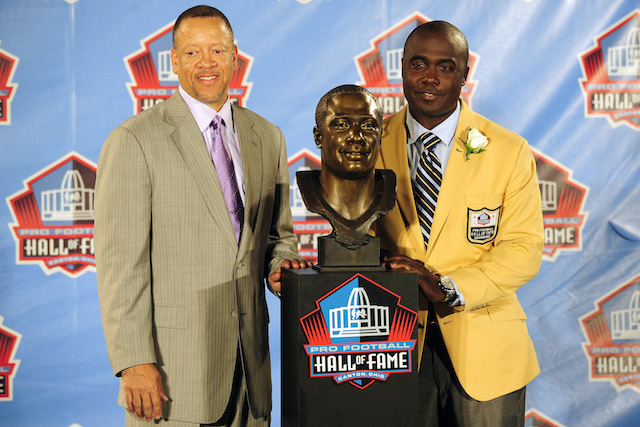 4.  Marshall Faulk's 180 yards rushing in 1995
In Faulk's first Pro Bowl appearance as a rookie in 1995, the Hall of Fame running back turned in the best rushing performance in Pro Bowl history. Faulk ran for 180 yards on a mere 13 carries en route to being named the game's MVP. At the time, he was a member of the Indianapolis Colts and was a big reason that the AFC won this game over the NFC by a blowout score of 41-13.
5.  Garo Yepremian kicks five field goals in 1974
Yepremian was one of the top clutch kickers of his time, and had an incredibly unique road to playing in the NFL. He had his most success as a member of the Miami Dolphins and was a key contributor to the Dolphins' undefeated 1972 season. In the 1974 Pro Bowl, Yepremian booted five field goals, and was responsible for all of the AFC's points in their 15-13 win over the NFC. His five field goal performance is a Pro Bowl record that still stands, and Yepremian was named Pro Bowl MVP for his efforts.
All statistics courtesy of Pro-Football-Reference.