NFL: 5 Best Wide Receivers in the League Today
The NFL's wide receiver pool features some of the most athletic and talented players. This makes it extremely difficult to narrow down the group to just five — a reasonable case can be made for many who were left off this list. Here are the top five wideouts currently in the league:
5. Calvin Johnson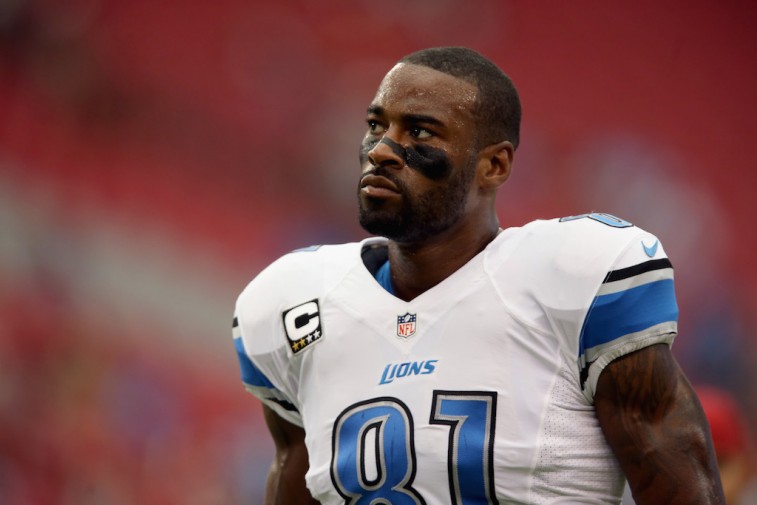 It seems crazy that Megatron is just the fifth-best wide receiver in the league, but it speaks to the level of talent at the position. After a slight drop-off in production last year due to a lingering knee injury, Detroit Lions wide receiver Calvin Johnson returned to elite status in 2015, nearing his sixth straight season with at least 70 catches and 1,000 receiving yards. The five-time Pro Bowler is nothing less than a force to be reckoned with. At 6-foot-5 and 237 pounds, Johnson has ridiculous speed for his size — running a 4.35 in the 40-yard dash — along with freakish athleticism that punishes defenses.
After torching defenses over his first eight seasons in the league; breaking numerous records, such as the NFL single-season record for most receiving yards (1,964); becoming the only player in league history with 5,000-plus yards in a three-year span; and the most career 200-plus receiving yard games (5), it's clear that Megatron's Hall of Fame resume is nearly bulletproof. All that's missing is some championship hardware or some significant postseason gains. Even at 30, Johnson remains one of the most lethal receivers in the league.
4. Odell Beckham Jr.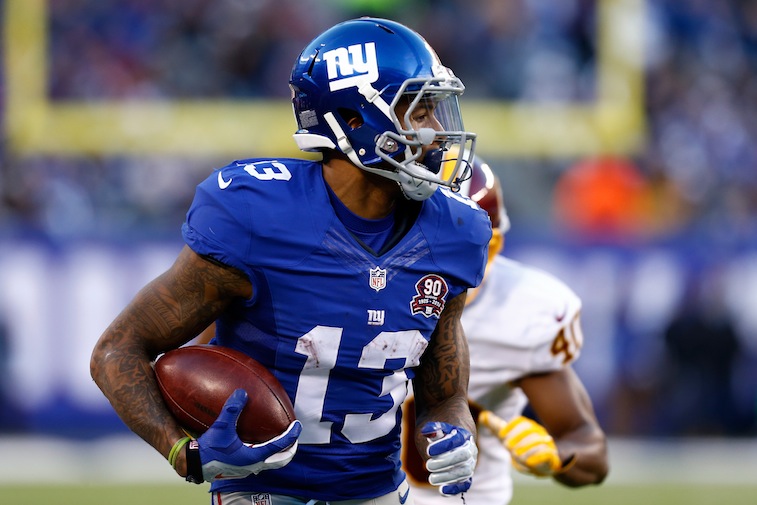 In just his second season, New York Giants receiver Odell Beckham Jr. has ascended to the top of the pile as an NFL wideout. That's insane, and speaks to the sheer talent he possesses. After a hamstring injury forced him to miss the first four weeks of his rookie season, Beckham Jr. set the NFL ablaze, hauling in 91 catches for 1,305 yards and 12 touchdowns in just 12 games, which broke numerous franchise rookie and league records. This includes several NFL records once thought to be untouchable as he has the most consecutive games with six-plus receptions and 90-plus receiving yards (9), most consecutive games with at least 130 yards and a touchdown (4), most games with 10-plus catches as rookie (4), and most catches over a seven-game span (61).
ODB continues to be an offensive force this season. He is on pace to surpass his historic rookie campaign, aided and abetted by his unbelievable hands and athleticism, which help him make what seem to be inhuman one-handed catches look routine. Despite standing at six feet and 200 pounds, Beckham Jr. can make catches in traffic with ease, and his impeccable footwork allows him to create space against defenders. In short, Beckham Jr.'s meteoric rise to stardom in the NFL isn't a fluke. There's no question that he could make a valid argument for the top billing at his position.
3. Julio Jones
When Julio Jones was drafted by the Atlanta Falcons as the sixth overall pick in the 2006 NFL draft, he was a can't-miss prospect. Turns out, the scouts were right. Over the last two seasons, the two-time Pro Bowler has placed himself among the elite-level players in the league, notching 100-plus catches and at least 1,300 receiving yards in each campaign. He is taking his skills to another level in 2015, becoming the first player in NFL history to record 135-plus receiving yards in each of his team's first three games in a season along with hauling a league-record 34 receptions over that span.
Jones has also posted six games this season with at least 135 receiving yard and eight games with eight or more catches, including three with at least 10 grabs. With his unique combination of size and speed along with extremely polished route running, Jones has become a magnet to the ball in the Falcons' passing game. He's also a great red zone threat, using his large frame to soar over defenders for catches in traffic. Still just 26 years old, No. 11 is a complete package receiver who certainly belongs in the conversation of best wide receivers in the game.
2. Dez Bryant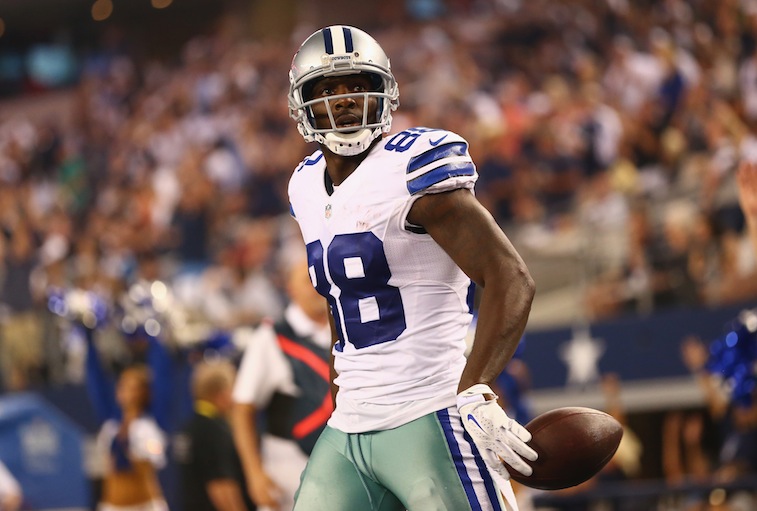 Dallas Cowboys star wide receiver Dez Bryant may be one of the most outwardly brash players in the league, but he backs up his talk with his performance on the field. It's no stretch to say that the 27-year-old has not only staked his claim as one of the best wideouts playing today, but also as one of the top players in the NFL, period. Although he had a disappointing 2015 season (suffering from a fractured foot as well as the absence of Pro Bowl quarterback Tony Romo), Bryant is still a game-changer in every essence of the word.
He had a remarkable span from 2012 to 2014 that saw him haul in at least 88 catches, over 1,200 receiving yards, and 12 or more touchdowns in each campaign. This includes setting a Cowboys' regular-season record with 16 touchdowns in 2014. Bryant is a ball-hawking receiver who has great hands and doesn't shy away from physical contact. He's a true competitor with all the physical tools and production that make him one of the league's most talented and enticing players. The two-time Pro Bowler's fire and intensity brings to mind another Dallas receiver who wore No. 88, Hall of Famer Michael Irvin.
1. Antonio Brown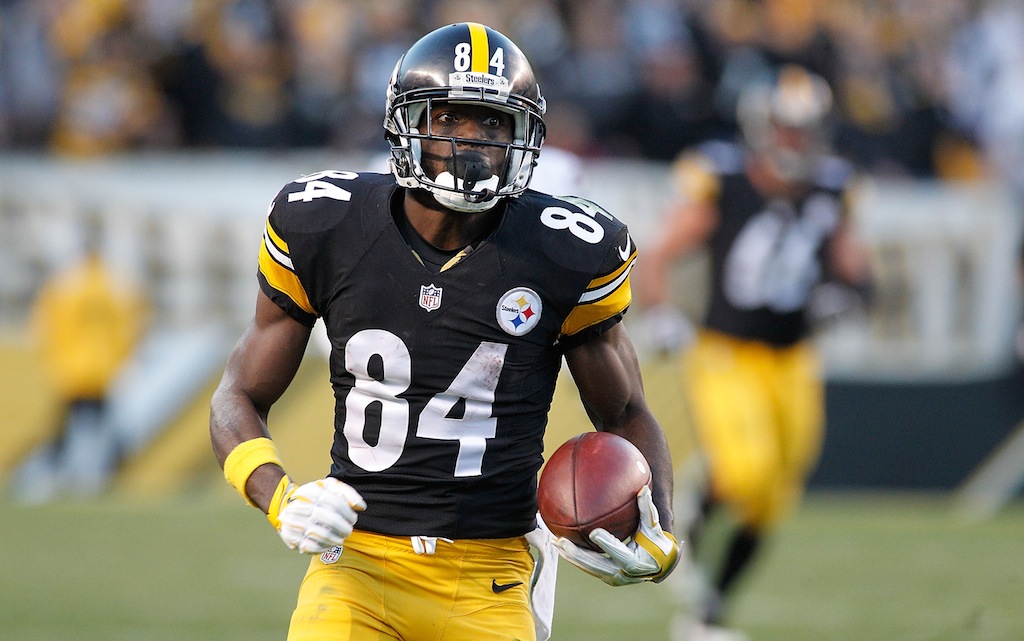 There was no question, really. When you talk about the best receivers in the league today you have to give it up for Pittsburgh Steelers wideout Antonio Brown, who has far surpassed his expectations as a sixth-round pick, making pre-draft critics look foolish over his first five seasons as the best wide receiver in the league. Despite a 5-foot-10, 180-pound frame, Brown is a great possession receiver with outstanding footwork and route running, which helps him gain the needed separation from defenders.
What elevates him above nearly every other receiver in the NFL is that he can also be a game-changing player lined up anywhere on the field. He has great instincts, knowing when to break a route to get open when his quarterback is under pressure. Brown has developed into a great punt return specialist who has recorded at least one touchdown and landed in the top five in return yards in each of the last two seasons.
If that isn't enough to solidify his case as the top receiver, he has set several NFL records, becoming the first NFL player to record at least 5 catches and 50 receiving yards in 50 consecutive games. Brown is the first player to have 1,000 yards returning and receiving in a single season. Brown saw his game take a huge leap over the last two seasons, ranking in the top three for receiving yards, receptions, yards per game, yards per catch, and all-purpose yards. This includes notching at least 110 receptions, more than 1,450 receiving yards, and at least 8 touchdowns.
What's more ridiculous about his huge production is that he's on pace to record 120-plus catches and over 1,700 receiving yards. All in all, the 27-year-0ld has clearly earned the title of the best wideout in the league. Brown is here to stay as he's just entering the prime of his career.
All statistics courtesy of Pro-Football-Reference.com, ESPN.com, and NFL.com.