NFL: 5 Candidates for Midseason MVP
At this point in the season, the elite teams have decidedly separated themselves from the rest of the pack. As division leaders, the 8-1 Cincinnati Bengals, 9-0 Carolina Panthers, and 9-0 New England Patriots are angling for home-field advantages through the playoffs and deep postseason runs. Beneath this group, the Minnesota Vikings, Arizona Cardinals, and Green Bay Packers lay in wait, as dangerously talented clubs that could get hot, lock down a wild card spot, and march all the way to the Super Bowl.
The five midseason MVP candidates, of course, are the emotional leaders most responsible for driving their respective teams toward the top of the standings. By season's end, the reigning 2015 NFL MVP would have etched his signature moment in time, with a big win against a tough opponent, against all odds. Here are our five candidates for the NFL's midseason MVP award.
5. Adrian Peterson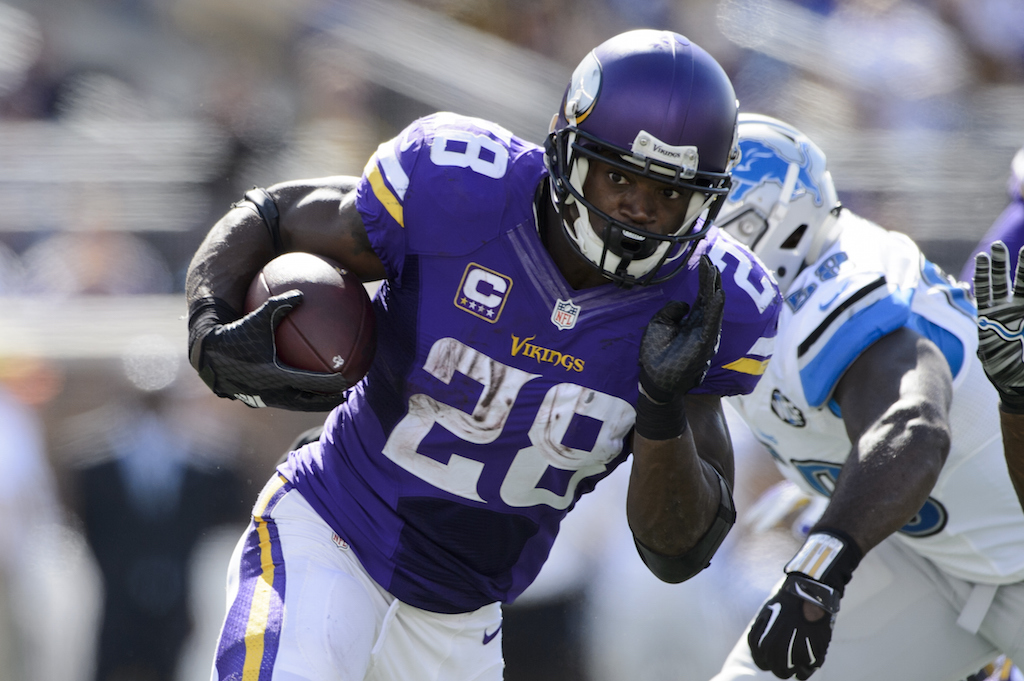 Last year, Adrian Peterson played in one game before being shut down for the season in light of a bizarre child abuse case. Without Peterson, the Vikings did go a respectable 7-9, largely behind rookie quarterback, Teddy Bridgewater, who showed encouraging flashes as a dual-threat quarterback last season. He totaled 3,128 yards and 15 touchdowns through twelve starts.
The Vikings were often highlighted as a popular sleeper pick this offseason, with the apparent return to form of a highly motivated Peterson. AP did come away with the MVP award as recently as 2012, after running roughshod over the competition for 2,097 yards and 12 touchdowns on the ground. To help spread the field, team executives also brought speedster Mike Wallace to Minnesota. In 2010, Wallace smoked defenses for 21 yards per catch in Pittsburgh.
This season, at 30, Peterson has not lost a step as a workhorse back that leads the league in carries (195) and rushing yards (961). In Week 10, All Day gashed the Oakland Raiders for 203 yards off 26 carries. To seal the win, he went off tackle, and simply outran the Raider D for 80 yards to pay dirt. The Vikings are now 7-2 and can control their playoff destiny with two wins over archrival Green Bay to close out the regular season.
4. Carson Palmer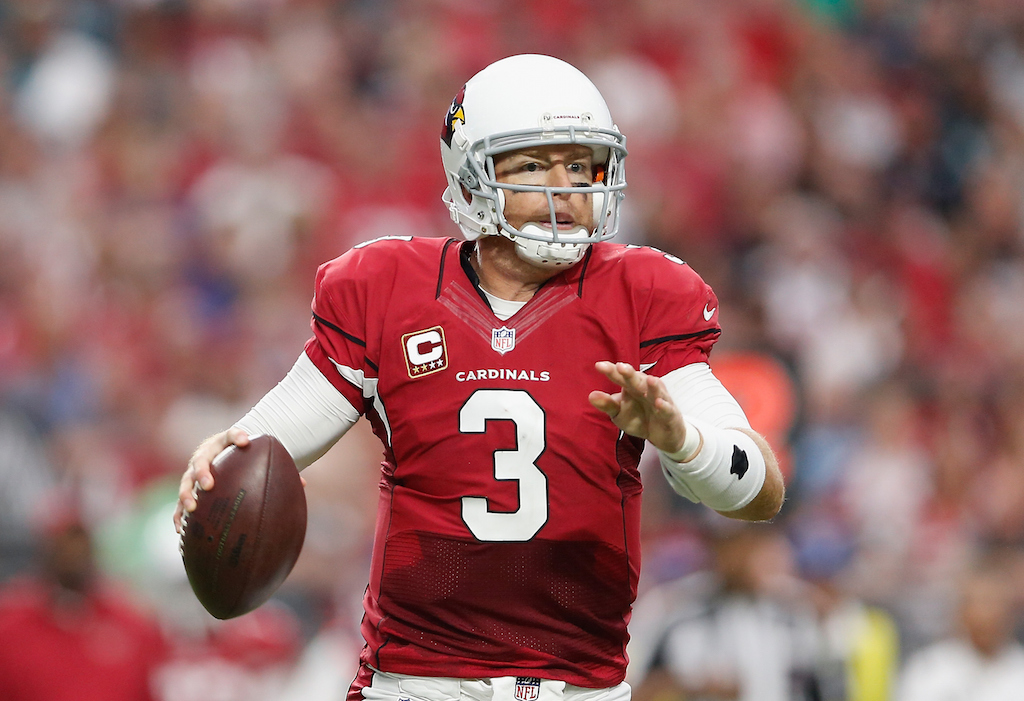 Last season, Carson Palmer had the Arizona Cardinals at 6-0 before going down with yet another season-ending ACL injury. From there, Arizona raced to a 9-1 mark before being blown out of two showdowns against divisional rival Seattle. The Cards limped into the playoffs at 11-5, before losing on the road to Carolina, with third-string quarterback Ryan Lindley under center.
This year, a healthy Palmer is back to lead a reclamation project, featuring himself alongside the likes of Chris Johnson and Larry Fitzgerald. Palmer, at 36, is playing the best ball of his career, completing 64% of his passes for 2,749 yards and 23 touchdowns against only seven interceptions. Heading into Week 11, Palmer is coming off two straight games in which he lit up the Browns and Seahawks for a combined 737 yards and seven touchdowns. In all, the Cards are torching defenses for 34 points per game, which ranks them as the second most prolific offense in the NFL.
Most importantly, of course, is the fact that Arizona is now 7-2 and three games up in the division, after winning on the road in Seattle. Going forward, Palmer may emerge as a leading candidate to lay claim to the MVP award — if he can stay healthy and out-duel both Andy Dalton and Aaron Rodgers in late-season showdowns.
3. Andy Dalton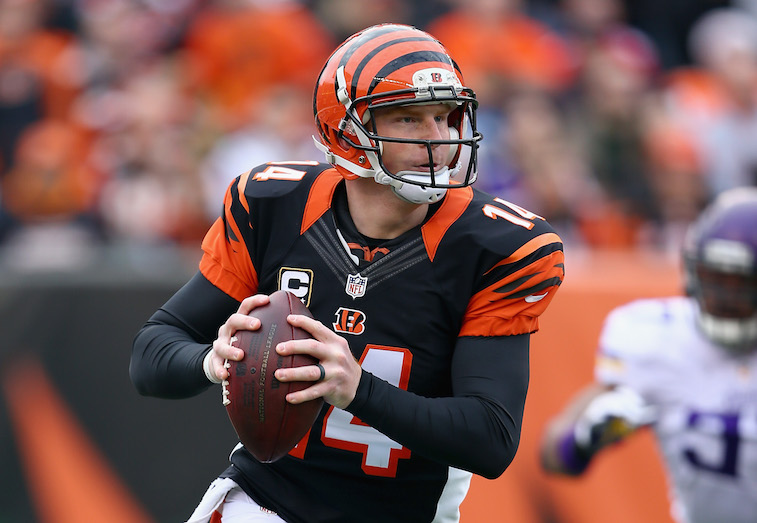 What in the world has gotten into Andy Dalton? The Red Rifle is finally taking his shots downfield, after years of being dismissed as a mere game manager. Dalton is now among the league leaders, going over the top to the likes of Tyler Eifert, Marvin Jones, and A.J. Green for 8.2 yards per attempt. In Week 3, Dalton went 20-for-32, for 383 yards and three touchdowns against the Baltimore Ravens. From there, he went over 300 yards passing in two consecutive wins over Kansas City and Seattle.
For the season, a more confident Dalton has completed 66% of his passes for 2,423 yards and 18 touchdowns against only five interceptions. He and the Bengals did put an exclamation mark upon their 8-0 start, with a 31-10 blowout win over the Browns in the Battle of Ohio. Cincinnati, however, came out flat the following week and took a loss to Houston, with J.J. Watt mocking Dalton as the "Red Ryder BB Gun."
Heading into this season, it was assumed that Andrew Luck, or even Ryan Tannehill, would make "the leap" out of Tom Brady's shadow with a deep postseason run out of the AFC. Dalton, at 28, has already made four consecutive trips to the playoffs, but has self destructed in the postseason, throwing six picks and going 0-4. For Dalton, real postseason success would further legitimize his NFL MVP candidacy and burgeoning status as a big-time quarterback.
2. Cam Newton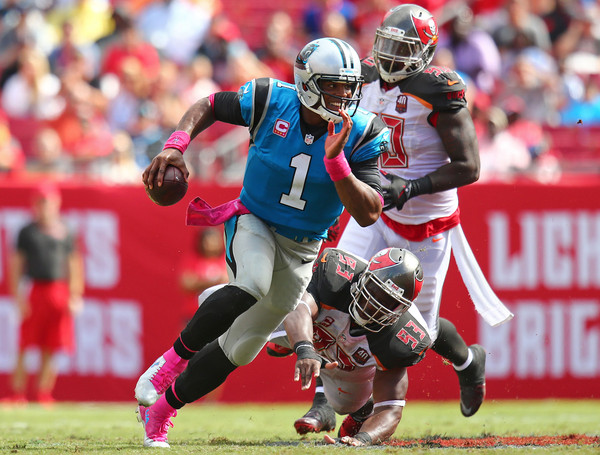 A flawless Cam Newton has left his critics with only enough material to rip his end-zone celebrations. The Panthers are now 9-0, with two games left on the schedule against division rival Atlanta. The team is a surprisingly efficient offensive juggernaut, averaging 28 points per game, which now ranks as third best in the NFL. In doing so, Newton is relying upon tight end Greg Olsen as both his underneath security blanket and deep threat. Wide receiver Kelvin Benjamin blew out his knee in training camp and was lost for the 2015 season, after going more than 1,000 yards last year as a rookie.
With Russell Wilson off to a rocky start, Newton has quickly reestablished himself as the best dual-threat quarterback in all of football. He has thrown for 2,037 yards and 15 touchdowns so far this season. On the ground, he has also racked up 366 yards and six touchdowns through nine games, as the second leading rusher on his team. Newton, at 6-foot-5, is especially dangerous out on QB rollout plays in short yardage situations, where he can simply tuck the ball in and stretch out over the first down marker. If the defense over commits, Newton can go over the top and drop in a deep bomb to Ted Ginn.
Last year, an up-and-down Panthers club went 7-8-1, which was still somehow good enough to win the then-maligned NFC South. For this, the Panthers won a home Wild Card game, before traveling to Seattle and getting dominated 31-17. This season, Newton has Carolina rolling and out for more.
1. Tom Brady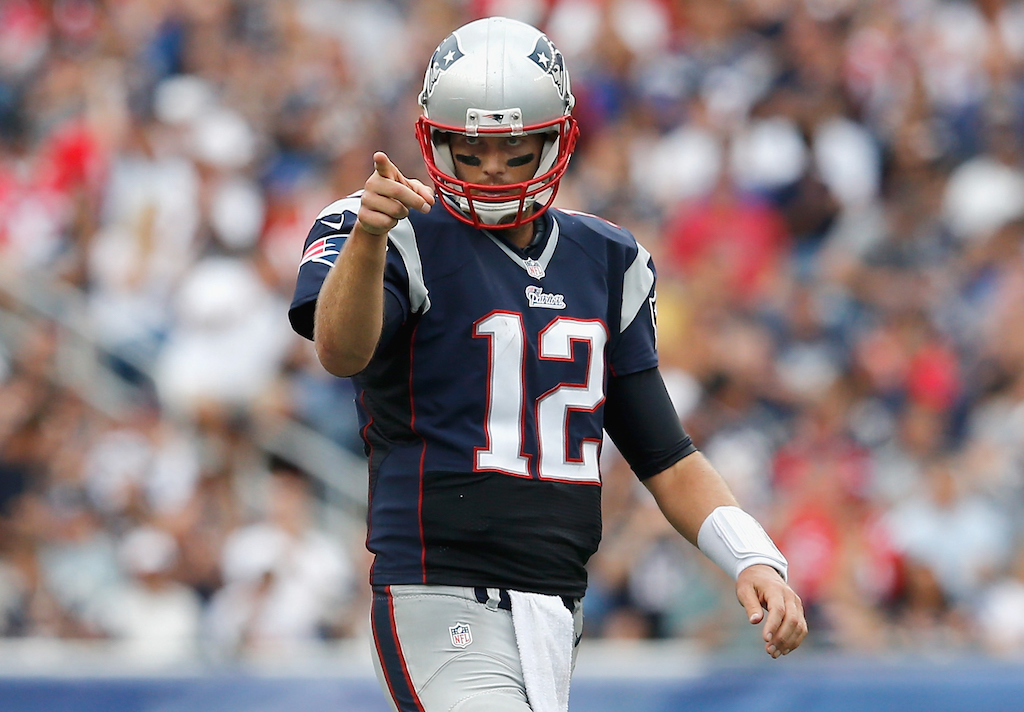 Tom Brady is back and playing with fire and determination not seen since 2007 when the Patriots went 18-0 before their shocking loss in the Super Bowl XLII. That year, Brady hooked up with Wes Welker and Randy Moss to torch defenses for 4,806 yards and 50 touchdowns, off 69% passing. In 2015, at age 38, Brady is completing 68% of his passes for 3,043 yards and 24 touchdowns, against only three interceptions — his most efficient season as a pro.
Brady's favorite targets now include the likes of Julian Edelman, Danny Amendola, and, of course Rob Gronkowski, out of a skill position group that noticeably lacks megawatt star power. The Patriots, however, seem hell-bent on exacting revenge upon a league and commissioner that held them out to dry in the aftermath of Deflategate. At one time, the NFL Deflategate kangaroo court ordered a four-game suspension for Brady, before this ruling was overruled by a federal judge.
For now, Brady is leading the league in passing yards, touchdowns, and rating, while also marching the Patriots out to a 9-0 mark. Tom Brady appears to be on a mission to claim his third MVP award and fifth Super Bowl title, which would only strengthen his case as the greatest quarterback of all-time.
Statistics courtesy of ESPN.com and Pro-Football-Reference.com.