NFL: 5 of the Most Memorable Divisional Round Playoff Games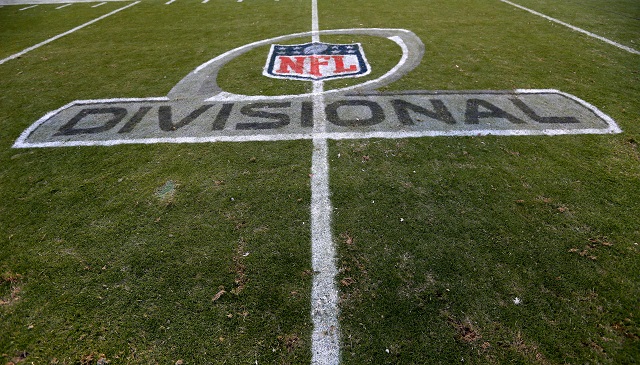 Some of the best postseason games in NFL history have come in the Divisional round of the playoffs. Here is a look at five of the most memorable divisional round playoff games in NFL history.
All statistics courtesy of Pro-Football-Reference.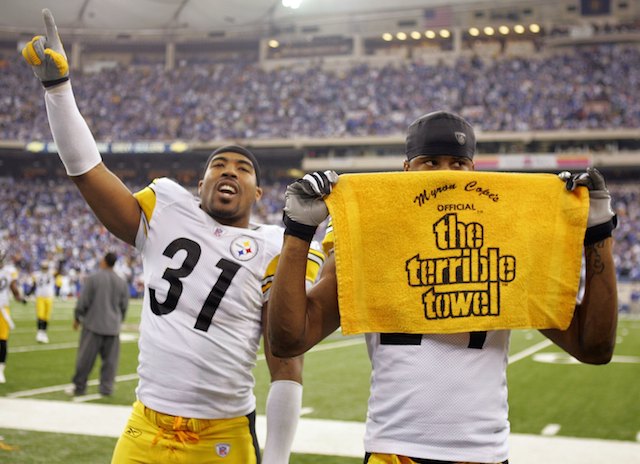 1.  Pittsburgh Steelers 21, Indianapolis Colts 18
Date: January 15, 2006
Location: RCA Dome in Indianapolis
The Pittsburgh Steelers became the first team in NFL history to reach a conference championship game as a six-seed with their shocking win over Peyton Manning and the Indianapolis Colts in this game. Pittsburgh would also go on to beat the Seattle Seahawks in Super Bowl XL.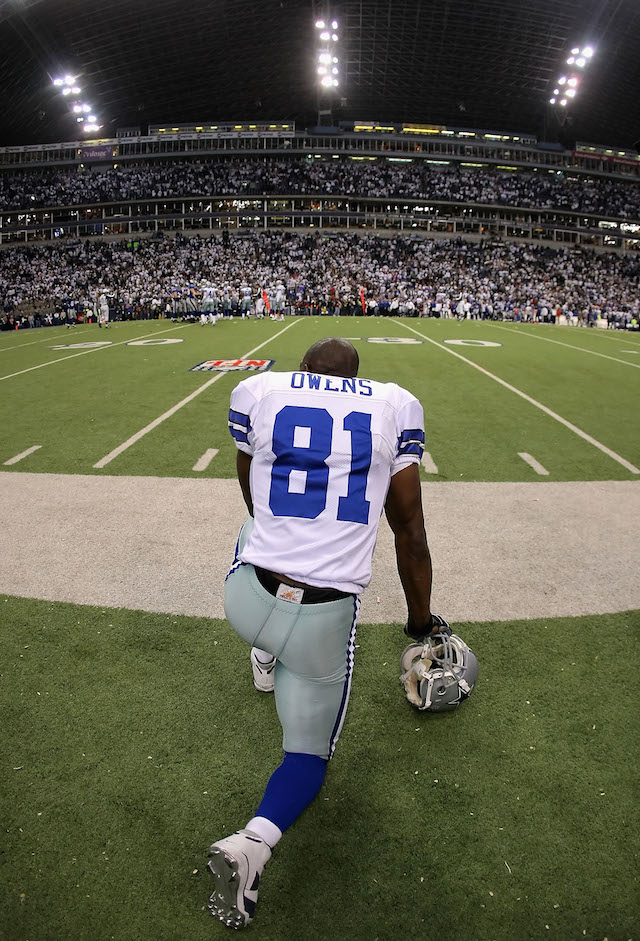 2.  New York Giants 21, Dallas Cowboys 17
Date: January 13, 2008
Location: Cowboys Stadium in Irving, Texas
"That's my quarterback." A lackluster game yielded one of the most famous post-game interviews in NFL history. When asked to comment on another disappointing postseason performance by his quarterback Tony Romo, controversial wide receiver Terrell Owens shocked the sports world with his highly emotional response that included tears, sobbing, and a cracking voice.
If you haven't seen Owens' post-game interview, here is what you missed: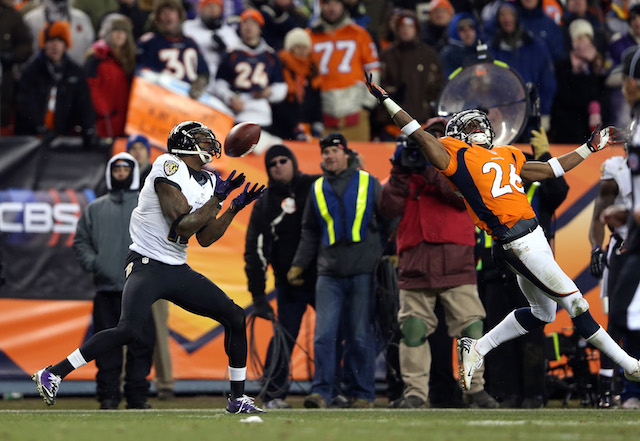 3.  Baltimore Ravens 38, Denver Broncos 35 (2 OT)
Date: January 12, 2013
Location: Sports Authority Field at Mile High in Denver
This game will forever be remembered for the "Mile High Miracle"; a play that was in essence a 70-yard, Hail Mary touchdown pass from Ravens quarterback Joe Flacco to wide receiver Jacoby Jones. The touchdown came with 41 seconds remaining in the fourth quarter and tied the game at 35-35. Baltimore would go on to win the game in double-overtime on a 47-yard Justin Tucker field goal. This win propelled the Ravens onto a run to a victory in Super Bowl XLVII over the San Francisco 49ers.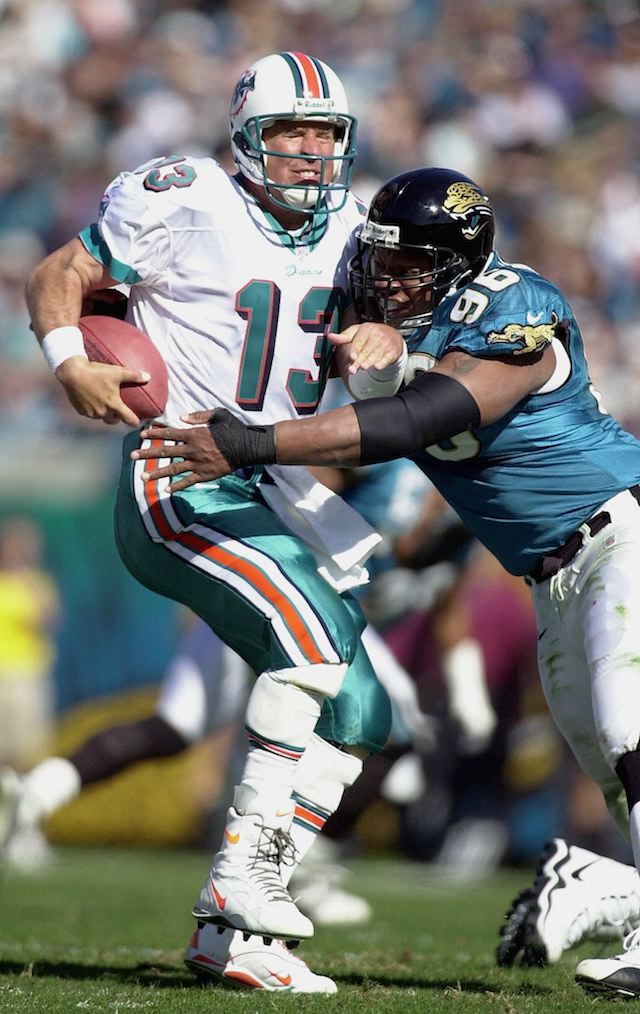 4.  Jacksonville Jaguars 62, Miami Dolphins 7
Date: January 15, 2000
Location: ALLTEL Stadium in Jacksonville, Fla.
This game wound up being the last game with the Miami Dolphins for both head coach Jimmy Johnson and quarterback Dan Marino. The 62 points scored by the Jacksonville Jaguars in this game remains the second-highest scoring total by a single team in NFL postseason history.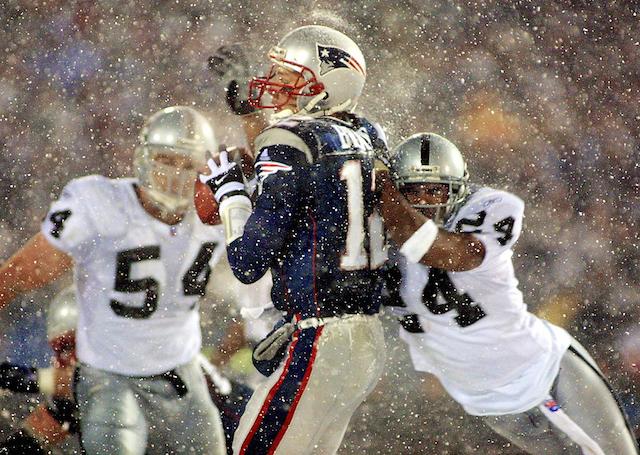 5.  New England Patriots 16, Oakland Raiders 13 (OT)
Date: January 19, 2002
Location: Foxboro Stadium in Foxboro, Mass.
Anyone with ties to the Oakland Raiders will cringe at the thought of this game. One of the most controversial calls in NFL history came in this one, and led to the notorious "tuck rule".
Oakland defensive back Charles Woodson sacked New England quarterback Tom Brady causing what initially looked like a fumble that was recovered by the Raiders. After reviewing the play, referee Walt Coleman reversed the call on the field saying Brady's arm was going forward and the play resulted in an incomplete pass. The fumble recovery would have almost surely clinched the game for the Raiders.
The Patriots eventually moved the ball into field goal range where kicker Adam Vinatieri connected on a 45-yard field goal to tie the game at 10-10 and forced overtime. Vinatieri's 45-yarder may be the most famous and clutch field goal in NFL history as he was able to knock it through the uprights with the game on the line despite swirling winds and blizzard conditions.
The Patriots won this game in overtime on a 23-yard Vinatieri field goal and eventually went on to defeat the St. Louis Rams in Super Bowl XXXVI.
You know you're dealing with a classic NFL game when said game produces multiple nicknames. This game has also been referred to as the "Tuck Rule Game", the "Snow Bowl", and the "Snow Job."