NFL: 5 of the Worst Wide Receiver Draft Picks of All Time
Even though it seems easy, it's difficult for NFL teams to select the right player in the draft. With so many variables at play — injuries, adjustment to the pro game, other external factors — it's very hard to predict which players will stick around the league and which will flame out. Over the years, there have been several wide receivers who despite big expectations, didn't pan out the way their teams thought they would. Let's take a look at five of the worst wide receiver draft picks of all time.

5. Tavon Austin, St. Louis Rams
Coming out of West Virginia in 2013, Tavon Austin was heralded as a lightning-fast playmaker who could have a big impact on offense and special teams. After he crushed it at the NFL draft combine, teams were clamoring to pick him. The Rams were so enamored with Austin, they traded up eight picks to take him eighth overall.

Austin never lived up to the promise of that high pick. He showed flashes of brilliance on special teams, but he largely struggled to make a difference at receiver. Last season the Rams traded Austin to the Cowboys for a sixth-round pick.

4. Arrelious Benn, Tampa Bay Buccaneers
Tampa Bay selected Arrelious Benn with the 39th pick overall in the second round of the 2010 draft. He didn't have the pressure of a top pick, but the Bucs surely thought Benn had the potential to be a long-term starter and major contributor on offense as a second rounder.

Unfortunately for Benn and the team, he was not. Benn managed only 25 catches for 395 yards in his rookie season. In his second season, he performed slightly better but not by much — 30 catches for 441 yards. After one more disappointing year in Tampa, Benn was off to Jacksonville for two quiet, non-productive seasons before being out of the league.

The major issue with Tampa picking Benn at No. 39 and him being one of the worst wide receiver draft picks ever has less to do with his lack of performance and more with who they could have acquired if they hadn't taken him. Selected in the sixth round of the very same draft was Antonio Brown, a player who became one of the NFL's best wide receivers.

3. Justin Blackmon, Jacksonville Jaguars
Business Insider calls Blackmon one of the biggest draft busts ever among players at any position, and it's hard to argue with that distinction. He's definitely among the worst wide receiver draft picks in history.

Blackmon's career started well enough. In his rookie year in 2012, he caught 65 passes with 865 receiving yards. He managed only 48 catches the next season, however, and after injuries and substance abuse issues caught up with him, he found himself out of the league soon after.

2. Mike Williams, Detroit Lions
Before getting it right with Calvin Johnson, the Lions made two of the worst wide receiver draft picks ever, and Williams is one of them.

Williams' stats in two seasons at Southern California were eye-popping: 176 catches, 2,579 receiving yards, and 30 touchdowns. He was also an integral offensive component on a juggernaut USC team that went 25-1 with a national title during his time there. It made sense then that the receiver-hungry Detroit Lions would take Williams with the 10th overall pick of the 2005 draft.

Williams' NFL career paled in comparison to his collegiate career. Over five seasons, he caught only 125 passes with 1,526 yards receiving. His college coach Pete Carroll brought him to Seattle and got 65 catches out of him in 2010, but in 2011 he had only 18. He was cut the next year and never caught on anywhere else.

1. Charles Rogers, Detroit Lions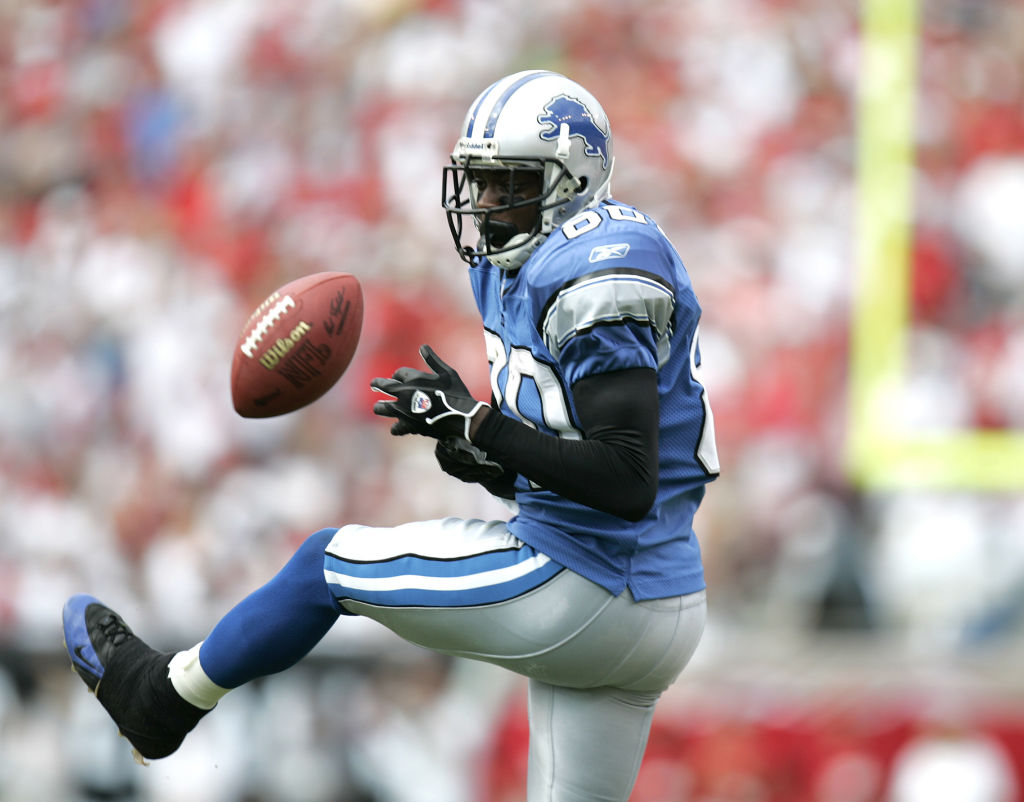 Unfortunately for the snakebitten Detroit Lions, they drafted the top two players on this list. In 2003 Charles Rogers was as close to a sure thing as you could get at wide receiver coming out of college. Reminding many of another lanky Michigan State alum named Plaxico Burress, Rogers totaled 135 catches in two years as a Spartan.
The Lions took him second overall in 2003. Rogers could never duplicate those results in the pros, however. He managed to catch only 36 passes for 440 yards in three seasons and only 15 games.