NFL: 5 Players Most Likely to Win the 2015 MVP Award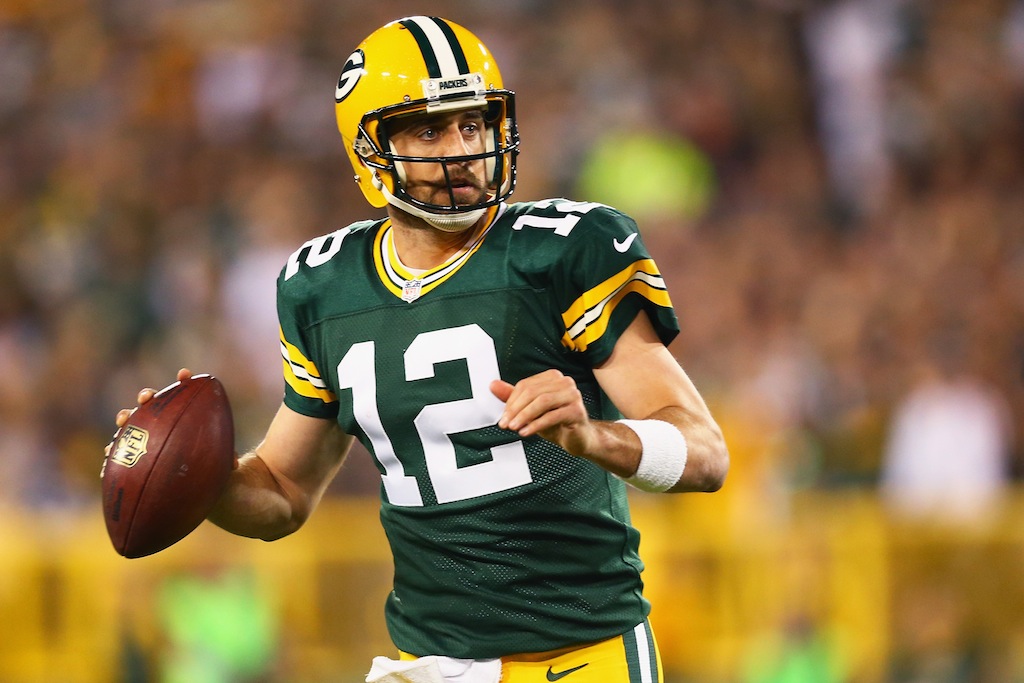 The whole point of strapping on the helmet, taking the field, and enduring week after week of nonstop punishment is to lift the Lombardi Trophy at the end of the season. To be the ones lucky enough to achieve that accomplishment, it usually takes an entire team effort. And while there can be no denying that football is the ultimate team game, that doesn't mean some individuals don't tend to prove themselves more valuable than others.
The NFL, like all pro leagues, is made up of its fair share of ultra-talented players. It's almost impossible to lump all of these individuals into one specific category — unless, of course, you just want to label them all superstars. And yet, you'll come to find that without some of these key players, teams are often left wondering what might have been. That's when you know you're in the presence of a most valuable player.
The 2015 NFL season has seen plenty of individuals step up to the plate and lead their teams to remarkable heights. However, only one of these players will find themselves holding the hardware at the end of the year. And just as they do with everything else, those oddsmakers in Vegas have determined a favorite among the bunch. Of course, that's not to say there aren't challengers chomping at the bit. This is the National Football League, after all.
Therefore, after nine weeks of play, here's a look at the five players most likely to win the 2015 MVP award.
5. Andy Dalton, quarterback, Cincinnati Bengals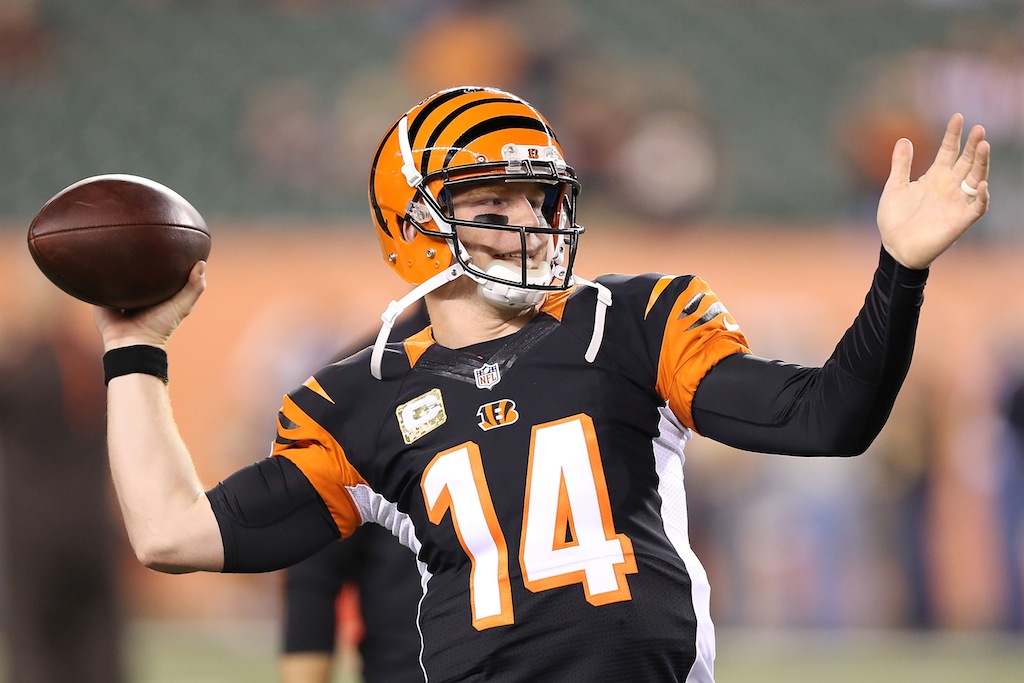 Odds: 20-1
We've watched a lot of football, but we've never seen quarterback Andy Dalton play quite like this. Through the first nine weeks of the season, the Red Rifle has completed 67.4% of his passes and thrown for 2,226 yards, 18 touchdowns, and just four interceptions. More importantly, the Cincinnati Bengals have an 8-0 record and are in total control of the AFC North. None of this would've been possible had Dalton not taken his game to new heights. He's more than deserving of MVP consideration. Who would've thought?
4. Carson Palmer, quarterback, Arizona Cardinals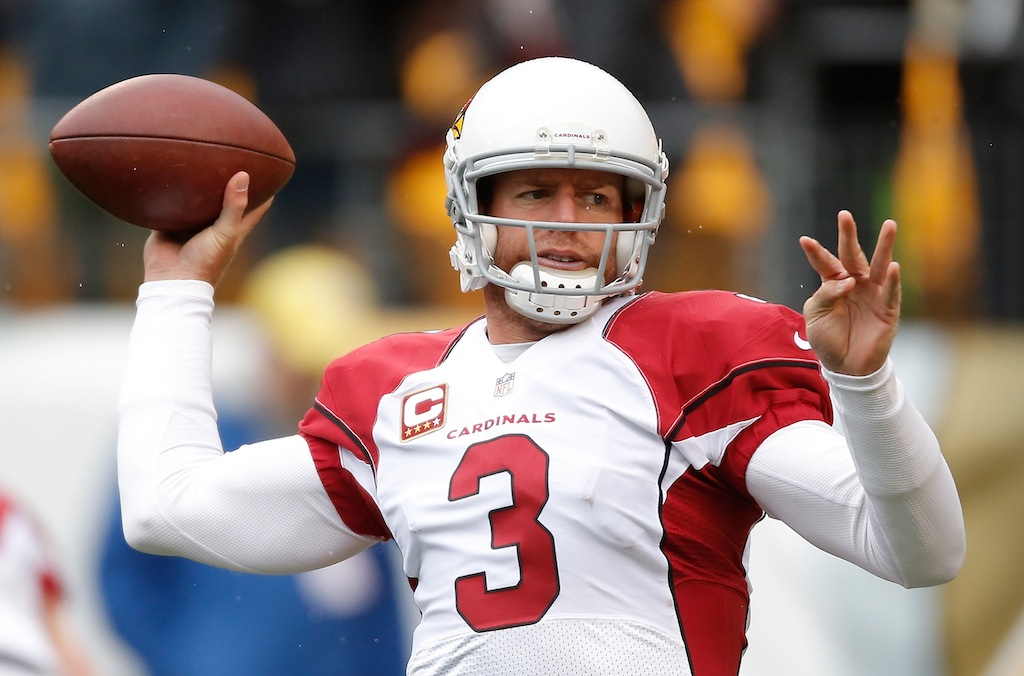 Odds: 15-1
At 36 years of age, Carson Palmer is playing some of the best football of his career. Through the first eight games of the season, the signal caller leads the NFL in touchdown percentage (7.7%), yards per attempt (9.2), yards per completion (14.2), and QBR (84.76). On top of that, he also has the 6-2 Arizona Cardinals sitting two games up in the hard-nosed NFC West division. With Palmer at the helm, this club has a legitimate chance to get to the Super Bowl. If No. 3 keeps doing what he's doing, there's no reason why he shouldn't snag some hardware of his own at the end of the 2015 season.
3. Aaron Rodgers, quarterback, Green Bay Packers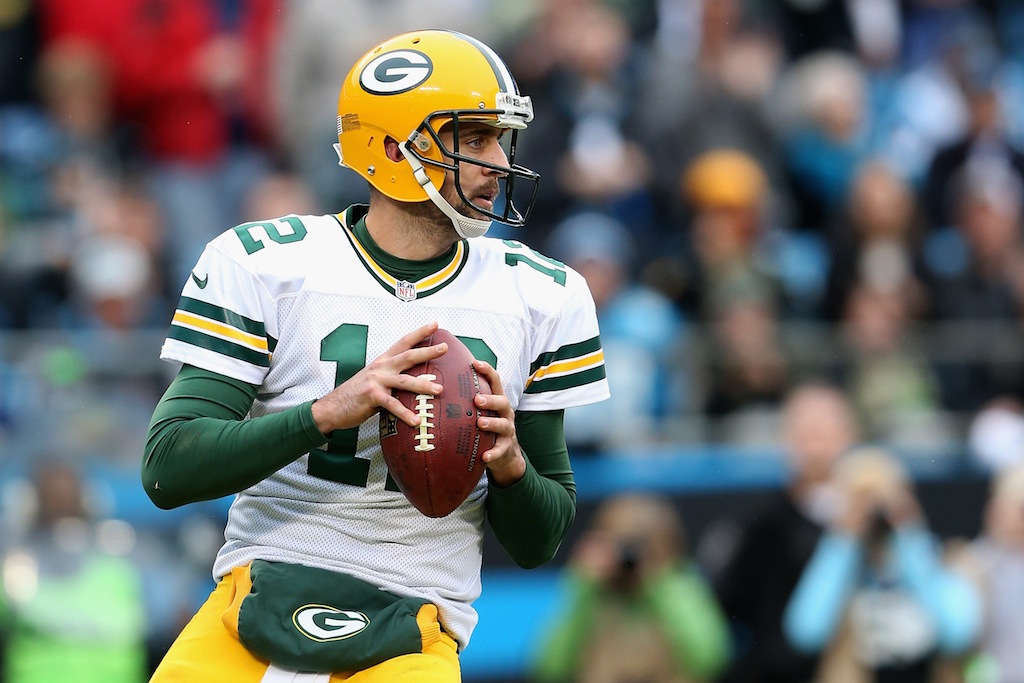 Odds: 5-1
Unless the Green Bay Packers find a way to break out of their recent slump — they've now lost two straight games — we don't see Aaron Rodgers being able to defend his MVP crown. That being said, it's impossible to overlook his play in 2015. The guy has been on point. In eight games, Rodgers has 1,937 passing yards, 19 touchdowns, and just three interceptions. As long as the Packers have their All-Pro quarterback on the field, they'll never find themselves out of a game. If Rodgers isn't available to do his thing, this club is essentially toast. If we're not mistaken, isn't that pretty much the definition of an MVP?
2. Cam Newton, quarterback, Carolina Panthers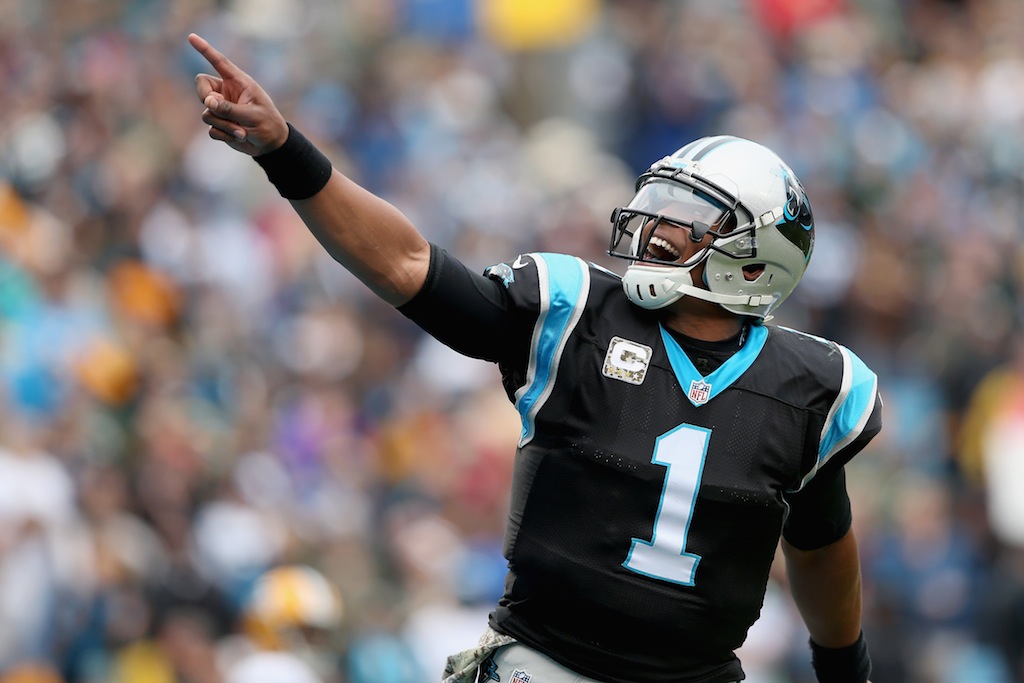 Odds: 4-1
When it comes to Cam Newton and the 2015 Carolina Panthers, the individual numbers don't tell the whole story. We've always known that the former No. 1 overall pick had the size, athleticism, and talent to be successful in the National Football League. It was only a matter of whether or not he could grow up and become the sort of leader one needs from a franchise player. If this season is an indication of things to come, there's no reason to worry about Cam Newton anymore. The Panthers are currently 8-0 and have the best record in the NFC. None of that happens without their quarterback taking the next step in his evolution as a player. We can't wait to see what he does next.
1. Tom Brady, quarterback, New England Patriots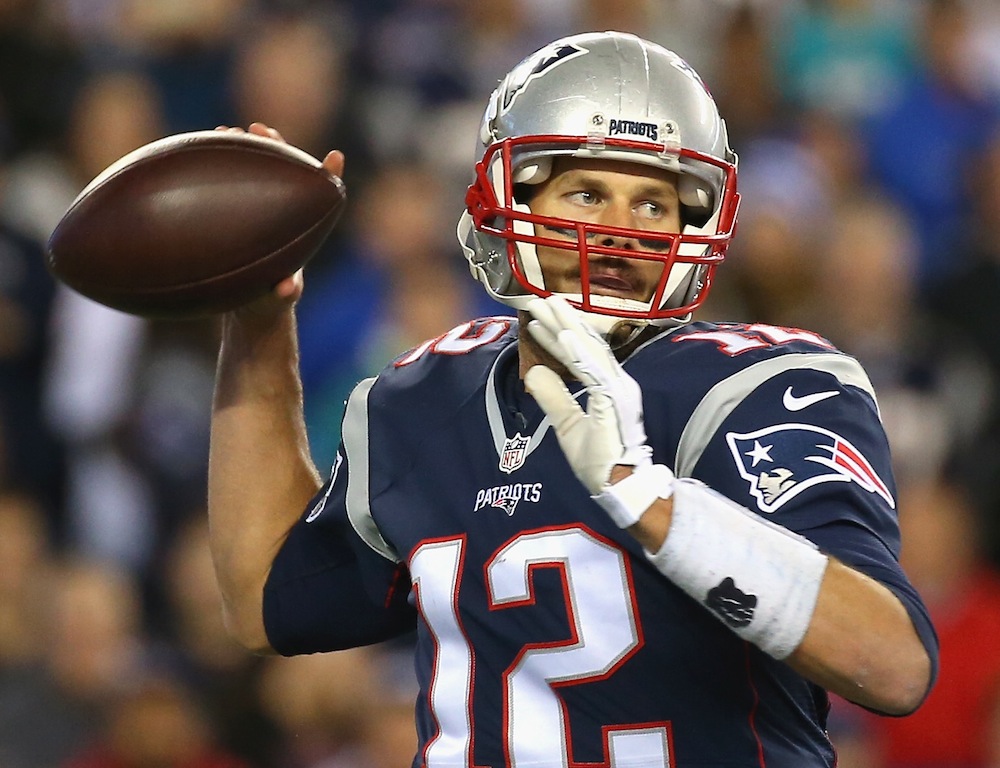 Odds: 1-3
What can you say about Tom Brady except that the dude is decimating anyone who gets in his way. He leads the league in touchdown passes (22), interception percentage (0.6), and quarterback rating (113.5). Brady has also thrown for 2,709 yards and has only been picked off twice. It's as if the future Hall of Famer has turned back the clock to 2007 and, this time, decided to take no prisoners. With Brady currently playing the quarterback position with a vengeance, the New England Patriots are undefeated and appear poised to repeat as world champions. Can we just give him the MVP award already? The last thing we want to do is give Brady a reason to get even more angry. We're sure we wouldn't like it.
Odds are courtesy of sportsbook.ag.
All statistics are courtesy of Pro-Football-Reference.com and ESPN.go.com.