NFL: 5 Players Who Surprised Us During Wild Card Weekend
There was good, there was bad, and there was definitely some ugly mixed in there as well. The 2016 NFL Wild Card Weekend was a bag of mixed results, with two close finishes and two games that were, well, not so close in the end. Regardless, the 2016 NFL playoffs are officially underway, which means we can both look back and look forward. Today, we'll take a look back at the weekend that was. When considering the 30-0 win by the Kansas City Chiefs, it's obvious that there was a lot of good, and some very, very bad. That's just one example, but we'll break down the weekend as a whole and evaluate the most surprising performances from all four games. Let's get to it.
1. Brian Hoyer, QB, Houston Texans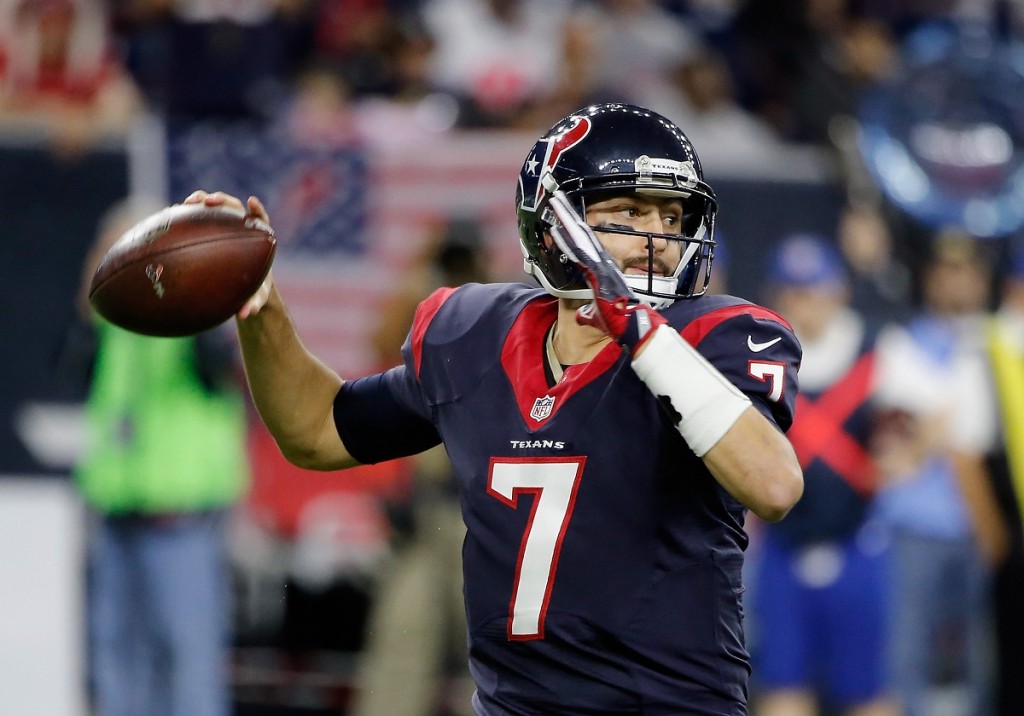 Listen, when you complete 15 of 34 passing for 136 yards and four interceptions on one of the biggest stages, it's a bit surprising. No, Brian Hoyer isn't the best quarterback in the NFL, but he at least showed at times this year that he could be a legitimate NFL quarterback. His performance against the Chiefs though, was nothing short of brutal to watch. Hoyer finished up the game with a quarterback rating of 15.9.
The only reason Hoyer didn't get benched is because his backup is Brandon Weeden. While people may want to say that Weeden played well in limited action for the Texans this season, the same could be said about his time with the Dallas Cowboys. Putting Weeden in the game for Hoyer would have been irrelevant, as Kansas City simply had Houston's number.
2. Jordan Todman, RB, Pittsburgh Steelers
Before this past week, we aren't sure how many people even knew that Jordan Todman was on the Steelers. It'd be tough to blame you if you didn't know, because he played basically no role in their offense this season. Todman totaled four carries for 22 yards this year. Then came Pittsburgh's playoff matchup with the Cincinnati Bengals. While Todman didn't blow us out of the water and leave us wondering how he hasn't been a RB1 for all of these years, he stepped up when it mattered.
With both Le'Veon Bell and DeAngelo Williams sidelined, Todman ran with power, made big plays, and gave the Steelers some form of a rushing attack. His final stat line was 11 carries for 65 yards, a 5.9-yard-per-carry average. Don't be stunned to see Todman have some type of role this coming weekend regardless of whether Williams plays or not.
4. Adrian Peterson, RB, Minnesota Vikings
Adrian Peterson received 23 carries against the Seattle Seahawks. While Seattle has one of the toughest defenses in the NFL, this is playoff football, so we should have expected Peterson to take over, right? Wrong. The winner of the 2015 NFL rushing title finished with 45 yards on the ground, good for an average of just two yards per carry.
To top it off, his longest run of the day was 13 yards, which means he essentially had 22 carries for 32 yards aside from that, which is amazingly rough. Peterson is still one of the best running backs in the NFL, but his performance against the Seahawks pretty much summed up the offensive day for the Vikings, who had 183 total offensive yards. It was freezing in Minnesota, so that likely played a role, but it was still tough to watch.
4. Travis Kelce, TE, Kansas City Chiefs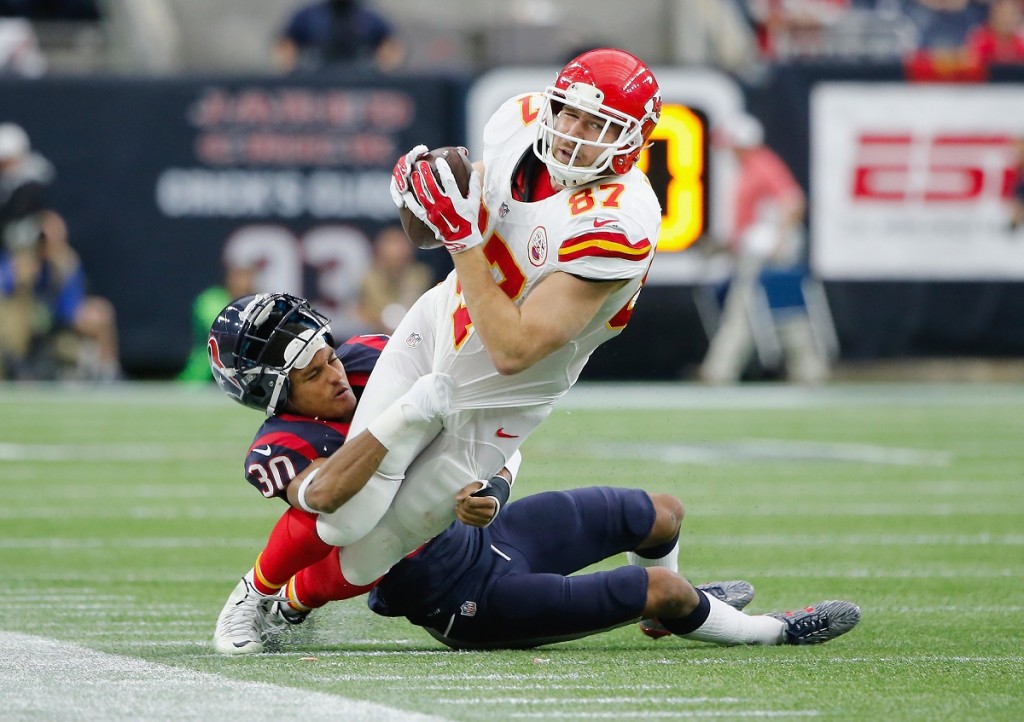 Alex Smith threw for 190 yards in Kansas City's impressive victory over the Texans. Of those 190 yards, 128 of them went to Travis Kelce. The talented tight end also caught eight of Smith's 17 completions, becoming the focal point of their offense in this game. While Kelce finished with just his second 100-yard performance of the season, take a wild guess at who the first one came against? You guessed it, the Texans. Kelce had Houston's number in 2015, beating them to the tune of 14 receptions and 244 yards with two scores. This was the type of performance that many fans (and fantasy owners) expected to see from Kelce all year. Regardless, one of his best performances came when it mattered most for the Chiefs.
5. DeSean Jackson, WR, Washington Redskins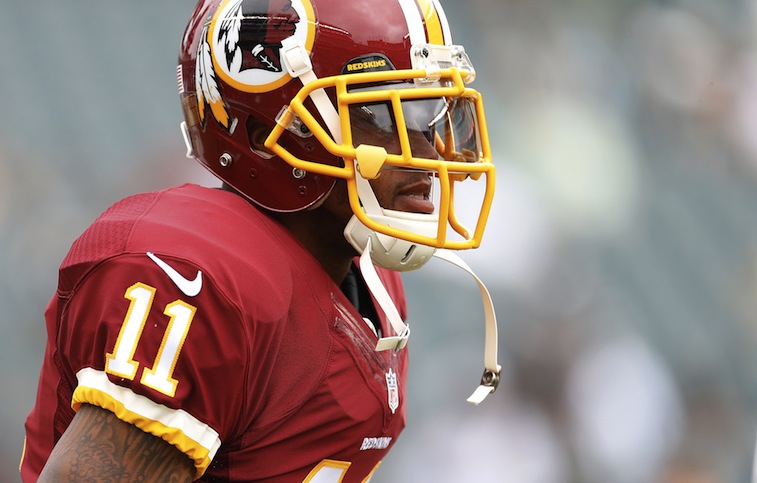 Heading into the matchup with the Green Bay Packers, there was a sneaking suspicion that DeSean Jackson would be poised for one of those huge games. You know, similar to the one he had earlier in the season against the Buffalo Bills, when he caught six balls for 153 yards and a score. Unfortunately, that didn't happen, and it was largely due to the fact that Kirk Cousins basically looked everywhere except for Jackson's direction.
While tight end Jordan Reed was a target hog, getting 17 looks, both Chris Thompson and Pierre Garcon also saw eight looks apiece. For Jackson? He got five targets resulting in two catches for 17 yards. The final stat line was disappointing, as the Redskins went on to lose 35-18, but this wound up being one of Jackson's worst games of the season.
Follow Jeff Smith on Twitter @JSM8ith