NFL: 5 Possible Backup Quarterbacks for Tony Romo
At this point, it's blatantly obvious that the Dallas Cowboys need to find a solid quarterback behind Tony Romo for the 2016 season and beyond. There's little question that Romo will start next year, and will likely continue to play for a few more years, barring unforeseen happenings. If that's the case, the 2015 season showed everyone that the Cowboys need to find the future after Romo, or at least a true backup quarterback who could fill in if something happened to him.
So, we saw Brandon Weeden, Matt Cassel, and Kellen Moore all play for the Cowboys this season, and the results were essentially terrible. Dallas was 3-1 in games Romo started and 1-11 in games any other quarterback started. This means it's time to talk about potential backups for Romo, whether through a trade, free agency, or the 2016 NFL draft. We'll start out with one of the non-sexy names that fans may not fully be on board with yet.
1. Kellen Moore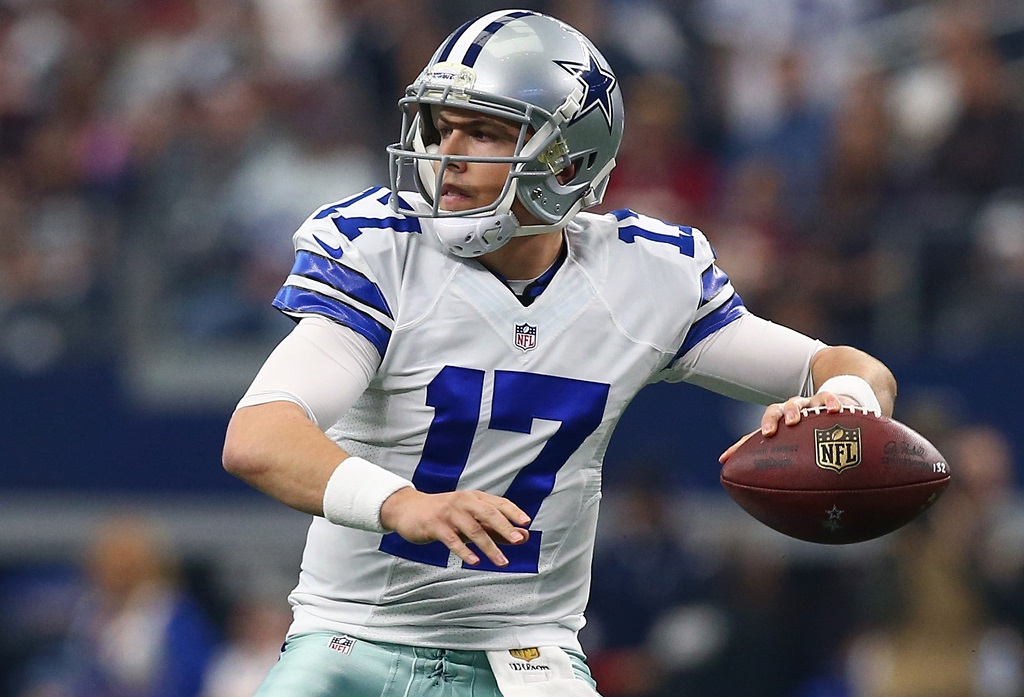 After watching Moore play in three games for the Cowboys to finish the 2015 season, it's obvious that he definitely has some upside. He struggled at times, but finished with a 435-yard, three-touchdown performance against the Washington Redskins in the season finale. The biggest issue for Moore was turnovers, as he threw 6 interceptions in those three games. While Moore may not be a future starter in this league, Todd Archer of ESPN reported that Jerry Jones recently said he believes Moore is a feasible No. 2 quarterback in this league.
While that's great to hear, it doesn't answer the question about who could be the future at the position for the Cowboys. We're right there with Jones, as Moore seems more like a backup at this point, but he did show some upside. Don't be shocked if Moore is on the roster next season, but not as the No. 2 quarterback, since Dallas will likely make a move to bring in additional talent at the position.
2. Johnny Manziel
They might be growing old at this point, but the rumors of Johnny Manziel heading to Dallas are hotter than they've ever been. The Browns seem to be completely done with him, and while he obviously comes with baggage, it's probably a safe bet that Jones is sitting back, staring at the opportunity to land a quarterback who he truly coveted during the draft. Best of all? He'd get Manziel for a massively discounted rate.
The Browns probably won't move Manziel yet, largely due to the fact that they're completely rebuilding their front office, but the good news is that Manziel at least showed some on-field growth in 2015. He threw for 1,500 yards, 7 touchdowns and 5 interceptions in scattered action. Manziel isn't there yet, but with a few seasons to sit behind Romo and learn, he could wind up being the future of Cowboys football. Don't ignore the Manziel situation this offseason, although you probably couldn't if you tried.
3. Robert Griffin III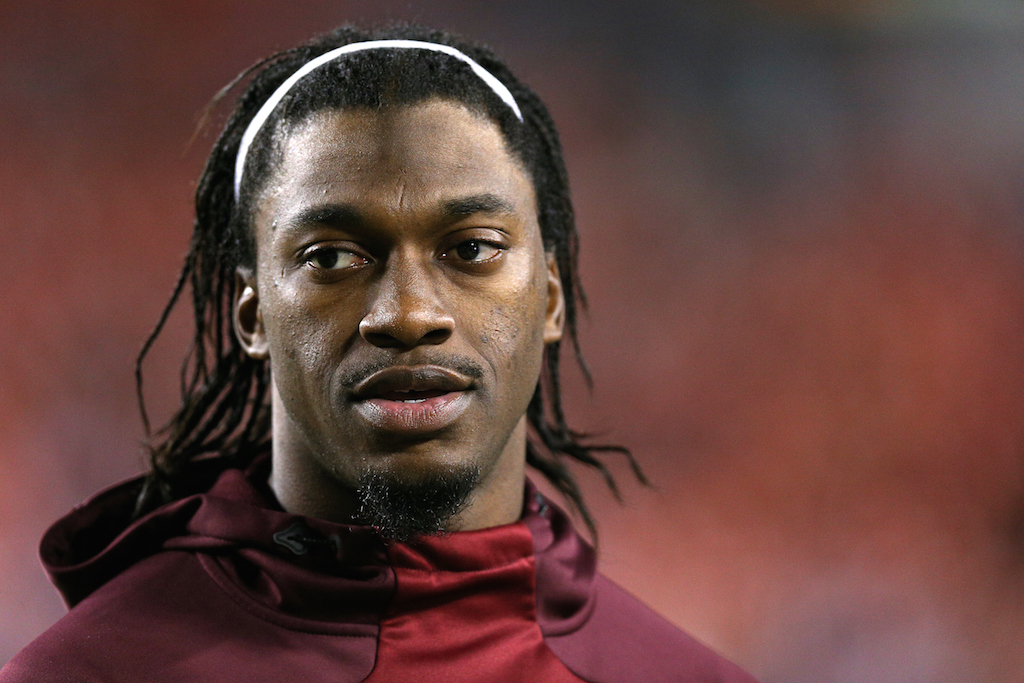 The Washington Redskins have their quarterback in Kirk Cousins, so it's time for Robert Griffin III to look for a new home. It's pretty obvious that the Redskins will part ways with Griffin this offseason, and as Sports Illustrated reported, he made it known that he wants to sign with Dallas if he gets released. So, there you have it, Dallas's next quarterback, right? Well, maybe. Griffin didn't play at all in 2015, but he put together a pretty solid resume.
There's no reason to believe that Griffin can't succeed in the right situation, and landing in Dallas may be that occasion. At the very least, Dallas may be crazy not to give him a shot and assess if he can still be anything close to the quarterback we saw during his rookie year. Back in 2012, RGIII threw for 3,200 yards, 20 touchdowns and just 5 interceptions, while rushing for 815 yards and 7 touchdowns.
4. Paxton Lynch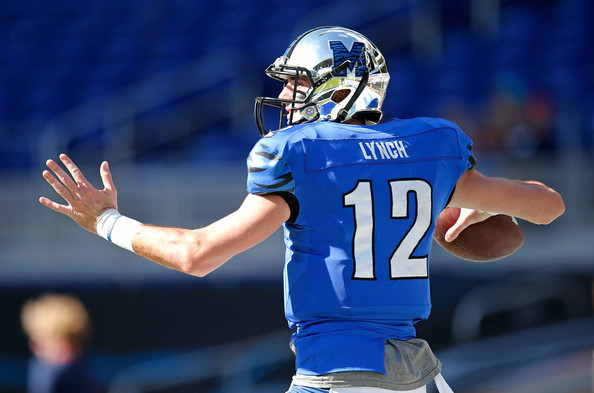 The junior quarterback for the Memphis Tigers has gotten better and better over his three seasons, with his most recent being by far the best. Paxton Lynch completed 66.8% of his passes, while throwing 28 touchdowns against just 4 interceptions. We also saw Lynch's ability to beat opponents with his legs, as he has 17 total rushing touchdowns in his collegiate career.
Lynch is one of the most intriguing quarterback prospects in this class, and there's a good chance he'll be there when Dallas picks at No. 4. One real issue we see with Lynch is what happened when he faced the Auburn Tigers in the Birmingham Bowl in 2015. He was up against a different caliber of defense, and he completed just 16 of 37 passes for 106 yards and 1 interception in that game. Cause for concern? Absolutely, but he'll have time to learn before being forced into action in the NFL.
5. Jared Goff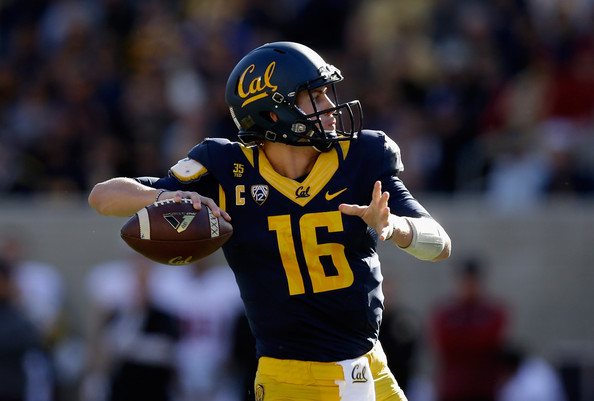 Time to look at another very intriguing rookie quarterback in Jared Goff. The California Golden Bears quarterback has been a complete and total stud over the past two years. During that span, he's thrown for 8,692 yards, an amazing 78 touchdowns, and 20 interceptions. On paper, Goff is an incredible prospect with the type of upside that should leave NFL teams drooling over him, rightfully so.
In 2015 alone — if you remove one tough showing against Utah when Goff threw 5 interceptions — his numbers are even more amazing. Goff very well may be the quarterback who Jones and the Cowboys target as their future, and it wouldn't be surprising at all if Jones jumps at the chance to sign him. It'll be tough to choose between Lynch and Goff, but if it comes to that, it would be hard to bet against what Goff brings to the table.
Follow Jeff Smith on Twitter @JSM8ith