NFL: 5 Running Backs With Favorable Fantasy Matchups in Week 2
Fantasy football has drastically changed the way the American public watches and follows the National Football League. It now seems like fans spend more time tracking the stats of the players on their fantasy rosters than they spend tracking the scores of the actual games going on around the league. This much we know: Fantasy football is here to stay, and chances are, if you are reading this article, you are one of the 75 million Americans who are playing fantasy football in 2015.
It doesn't matter if you are a casual player who just plays in office fantasy leagues, or a competitive fantasy player who plays in high stakes contests, finding and taking advantage of the right matchups is the key to success in any fantasy league. That said, here is a look at five running backs with favorable fantasy matchups in Week 2.
1. Carlos Hyde, San Francisco 49ers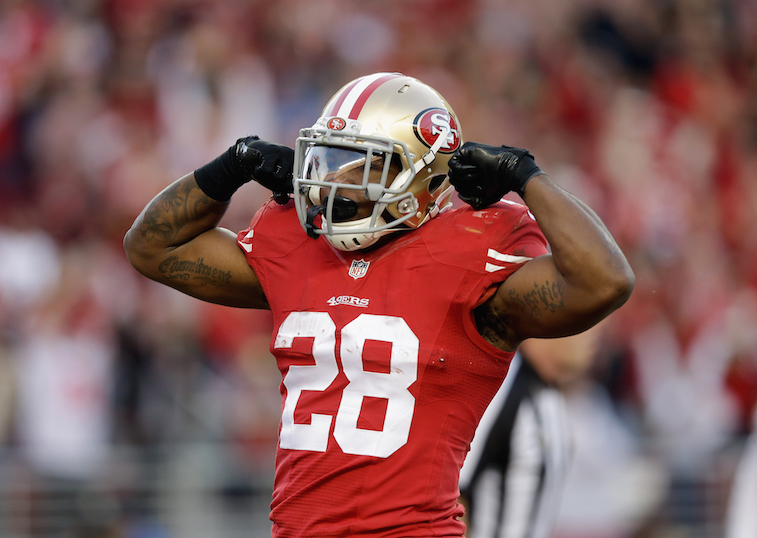 Week 2 opponent: Pittsburgh Steelers
In Week 1, Hyde rushed for 168 yards and two touchdowns and quickly made people forget that longtime 49ers' running back Frank Gore signed with the Indianapolis Colts this offseason. In Week 2, we are expecting Hyde to again see 25 or more carries against the Pittsburgh Steelers and post another monster fantasy week. In Week 1, the Steelers gave up 69 yards on 15 carries to Dion Lewis, who, with all due respect, isn't anywhere close to being on the same level as Hyde. Fantasy owners can be confident that Hyde will put up double-digit fantasy points this week against the Steelers.
2. Ameer Abdullah, Detroit Lions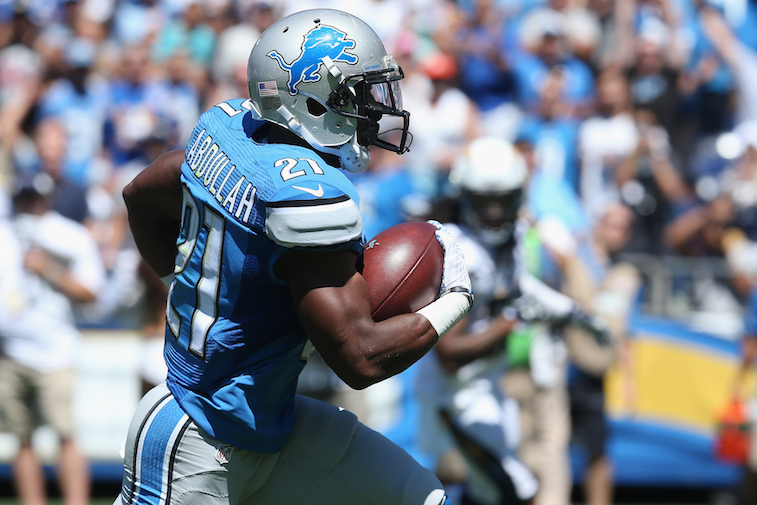 Week 2 opponent: Minnesota Vikings
In Week 1 against the San Diego Chargers, Abdullah showed that the explosiveness he displayed during the preseason was no fluke, as the rookie out of Nebraska had seven carries for 50 yards and a touchdown and caught four passes for another 44 yards. In Week 2, Abdullah and the Lions will be facing a Vikings defense that gave up 230 rushing yards and two rushing touchdowns against the San Francisco 49ers in their first game of the season. Couple that with the fact that Lions quarterback Matthew Stafford is struggling with a nagging arm injury and all signs point to a huge fantasy day for Abdullah in Week 2 against the Vikings.
3. Marshawn Lynch, Seattle Seahawks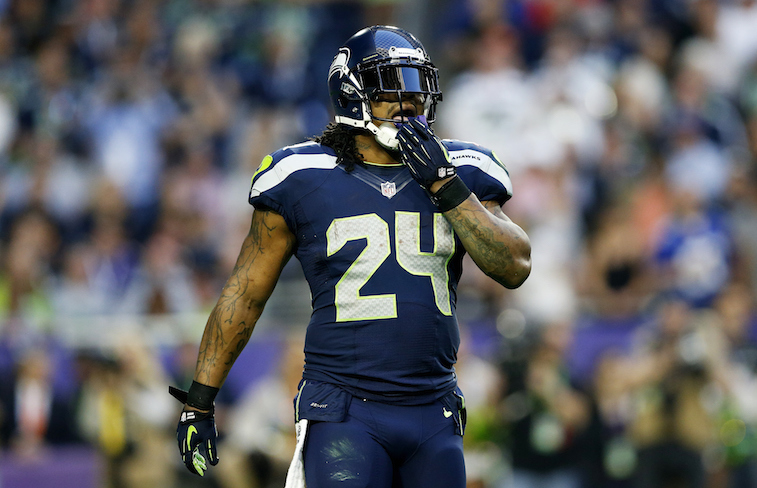 Week 2 opponent: Green Bay Packers
Lynch is pretty much a must-start fantasy running back every week as long as he is healthy. With that being said, the 29-year-old back is in position to be the best fantasy running back in the league in Week 2. The Seahawks will be traveling to Green Bay in Week 2 to take on the Packers, who in Week 1 gave up 141 rushing yards (166 total yards) and a touchdown to Chicago Bears running back Matt Forte. We are expecting the Seahawks offense to revert back to what they know best in this game, and that is handing the ball off to Lynch early and often. Fantasy owners should expect Beast Mode to find his way to the end zone at least once and finish the game with over 100 rushing yards.
4.  Mark Ingram, New Orleans Saints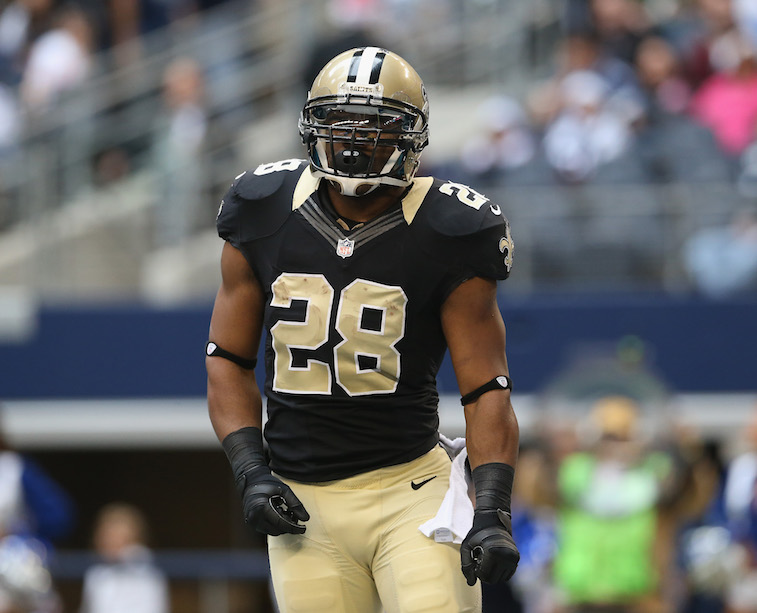 Week 2 opponent: Tampa Bay Buccaneers
We will never fully trust a Saints running back so long as Sean Payton is the team's head coach and Drew Brees is the team's starting quarterback. Nonetheless, we simply cannot ignore Ingram's fantasy matchup against the Buccaneers in Week 2. In their Week 1 game against the Tennessee Titans, the Tampa Bay defense gave up 74 yards and a touchdown on 12 carries to Bishop Sankey, who has a very similar skillset to Ingram. We are forecasting at least 15 carries for the 25-year-old Ingram this week, and of course, he remains as a threat to catch passes from Brees out of the backfield. All said, we are envisioning roughly 150 yards of total offense and a touchdown out of Ingram in Week 2.
5. Chris Ivory, New York Jets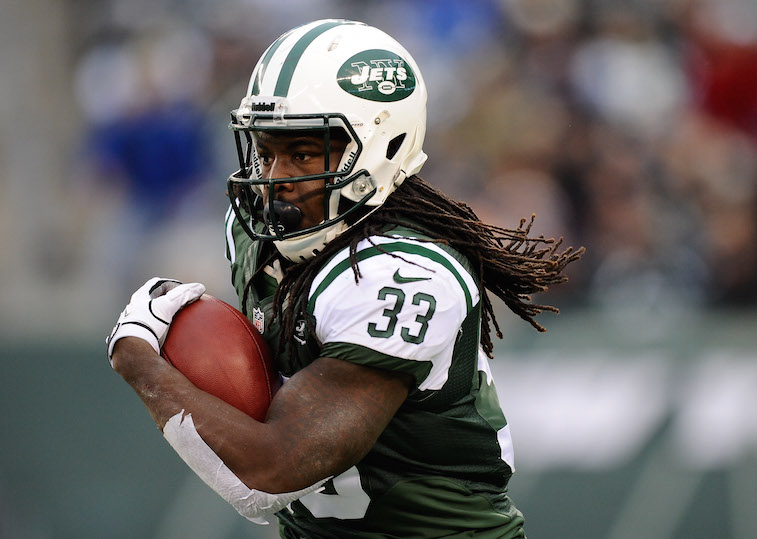 Week 2 opponent: Indianapolis Colts
Ivory emerged as the Jets' starter during training camp, and the 27-year-old did not disappoint in Week 1 carrying the ball 20 times for 91 yards and two touchdowns against the Cleveland Browns. The Jets will be counting on Ivory for similar production this week against the Indianapolis Colts, and we believe Ivory will deliver. In Week 1, the Colts allowed the Buffalo Bills' stable of running backs to rush for 106 yards and two touchdowns on 27 carries. The Jets have a much better offensive line than the Bills, which leads us to believe that Ivory has another big game in store for his fantasy owners.
Additional Resources:
All statistics courtesy of Pro-Football-Reference.