NFL: 5 Teams Facing Serious Salary Cap Issues In 2016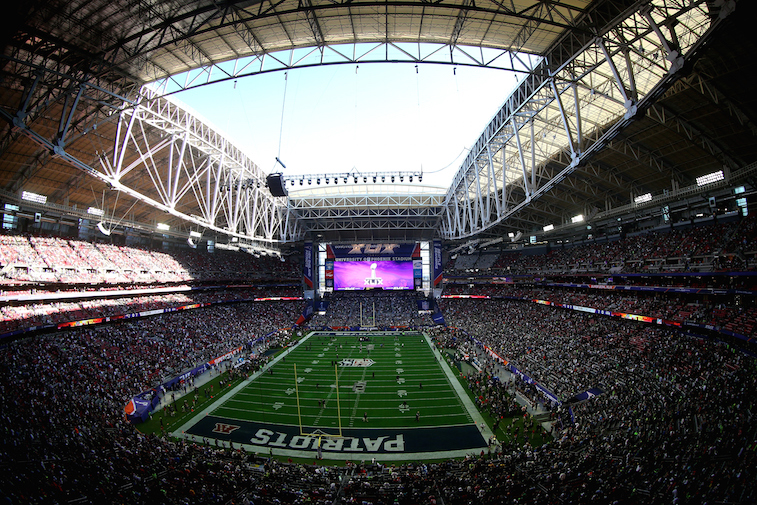 Parity is a huge part of what makes the NFL the most popular professional sports league in the United States, and that parity was largely made possible by the NFL's implementation of a hard salary cap in 1994. Unlike other professional sports leagues, where willing teams are allowed to pay a luxury tax for having a total payroll that exceeds their salary cap, NFL teams are subject to fines, a loss of draft picks, and voided contracts for violating their league's salary cap rules. This is why many teams are forced to constantly restructure contracts, make trades, or outright release some of their best players just to get right by the salary cap. On top of that, the NFL's free agency period simply wouldn't be the same if there weren't a hard salary cap in place.
When it comes to circumventing the NFL salary cap, there is only so much a team can do. As it stands, all 32 teams around the league are in good standing with the league's 2015 salary cap of $143,280,000 — which is not uncommon for this time of year. Projecting forward to the 2016 league year is a completely different story. While the cap is looking to increase in 2016, there are some teams who won't be able to avoid facing serious cap conundrums following the 2015 season.
After crunching the 2016 salary cap numbers for all 32 NFL teams, we found that there are five teams in particular that are facing serious cap problems for the 2016 season. The front offices for all five teams will have their work cut out for them in trying to solve their financial issues, but the good news is they have a couple months left to do so. Without further ado, here is a look at five teams that are facing serious salary cap issues in 2016.
* The 2016 NFL salary cap will likely be slightly higher than the 2015 cap of $143,280,000
1.  Miami Dolphins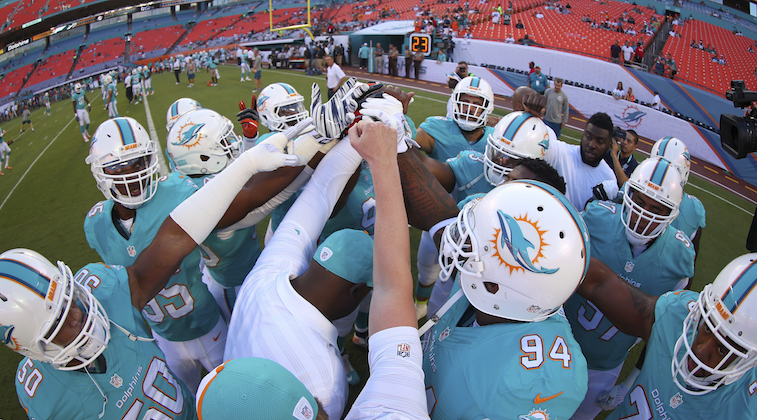 Active Contracts:

  $160,324,653

Dead Money:

  $2,800,000

Total 2016 Salary Cap Figure:

  $163,124,653
The Dolphins are currently projected to be nearly $20 million over the salary cap in 2016. The league will almost surely raise the cap next year, but even that won't be enough to relieve the Dolphins of their salary cap issues. To make matters worse, Miami still has to come up with the money to give defensive end Olivier Vernon a contract extension. The most likely candidate for a contract restructure is defensive tackle Ndamukong Suh, who is scheduled to have a cap hit of $28.6 million in 2016. After re-working Suh's deal, the next most likely options for Miami would be to cut ties with defensive end Dion Jordan and restructure the contracts of cornerback Brent Grimes and punter Brandon Fields.
2.  Buffalo Bills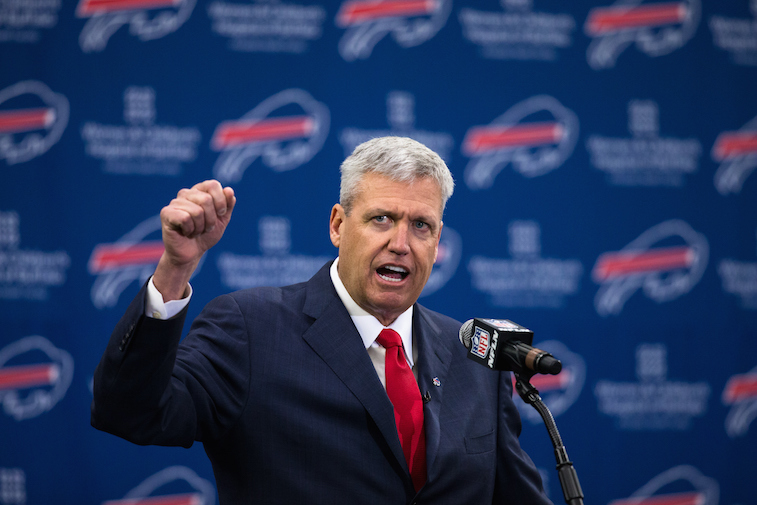 Active Contracts:

  $145,979,708

Dead Money:

  $0

Total 2016 Salary Cap Figure:

  $145,979,708
The Bills have one of the most talented rosters in the NFL. It's true, and it should come as no surprise that Buffalo will be up against the salary cap in 2016. They will have very little money to work with next offseason without restructuring several contracts. With a scheduled salary cap hit of $19.9 million, defensive end Mario Williams is the most likely candidate for a restructured contract, followed by cornerback Stephon Gilmore and tight end Charles Clay.
3. Pitsburgh Steelers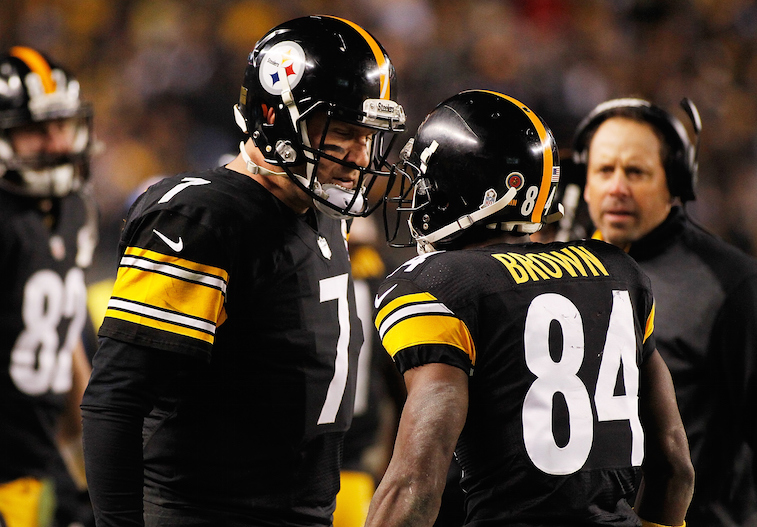 Active Contracts:

 

Dead Money:

 

Total 2016 Salary Cap Figure:

 
The Steelers are currently right up against the current salary cap limit of $143,280,000, and knowing that All-Pro wide receiver Antonio Brown will be seeking a new contract this offseason has to be somewhat worrisome for General Manager Kevin Colbert. In addition to Brown, the Steelers will need to start thinking about how they are going to find the cap space to sign running back Le'Veon Bell to an extension.
One thing we know for sure is that the cap space likely won't be coming from another restructured contract for quarterback Ben Roethlisberger. The Steelers have traditionally been one of the better teams in the league at managing their salary cap, but this may be their toughest test yet.
4.  New Orleans Saints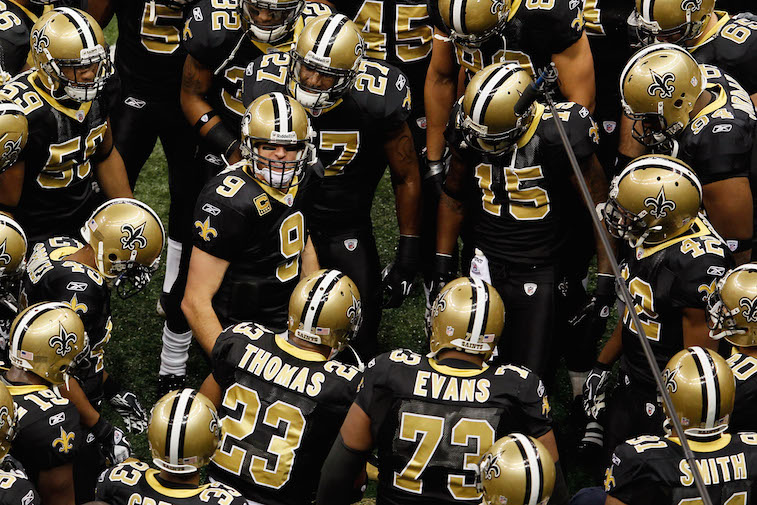 Active Contracts:

  $157,940,226

Dead Money:

  $0

Total 2016 Salary Cap Figure:

  $157,940,226
The Saints have a lot of financial work to do before the start of the 2016 season. Restructuring quarterback Drew Brees' contract is a near certainty, and the team will also likely be forced to cut ties with several veteran players following the 2015 season. The top contract restructure candidates for New Orleans (other than Brees) include safety Jairus Byrd and offensive guard Jahri Evans.
5.  New York Jets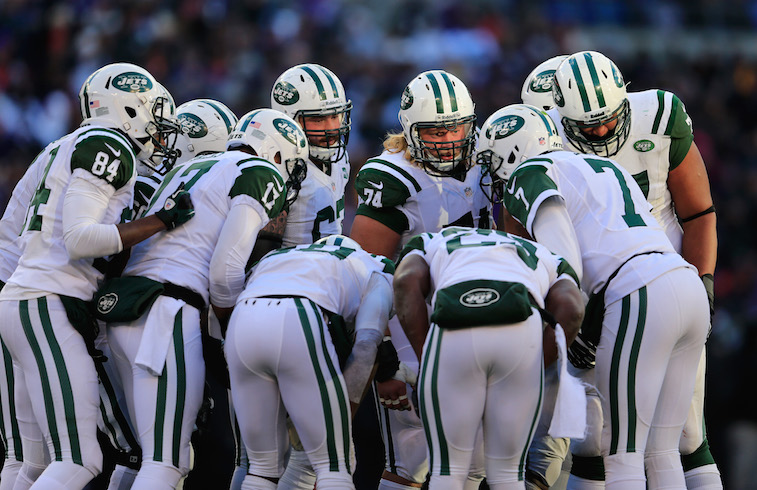 Active Contracts:

  $152,909,924

Dead Money:

  $0

Total 2016 Salary Cap Figure:

  $152,909,924
In a matter of one offseason, the Jets went from being in the top five of the league in available to cap space to the bottom five. The team added (among others) cornerbacks Darrelle Revis, Antonio Cromartie, and Buster Skrine as free agents, and traded for wide receiver Brandon Marshall. Their toughest decision will be what they choose to do with defensive end Muhammad Wilkerson. If they are serious about re-signing him, there is a good chance that the Jets' front office will attempt to restructure the contracts of offensive tackle D'Brickashaw Ferguson, Marshall, Revis, and center Nick Mangold.
All salary cap data courtesy of Spotrac.