NFL: 5 Wide Receivers With Favorable Fantasy Matchups in Week 1
The start of the 2015 National Football League season also signifies the start of fantasy football season. By now, most leagues have held their drafts, and it's time to start thinking about which players have the best matchups heading into the first week of the season. If you don't have the time to do the research, fret no more, that's why we are here.
In this article, we are going to going to focus on the wide receiver position. It's hard to project matchups with no current game film, but we did our best using 2014 statistics and offseason roster additions. With that being said, here is a look at five wide receivers who we believe have favorable fantasy matchups in Week 1.
1.  A.J. Green, Cincinnati Bengals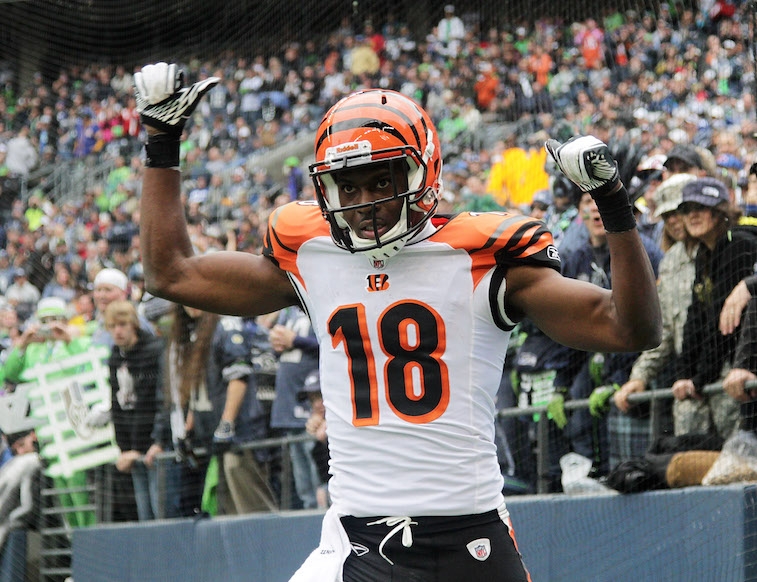 Green (pictured above) and the Bengals will be traveling to Oakland to take on the Raiders in Week 1, and we are expecting a big week out of the 6-foot-4 wideout. The Raiders were one of the worst defenses in the league against the pass in 2014, and likely won't be much better in 2015, despite the fact that they added a defensive-minded head coach in Jack Del Rio. The team did very little to address their personnel issues in their defensive backfield this offseason, and simply do not have a player on their roster that can stay with Green for an entire game. In terms of potential fantasy production in Week 1, we see Green, who happens to be in a contract year, catching close to 10 passes and going well over 100 receiving yards.
2.  Mike Evans, Tampa Bay Buccaneers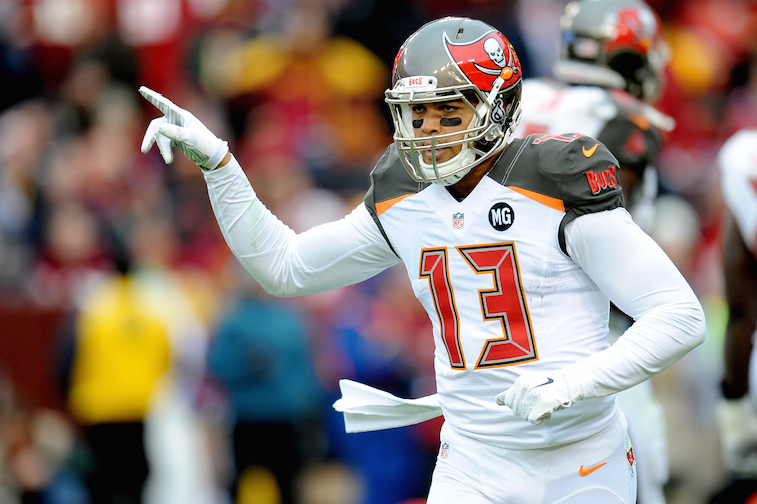 Evans and his Tampa Bay teammates will be hosting the Tennessee Titans in Week 1. The two starting quarterbacks, rookies Jameis Winston (Buccanneers) and Marcus Mariota (Titans), will dominate the headlines leading up to this game, but we are predicting that Evans will be the best player on the field when these teams meet on Sunday. The Titans have two solid cornerbacks in Jason McCourty and Perrish Cox, but neither of them match up well with Evans from a physical standpoint. On top of that, Tennessee gave up an average of close to 250 passing yards and just under two touchdown passes per game in 2014. While the Titans could ultimately prove to have a much better defense in 2015, we still believe they will have a difficult time slowing down Evans in Week 1.
3.  Julio Jones, Atlanta Falcons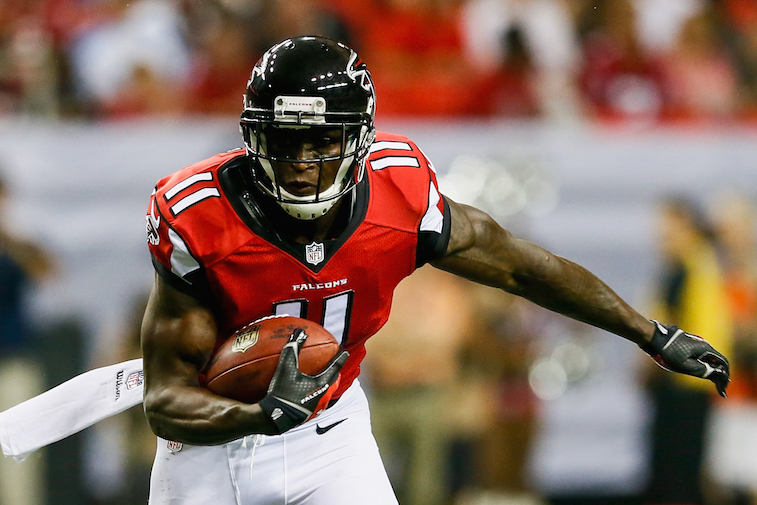 We're not really going out on a limb by listing Jones here, but the 6-foot-4 Atlanta Falcons star has the potential to have a monster fantasy week in Week 1. The Eagles secondary, and pass defense as a whole, was among the worst in the league in 2014. They gave up a league-high 13.3 yards per catch to go with an average of 287 passing yards and just under two touchdown passes per game last year. They did add cornerback Byron Maxwell during free agency, but he won't be enough to slow down Jones in this Week 1 matchup. We are fully expecting to see Jones finish the week with a double-digit reception total and close to 150 receiving yards.
4.  Jarvis Landry, Miami Dolphins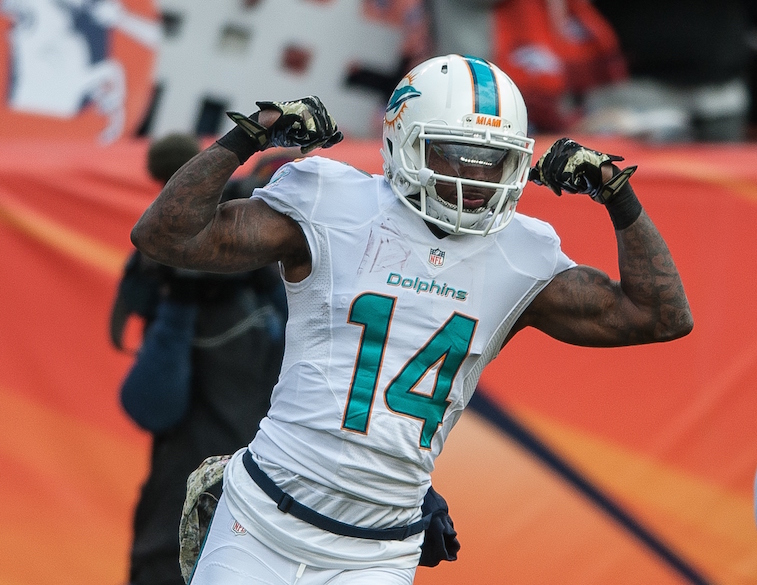 As of now, Landry projects as the No. 1 wide receiver for the Dolphins in 2015, and likely will be until rookie Devante Parker gets healthy and acclimated to life in the NFL. In Week 1, Landry and the Dolphins will be taking on the Washington Redskins, who finished near the bottom of the league in every major pass defense statistic in 2014. If you are looking for a sleeper pick at the position, Landry would be an excellent choice. We are expecting him to see double-digit targets and finish the week near the 100-yard receiving mark.
5.  Charles Johnson, Minnesota Vikings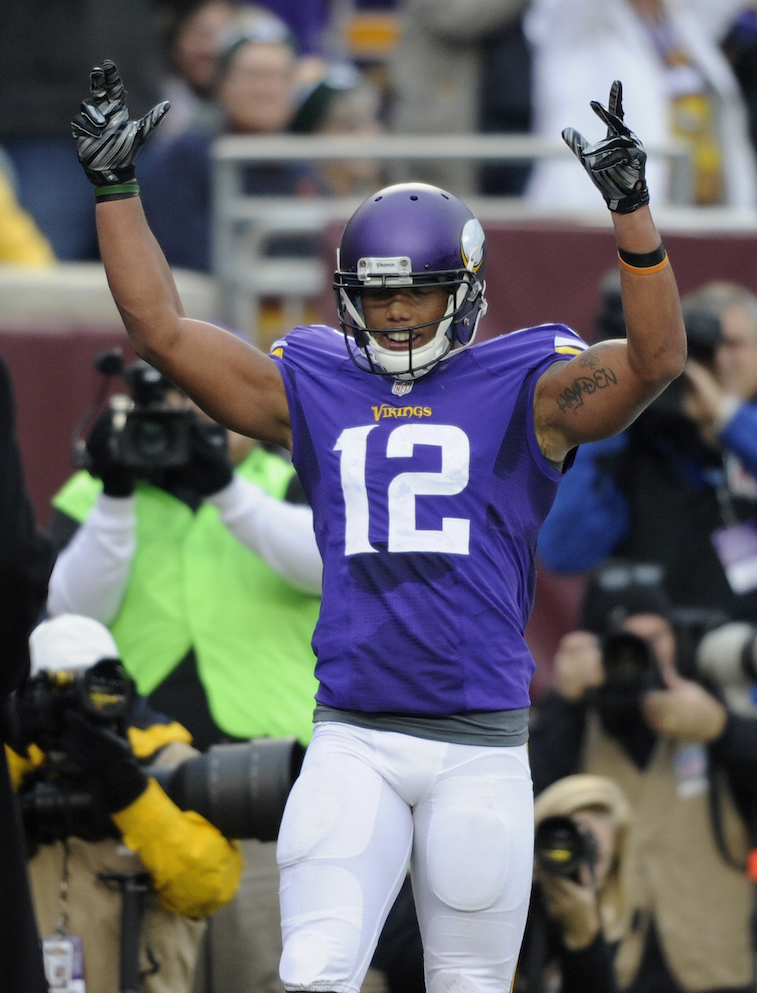 Johnson, despite his status as a late round draft pick out of a small college, is now the No. 1 wide receiver in the Vikings' up-and-coming offensive attack. His quarterback, Teddy Bridgewater, is coming off of a solid rookie season, and the return of running back Adrian Peterson will keep teams off balance. When it comes to Johnson's Week 1 matchup, he will be facing a team in the San Francisco 49ers that had to replace both starting cornerbacks off of their 2014 defense. For that reason, we believe Johnson has an excellent chance to be one of the top fantasy sleepers in Week 1.
All statistics courtesy of Pro-Football-Reference.