NFL: 7 Best Offensive Players in the NFC North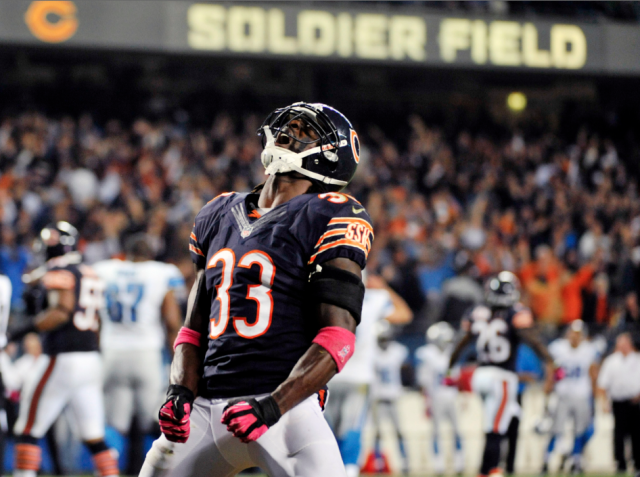 While the NFC North is known for its strong defense and a few stud players spread across the four teams, there are plenty of offensive weapons worth noting as well. So, who are the seven best offensive weapons in the division? While we have to factor last season into the equation, a few of the best playmakers of the group either didn't play much or didn't play at all in 2015. The NFC North may be right in the middle in terms of best overall divisions, but these seven players stand out as a combination of great up-and-coming players, as well as veterans who are on the "elite" level.
7. Jeremy Langford, RB, Chicago Bears
While Jeremy Langford got some time as the featured back in Chicago, last season he was also forced into a timeshare with Matt Forte. Fortunately for Langford, the Bears are not planning on re-signing Forte. This means that it'll be Langford's show in Chicago, and he can build off a season in which he rushed for 537 yards, had 279 receiving yards, and scored seven combined touchdowns. His yard-per-carry average needs to improve, as it was just 3.6 in 2015, but there's plenty of reasons to believe that the rookie will make a big jump next season.
6. Stefon Diggs, WR, Minnesota Vikings
Stefon Diggs burst onto the scene last season, pretty much as soon as he was given the opportunity to play. In his first game where he saw targets (out of 13 games played), he caught six balls for 87 yards against the Super Bowl champion Denver Broncos. By the time the end of the season rolled around, the rookie from Maryland finished up with 52 receptions on 84 targets for 720 yards and four touchdowns. It wasn't the craziest stat line in history, but in a run-heavy offense that features Adrian Peterson, you can't turn your nose up at his production.
5. Alshon Jeffery, WR, Chicago Bears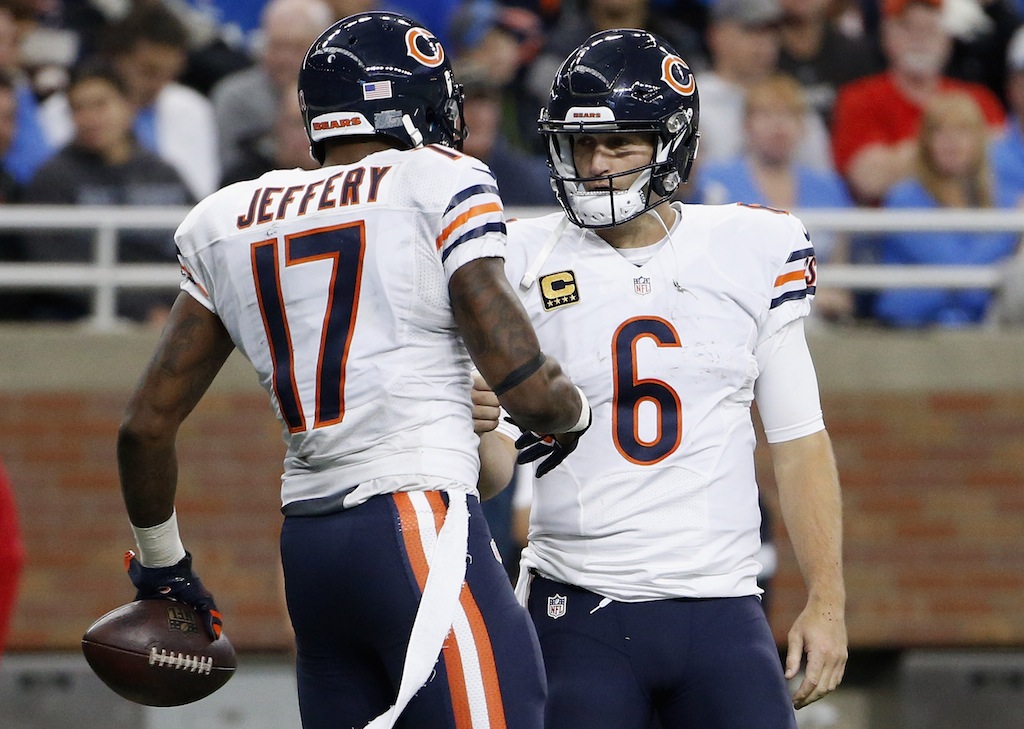 Alshon Jeffery had an injury-plagued season in 2015, but we can't let that take away from what we know he's capable of doing. The soon-to-be fifth-year wide receiver has totaled 24 touchdowns in four seasons, while only playing two full seasons over that span. Between 2013 and 2014 — the years in which he played 16 games each — Jeffery totaled 2,554 yards and 17 touchdowns.
Opponents have had a brutal time slowing him down, and even in just nine games this past season, Jeffery still managed to total 54 receptions for 807 yards and four touchdowns. With the Bears likely to re-sign Jeffery, expect him to continue building what he's started with Jay Cutler.
4. Jordy Nelson, WR, Green Bay Packers
It was a tough blow, and it obviously really hurt the Packers in 2015 to see Nelson miss the entire year due to a torn ACL. Even with that taken into account, we can't overlook what Nelson has done during his time with the Packers. He not only has become Aaron Rodgers' favorite target, but he's totaled 1,263 yards or more in three of the previous four seasons that he's played.
Over that same span, he's also hauled in 43 touchdowns. The fact is, with Nelson back at 100% in 2016, the Packers immediately become one of the most dangerous offenses in the NFL once again. That Rodgers-Nelson pairing is all set to light up the NFL again next season.
3. Calvin Johnson, WR, Detroit Lions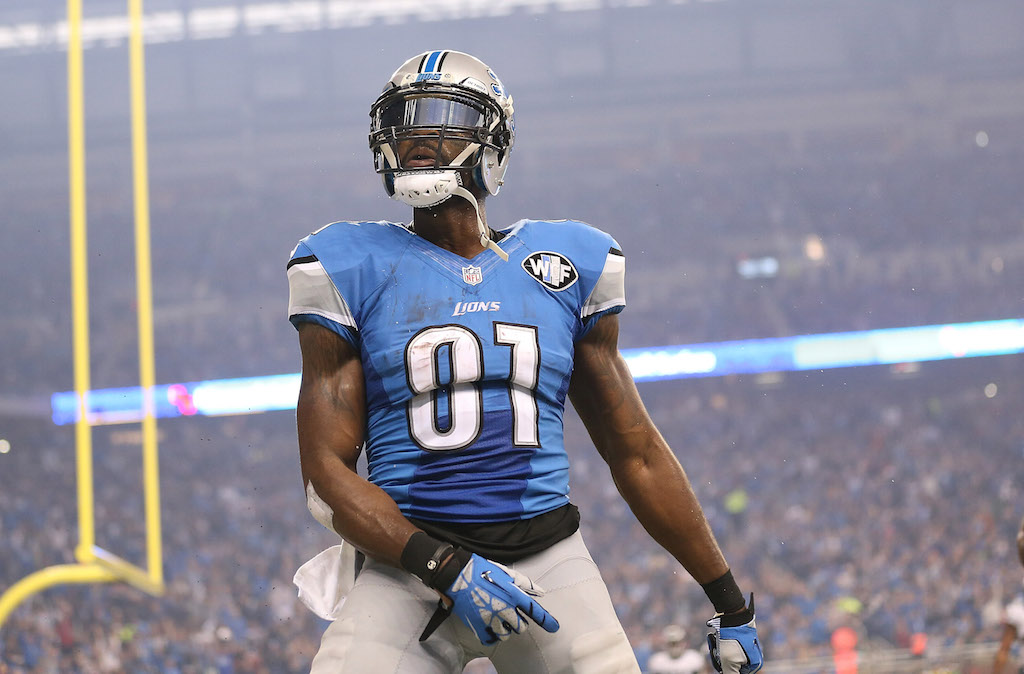 Rumors may be flying that Johnson is set for retirement, but if he doesn't retire, his name deserves to be right near the top of this list. Even though he's 30, Johnson still produces on an absolutely elite level. He's had six seasons straight with 1,000-plus yards, and has only fallen below the 1,000-yard mark twice in his career (one year he finished with 984 yards). Johnson has scored 83 touchdowns in his nine-year career, while scoring 29 over the past three years. Age is just a number to this man, and while it would be sad to see him retire, his legacy will always remain in Detroit.
2. Aaron Rodgers, QB, Green Bay Packers
It was tough putting Rodgers over Johnson on this list, but a lot actually came down to what we saw Rodgers do last season. While the Packers struggled mightily running the ball and Rodgers didn't have his best wide receiver, he still led the Packers to being right on the fringe of the NFC championship game. Rodgers threw for 31 touchdowns and just eight interceptions last year.
Those numbers aren't as good as we usually see from him, but when taking everything into account, it just proves the level of playmaker that he really is. Rodgers has thrown double-digit interceptions in a season just one time in his entire career, which is pretty incredible to think about. Best of all, Rodgers is only 32 years old, so he probably has at least six or seven years left in him.
1. Adrian Peterson, RB, Minnesota Vikings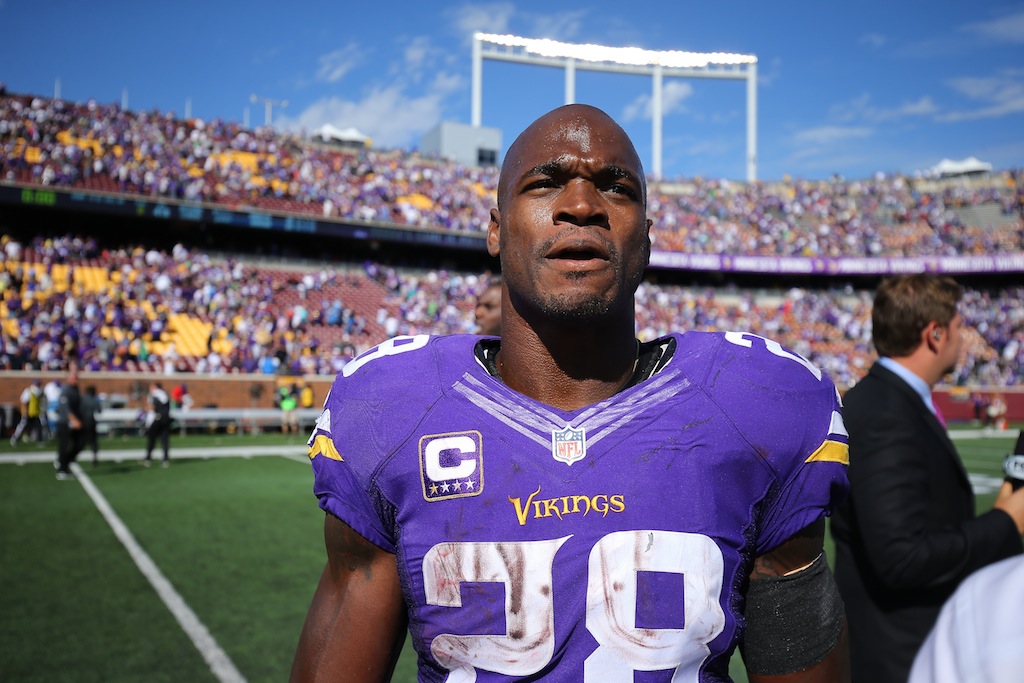 While the NFL has become a passing league over the recent years, that hasn't stopped Peterson from producing at a ridiculous level. While he missed almost the entire 2014 season due to the off-field issues he had, Peterson came back in 2015 and led the league in rushing, totaling 1,485 yards and 11 touchdowns.
In every single season that Peterson has played (not including 2014), he's had double-digit rushing touchdowns. That's really amazing to think about, and just shows how talented Peterson really is. Oh, and just for good measure, AP caught 30 passes for 222 yards last season as well, proving that he can still do a little bit of everything.
While Peterson may be on the wrong side of 30, it seems like he's the exception to the rule. In many cases, when a running back who has had a strong career hits 30 years old, we see a massive decline. For Peterson, that definitely hasn't been the case, and it may be due to the fact that the man is just a physical specimen. Expect him to keep on rolling into 2016, even though he's set to turn 31 this offseason.
Follow Jeff Smith on Twitter @JSM8ith
Statistics courtesy of ESPN.com and Pro-Football-Reference.com.