NFL: 7 Best Offensive Weapons in the NFC East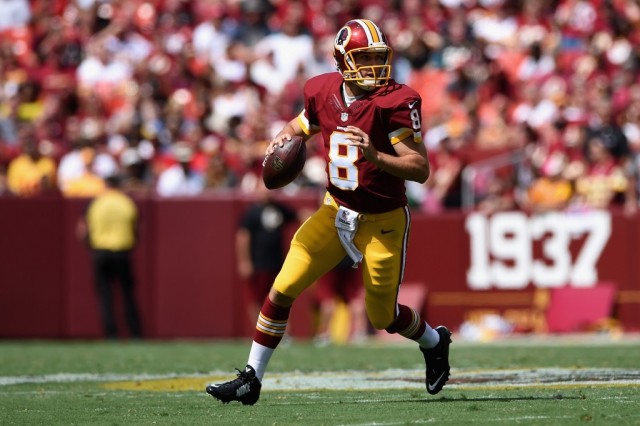 While the NFC East may have had just one team top .500 in 2015, this doesn't mean that the division isn't loaded with offensive talent. Whether it's just from a consistency standpoint or it's players who can jump out of the gym, the NFC East has a little bit of everything. While a former stud in DeMarco Murray fell off in 2015, the question is, will he make the list of the seven best offensive weapons in the division? Let's get right to it.
7. Kirk Cousins, QB, Washington Redskins
We're giving Cousins the nod over Tony Romo and Eli Manning for the simple fact that he's younger, has an impressive upside, and hasn't had the injury issues of Romo. To top it off, he also hasn't had the weapons that both Romo and Manning have had over the recent years. Any of those three quarterbacks could have made this list, but Cousins just barely finds his way in at No. 7. Cousins is fresh off his first full season as a starter, one in which he led the Redskins to an NFC championship, threw for 4,166 yards and 29 touchdowns, and posted a passer rating of 101.6.
6. Ryan Mathews, RB, Philadelphia Eagles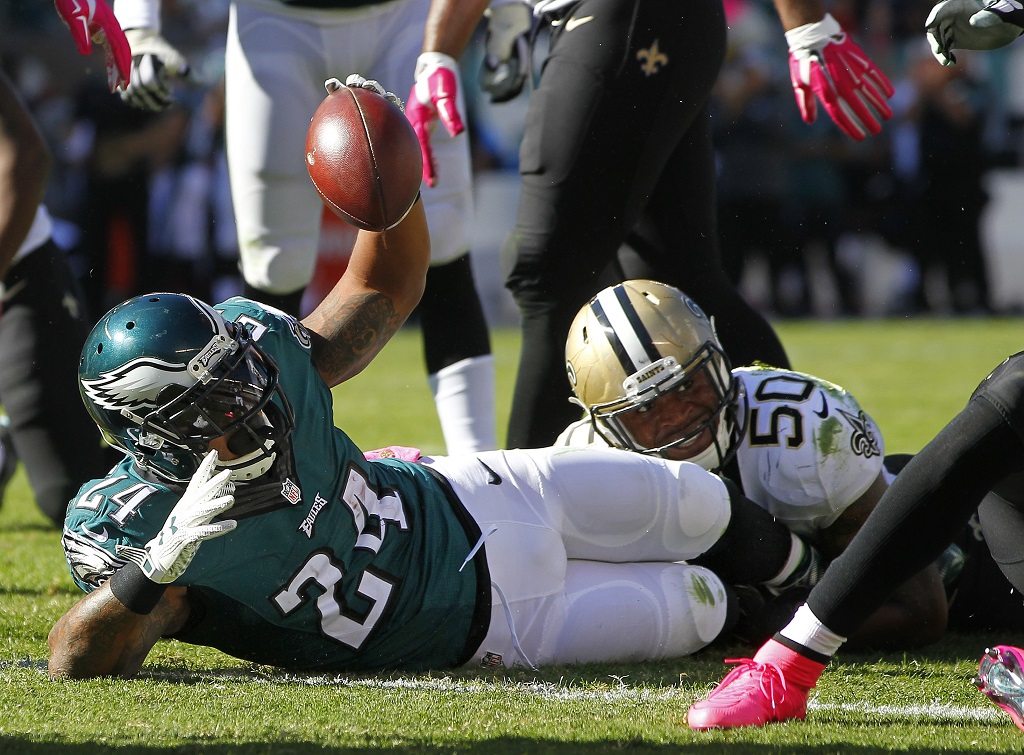 Teaser alert! We aren't choosing both Mathews and Murray, so here's your Philadelphia running back who made the list. While Mathews didn't get nearly the number of touches that Murray did, if he had, he would have outproduced him in a pretty massive way. You can make the argument for Murray, or even for Matt Jones of the Redskins in this spot, but we love Mathews' upside. In 13 games, Mathews rushed for 539 yards and six touchdowns, while totaling 146 receiving yards and an additional score. His 5.1 yard-per-carry average was far better than Murray's 3.6.
5. Jordan Matthews, WR, Philadelphia Eagles
Let's keep it in Philadelphia here, as we'll take Matthews for the No. 5 spot on this list. Even in a year in which Sam Bradford struggled quite often for the Eagles, the second-year receiver from Vanderbilt still finished up with 85 receptions for 997 yards and eight touchdowns. No one actually knows who'll be under center for the Eagles in 2016, but at the very least, they'll have an intriguing and talented wide receiver in Matthews to throw the ball to.
4. Jason Witten, TE, Dallas Cowboys
Who says that you have to be able to make highlight reel catches and run a ridiculously fast 40-yard dash to make this list? Witten is the definition of consistency, and in his 13 NFL seasons, he's missed exactly one game, which came during his rookie season. There's very little to dislike about Witten, and while he had a down year in 2015, let's not forget that the entire group of pass catchers in Dallas who actually had a down year, largely due to Romo being out for the bulk of the season. Witten is a future Hall of Fame tight end, and he is one of the most reliable players not only in the NFC East, but in the entire NFL.
3. Jordan Reed, TE, Washington Redskins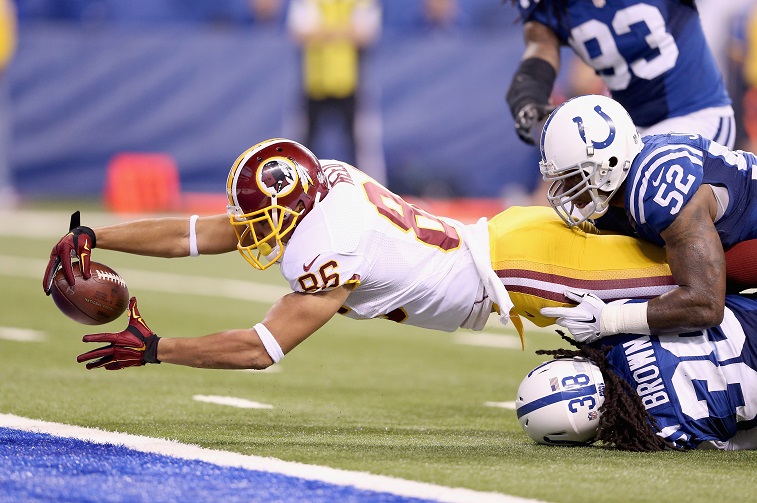 The Redskins nearly put Reed on the back burner at tight end in 2015, but then a season-ending injury to Niles Paul pushed him into the spotlight once again. At that point, it was Reed's chance to shine in Washington. Reed played in 14 games and totaled 87 receptions, 952 yards, and an impressive 11 touchdowns. He also had four multi-score games, while leading the Redskins pass catchers in receptions, targets, yards, touchdowns, and gains of 20-plus yards. Basically, it's pretty obvious that Captain Kirk was loving some Reed in 2015.
2. Dez Bryant, WR, Dallas Cowboys
Any chance of Dez Bryant topping the man below him for the top spot took a big hit in his injury-plagued 2015 season. It was tough for Bryant to lose Romo as well, but his broken foot is what really led to the worst year of his NFL career. Bryant finished with just nine games played, 31 receptions, 401 yards, and three touchdowns. It's obvious that Bryant's talent isn't the concern, and he should be back to 100% and ready to make plenty of noise in 2016. For a guy who was fresh off an 88-catch, 1,320-yard, and 16-touchdown season to finish up with a year like he did, expect Bryant to be hungrier than ever heading into the upcoming season.
1. Odell Beckham Jr., WR, New York Giants
Yes, Beckham Jr. is the class of wide receivers and playmakers in the NFC East currently. As a matter of fact, he's one of the best playmakers in the entire NFL. Sure, we saw him lose it a little bit during his matchup with Josh Norman of the Carolina Panthers last season, but that just shows that the 23-year-old still has some growing to do. Beckham Jr. still finished up 2015 with 96 receptions for 1,450 yards and 13 touchdowns. This means through two seasons, he has 187 receptions, 2,755 yards, and 25 touchdowns. It's hard to find production like that in many other places across the NFL.
Statistics courtesy of ESPN.com.
Follow Jeff Smith on Twitter @JSM8ith