NFL: 7 Veterans Who Could Be Cut This Offseason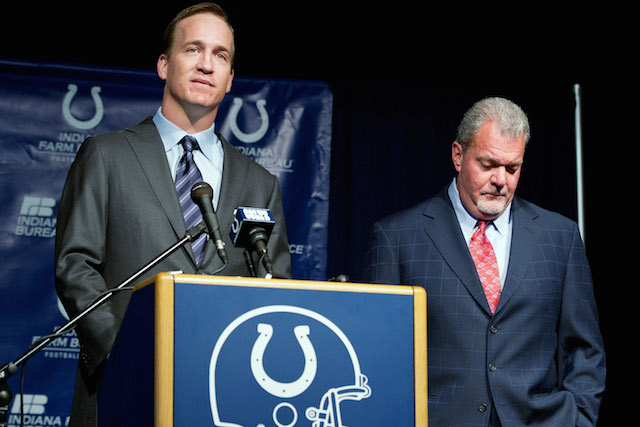 We are fast approaching that time of year when NFL teams are forced to make tough business decisions regarding the futures of their highly priced, big name veterans. As players near the end of their contracts, they often have bloated salary cap figures and are simply not the players they were when they originally signed their big money contracts. With the new league year and the start of free agency scheduled to begin on March 10, we can expect to see several notable veteran players being axed by their current franchises leading up to that date. At the same time, teams may also hold off on releasing their big name veterans until after June 1.
According to league rules, if a player is released prior to June 1, the remainder of the guaranteed money in his contract will be reflected in dead money against the team's 2015 salary cap. Likewise, if a player is released after June 1, the remainder of his guaranteed money will be spread out evenly in dead money against the 2015 and 2016 salary caps. The catch with releasing a player post-June 1, is that the extra money created by the move will not be available until most big name free agents have already been signed.
There will surely be a mix of big name veterans released within the next two weeks, and several more who will be released after June 1. With that, here is a look at seven big name veterans who could be cut this offseason.
All contract and salary cap data courtesy of Spotrac. All statistics courtesy of Pro-Football-Reference.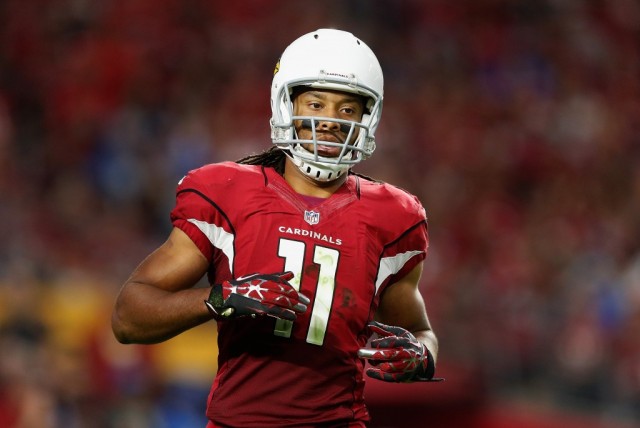 1.  Larry Fitzgerald, wide receiver, Arizona Cardinals
2015 Salary Cap Hit:  $23.6 million
2014 Stats:
63 receptions
784 yards
2 touchdowns
Fitzgerald's $23.6 million cap hit would currently be the fourth-highest in the league for the 2015 season. Given that, there is practically no way that he returns to Arizona without a renegotiated contract. With his teammates publicly advocating for him to return, it wouldn't be surprising to see the three-time All-Pro accept a renegotiated deal to finish his career in Arizona. If the two sides can't reach an agreement by the start of the new league year, expect to see the Cardinals, who are currently projected to be $8.6 million over the 2015 salary cap, to release the best wide receiver in the history of their franchise.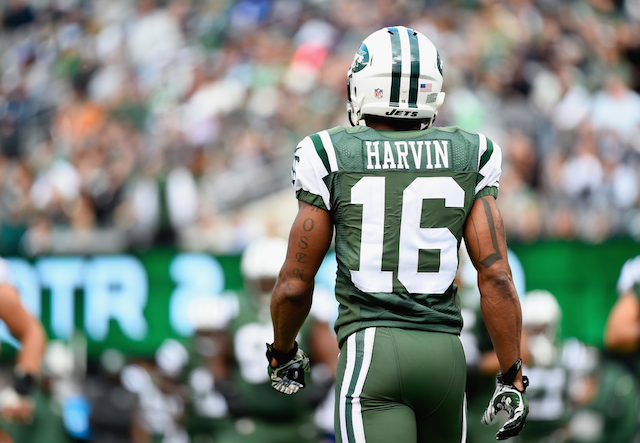 2.  Percy Harvin, wide receiver, New York Jets
2015 Salary Cap Hit:  $10.5 million
2014 Stats:
521 receptions
483 yards
1 touchdown reception
202 rushing yards
1 rushing touchdown
It would actually be surprising if the Jets chose to not cut Harvin. The Seattle Seahawks are on the hook for all of the talented (yet injury-prone) wide receiver's guaranteed money, and should Harvin be on the Jets roster past March 19, the draft pick they sent to Seattle in exchange for Harvin will go from a sixth rounder to a fourth rounder.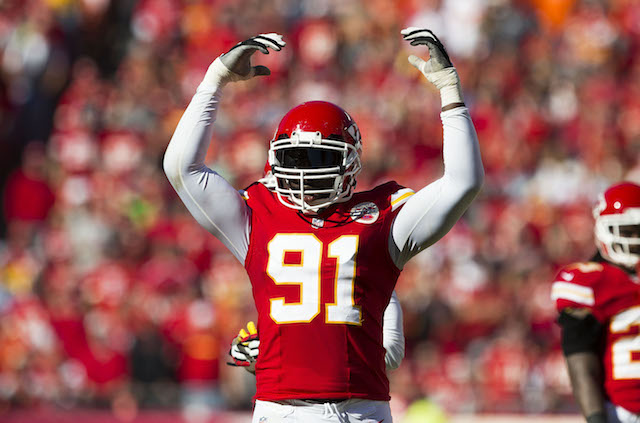 3.  Tamba Hali, outside linebacker, Kansas City Chiefs
2015 Salary Cap Hit:  $11.96 million
2014 Stats:
6 sacks
3 forced fumbles
1 fumble recovery
59 total tackles
Hali is coming off of the second-lowest single season sack total of his career, and with a likely massive contract extension looming for teammate Justin Houston, Hali will more than likely have to decide between a pay cut or being released. The two-time All-Pro has said that he is willing to take a pay cut to stay in Kansas City, but the team may choose to first release him and then re-work his deal.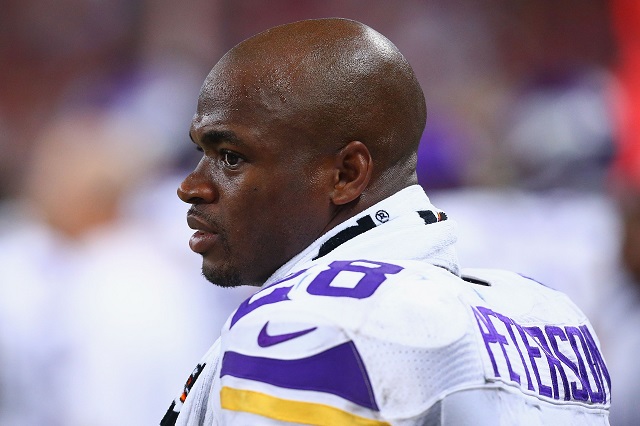 4.  Adrian Peterson, running back, Minnesota Vikings
2015 Salary Cap Hit:  $15.4 million
2014 Stats:
Peterson played in only one game in 2014 before being suspended for violating the NFL's personal conduct policy. He is eligible for reinstatement on April 15, but many people believe he has played his last down of football for the Minnesota Vikings. With that being said, the Vikings are in dire need of a running back to compliment quarterback Teddy Bridgewater. The Vikings staff will ultimately have to decide if the controversial running back is worth his massive $15.4 million salary cap hit given that their team is in rebuilding mode.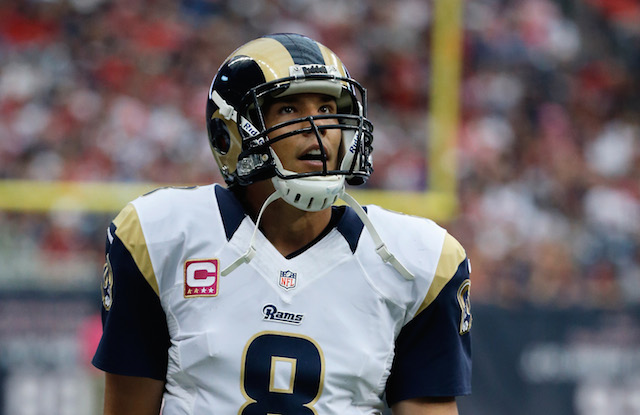 5.  Sam Bradford, quarterback, St. Louis Rams
2015 Salary Cap Hit:  $16.6 million
2014 Stats:
Bradford has simply been unable to stay healthy throughout the course of his career. He has shown signs of being a solid NFL quarterback, but his time has likely run out in St. Louis. The Rams have explored the idea of restructuring Bradford's contract, but there is very little chance they will do so without first releasing the top pick in the 2010 NFL Draft.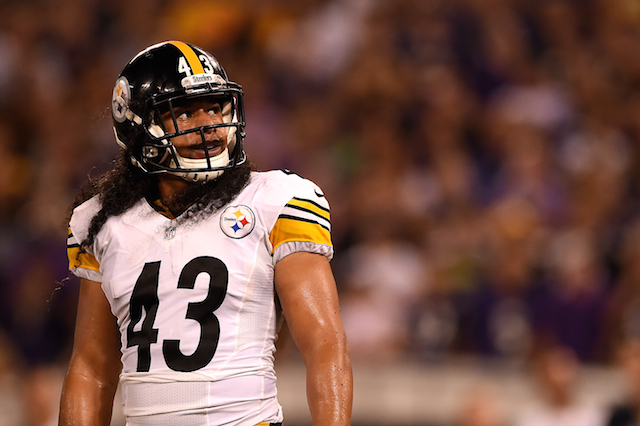 6.  Troy Polamalu, safety, Pittsburgh Steelers
2015 Salary Cap Hit:  $8.25 million
2014 Stats:
1 forced fumble
1 fumble recovery
1 pass deflect
69 total tackles
The Steelers have always had a knack for making tough business decisions regarding some of the best players in franchise history at just the right time. Polamalu will likely be the next in line. The Steelers are projected to be $1.1 million over the salary cap, and desperately need to get younger on defense. Couple that with the fact that longtime defensive coordinator Dick LeBeau is no longer with the franchise, and all signs point to the Steelers moving on from the five-time All-Pro safety.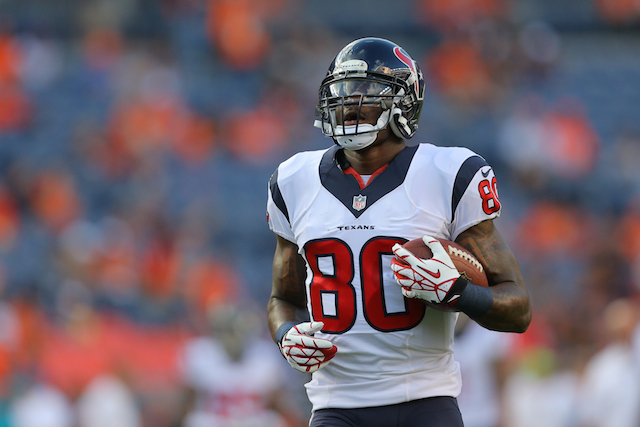 7.  Andre Johnson, wide receiver, Houston Texans
2015 Salary Cap Hit:  $16.14 million
2014 Stats:
85 receptions
936 yards
3 touchdown receptions
While many people believed the Texans would give in to Johnson's trade request last offseason, Houston chose to retain the four-time All-Pro wide receiver for a 12th season with the Texans. Johnson turned in a solid season, but is now quickly becoming the second option in Houston's passing attack behind the up-and-coming DeAndre Hopkins. Johnson has said that he is willing to take a pay cut, and will probably need to do so to remain a member of the Houston Texans.