NFL: 7 Facts Revealed During Week 1
Week 1 of the 2015 NFL regular season is now officially in the books. We saw a few upsets, several big-time performances, a handful of young players emerge as potential up-and-coming stars, and what seemed like an abnormally high number of injuries to big-name players.
It's hard not to overreact after a long offseason of waiting for NFL action, but we feel like we learned a lot about several teams and players over the course of last few days. We could have written a short book if we wanted to touch on everything, but seeing as how it was still only one week of action, we opted to narrow our list down to the seven biggest takeaways from Week 1 of the 2015 regular season. Here's what we came up with.
1.  The Seattle Seahawks need to find a way to get Kam Chancellor back on the field.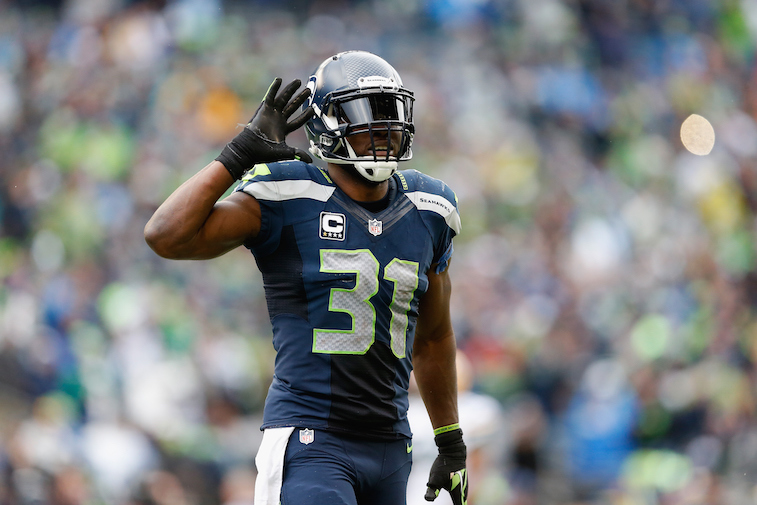 We've already touched on this, but the Seahawks defense that has been one of the greatest defenses the NFL has ever seen simply isn't as dominant without Chancellor on the field. It could be that they are missing his leadership, his ball-hawking skills, his physicality, his versatility, or, as former NFL fullback Michael Robinson put it, the fact that he is not there to do the team's "dirty work." Any way you look at it, this extraordinary defense quickly became, well, ordinary without Chancellor in the lineup.
The Seahawks lost their Week 1 game to the St. Louis Rams by a score of 34-31, after uncharacteristically giving up an 84-yard game-tying touchdown drive in the final minute of the fourth quarter. The final play of that drive can be seen in the video below, and if you look closely, you'll find Chancellor's replacement, Dion Bailey, falling to the turf as he attempted to cover St Louis tight end Lance Kendricks allowing for an easy 37-yard touchdown strike from quarterback Nick Foles. What's the moral of the story here? Their defensive performance in Week 1 should be more than enough to motivate the Seahawks to do what it takes to get Chancellor out on the field.
2.  The AFC East suddenly looks like the toughest division in the league.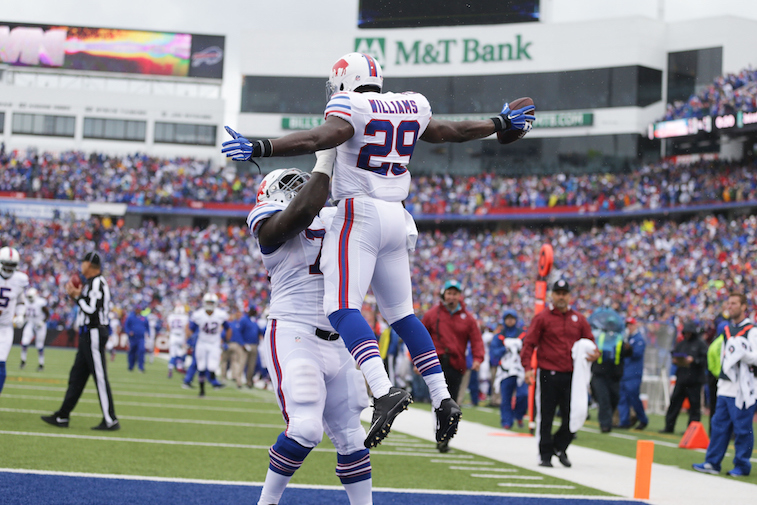 Again, we've already touched on this topic, but it appears as if the AFC East has gone from being the league's most top-heavy division, to being the league's toughest division from top to bottom. As usual, the New England Patriots are among the top teams in the league, but for the first time in recent memory, winning the AFC East title could present a serious challenge for the defending Super Bowl champs.
The Bills have the look of a team that will be playing, and making some noise, in the postseason this year, while the New York Jets and Miami Dolphins both look talented enough to make a run at the postseason as well. Don't be surprised if all four AFC East teams are firmly in the playoff hunt in December.
3.  Marcus Mariota appears to be more pro-ready than Jameis Winston.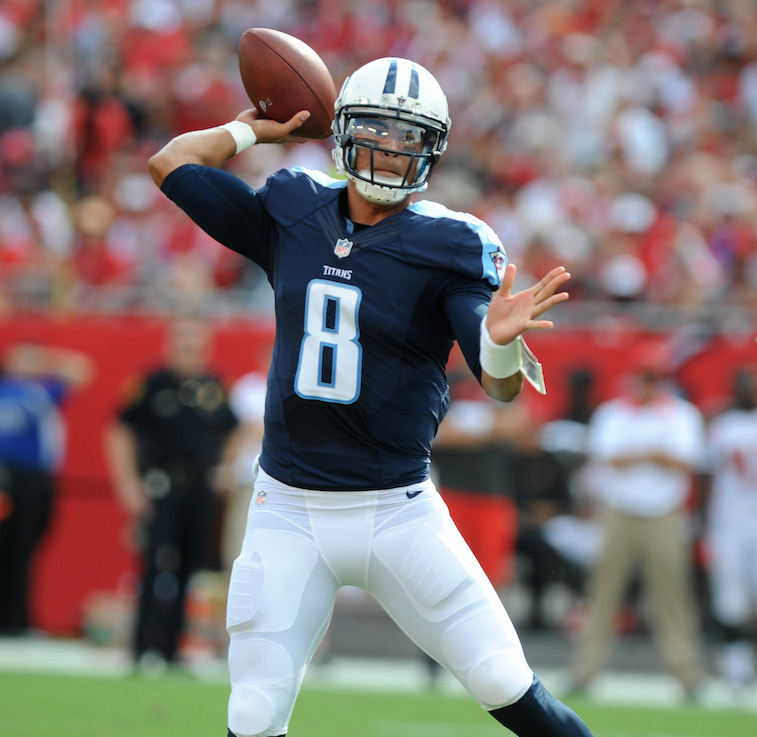 In one of the more eagerly anticipated games of the week, Tennessee Titans quarterback Marcus Mariota, (the No. 2 overall pick in the 2015 NFL Draft) massively outperformed Tampa Bay Buccaneers quarterback Jameis Winston, who was picked first overall that year. Winston looked overwhelmed for most of the game, and showed that he is still a long way away from solidifying himself as a franchise quarterback in the NFL. Mariota on the other hand, looked cool, calm, and collected en route to throwing four touchdown passes, zero interceptions, and posting a perfect quarterback rating of 158.3. It's too early to say Mariota will have the better professional career, but at this point, it's safe to say that many of the concerns surrounding his ability to transition out of his college spread offense and into a pro-style offense have been put to rest.
4.  Tom Brady looks poised to have a MVP-caliber season.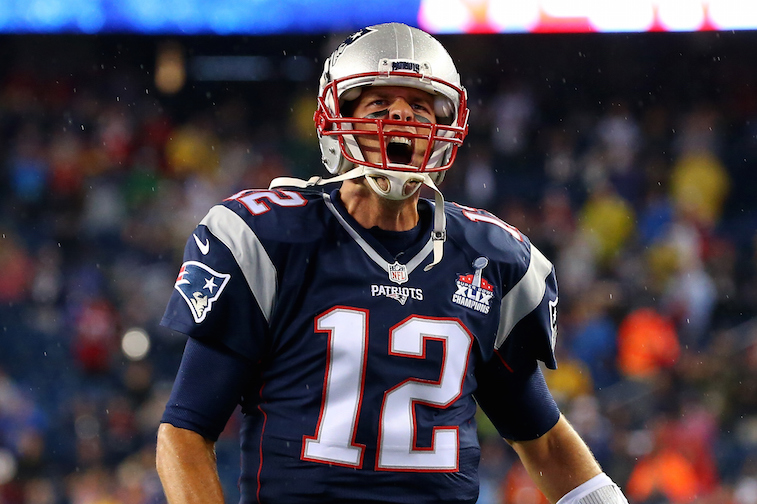 If Thursday night's NFL season opener was any indication, we could be about to witness one of the best seasons of New England Patriots quarterback Tom Brady's Hall of Fame career. He completely picked apart the Pittsburgh Steelers' defense, and played more like a 28-year-old than the 38-year-old that he is. With tight end Rob Gronkowski 100% healthy, Brady has a target who is nearly impossible to defend for the first time since Randy Moss in the 2007 season. Don't be surprised if the four-time Super Bowl champion quarterback finishes the regular season with close to 40 touchdown passes.
5.  The Denver Broncos will be playing a different brand of football in 2015.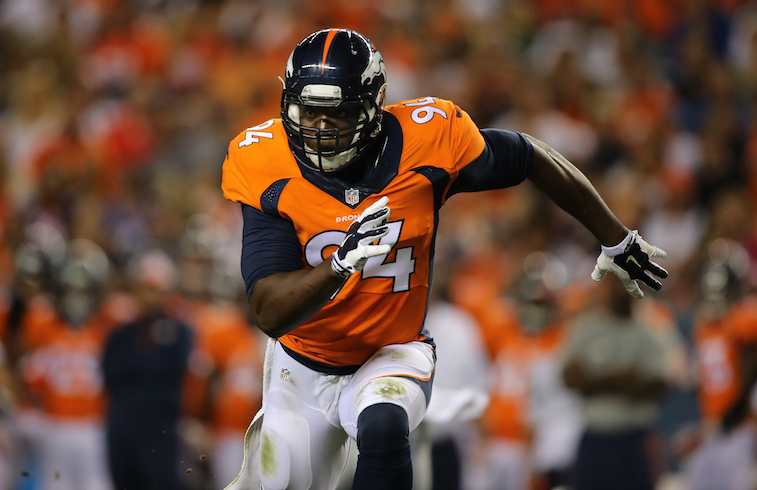 Anyone who follows the NFL has likely grown accustomed to the Denver Broncos scoring points at will and posting ridiculously high offensive statistics. Since Peyton Manning took over as the team's starting quarterback in 2012, the Broncos have scored an averaged of 523 points per season, or 32.7 points per game. We would be surprised if they came anywhere close to those types of numbers in 2015. Against the Baltimore Ravens in Week 1, the Broncos failed to score an offensive touchdown, but turned in one of the better defensive performances in franchise history. While we fully believe that their offense will improve as the season progresses, we are also among those who believe that this team will only go as far as their defense, led by All-Pro pass rushers DeMarcus Ware (pictured above) and Von Miller and All-Pro cornerbacks Chris Harris Jr. and Aqib Talib, takes them.
6.  Things aren't as bad in San Francisco as we previously expected.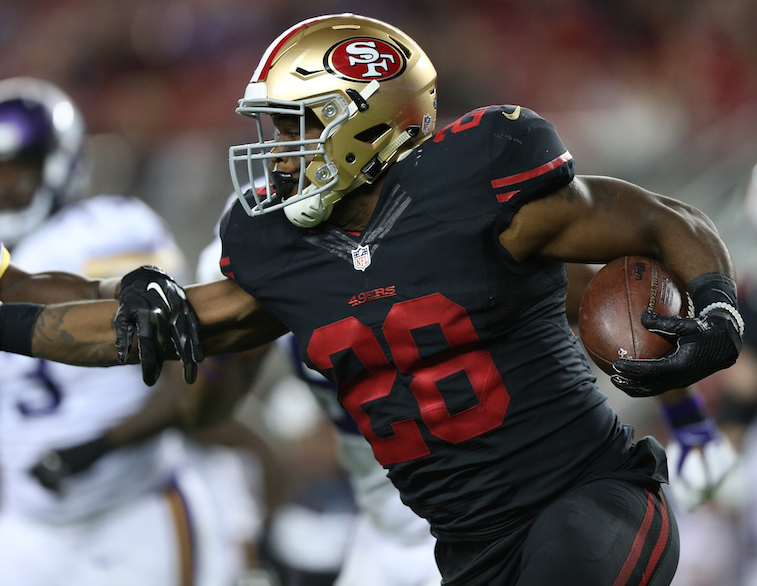 Coming into the season, we expected the 49ers to contend for the No. 1 overall pick in the 2015 NFL Draft. It looks like we were wrong. Granted it was only one game, but quarterback Colin Kaepernick played better than we've seen him play in quite some time, and Carlos Hyde looked like a future All-Pro running back. What was the most surprising to us, however, was how well their defense performed despite losing Aldon Smith, Chris Borland, Patrick Willis, and Justin Smith, among others, this offseason.
While we still believe this team will be on the outside looking in when the postseason rolls around, but we are willing to admit that we may have been wrong about their roster being in total shambles.
7.  The league's new PAT rules have already proven to have a noticeable effect on the game.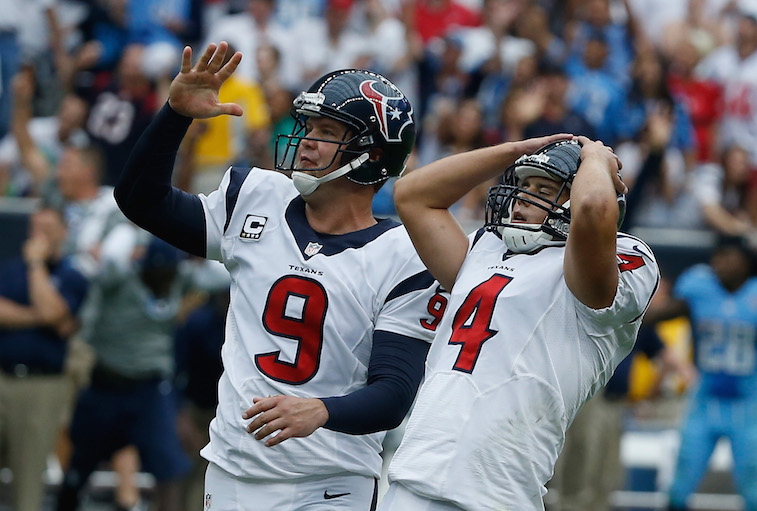 In case you missed it, the NFL moved point after touchdown kick attempts back to the 15-yard line, making it a 33-yard attempt, and we have already seen a noticeable effect. There were only eight missed PAT attempts during the entire 2014 season. In Week 1 of the 2015 season, there were four. After Houston Texans kicker Randy Bullock missed an early PAT attempt against the Kansas City Chiefs, the Texans were forced to go for a two-point conversion to make up for the lost point following a 4th quarter touchdown reception by DeAndre Hopkins. They were ultimately successful on the two-point, but likely never would have been in that situation had the league not adopted this rule change.
If we saw four missed PAT attempts in Week 1 when the weather wasn't a factor in any of the games, imagine how many misses we will see when it gets cold and windy in December and January. As a result, we are expecting to see a huge spike in the number of two-point conversion attempts around the league in 2015.
All statistics courtesy of Pro-Football-Reference.