NFL: 7 Players Who Literally Earned Their Paychecks in 2015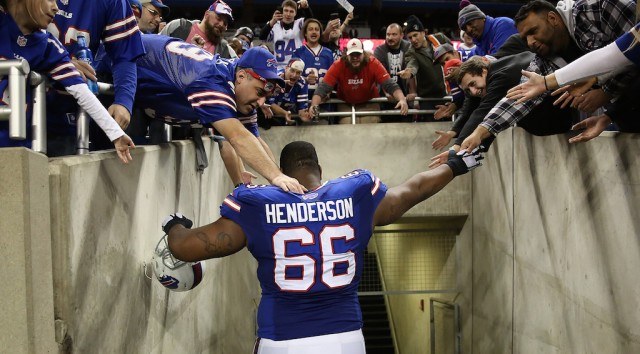 Believe it or not, there are several players in the National Football League who are severely underpaid. Generally speaking, it's almost always the big-name players who have average annual salaries that drift well into eight figures per year that garner most people's attention for both their play and their paychecks.
Meanwhile, football fans and media members alike tend to forget about another unsung set of players around the league; those who play at a high level on league-minimum salaries or late-round draft pick contracts. Luckily for the latter group of players, the NFL has a performance-based pay program that rewards them for outplaying their current contracts.
The program was introduced as a part of the 2002 collective bargaining agreement between the NFL and the NFL Player's Association, and it has paid out over $1 billion since its inception. To be eligible, a player has to simply play in one official down, and from there his payout will be calculated using a "player index" formula. More information can be found here, but here is a quick rundown from the NFL on how computations are done:
To produce the index, a player's regular-season playtime (total plays on offense, defense and special teams) is divided by his adjusted regular-season compensation (full season salary, prorated portion of signing bonus, earned incentives).  Each player's index is then compared to those of the other players on his team to determine the amount of his pay.
Last year, the NFL paid out a total of $116.256 million through the program, with Buffalo Bills offensive tackle Seantrel Henderson (pictured above), a former seventh-round draft pick, leading the league in performance-based compensation (taking home an extra $373,671). The total pool of money up for allocation this year jumped to $121.68 million, and on Tuesday afternoon we learned which players reaped the most from this program. Here is a look at the top seven performance-based pay earners for the 2015 season.
7. Alejandro Villanueva, offensive tackle, Pittsburgh Steelers
Payout: $309,835
An injury to Kelvin Beachum forced Alejandro Villanueva into the Steelers' starting lineup, and the former undrafted free agent out of Army didn't miss a beat. In total, the 27-year-old offensive tackle started 10 games and played in 909 offensive snaps in 2015. When it was all said and done, Villanueva played well enough that the Steelers were willing to let Beachum depart during free agency.
6. Ricardo Allen, defensive back, Atlanta Falcons
Payout: $317,826
The Falcons got a steal when they landed Ricardo Allen in the fifth round of the 2014 NFL Draft. The 24-year-old safety started 14 games, hauled in three interceptions, recorded 68 total tackles, and took part in 855 defensive snaps in 2015. While he didn't quite play at a Pro Bowl or All-Pro level, Allen was still a pleasant surprise for the Falcons in their first year under head coach Dan Quinn.
5. Malcolm Butler, cornerback, New England Patriots
Payout: $319,283
Simply put, the Super Bowl XLIX deserves a new contract. In 2015, Malcolm Butler stepped up and made sure that the Patriots didn't suffer a huge drop-off at the position after losing their two Pro Bowl-caliber starting cornerbacks, Darrelle Revis and Brandon Browner, during free agency last offseason. Butler finished the season with two interceptions, 67 total tackles, and 18 starts (including the postseason). He took part in a total of 1,256 defensive plays and received a player grade of 81.1 from Pro Football Focus for the 2015 season.
4. Garry Gilliam, offensive tackle, Seattle Seahawks
Payout: $329,384
Garry Gilliam started all 16 regular season games for the Seahawks in 2015, playing in a total of 1,210 offensive snaps. Even though the former undrafted free agent out of Penn State struggled at times during his first season as a full-time starter, all signs point toward the Seahawks trusting him with the position again in 2016.
3. Russell Bodine, center, Cincinnati Bengals
Payout: $352,271
For the second-straight year, Russell Bodine was one of the league's top performance-based pay earners. The former North Carolina Tar Heel played 1,156 offensive snaps in 2015 and has started every game at center for the Bengals since he entered the league as a fourth-round pick in the 2014 NFL Draft — a trend that should continue into 2016.
2. T.J. Clemmings, offensive tackle, Minnesota Vikings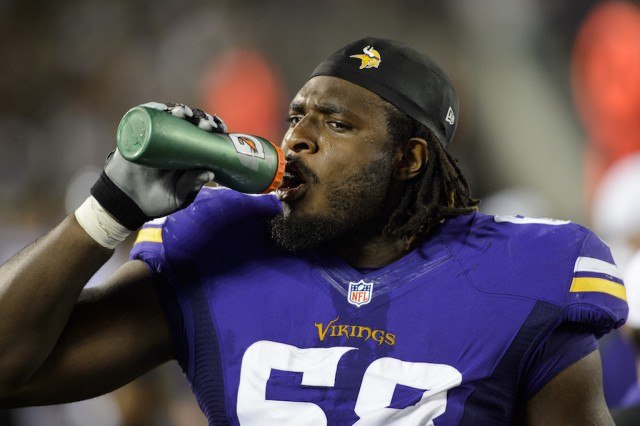 Payout: $359,396
The Vikings selected T.J. Clemmings in the fourth round of the 2015 NFL Draft, and the former Pitt Panther came in and started all 16 games for the team at right tackle in his rookie season. He ultimately played a total of 1,091 offensive snaps, and most reports indicate that the 6-foot-5, 309-pounder will keep his job in 2016.
1. Matt Paradis, center, Denver Broncos
Payout: $391,648
The Broncos selected Paradis in the sixth round of the 2014 NFL Draft, and after spending his rookie season on Denver's practice squad, the former Boise State standout landed the team's starting job with a strong performance during the 2015 preseason.
Pro Football Focus graded him out as the 15th-best starting center in the league based on his 1,327 offensive plays, and all talk indicates that the Broncos plan on keeping the 6-foot-3, 300-pounder in their starting lineup in 2016. If that proves to be true, expect to see Paradis near the top of this list again next offseason.
Statistics courtesy of Pro-Football-Reference.com and Pro Football Focus.