NFL: 8 Best Offensive Weapons in the NFC West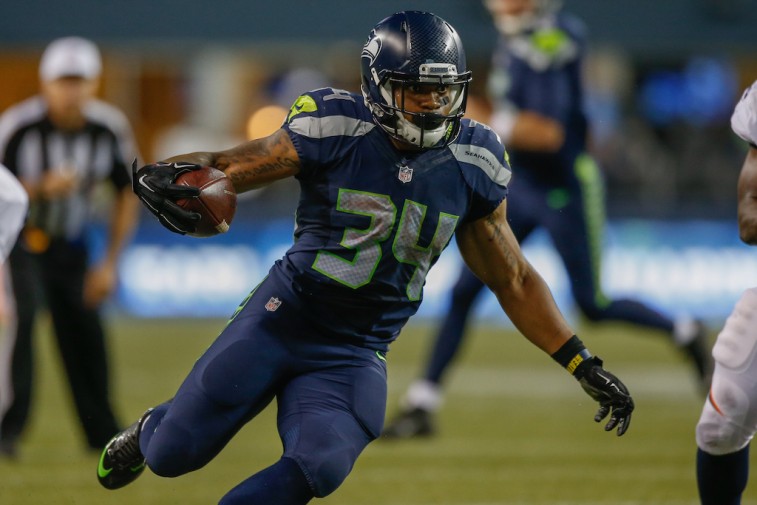 The NFC West may be known as having one of the strongest groups of defenses in the NFL, but that doesn't mean there isn't plenty of offensive talent as well. While the Arizona Cardinals and Seattle Seahawks are two teams that jump off the page in terms of talent, which players would make the cut as the eight best offensive weapons in the entire division? On top of that, could one team actually be left off the list? Well, one thing that's certain is that this division featured one of the best running backs in the NFL for the 2015 season. Let's get right into the eight best offensive weapons in the exceptional NFC West.
8. Tavon Austin, WR, Los Angeles Rams
If we're talking pure offensive weapons, Tavon Austin may be one of the most dangerous players in the NFL. While his talent hasn't equaled out to massive statistical success yet, he's a player who opposing defenses always have to account for. In 2015, Austin had the best statistical season of his career, catching 52 passes for 473 yards, rushing for 434 yards, and scoring 10 total touchdowns (one punt return score). He's being utilized in any and every way possible in the Rams' offense, and it's safe to say that Los Angeles will love watching this guy play.
7. Thomas Rawls, RB, Seattle Seahawks
If Thomas Rawls had played the entire season, he'd probably be much, much higher on this list. Actually, if this list was just redone at the end of next season, there's a good chance that he'd be top five, probably even higher than that. Regardless, Rawls put together a stellar rookie campaign, rushing for 830 yards with a 5.6 yard-per-carry average.
He scored five combined touchdowns and stepped up beautifully when Marshawn Lynch was out. While some may pine for Jimmy Graham to be here (or on this list at all, sorry for the spoiler), the way he's utilized in Seattle doesn't make him a top-eight weapon right now.
6. David Johnson, RB, Arizona Cardinals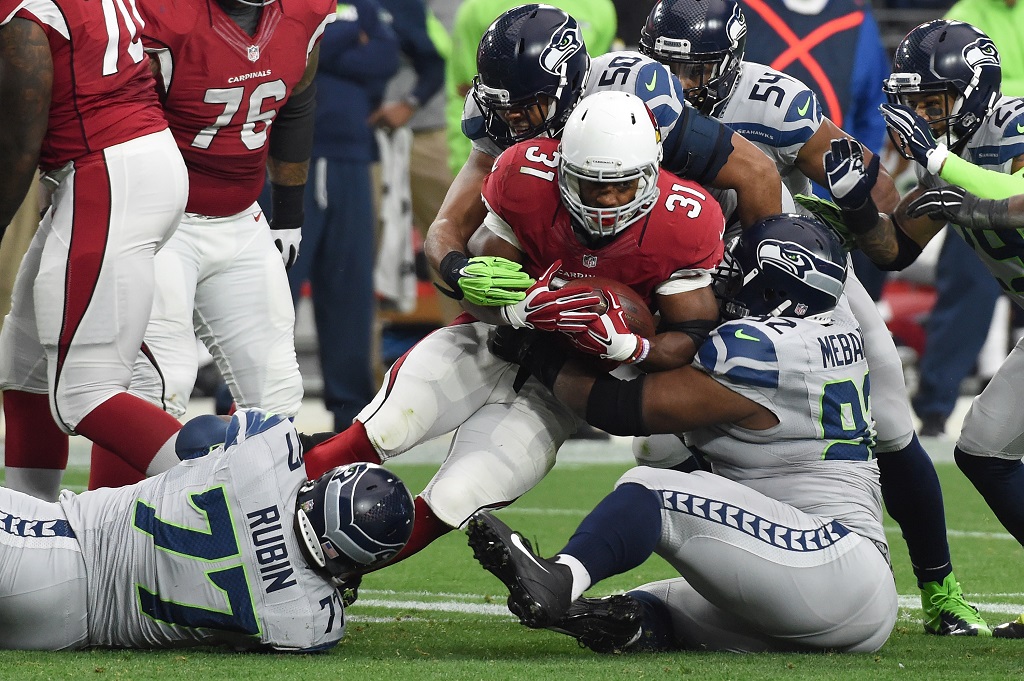 It took a lot to put David Johnson above Rawls on this list, and the debate can be made both ways. What this really came down to was the fact that Johnson is simply a force catching the ball out of the backfield. He not only rushed for 581 yards and eight touchdowns last season, but also caught 36 passes for 457 yards and an additional four scores. Basically, Johnson is going to have a bright future for the Cardinals, especially for as long as Carson Palmer is leading the charge in town.
5. Doug Baldwin, WR, Seattle Seahawks
It may have taken Doug Baldwin a few games to really get going in 2015, but when he did, he really hit the ground running. Over the final six games of the regular season last year, Baldwin caught 34 passes for 530 yards and 11 touchdowns. That's absolutely ridiculous, and to top it off, in the final game against the Cardinals — in which he had just five catches for 46 yards — his Seahawks won 36-6, so there was little need to throw the ball. Baldwin's connection with Russell Wilson is at an all-time high right now, and after catching 78 passes for 1,069 yards and 14 touchdowns last year, fans should be excited to see him work in 2016.
4. Carson Palmer, QB, Arizona Cardinals
After playing just six games in 2014, no one knew what to expect from Carson Palmer in 2015. Fortunately, we all found out pretty quickly, as Palmer became a serious MVP candidate and led the Cardinals to the NFC championship game. He not only threw for the most yards (4,671) and touchdowns (35) in his career, but he also did a great job of avoiding throwing interceptions, tossing just 11 throughout the entire regular season.
Palmer is back, and while he may be 36 years old, it's pretty obvious that we are living in a day and age where quarterbacks can play until they're close to 40 before seeing a serious decline. If Palmer can stay healthy, there's no reason he won't be an MVP candidate again in 2016.
3. Russell Wilson, QB, Seattle Seahawks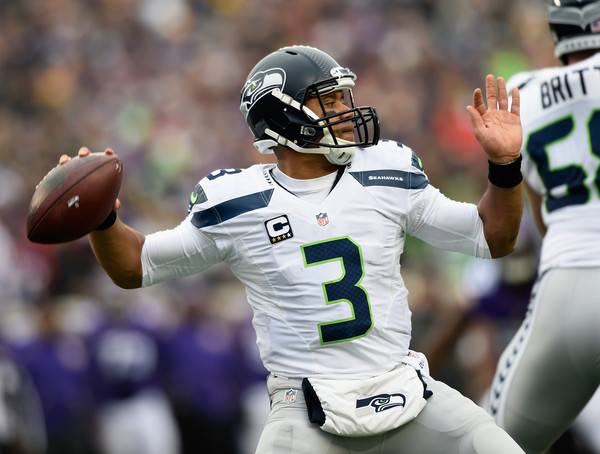 Another great argument spot, because if you wanted to put Palmer over Russell Wilson, it'd be hard to argue with you. With that said, after watching Wilson in the home stretch of 2015 and looking at his overall numbers, they were pretty incredible. In the final seven games of the season, Wilson completed an average of 71.6% of his passes, with 24 touchdowns against just one interception. Read that again, 24 touchdowns, one interception. That's unreal.
Wilson finished up the season with a completion percentage of 68.1, had 4,024 passing yards, 553 rushing yards and 35 combined touchdowns. To top it off, he threw just eight interceptions all season long. His quarterback rating of 110.1 was by far the best of his career, and he also proved that he can dominate with both his arm and his legs.
2. Larry Fitzgerald, WR, Arizona Cardinals
The veteran 32-year-old wide receiver officially proved to us that age is just a number in 2015. After a very down season in 2014, one where the Cardinals were attempting to figure out who to play at quarterback, Larry Fitzgerald showed how much he loves playing with Palmer.
Shockingly, Fitzgerald had the most receptions in a single season of his entire career with 109, while also totaling 1,215 yards and nine touchdowns. What makes his play even more incredible is that the Cardinals' offense is loaded with weapons, so it's not like Palmer was only looking his way. Fitzgerald's still got the "it" factor and has a few more years left in those legs.
1. Todd Gurley, RB, Los Angeles Rams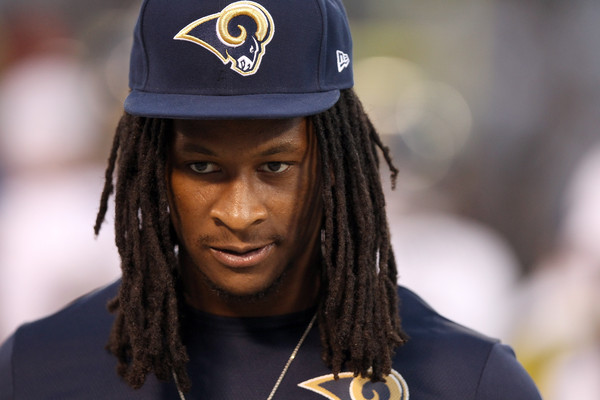 Like both other running backs on our list, Todd Gurley didn't play the entire season. So, why is he so much higher than they are? Well, there's a few reasons, but one is obvious. While Rawls and Johnson both have elite quarterbacks, Gurley was playing with up-and-down quarterback play, but still produced in a massive way. He played in 13 games, but finished the year with 229 attempts for 1,106 yards (4.8 yards per carry), while scoring 10 touchdowns as well.
Oh, and for good measure, he caught 21 passes for 188 yards also. Gurley is poised to not only be the guy in Los Angeles now, but he's set to become one of the best running backs in the entire NFL. Expect the Rams to give the ball to Gurley as often as he can literally take it in 2016. Because, well, who wouldn't want to put the ball in the hands of a playmaker like Gurley over and over again?
Follow Jeff Smith on Twitter @JSM8ith
Statistics courtesy of ESPN.com.