NFL: 8 Head Coaches on the Hot Seat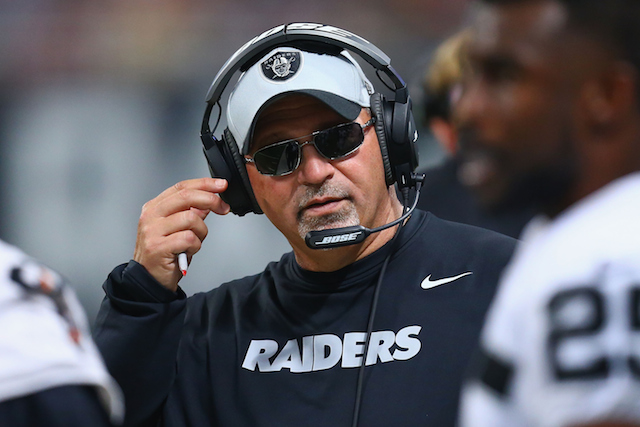 Within the next month, a number of NFL coaches will find themselves on the chopping block. Figuring out exactly who those coaches are is a complex proposition. There is an outside chance that every head coach in the state of New York could find themselves unemployed this offseason and an even stronger likelihood that there will be a new head coach in Chicago come 2015. The Oakland Raiders fired head coach Dennis Allen back in September, and it would be highly unlikely for interim head coach Tony Sparano to land the job on a full-time basis. For this reason, he will not be included in this list. Here is a look at the NFL head-coaching hot seat, beginning with the coach who is the least likely to lose his job this offseason.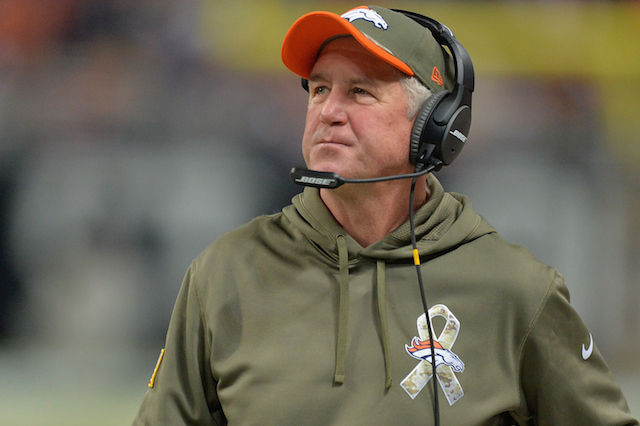 8.  John Fox, Denver Broncos
The Broncos are in win-now mode possibly more so than any other team in the NFL this year, and a step backwards (i.e. anything less than a return trip to the Super Bowl) may lead John Elway to make an offseason head coaching change. The team made significant financial investments this offseason, geared toward winning a Super Bowl before quarterback Peyton Manning decides to hang up his cleats. Fox has put up an impressive 44-17 regular season record and has won the AFC West title every year he has been the head coach of the Broncos, but that may not be enough to save his job if the Broncos don't, at the very least, win the AFC Championship.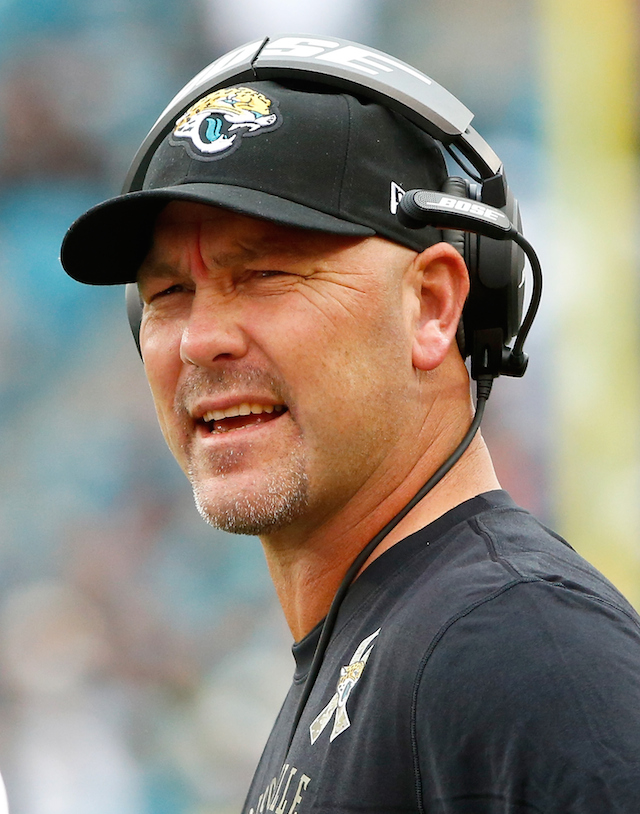 7.  Gus Bradley, Jacksonville Jaguars
Bradley's record in his two years as the head coach of the Jaguars is 6-23. While it remains unlikely that Bradley will lose his job this offseason, the pressure will be on the former Seattle Seahawks defensive coordinator to start winning in 2015. Additionally, if Jacksonville's 2014 first-round pick, quarterback Blake Bortles doesn't start showing significant signs of improvement, Bradley's seat will continue to grow even hotter.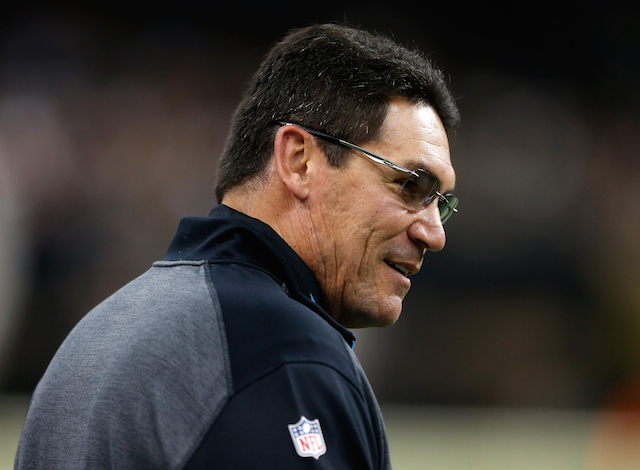 6.  Ron Rivera, Carolina Panthers
Rivera likely saved his job in 2013 by leading the Panthers to a surprise playoff run. His team has undoubtedly regressed in 2014 putting up a 4-8-1 record thus far, but despite their poor record, they still have a chance at making the playoffs. Rivera did sign a contract extension last offseason, which could buy him more time with Carolina. If the Panthers happen to close out the season with two or three losses, it wouldn't be a surprise to see the former San Diego Chargers' defensive coordinator be fired this offseason.
5.  Tom Coughlin, New York Giants
The Coughlin-era in New York appears to be coming to an end this season. The Giants have been ravaged by injuries, but the fact is, they're 4-9 and have been blown out on multiple occasions in 2014. Coughlin has had an enormous amount of success in New York winning two Super Bowls, but the 68-year-old coach hasn't led the Giants to the playoffs since 2011.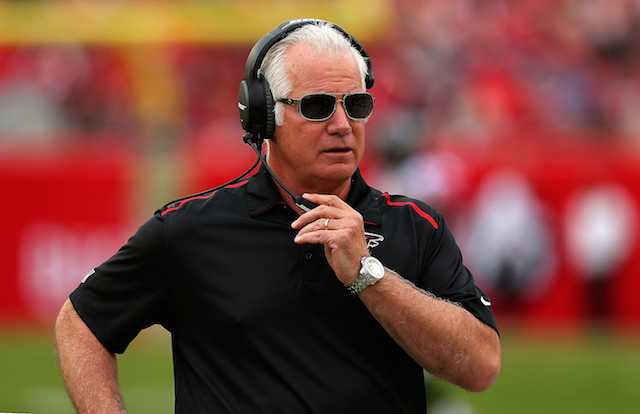 4.  Mike Smith, Atlanta Falcons
Smith likely needs a division title and a win in the playoffs to have any chance at saving his job. Atlanta owner Arthur Blank has publicly voiced his displeasure with the team's record multiple times this season, and quite frankly, the Falcons are too talented to be a sub-.500 team.
3.  Marc Trestman, Chicago Bears
The Bears have been bad on both sides of the ball in 2014, and Trestman will likely pay the price for their struggles with his job. Trestman is widely considered to be an offensive guru, but the Bears offense has performed well below-average this season. Despite being loaded with talent, the Chicago offense merely ranks 18th in the league in scoring offense. A lot of that can be pinned on the horrible play of Jay Cutler at times this season, but let's not forget that it was Trestman who signed off on giving Cutler his massive contract extension. As if the Bears' offensive woes weren't enough, their defense ranks dead last in the NFL in points allowed per game. All signs are pointing toward Chicago being led by a new head coach in 2015.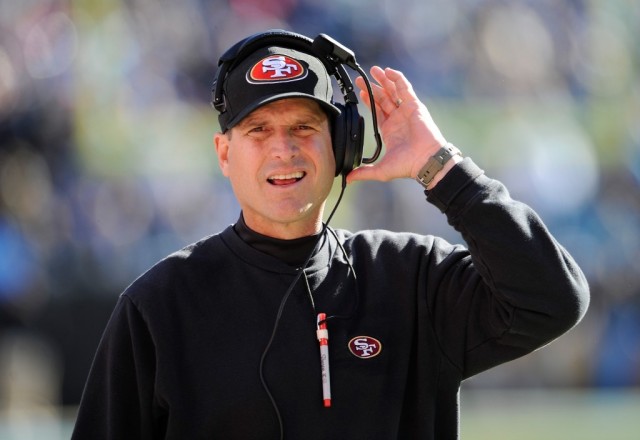 2.  Jim Harbaugh, San Francisco 49ers
It's hard to believe how much things have changed over the course of a year for Harbaugh. In 2013, he led the 49ers to the NFC Championship game where his team nearly beat the eventual Super Bowl champion Seattle Seahawks. A year earlier, he led the 49ers to an NFC title and a narrow Super Bowl loss to the Baltimore Ravens. He has gone 43-17-1 in the regular season, and 5-3 in the postseason as the head coach of the 49ers, but his brash personality has apparently caused him to wear out his welcome in San Francisco. It is no secret that Harbaugh and general manager Trent Baalke are not on the same page, but reports have also surfaced that Harbaugh's coaching style may not be sitting well with his players and several other executives within the organization. If the 49ers are unable to trade Harbaugh this offseason, he will almost surely end up being fired.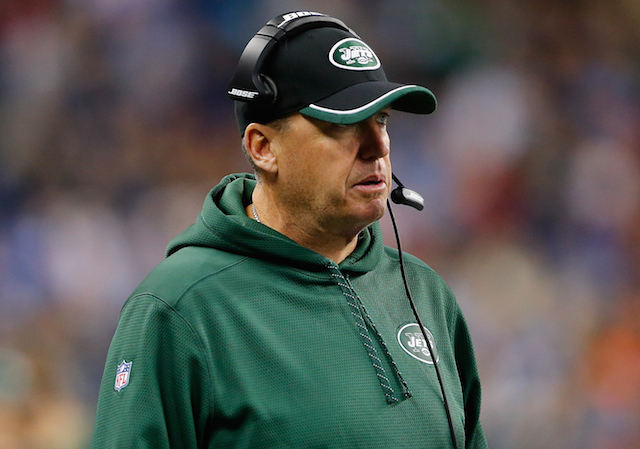 1.  Rex Ryan, New York Jets
There really isn't much left to say about Ryan's future in New York. He is expected to be fired the day after the Jets finish their season, but he shouldn't have a hard time finding a job in some capacity for the 2015 season.