NFL: 9 Best Offensive Weapons in the NFC South
When the words "NFC South" are tossed out now, the first thing that usually comes to mind is Cam Newton and the Carolina Panthers — for good reason. The Panthers are once again a favorite to contend for the Super Bowl in 2016-17. However, this doesn't mean there aren't some serious playmakers in this division; ones who will make life tough on Carolina's defense in 2016. With that said, let's take a look at the nine best offensive weapons in the NFC South.
9. Kelvin Benjamin, wide receiver, Carolina Panthers
Kelvin Benjamin burst onto the scene as a rookie for Carolina, catching 73 passes for 1,008 yards and nine touchdowns. Unfortunately, Benjamin lands at No. 9 on this list as he missed the entire 2015 season with a torn ACL.
If he had a 2015 season to add to his resume, he would have jumped up a few spots on our list of best offensive weapons, but with him fully expected to return at 100% and ready to dominate with Cam Newton, expectations are once again high for the Panthers, and for Benjamin specifically.
8. Mike Evans, wide receiver, Tampa Bay Buccaneers
If not for his struggles to find the end zone in 2015, Mike Evans would be much higher on this list. In his rookie year, Evans caught 68 passes for 1,051 yards and 12 touchdowns. He followed that up by increasing both his receptions and yardage, going to 74 catches for 1,206 yards, but he caught just three touchdowns.
Expect those numbers to improve once again in 2016, as Evans will have another full offseason to work with second-year quarterback Jameis Winston, as well as a full year of chemistry to build on.
7. Greg Olsen, tight end, Carolina Panthers
Aside from Rob Gronkowski, there may be no better tight end in the NFL than Greg Olsen. It's hard to place him at No. 7 on the list of best offensive weapons, but the talent above him is just unreal. Since coming to Carolina back in 2011, he's been a great option in the passing game and has a total of 348 receptions in five seasons for 4,311 yards and 29 touchdowns.
Last season alone was the best of his entire career, as he totaled 1,104 yards and seven touchdowns in a dominant season by the Panthers. Even with Benjamin back healthy for the Panthers, don't be shocked to see Olsen dominate again.
6. Doug Martin, running back, Tampa Bay Buccaneers
Doug Martin went from being a player who wouldn't have even made this list before last season to being No. 6 overall. After a rookie season in 2012 that featured 1,454 rushing yards and 11 touchdowns, with 49 receptions for 472 yards, he completely fell off in the next two seasons. Martin didn't top 500 yards in either season, while scoring three combined rushing touchdowns.
The team chose not to pick up his fifth-year option before 2015, and apparently that was the motivation he needed. Martin wound up rushing for 1,402 yards and six touchdowns, and he caught 33 passes. He nearly took down the rushing title as well.
5. Brandin Cooks, wide receiver, New Orleans Saints
This is now the third third-year wide receiver to make our list of best offensive weapons. Brandin Cooks was only able to play in 10 games in his rookie year while dealing with injuries. He still made an impact, scoring four total touchdowns and leaving some high expectations heading into 2015.
Fortunately, he lived up to those expectations, catching 84 passes for 1,138 yards and nine touchdowns. He's quickly become Drew Brees' favorite target in the passing game, and his 129 targets from last season should only improve next year.
4. Drew Brees, quarterback, New Orleans Saints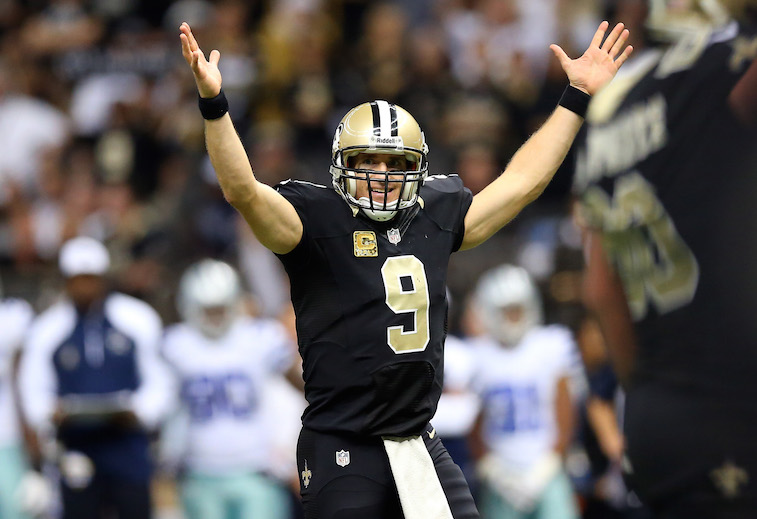 Drew Brees will go down as one of the best quarterbacks to play the game, and even at age 36, he's not done yet. Last season alone, he threw for 4,870 yards, 32 touchdowns, and just 11 interceptions. He's the definition of consistency, and has completed over 68.3% of his passes in each of the last three seasons.
Is it possible to get better with age? Brees is proving that this may just be the case. After two down years where his team has failed to reach the postseason, expect Brees to be all-in during the 2016 campaign in an attempt to get back over the hump and lead his high-powered offense back to the promised land.
3. Devonta Freeman, running back, Atlanta Falcons
What a strange, strange start to a season for Devonta Freeman in 2015. After the Falcons named Tevin Coleman the starter, Freeman had to simply wait his turn. Unfortunately for Coleman, he suffered a rib injury in the second game of the season, leading to Freeman taking over and never looking back.
In Week 3, Freeman got 30 carries for 141 yards and three touchdowns, while also catching five passes for 52 yards. From there, it was pretty much dominance. Freeman finished up the season with 1,056 rushing yards and 11 scores on the ground.
However, what was most impressive about his play was that once teams keyed in on him, he would dominate in the passing game. The talented second-year back caught 73 passes for 578 yards and three touchdowns as well. Expect him to be a force once again in 2016.
2. Julio Jones, wide receiver, Atlanta Falcons
No surprise here, as Julio Jones is one of, if not the best, wide receiver in the entire NFL. The only times during his five-year NFL career that he hasn't topped 1,000 yards are when he missed multiple games. In 2015 though, he was on a whole different level. Jones caught a stellar 136 passes for 1,871 yards and eight touchdowns. He was virtually unstoppable while averaging 116.9 yards per game.
It's obvious that Matt Ryan has no problem looking his way as often as he possibly can, as Jones finished up the year with 203 targets, the most in his career by 40 targets. Jones will once again be the focal point of Atlanta's offense, and with Freeman there to ease the pressure off the passing game, expect Jones to dominate once again.
1. Cam Newton, quarterback, Carolina Panthers
The 2015 league MVP deserves to be nowhere other than the top spot on our list of the NFC South's best offensive weapons. After a season in which he led the Panthers to a 15-1 record, threw for 3,837 yards with 35 touchdowns, and rushed for an additional 636 yards and 10 touchdowns, it's obvious that no one does it like Cam Newton.
He's a unique and special player in this league, and opponents will struggle to find a way to slow him down consistently. Just when a team thought they figured out how to stop Newton's running, he proved he could beat them through the air and vice-versa.
Newton has all of the weapons — plus the return of Benjamin — to be able to repeat his MVP season and win another one, so it'll be interesting to see if he comes out hungrier than ever before after coming so close to a Super Bowl, yet falling just short.
Statistics courtesy of ESPN.com and Pro-Football-Reference.com.